SHSU Awarded Grant For Student Success Project
March 15, 2017
SHSU Media Contact: Julia May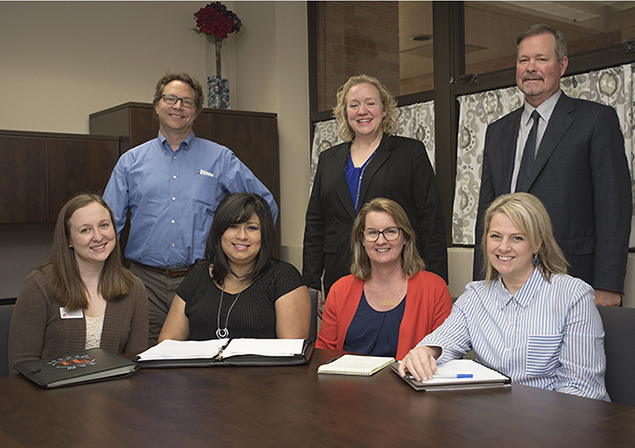 Members of the Frontier Set team who will be working over the next several years to help SHSU improve student academic success are (from left, front row): Megan St. Vigne, associate academic adviser; Ruth Chisum, executive director for online operations; Susanna Shupp, developmental integrated reading and writing coordinator; and Ann Theodori, executive director, Academic Success Center. Back row: Brian Loft, chair of the Department of Mathematics and Statistics; Nancy Baker, interim associate vice provost; and Bill Angrove, associate vice president for distance education. Not pictured are Mary Robbins, Dick Eglsaer, Xiaohong Li, and Mary Lou Shelton.
Sam Houston State University is among 31 institutions and support partners across the nation selected to participate in an initiative funded by the Bill & Melinda Gates Foundation to identify strategies for improving graduation rates, especially for low-income, first-generation and minority students.
"The Frontier Set" brings together state-assisted universities, Historically Black Colleges and Universities, Association of Public and Land-grant Universities' Coalition of Urban Serving Universities, and University Innovation Alliance members.
SHSU is one of six members of the American Association of State Colleges and Universities invited to join the Frontier Set effort. The other five include the College of Staten Island in New York, New Jersey City University, Northern Arizona University, the University of Texas Rio Grande Valley, and the University of North Carolina Greensboro.
AASCU has identified SHSU as a high-potential regional comprehensive member institution that is already integrating evidence-based solutions and showing significant improvement in credentialing productivity.
Brian Loft, chair of the Department of Mathematics and Statistics, is the site team coordinator and principal investigator for the $640,000 grant, which will be disbursed over four years.
"We will use funding to hire faculty and staff that will support the collection of data about our students, which will then be analyzed, along with information submitted by other universities participating in the project, to determine best practices to facilitate student success," Loft said.
SHSU will also use the funds to create a computer lab to help students achieve success in the developmental math program.
"The project will allow us to accelerate our own institutional improvement work, as well as work with other universities to build relationships, discuss our findings, and share those methods and practices that are proven to contribute to academic progress," he said.
The Frontier Set team consists of members across several parts of campus, from advising to teaching to online course development. Others from SHSU who will be integral to the project are: Mary Robbins, Dick Eglsaer, Bill Angrove, Nancy Baker, Ann Theodori, Xiaohong Li, Susanna Shupp, Mary Lou Shelton, Ruth Chisum, and Megan St. Vigne.
In recent years, SHSU has been nationally recognized as one of the top public institutions in the nation in which minority graduation rates equal or exceed the rate of white students. The university's "Establishing Leadership In and Through Education" program has been recognized for two consecutive years in Excelencia in Education's "What Works for Latino Student Success in Higher Education," America's largest inventory of proven practices for accelerating degree completion among Latinos.
- END -
This page maintained by SHSU's Communications Office:
Associate Director, Communications: Emily Binetti
Telephone:936.294.4406
Communications Manager: Mikah Boyd
Telephone: 936.294.1837
Communications Writer: Campbell Atkins
Telephone: 936.294.2638
Thomason Building: Suite 102
Please send comments, corrections, news tips to Today@Sam.edu