Music Students Hit High Notes In International Competition Win
Feb. 27, 2017
SHSU Media Contact: Emily Binetti
Story by Teddi Cliett.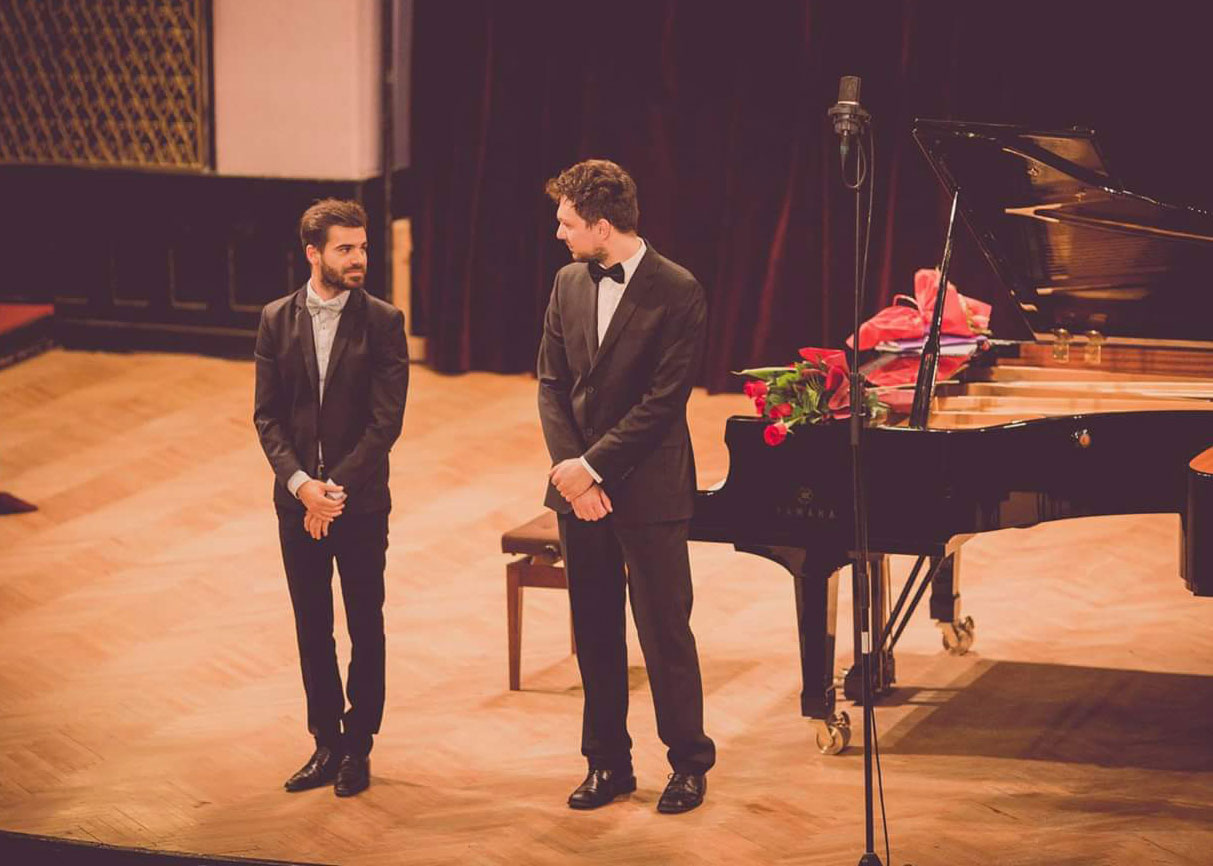 SHSU graduate piano students Sorin Frisan (left) and Eduard Gavril, who formed the duo "ClassMates" as children growing up in Targu-Mures, Romania, won first place in the U.S. International Duo Piano Competition, the world's largest piano duo competition, held in Colorado Springs, Colorado. --Submitted photos
Sam Houston State University graduate students Sorin Frisan and Eduard Gavril first touched piano keys when they were around 5 years old in their hometown of Targu-Mures, Romania. Almost 20 years later, the two recently won first place at the United States International Duo Piano Competition.
The two pianists brought back their first-place medal from the world's largest piano duo competition just in time to start their fourth and final semester at SHSU.
But their participation in the USIDPC almost didn't happen.
After submitting their audition video, the two musicians, who brand themselves as "ClassMates Piano Duo," fell under the impression that they had not advanced to the next round.
"When they announced the finalists, we were not on the list," Frisan said. "But they specified on the website that they were still processing, so I checked for a couple of days and our names still weren't there, so we just forgot about it."
Two weeks before the competition, however, while walking to campus one day, the two were discussing their disappointment that they hadn't progressed past the semifinals. Frisan decided to check the list one last time, and to their surprise, and panicked excitement, both of their names stared back at them.
This meant the duo had a little less than two weeks to rehearse their chosen piece, "Cuban Overture" by George Gershwin, a 12-minute composition, which fell under the 15-minute competition limit.
Their rehearsals started as individual projects, and eventually the two came together to weave their music contributions into a completed piece, which isn't always easy when performing as a duo.
"Sometimes we have different opinions on the piece," Gavril said. "He sees it one way and I see it another way."
"But we always find a middle way," Frisan added.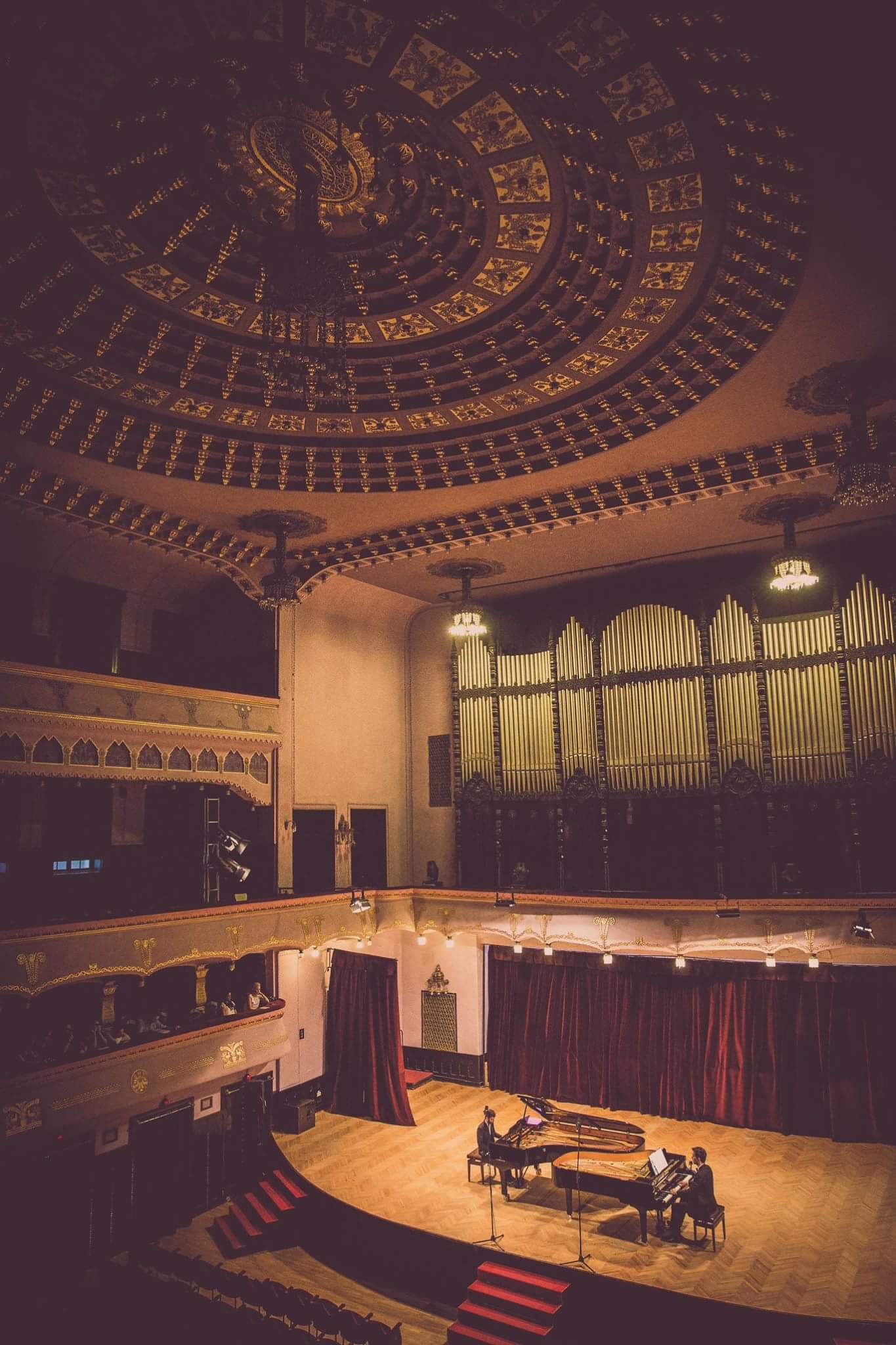 Frisan and Gavril perform inside the historic Broadmoor Hotel in Colorado Springs.
Though the two have only officially been a duo for about four years, their knowledge of each other's musical styles stretches back much further.
Frisan and Gavril have studied music together since grade school in Romania, which is where their duo name, "ClassMates," came from. After completing their undergraduate degrees overseas, they heard about the SHSU School of Music through a former peer, but had little interest to study in America.
However, after they talked with SHSU associate professor and director of keyboard studies Ilonka Rus-Edery, who also began her musical journey in Romania, the two decided to venture overseas to pursue their master's degrees.
Their extensive familiarity of each other's styles not only help them when rehearsing, but when performing, too.
"We've known each other for a long time so we can anticipate what the other person will do pretty quickly," Gavril said.
"Which is a good advantage, actually." Frisan added. "Everyone who listened to us always said that we were together, and that's the hardest part of playing in a duo."
Their first professional performance as a duo was in a familiar location—the James and Nancy Gaertner Performing Arts Center—but the two wanted more than to just perform; they wanted to compete.
The USIDPC was held in early January at the Broadmoor Hotel in Colorado Springs, a five-star resort that better resembles a castle for royalty than a hotel. Frisan and Gavril competed at the professional level and were the youngest of their group.
"I became nervous whenever I stepped on stage, but only for a couple of seconds," Gavril said. "After I started playing, it all went away. But there were maybe 200 or 300 people in the audience, so I could feel the pressure."
"It's not just like a recital," Frisan added. "It's a competition, so it matters more. If you're on stage just playing for people, that's easy; you can afford a few mistakes."
In addition, they said that although the pianos at the competition were of superior quality, the room they performed in was a converted conference room, with different acoustics compare to a recital hall, which forced them to adjust.
Despite that adjustment, and their two-week-only rehearsal time, ClassMates Duo managed to take the two pianos and seamlessly create one harmonizing musical piece, which awarded them first place in the competition.
"We were surprised," Frisan said. "All the teams played really well, so we didn't know who was going to win."
ClassMates Duo will return to USIDPC next year to compete for the top spot once more. In the meantime, the two are hoping to play a recital later this semester if the space is available, but they actively post recorded pieces on their Facebook page, ClassMates Piano Duo.
Looking to the future, both Frisan and Gavril graduate in May, but will stay at SHSU for one more year as accompanists for other musicians. After that, the two say they want to travel and perform as much as possible until they decide to teach.
- END -
This page maintained by SHSU's Communications Office:
Director of Content Communications: Emily Binetti
Communications Manager: Mikah Boyd
Telephone: 936.294.1837
Communications Specialist: Campbell Atkins
Telephone: 936.294.2638
Please send comments, corrections, news tips to Today@Sam.edu