McNair Alumnus To Return To Discuss Educational Journey, Research
Feb. 1, 2017
SHSU Media Contact: Tricia Sims
Sam Houston State University and McNair Scholars Program alumnus Travis Franks will discuss his upcoming Fulbright scholarship grant to Queensland, Australia, on Wednesday (Feb. 8) from 6-8 p.m. in Gaertner Performing Arts Center Room 130.
The Fulbright program is based on cultural exchange and offers financial assistance for scholars to travel.
"The idea is that I'll learn and grow as a scholar over the course of my project and that I'll bring back stories and ways of thinking that will shape the classes I teach in the United States," Franks said.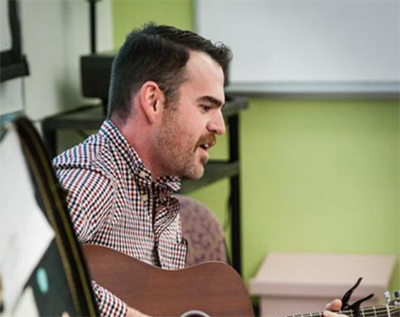 Travis Franks
Franks is currently pursuing a doctorate in English at Arizona State University. He received his bachelor's and masters' degrees from SHSU.
He will discuss the research that he will conduct in Australia, which will focus on discovering how a shared sense of belonging is constructed within the U.S. and Australia, particularly through music.
"The Fulbright award will help me deepen my understanding of story's place across cultures, and it gives me the opportunity to talk to others about how necessary all of our stories are," Franks said. "My project deals specifically with ideas of belonging and home in settler communities, and as someone who earned a Bachelor of Arts and Masters of Arts degrees at Sam, this event feels very much like a homecoming in certain ways."
Franks decided to do the presentation after reaching out to a few mentors at SHSU, who encouraged him to be a resource to SHSU students.
"What is most interesting is that Travis has a true passion for his research," said McNair Scholars Program director Lydia Fox, who knew Franks as an undergraduate. "It shows in his willingness to share with others and the eloquence with which he describes his research. It is such a great feeling to see how much Travis has evolved as a researcher."
"I still have wonderful relationships with faculty mentors in the McNair program and across the College of Humanities and Social Sciences," Franks said. "I'm only in a Ph.D. program because of the guidance I got through McNair, so this is a small way of saying thank you to Dr. Fox and her staff."
His program in Australia will start in late February, and his talk at SHSU also is a way to get an early start on the exchange process, making the presentation just as helpful to him as the attendees, according to Franks.
"This event is especially helpful for me because it's an opportunity to share the work I've done so far and to get in the habit of talking about this project with others," Franks said. "There's a kind of reciprocity in these events where I feel that I learn just as much as I have to teach."
A reception with refreshments will follow the presentation. The event is free and open to the public.
For more information about Franks's research, visit his website travisblakefranks.com.
- END -
This page maintained by SHSU's Communications Office:
Director of Content Communications: Emily Binetti
Communications Manager: Mikah Boyd
Telephone: 936.294.1837
Communications Specialist: Campbell Atkins
Telephone: 936.294.2638
Please send comments, corrections, news tips to Today@Sam.edu