SHSU Update For Week Of Feb. 19
Feb. 17, 2017
SHSU Media Contact: Lane Fortenberry
Career Insights Panel Set For Feb. 22 In The Woodlands
Students preparing to graduate and seeking career advice can attend the second Career Insights Panel on Wednesday (Feb. 22) from 4:30-7 p.m. at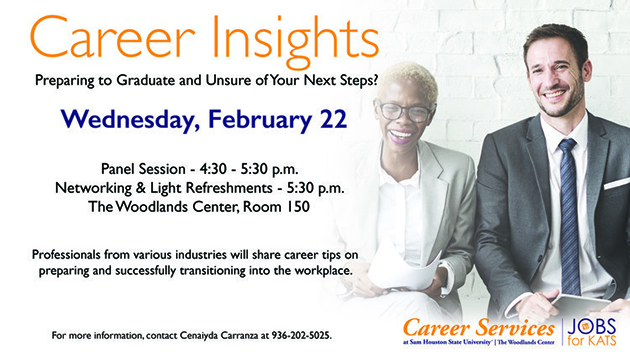 The Woodlands Center Room 150.
"Students can expect to have the opportunity to dialogue with professionals from various industries and ask specific questions as they relate to how to gain employment in their respective fields, as well as what it takes to become successful in their careers," said Cenaiyda Carranza, assistant director of Career Services at Sam Houston State University at The Woodlands Center.
The panelists include Leslie Williams, special events and volunteer coordinator at The Cynthia Woods Mitchell Pavilion; Holly Van Groll, regional recruiter at Peace Corps; Carrie Davila, personnel supervisor for the Harris County Juvenile Probation Department; and Kate Walker, owner of Achieve Balance Counseling.
Marnique McGough, child life specialist at Memorial Hermann, and Toshia Jackson, human resources recruiter at Tri-County Behaviorial Healthcare, also will be present.
"Clarity in your career direction is key," Carranza said. "Knowing the type of job or field you are seeking and what skills will be required are essential when a student becomes active with their job search. Other important components of a successful transition into the workplace also include having a professional resume highlighting your degree, work related experiences and involvement in professional organizations.
"Knowing how present yourself to an employer and successfully market your skills at a career-related event and in a professional interview are all part of the keys to success and gaining employment in your field of interest and academic preparation," she said.
There will be a networking session after the event with light refreshments and snacks.
Visiting Prof To Speak On Family, Migration
The Sam Houston State University sociology department will host economist Ignacio Llamas, who will present "Household and Migration: The Case of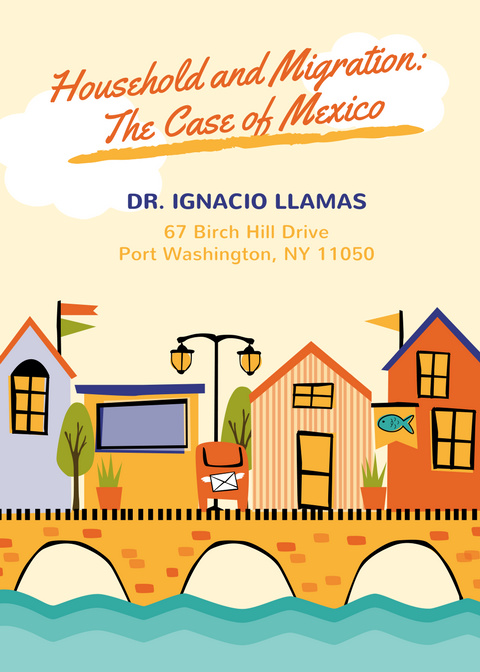 Mexico" on Friday (Feb. 24) from 1-2 p.m. in College of Humanities and Social Sciences Building Room 110.
Llama is one among the most prominent economists in Mexico. He holds a doctorate in economics from Stanford and is a distinguished professor of economics at the Autonomous Metropolitan University of Mexico City.
"Dr. Llamas was chosen for his past work and reputation," said Alessandro Bonanno, Texas State University System Regents' Professor and Distinguished Professor of Sociology at Sam Houston State University.
Llama applies economics to the study of society and, in particular, to the functioning of the household.
"In today's society, families struggle with income and jobs, as there are relatively fewer good, flexible jobs, and precarious employment seems to be increasingly the norm," Bonanno said. "In the case of Mexico, one of the options often considered by families is immigration."
But jobs away from home bring separation, distance and isolation.
"These are factors that often lead to the disintegration of the family," Bonanno said. "As a strategy employed for the survival of the family, immigration could translate into a process that damages the cohesion and very existence of the family.
"Dr. Llamas will talk about these and other aspects of the ways families face their survival and growth," Bonanno said. "He will focus on the case of Mexico and will comment on recent events related to changes in immigration policy enacted in the U.S. and the instability and uncertainty that it has created here and in Mexico."
For more information, visit the event page.
Thibodeaux To Speak During 'Last Lecture'
If a professor knew his or her next lecture was going to be their last, what would that person say to make an impact on others?
Terry Thibodeaux, professor and chair of the communication studies department at Sam Houston State University, will give his "last lecture" on Wednesday (Feb. 22) from 2-3 p.m. in the Lowman Student Center Theater.
The Last Lecture series is designed to connect students and faculty at SHSU in an informal setting to encourage reflection on the common challenges of a life-long journey.
The popularity of "The Last Lecture" became nationally recognized in 2007, when Randy Pausch gave his "last lecture" at Carnegie Mellon University.
"I'll be talking about the journey my career has taken me on, from the Louisiana bayous to Mississippi to SHSU and around the world," Thibodeaux said. "I'll talk about the people who have influenced my career and how many mentors and 'angels' I've had along the journey, and what I've learned along the way."
For more information, visit the event page.
Leadership Initiatives To Host Volunteer Fair
Students looking for ways to get involved on campus or in the community can attend the Leadership Initiatives' Volunteer Opportunities and Student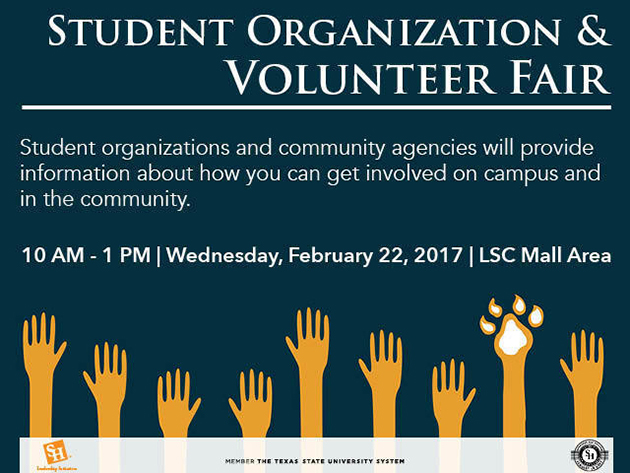 Organizations Fair on Wednesday (Feb. 22) from 10 a.m. to 1 p.m. in the Lowman Student Center Mall Area.
Representatives from local community agencies and SHSU student organizations will be present to interact with students looking to get involved
Agencies such as CASA of Walker County, Dream Catchers Stables and the Texas Department of Criminal Justice are a few agencies registered to attend. Types of organizations attending include religious, academic, Greek life and athletic organizations.
"Whether service is their passion or they are required to complete service hours, students will have the chance to volunteer," said Emily Snider, Leadership Initiatives' program specialist. "They will receive the chance to meet like-minded people who share the same interests as them. This alone should make students want to attend the fair.
"Our university's motto is 'The measure of a Life is its Service' and if a student is unsure about how to live out that motto, the Volunteer Opportunities and Student Organizations Fair is a great place to start."
For more information, contact 936.294.3000 or email leadership@shsu.edu.
Veterans Alliance Training Scheduled For Feb. 28
Sam Houston State University will offer faculty and staff another opportunity to learn about the issues SHSU's veteran students face when returning to school.
The Veterans Alliance Network training will include an hour-and-a-half training that raises awareness of veteran statistics and experiences in an effort to provide students with an encouraging, structured environment on campus.
The session is scheduled for Feb. 28, from 9-10:30 a.m. in Lowman Student Center Room 315.
VAN presentations will explore veterans' experiences from several perspectives, including defining the different roles military personnel play, examining frustrations that can accompany veterans returning to school, and introducing the resources offered on campus through the VetSuccess on Campus program.
Presentations will be led by Fernando Chavez, Veterans Resource Center director and U.S. Navy Veteran; Drew Miller, assistant vice president for Student Services and executive director for SHSU's Counseling and Health Services; Jeremiah Dancy, assistant professor of history and U.S. Marine Corps veteran; Roberta Ardoin, VetSuccess on Campus counselor; and Pablo Sanchez, an SHSU student and retired U.S. Army veteran.
A major portion of the presentation is devoted to understanding the mental effects of military life on both combat and non-combat veterans, issues related to transitioning back, and how the SHSU community can best support that transition.
"The purpose of the VAN sessions is to help the Bearkat community consider their own biases and assumptions and then think about these issues from the perspective of those who experience them, the brave men and women who have chosen SHSU for their educations," Chavez said.
Participants earn Talent Management credit and receive a sticker that can be placed outside their offices to denote that they've been through the training.
The signup deadline is Feb. 27 at 5 p.m.
For more information, contact the Veterans Resource Center at 936.294.1046.
College To 'Honor' Outstanding Students
The Elliott T. Bowers Honors College will host a reception for freshmen and sophomores from all majors with a 3.4 or higher cumulative GPA on Thursday (Feb. 23) from 1-2 p.m. in the Peabody Library.
Refreshments will be served while students mingle with other undergraduates. Honors student ambassadors and faculty advisers will provide information about various opportunities available to the students.
Kimberly Bell, Honors College dean, will discuss the application process and the courses and programs for honors students.
Tamara Cook, director of the Undergraduate Research Center, will discuss how students can participate and apply for grants; Chelsea Smith, associate dean of students, will discuss Orange Keys; Lydia Fox, director of the Ronald E. McNair Post-Baccalaureate Program, will discuss the McNair Scholars program and how to qualify; and Tracy Bilsing, associate director of the Honors College, will discuss study abroad seminars and the undergraduate research seminar.
"The reception is special because we are recognizing and celebrating freshman and sophomore students across campus from all majors who are achieving high GPAs," said Maria Holmes, associate dean of the Honors College.
To make a reservation to attend, contact Holmes at 936.294.1477 or honors@shsu.edu, or visit the Honors College Office in Academic Building IV Room 201.
'Feed The Growl' To Offer Fresh Produce Feb. 20
After a short hiatus, the Food Pantry is once again hosting "Feed the Growl," during which the Houston Food Bank will provide 10,000 pounds of fresh produce to all Sam Houston State University students, faculty and staff and to the Huntsville community.
The event will be Monday (Feb. 20) from 1-4 p.m. outside of the Bernard G. Johnson Coliseum.
A representative from the Houston Food Bank will be present to help interested attendees apply for food stamps, Medicaid, CHIP and other state programs. The information needed includes an identification card, social security cards for all household members applying, proof of all income, and utility bills paid by the attendee.
Volunteers are welcome any time between noon-5 p.m. on the day of the event. People interested in volunteering can email foodpantry@shsu.edu with their availability.
Annual Giving To 'Thank' Donors
Sam Houston State University's Office of Annual Giving invites all students to participate in the annual "Thank a Donor Day" on Thursday (Feb. 23)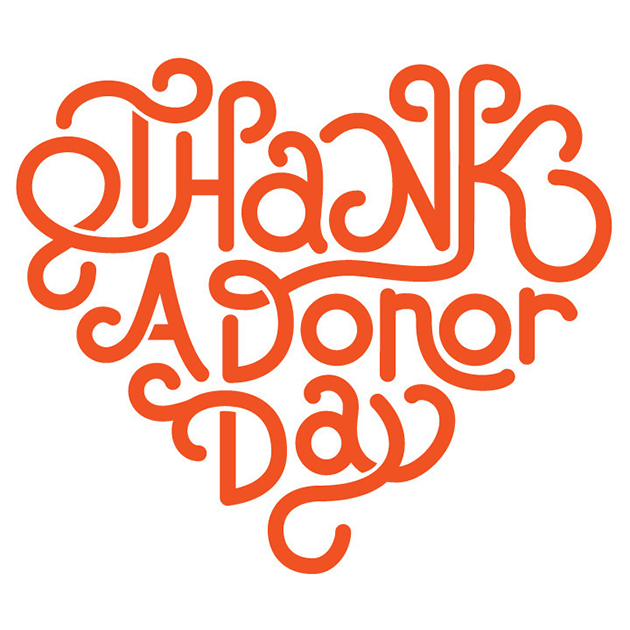 from 11 a.m. to 1 p.m. in the Lowman Student Center Mall Area.
The event was designed to increase student understanding of philanthropy and recognize those who support SHSU through their contributions.
"Sam Houston wouldn't be what it is without their generous contributions, and many students probably don't realize how much donors actually give to the university," said Meggan Thompson, assistant director of annual giving. "This event gives students the opportunity to show their appreciation."
Students are encouraged to stop by to sign thank you cards and send shout-outs to donors. T-shirts for the first 200 students and other freebies will be given out to participating students.
For more information contact Thompson at 936.294.2401 or met013@shsu.edu.
SGA To Address City Council Meeting
This Story Was Written By Sara Reyes
The Student Government Association's recently appointed chief of external affairs Logan Ellis, will make an appearance at the Huntsville City Council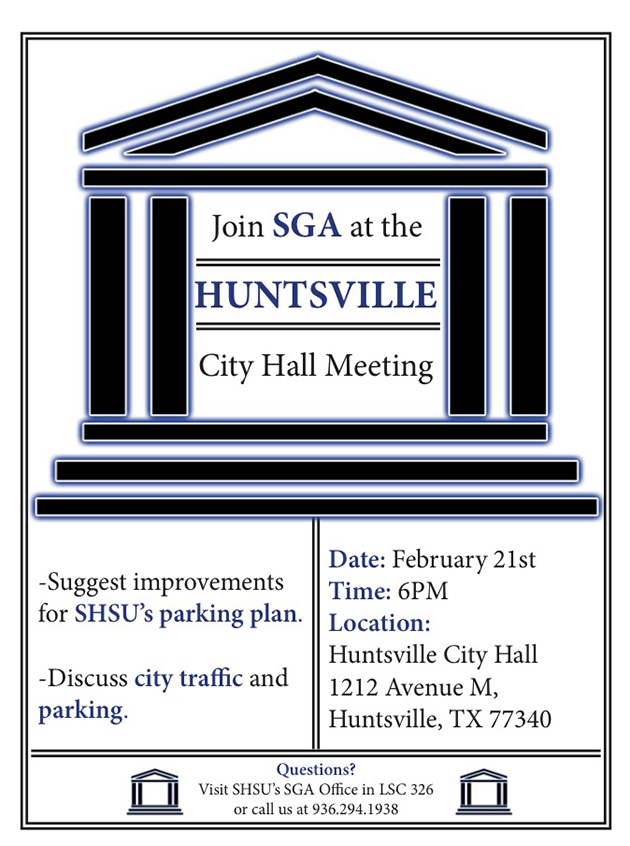 meeting on Tuesday (Feb.21). The issue over an increase in paid parking and one-way streets around campus will be discussed.
The City of Huntsville came to SGA President Jacqueline Bolden to inquire if SGA wants to allow more paid parking where permit parking already exists, and SGA surveyed students in the Lowman Student Center Mall Area, finding from more than 100 surveys that many students were unaware that revenue from hourly parking goes to the city and not the university.
The day of the meeting, SGA will join Ellis at the council meeting. Students who are not in favor of more paid parking spots and want to speak out are welcome to join, as well.
"When it was suggested that we move the SGA meeting to the city council room, I was all for it," Ellis said.
Seating may be limited, so students are encouraged to arrive early and share their voice in the Huntsville community.
"I think it's extremely important, whether you are going into politics or not to be involved outside of the university," Ellis said. "City council meetings help to inform and educate people about what is happening around town. It also gives you a chance to voice your opinion and talk to city leaders."
Huntsville City Hall is located at 1212 Ave. M, and the meeting will begin at 6 p.m.
Orchestra To Present 'German Symphonie-Konzert'
The Sam Houston State University Symphony Orchestra will present "A German Symphonie-Konzert," Saturday (Feb. 25) from 7:30-9 p.m. in the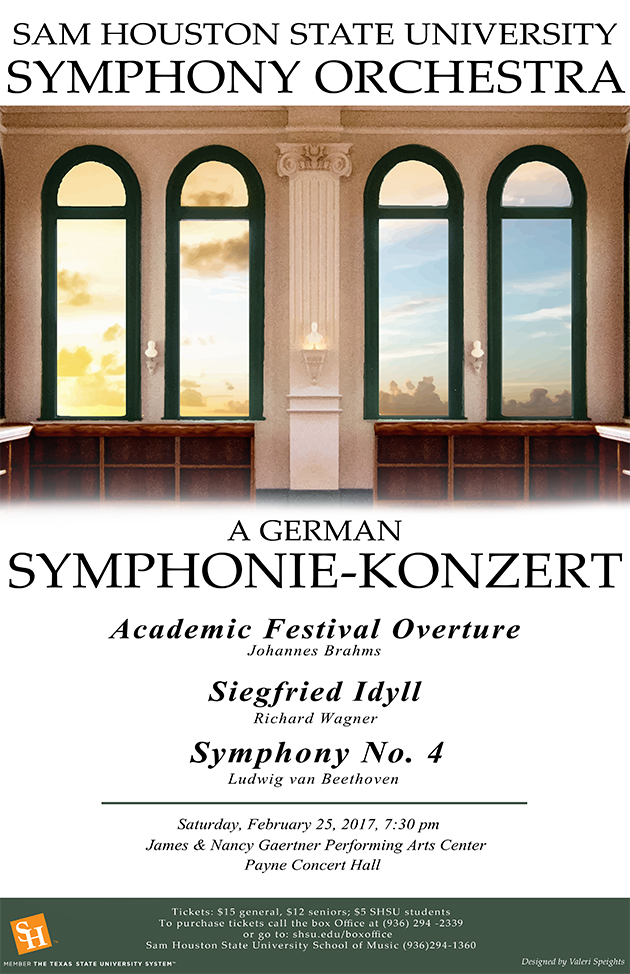 Gaertner Performing Arts Center Concert Hall.
The Symphony Orchestra is made up of 75 members who perform six concerts each season in Huntsville and internationally on a regular basis.
Assistant professor in the School of Music and director of orchestras Jacob Sustaita said the concert will showcase three master composers of Western classical music-Johannes Brahms, Ludwig van Beethoven and Richard Wagner.
"These are icons of symphonic and operatic music in the 19th century," Sustaita said. "I like to think of their music as the 'bread and butter' of romantic classical music. There is something so endearing about the music of these three composers. I think the audience will be swept away by the music's energy, lyricism and sheer beauty."
The pieces will include "The Academic Festival Overture" by Brahms; "Siegfried Idyll" by Wagner; and "Symphony No. 4" by Beethoven.
"This is a concert that is perfect for all types of audience members-be it a seasoned lover of classical music or a first timer," Sustaita said. "I promise everyone will walk away smiling and probably humming a tune or two."
Tickets start at $5 for children, $12 for students and senior citizens and $15 for general admission. Tickets can be purchased online at shsu.universitytickets.com.
For more information, call the School of Music at 936.294.1360 or email music@shsu.edu.
Guest Recital To Feature Three Reeds Duo
The Sam Houston State University School of Music will host the Three Reeds Duo featuring Leah and Paul Forsyth, for a guest recital on Wednesday (Feb. 22) from 7:30-9 p.m. in the Gaertner Performing Arts Center Recital Hall.
The Three Reeds Duo was formed in 2005 and has a repertoire ranging from baroque and classical transcriptions to contemporary concert literature. Both Leah and Paul Forsyth are currently faculty members at Northwestern State University.
In the duo, Leah Forsyth plays the oboe while Paul plays the saxophone.
According to assistant professor of saxophone Masahito Sugihara, an oboe and saxophone duo is not a standard chamber music instrumentation.
"They had to create a repertoire for the ensemble by commissioning new pieces and adapting pre-existing pieces," Sugihara said. "The program will include compositions that were specifically written for them in addition to some transcriptions."
Some of the pieces the duo will perform include "Six Metamorphoses after Ovid," composed in 1951 by Benjamin Britten; "Chorus No. 2," composed in 1924 by Heitor Villa-Lobos; and "Signal Cross," composed in 2012 by Kyle Blaha.
There will be an oboe class with Leah Forsyth from 10-11:30 a.m. in the GPAC Concert Hall and saxophone class with Paul Forsyth from 12:30-1:50 p.m. in the GPAC Recital Hall.
Tickets start at $5 for children, $12 for students and senior citizens and $15 for general admission. Tickets can be purchased online at shsu.universitytickets.com.
For more information, call the School of Music at 936.294.1360 or email music@shsu.edu.
Wind Ensemble Concert Set For Feb. 21
Sam Houston State University School of Music will host the first Wind Ensemble Concert of the spring semester on Tuesday (Feb. 21) starting at 7:30 p.m. in the Gaertner Performing Arts Center Concert Hall.
The concert will open with "Smetana Fanfare" by the Pulitzer Prize-winning composer Karel Husa to commemorate his passing in December 2016.
Husa was a Czech national who fled the communist occupation of his homeland and became an American citizen.
"His remarkable work is an enduring statement to courage and spirit of people resisting political oppression," said director of bands Matthew McInturf.
According to McInturf, the program will feature a variety of works in a wide range of styles.
A few of the pieces will include "Ballo del granduca," composed in 1589; "Chorale Prelude: O God Unseen," composed in 1985; and "Hivemind," composed in 2014.
The students who make up the Wind Ensemble are selected by auditioning. The main repertoire of the group reflects traditional band music, with a special emphasis on new music.
"The students are terrific musicians committed to performing with skill and sensitivity," McInturf said. "They are excited to learn and are a pleasure to teach."
This event is ticketed. Tickets start at $5 for children, $12 for students and for senior citizens and $15 for general admission. Tickets can be purchased online at shsu.universitytickets.com.
For more information, call the School of Music at 936.294.1360 or email music@shsu.edu.
Johnson Coliseum To Host UIL Playoff Basketball
Johnson Coliseum will host boys' and girls' high school playoff basketball in February and March.
The Girls UIL Regional Tournament will be Feb. 24-25 and the Boys UIL Regional Tournament is set for March 3-4. Winners will advance to the state tournament the following weekend in Austin.
This is the 22nd consecutive year for the tournament.
Tickets are $6 and are available at the door the night of the game.
Recently renovated, Johnson Coliseum is home to Bearkat volleyball as well as the men's and women's basketball teams.
The coliseum hosts a variety of recreational sports activities and university calendar events including graduation, concerts, campus organization events, summer camps and family shows. Rentals are available.
Call the Johnson Coliseum office at 936.294.1741 for more information.
Annual Life Member Celebration Set For Feb. 25
The seventh annual Life Member Celebration will be held on Saturday (Feb. 25) from 6:30-9:30 p.m. at J.W. Marriott Houston Downtown.
The event is hosted by the Sam Houston State University Alumni Association to honor all Life Members in the Alumni Association. The newest Life Members are presented a Life Member plaque during the program.
The evening will begin with cocktails and hors d'oeuvres, followed by a dinner and program.
University President Dana Hoyt will welcome the attendees and provide a brief university update, along with a Life Member testimonial by SHSU alumnus Justin Burnett ,'02, vice president, materials management and warehousing at British Petroleum.
For more information, call the Office of Alumni Relations at 936.294.1841.
Mobile Blood Drive Set For Feb. 24
Student Legal and Mediation Services, in collaboration with Residence Life, will host a mobile blood drive on Friday (Feb. 24) from 10 a.m. to 4 p.m. outside of the Bernard G. Johnson Coliseum.
This event is an extension of the Donation Awareness Project hosted in fall 2016.
The Gulf Coast Regional Blood Center suggests to get a good night's sleep, eat a hearty meal and drink plenty of fluids before donating.
Students are encouraged to make appointments to donate at the drive by contacting the SLMS office at 936.294.1717.
Send Experts, Story Ideas Here
Are you an expert in a topic might be of interest to reporters? Or even a unique topic? Would you like to have your research interests highlighted or discuss your expertise with reporters seeking interviewees?
The university Communications Office is collecting information and story ideas for its ongoing projects, including the online SHSU Experts Guide, the SHSU home page and Today@Sam.
The SHSU Experts Guide was established as a resource for the media, who turn to university experts lists for potential interviewees for news stories. Faculty who are interested in being a part of the university's database of experts can submit their biographical and personal information, as well as their areas of expertise, through the Experts Guide Submission Form.
Other story ideas, both news and features on faculty or student research and accomplishments can be sent to today@sam.edu or jenniferg@shsu.edu. For news stories, please include the date, location and time of the event, as well as a brief description and a contact person.
All information, including news story ideas and update items for Today@Sam, should be sent a minimum of a week in advance of the event in order to make necessary contacts and write a story. Feature story ideas for the SHSU home page ("sliders") should be sent a minimum of two months in advance.
To see a full list of the Today@Sam submission guidelines, or to access submission forms for news and feature stories or hometown releases, visit the guidelines page.
For more information, call 936.294.1836.
- END -
This page maintained by SHSU's Communications Office:
Associate Director, Communications: Emily Binetti
Telephone:936.294.4406
Communications Manager: Mikah Boyd
Telephone: 936.294.1837
Communications Writer: Campbell Atkins
Telephone: 936.294.2638
Thomason Building: Suite 102
Please send comments, corrections, news tips to Today@Sam.edu