SHSU Update For Week Of Feb. 12
Feb. 10, 2017
SHSU Media Contact: Lane Fortenberry
SHSU Haven To Host Allies Training
Sam Houston State University's Haven will host a series of LGBTQI+ allies' trainings starting Wednesday (Feb. 15) from 2-4 p.m. in the Counseling Center Conference Room.
There will be two Haven 101 trainings, which will cover vocabulary, the difference between sexual orientation and gender identity, power and privilege, risks and statistics, current laws, and the basics of being an ally.
One Haven 102 training also will be held in April, which will cover heteronormativity, identity development, coming out, microaggressions, how to have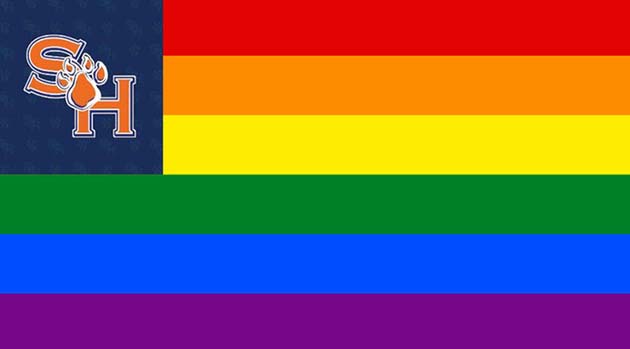 difficult dialogues and how to be a more active ally.
"Campus should be a place where everyone feels safe and included," said Michelle Stone, Haven coordinator at SHSU. "Trainings are designed to help students, faculty and staff learn more about the LGBTQ+ community and the issues they face so they can better support these students and advocate for them.
"For example, we talk about the importance of proper pronoun usage so participants are comfortable addressing others the way they want to be addressed," she said. "We talk about how to have difficult dialogues in an effective way so people can confront discrimination. We also talk about important language to know and current laws that are threatening the rights of LGBTQ+ people."
Participants who complete both trainings are given a Haven sticker to display, indicating they have participated in ally training.
"When it comes to being an ally, the most important thing to remember is that it is a verb, not a noun," she said. "Going through these trainings gives people tools to be better allies, but it isn't enough. It's the repeated acts of support and advocacy that actually make an ally."
In addition to the event on Feb. 15, there will be another 101 training on March 21 from 4-6 p.m. The 102 training will be held on April 11 from 2-4 p.m.
The events are free and open to students, faculty and staff.
To register for the events, contact Haven at org_haven@shsu.edu.
For more information, visit the event page.
Miss Sam Houston Pageant Set For Feb. 16
The 2017 Miss Sam Houston Scholarship Pageant will be held on Thursday (Feb. 16) from 6-9 p.m. in the Lowman Student Center Ballroom.
The winner of the pageant will not only continue to advance the Miss Sam Houston name, but will also receive a $1,000 educational award, a meal plan courtesy of Aramark and represent SHSU in the 2017 Miss Texas Scholarship Pageant.
The winner's sponsoring student organization will receive a $500 award.
The pageant is an event for scholarly and influential female students at SHSU. Miss Sam Houston acts as a role model for all and a representative and spokesperson of SHSU.
The pageant has origins in the old Sam Houston tradition, formally known as the "Bathing Beauty Review," hosted by the Caroline Belvin Literary Society. The winner received prizes such as new clothes, jewelry and flowers and received the title of "Bathing Beauty."
In 1949, the contest continued the use of the name "Bathing Beauty Review;" however, it changed the winner's title from "Bathing Beauty" to "Miss Sam Houston."
The pageant continued to flourish until it disappeared from the yearbooks of Sam Houston in the late 1980s. In 2010, the Program Council planned the reemergence of the tradition. In spring 2011, the Miss Sam Houston Pageant returned to SHSU and crowned the first Miss Sam Houston in more than 30 years.
For more information, visit the event page.
Gospel Artists To Perform At Johnson Coliseum Sunday
Tickets are still available for the gospel concert "An Evening with Kirk Franklin and Brian Courtney Wilson" presented on Sunday (Feb. 19) at Sam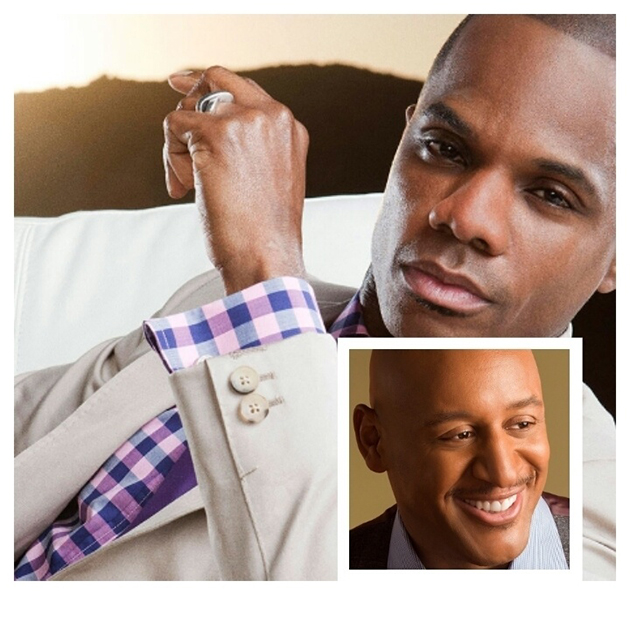 Houston State University's Bernard G. Johnson Coliseum.
Doors will open for the Jimmy Spivey Productions-produced concert at 6 p.m., with Franklin and Wilson taking the stage at 7 p.m.
Franklin, a multi-platinum-selling, award-winning singer, is considered a pioneer in gap-bridging musicianship, known for fusing gospel and contemporary music and uniting audiences across gospel, hip-hop, pop, and R&B.
His albums have consistently topped both Billboard's Gospel and Christian charts and have landed in the Top 10 of the R&B/Hip Hop chart.
To date, Franklin has won 10 Grammy Awards; an American Music Award; 39 Stellar Awards (gospel); 16 Dove Awards; eight NAACP Image Awards; two BET Music Awards; a Soul Train Award; and numerous others.
He also is a New York Times-bestseller author for "The Blueprint: A Plan for Living Above Life's Storms," published by Gotham/Penguin, and is the host and executive producer of the gospel talent show "Sunday Best," the highest-rated gospel program in BET network history.
Wilson has released three solo albums and has performed as a member of Fred Hammond's United Tenors, through which he has earned a growing host of fans and critical acclaim.
A resident of Houston, he was discovered when some of his songs for Windsor Village United Methodist Church were played on local radio stations.
He since has won a Stellar Award with the United Tenors, a Dove Award for his song "Worth Fighting For" and an ASCAP "Power In Praise" Award; "Worth Fighting For" also was nominated for a 2016 Grammy Award and Billboard Music Award.
General admission tickets are $20 and VIP floor seats price at $30.
Tickets can be purchased tickets at the Johnson Coliseum at 936.294.1740., online at ticketweb.com or via 866.468.7621.
Workshop To Help Students With FAFSA
Sam Houston State University's Financial Aid and Scholarships Office will host four FAFSA workshops, in which two financial aid representatives will be available to assist students with 2017-2018 FAFSA.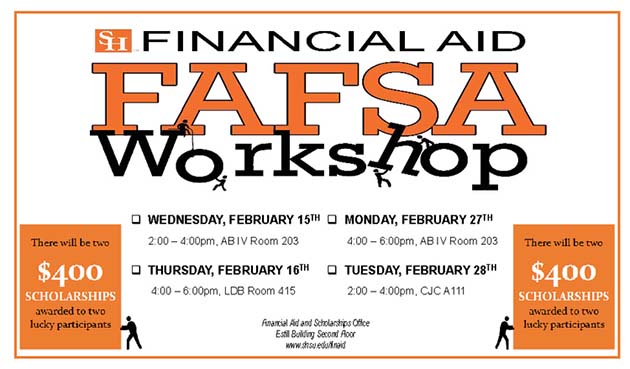 The workshop will take place Wednesday (Feb. 15) from 2-4 p.m. in Academic Building IV Room 203, Thursday (Feb. 16) from 4-6 p.m. Lee Drain Building Room 415, Feb. 27 from 4-6 p.m. in AB IV Room 203, and Feb. 28 from 2-4 p.m. in Criminal Jusitce Center A111.
Financial aid counselors will facilitate these workshops to answer questions, provide information on financial aid for the 2017-2018 academic year and offer assistance with FAFSA completion.
All workshops will be held in computer labs to encourage currently enrolled students to complete their 2017-18 FAFSA prior to registering for fall 2017 classes.
Attending is encouraged for students to get a helping hand on securing financial aid for the upcoming school year.
Two participants will be awarded $400 scholarships for attending.
The workshop is free and open to current students.
For more information, contact the Financial Aid and Scholarships Office at 936.294.1774.
Depts To Participate In March For Babies
Multiple Sam Houston State University departments are helping raise funds and awareness for the March for Babies, a three-mile walk set for April 1 at 9 a.m. at The Woodlands Church at Fellowship Campus. Registration is at 8 a.m.
The March for Babies is held in conjunction with the March of Dimes.
Premature birth affects about 380,000 babies in the United States. In addition to raising funds for research and programs, they will be used to bring information to families with a baby in newborn intensive care.
People interested in donating or joining the team to march in April can visit https://www.marchforbabies.org/Fundraising/Team?teamId=1284996&teamEventId=2760633& for more information. The fundraising goal is set at $150.
Departments participating include the College of Health Sciences, Student Money Management, Leadership Initiatives, Student Activities and more.
The Woodlands Church at Fellowship Campus is located at One Fellowship Drive, The Woodlands, Texas.
Next Leadership Over Lunch Set For Feb. 15
The next installment of the Department of Leadership Initiatives' Leadership Over Lunch series will be Wednesday (Feb. 15) from 11 a.m. to noon in Lowman Student Center Room 315.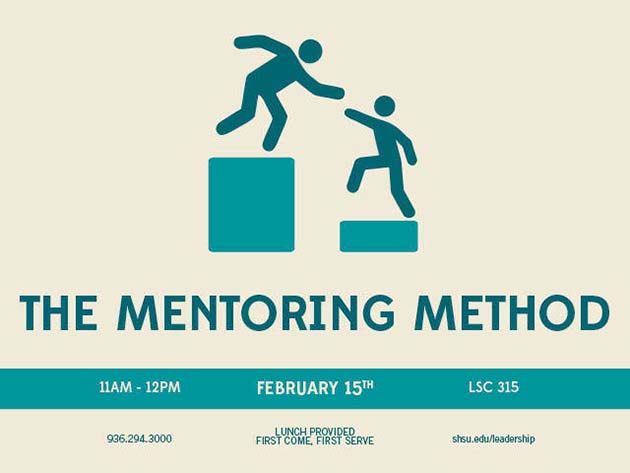 The lunch will feature Miguel Arellano Arriaga, academic mentor at the SAM Center, talking about different mentoring methods and how impactful it can be during college years.
"I think we all aspire to be like someone who truly embodies the ideals of a great leader or mentor," he said. "So, how do we get there? I believe mentoring is a key avenue used to develop individuals in such a way that both mentors and mentees stay accountable to the well being of others.
"Mentoring can also lead to transgenerational leadership or mentorship in that it doesn't stop or end with that person," he said. "Ideally, our goal, as mentors, should be to develop others in a way that will enable them to develop others in upcoming generations."
Having an understanding of how mentoring works can allow one to better establish themselves in whatever field they decide to pursue, according to Arriaga.
"As a first-time professional, seeking mentors that will help you develop and excel in your work is key to successful performance," he said. "This, in turn, means that you will more than likely have individuals seek you as a mentor, beginning the whole process again."
Lunch will be provided on a first-come, first-served basis.
For more information, visit the event page.
Division To Offer Student Activism Training
Sam Houston State University's Division of Student Affairs will host a student activism event on Tuesday (Feb. 14) from 2-3 p.m. in the Lowman Student Center Theater.
College of Education professors Paul Eaton and Ricardo Montelongo will present their expert knowledge on the subject of student activism, including the history and its impact on the college campus climate.
With student activism on campuses across the nation on the rise, Student Affairs is offering the event so SHSU employees can learn how to understand and respond to it in a way that both promotes engagement and maintains a safe and welcoming environment.
This event is open to all SHSU faculty and staff. Refreshments will be served.
The event is eligible for one hour of staff professional development credit.
School of Music To Host Two Trumpet Recitals
The School of Music will host two student recitals on Thursday (Feb. 16) at 6 p.m. and 7:30 p.m. in the Gaertner Performing Arts Center Recital Hall.
The students are a part of the Sam Houston State University Trumpet Studio, under the direction of professor Randy Adams.
"These programs are comprised of solos by each member of the studio and are part of students' major project grades for the semester," Adams said.
According to Adams, the recital will showcase a diverse amount of musical work to keep the audience engaged.
"There is a wide variety of music from various periods of history and compositional styles," Adams said. "The audience will get to hear several different types of trumpets played."
Admission is free and each performance should last about an hour.
For more information, contact the School of Music at 936.294.1360.
Saturday@SAM Volunteers Needed
Sam Houston State University is seeking student organization volunteers for the Saturday@SAM campus preview event for prospective students and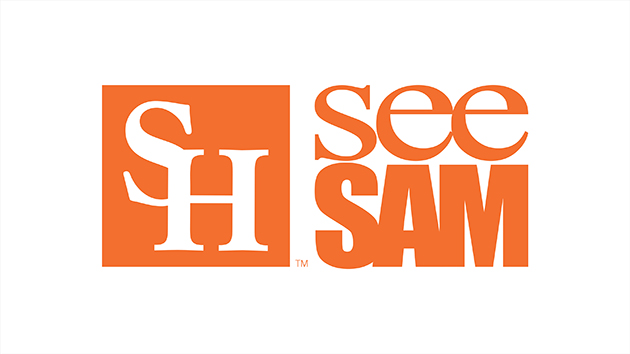 families on April 8. Approximately 3,000 visitors will be on campus that day.
The student organization must provide a minimum of 20 volunteers to be eligible. All volunteers will be required to attend training sessions.
All participants will receive a free T-shirt to wear at the event to represent their organizations.
Interested organizations can email Rosa Mejia at RMejia@shsu.edu for an application.
The deadline for submissions is March 1.
SHSU Students Asked To Participate In OSU Study
Approximately 5,000 Sam Houston State University undergraduate students were emailed by Student Money Management and invited to participate in the Ohio State University's Study on Collegiate Financial Wellness on Feb. 6.
The survey asks students questions regarding their spending habits, financial management and student loan debt, as well as other topics including credit, stress level related to finances, employment and academic progress.
If a large population of students completes the survey, the results will provide insight regarding students' financial preparation to attend a university, as well as their understanding of student loan debt.
The information, pertaining specifically to SHSU students compared to students nationwide, will assist the university in developing a plan to achieve the Texas Higher Education Coordinating Board's 60x30 Strategic Plan initiative regarding student loan debt, as well as other valuable data.
At this point, less than 3 percent of the students who were emailed have responded to the survey.
Reminder emails will be sent to students who have not participated in the survey on Feb. 9, 15 and 20.
The survey will officially close Feb. 27.
Survey results with institute-specific information will be available in late August.
Send Experts, Story Ideas Here
Are you an expert in a topic that might be of interest to reporters? Or even a unique topic? Would you like to have your research interests highlighted or discuss your expertise with reporters seeking interviewees?
The university Communications Office is collecting information and story ideas for its ongoing projects, including the online SHSU Experts Guide, the SHSU home page and Today@Sam.
The SHSU Experts Guide was established as a resource for the media, who turn to university experts lists for potential interviewees for news stories. Faculty who are interested in being a part of the university's database of experts can submit their biographical and personal information, as well as their areas of expertise, through the Experts Guide Submission Form.
Other story ideas, both news and features on faculty or student research and accomplishments can be sent to today@sam.edu or jenniferg@shsu.edu. For news stories, please include the date, location and time of the event, as well as a brief description and a contact person.
All information, including news story ideas and update items for Today@Sam, should be sent a minimum of a week in advance of the event in order to make necessary contacts and write a story. Feature story ideas for the SHSU home page ("sliders") should be sent a minimum of two months in advance.
To see a full list of the Today@Sam submission guidelines, or to access submission forms for news and feature stories or hometown releases, visit the guidelines page.
For more information, call 936.294.1836.
- END -
This page maintained by SHSU's Communications Office:
Director of Content Communications: Emily Binetti
Communications Manager: Mikah Boyd
Telephone: 936.294.1837
Communications Specialist: Campbell Atkins
Telephone: 936.294.2638
Please send comments, corrections, news tips to Today@Sam.edu