SHSU Update For Week Of Feb.5
Feb. 3, 2017
SHSU Media Contact: Lane Fortenberry
CJ To Host Secret Service Agent
The Sam Houston State University College of Criminal Justice will host U.S. Secret Service Special Agent Corbin Rowe on Wednesday (Feb. 8) at 2 p.m. in the Hazel B. Kerper Courtroom.
A special agent for 20 years, Rowe has been responsible for protecting dignitaries, investigating and preventing counterfeit currency, and safeguarding the payment and U.S. financial system from financial and computer-based crimes. He now serves as a recruiter for the Houston office.
The Secret Service is recognized for the physical protection it provides to the nation's highest elected leaders, visiting foreign dignitaries, facilities and major events. In order to ensure a secure environment for protectees, the Secret Service integrates a variety of innovative technologies and maintains a highly skilled and motivated workforce.
Using advanced countermeasures, the Secret Service executes security operations that deter, minimize and decisively respond to identified threats and vulnerabilities. Other specialized resources also serve to provide protection from threats, including chemical, biological, radiological and nuclear materials and explosive devices.
The Secret Service was created in 1865 to investigate and prevent counterfeiting. Today, the Secret Service has adopted a proactive approach using advanced technologies and capitalizing on the power of task force partnerships combat these crimes.
Multi-disciplined forensics experts, investigative experts and intelligence analysts provide rapid response and critical information in support of financial analysis, infrastructure protection and criminal investigations.
The U.S. Secret Service has a pivotal role in securing the nation's critical infrastructures, specifically in the areas of cyber, banking and finance. Other directives address the need to combat transnational organized crime that targets the citizens and financial institutions of the United States. In response to the globalization of technology-based threats, the U.S. Secret Service's investigative mission abroad is growing as well, creating the need for a heightened overseas liaison presence.
Prof To Host Communication Studies Workshop
Terri Jaggers, clinical assistant professor and director of internships in the College of Humanities and Social Sciences, will host a communication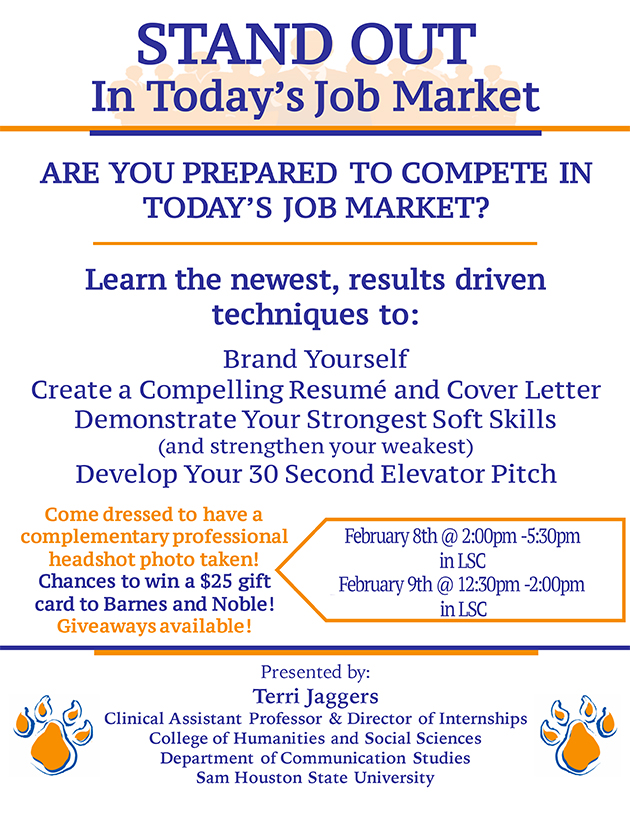 studies workshop on Wednesday (Feb. 8) from 3:30-5:30 p.m. and Thursday (Feb. 9) from 12:30-2 p.m. in Lowman Student Center Room 110.
The theme of the workshop is standing out in today's job market.
"As a business and community leader, I work with dozens of employers who continue to express their concerns regarding the ill-preparedness of young adults entering today's job market," Jaggers said. "One big component our students can hone in on is the newest techniques of identifying what their personal brand is and learning how to communicate that."
The workshop will provide the most current and useful tools and techniques to help students stand out to future employers.
"In this workshop I will explain ways in which each student can identify their own whys and communicate those succinctly within their branded image, their cover letter, resume, elevator pitch and interview," Jaggers said. "Students who attend this workshop might want to wear what they would consider interview attire for personal critique."
Complementary professional headshots will be taken, so coming properly dressed is encouraged. There will be chances to win a $25 gift card to Barnes and Noble, as well.
"We also want to give them an understanding of the value of a good headshot for their branding on Facebook, LinkedIn and other professional communicated needs."
Jaggers wants to see SHSU students succeed in the job market.
"As a bleeding-orange Bearkat, I want to see our students rise to the top of the applicant pool," Jaggers said. "I want them to represent themselves and our university in such a way that they become our community's leaders all across industry sectors.
"This is a highly competitive world; nobody gets a trophy for sitting on the sidelines once you are an adult," she said. "If you want to succeed, you have to learn the rules of the game and become great at them. This workshop will begin that process for everyone who attends."
ProfSPEAK To Highlight Island Persona, Cultural Identity
The Elliott T. Bowers Honors College ProfSPEAK series will feature Victoria Lantz, assistant professor of theatre, on Wednesday (Feb. 8) from 4-5:30 p.m. in Evans Complex Room 105.
Lantz will explore the "unspoiled" island persona, and the resulting complex cultural identity of Tobago, which gained prominence in Daniel Defoe's Robinson Crusoe.
"I will be discussing both the historical associations of Robinson Crusoe in performance to Caribbean identity and contemporary heritage performances in Tobago," Lantz said. "Institutions like colonialism and tourism give a limited, and often racially problematic, perspective on Afro-Caribbean culture, and local festivals offer different narratives of history.
"I also will trace how we get from Man Friday in Robinson Crusoe to minstrel shows, and blackface in cartoons to how the island of Tobago is considered Robinson Crusoe's Isle, and local performance as a counter-narrative."
Many tourist guides advertise the island as "Robinson Crusoe's."
"In the novel, Defoe gives clear indication that the island Crusoe is stranded on is Tobago (the small island of the twin-island country Trinidad and Tobago)," Lantz said. "I look into the ways in which tourism reflects that European-colonial claim of ownership and how the islanders present their culture totally unrelated to the 1719 novel."
Lantz has spent a long time studying different playwrights and plays.
"My field is theatre history and performance, but more specifically my scholarship is postcolonial theory and performance, with particular focus in the Caribbean," Lantz said. "I have moved to looking at community-based performances in festivals like Trinidad's Carnival or the Tobago Heritage Festival. I received a grant this summer to attend the Heritage festival and attend performances."
The Honors College ProfSPEAK series is designed to promote undergraduate research across campus. Each month, a different faculty member will share some aspect of his or her research in an informal lecture with interested undergraduates from all disciplines.
The presentation is free and open to all staff, faculty and students.
For more information, visit the event page.
Major Biosocial Project Underway At SHSU
What do heart rate, facial symmetry, DNA, finger measurements, reaction to stress, and hormones have to do with aggression, criminal behavior and substance abuse?
That is the question that Danielle Boisvert, director of the Sam Houston State University College of Criminal Justice graduate programs, and her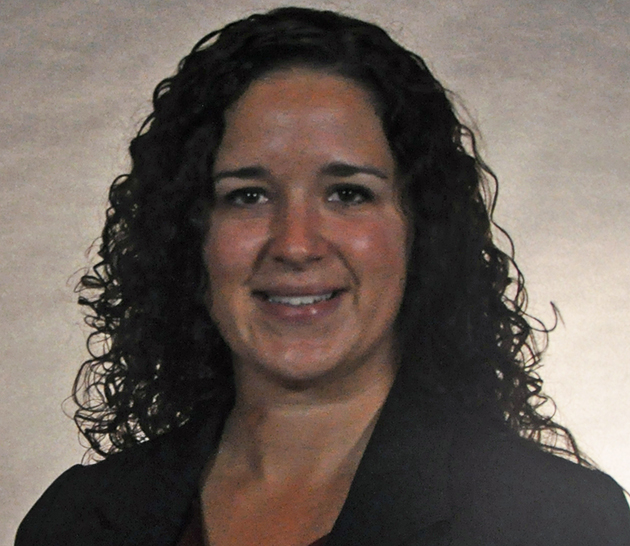 colleagues are trying to answer.
Drawing from expertise across campus, Boisvert is embarking on a unique study of college students examining the interactive effects of biological factors, genetics and environment on criminal and aggressive behavior, as well as substance abuse.
About 950 undergraduate students participated in a survey, which measured responses on issues such as self-control, temperament, psychopathy, aggression, and stalking. About 600 of those also participated in a bio-lab, which collected heart rate, skin conductance, facial symmetry, finger measurements, cortisol and testosterone saliva samples, and DNA samples.
The results from the lab will be used to see how biological factors interact with a host of environmental risk factors affiliated with criminal behavior and substance abuse.
The battery of biological measurements was based on previous biosocial research, which shows correlations among these biological factors and various forms of antisocial behavior.
The DNA samples, collected using buccal swabs, will be analyzed for genetic variants within dopamine, serotonin and oxytocin genes, which are key neurochemicals that have been linked to aggression, criminal behavior and substance abuse. The saliva samples will be analyzed to show hormonal reactions to stress by measuring cortisol and testosterone.
The project is a collaborative effort among several SHSU faculty and departments, including associate professor David Gangitano and assistant professor Sheree Hughes-Stamm, in the Department of Forensic Science, as well as assistant professor James Harper of the Department of Biological Sciences.
Graduate and undergraduate students in criminal justice, forensic science and psychology are involved in the project, and data from the project will be used in their dissertations, theses, capstone projects, honors contracts, and summer fellowships.
Preliminary results of the study are expected later this year.
SGA To Host Program 'Stand Up'
February is Black History Month and organizations all across Sam Houston State University are hosting events.
The Student Government Association will kick off the activities on Thursday (Feb. 9) with its program "Stand Up," from 7-9 p.m. in the Lowman Student Center Ballroom.
"Stand Up" will be a live-action, mixed-media performance with videos, dancers, and awards.
Junior Vanessa Roberts, SGA chief of the department of student affairs and Black History Month committee chair, brought together several organizations in creating the event.
Dance routines will include Khaos Step Team, Alpha Phi Alpha and Fade 2 Black Dance Ensemble. Music Nation also will perform.
Follwing the performances, there will be a student discussion panel with members from SHSU's NAACP, Talented Tenth, National Association of Blacks in Criminal Justice, and Black Student Alliance.
"Coordinating the organization and committee members has been a new experience," Roberts said. "This is a program that I feel extremely passionate about and want members outside of the community to feel welcome and engaged."
Roberts's goal for the event is to show a great support of the community. She wants students from all different backgrounds to come and enjoy the event.
The program should be enjoyed by anyone who comes to watch it," Roberts said.
Info Session Available For Asia Study Abroad
A study abroad information session for trips to Asia in fall 2017 will be held Thursday (Feb. 9) from 5-6 p.m. in Farrington Building Room 105.
The session will highlight the semester-long study abroad at SHSU partner universities in Japan, Korea and China. Affording study abroad, fitting the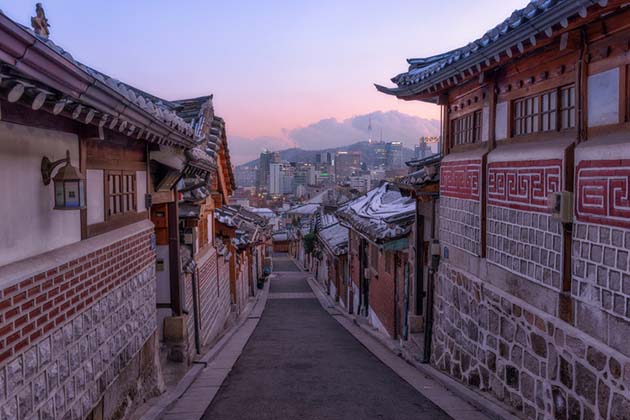 course into degree plans and how it enhances resumes will also be covered.
"Studying and living in Asia is truly a once-in-a-lifetime experience," said Dana Van De Walker, international student recruiter and special programs coordinator at SHSU. "Students can learn about another culture, study an in-demand language and prepare themselves to blend into an increasingly global workforce.
"SHSU study abroad students will take classes alongside local students, eat local food and make friendships that will last a lifetime."
The Office of International Programs offers a study abroad scholarship for SHSU students with a GPA of 3.0 or higher. Some partner universities also offer scholarships for airfare or discounts for accommodation.
One of SHSU's partners, Soonchunhyang University in Korea, offers students free airfare (up to $700), free dormitory housing and the option to work a part-time job on campus.
Students also are encouraged to apply for outside scholarships, including the Gilman Scholarship, which provides funding for students learning critical languages.
For more information on any SHSU study abroad programs, students can schedule a study abroad advising session with Van De Walker by emailing her at djv013@shsu.edu.
SHSU Food Pantry Distribution Set For Feb. 9
Students in need of food can fill out a food pantry request form online and attend the SHSU Food Pantry distribution on Thursday (Feb. 9) from 2-8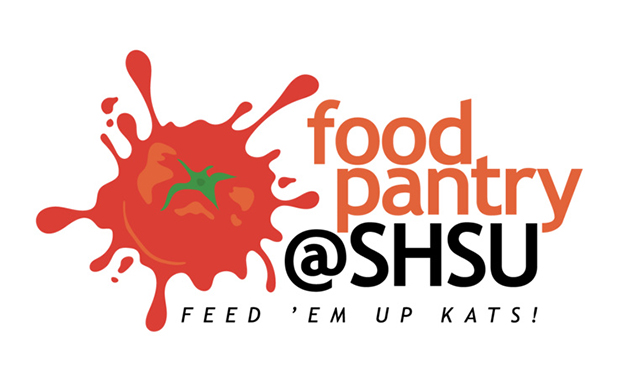 p.m. at Academic Building III Room 113.
Requests must be submitted by 11:59 p.m. on the day before the distribution. Walk-in requests are also accepted, but requests are filled on a first-come, first-serve basis.
Students should bring bags to carry food in and their Sam ID. The service is free of charge.
Food requests are confidential, and five more distribution dates will follow.
"The purpose of the SHSU Food Pantry is to support students who struggle with food insecurity, to encourage an educational understanding of food insecurity and to provide a space for students to volunteer and network with their peers," according to the SHSU Food Pantry statement.
For more information and to sign up, visit the event page.
Outdoor Rec Program To Visit Texas Hill Country
Sam Houston State University's Outdoor Recreation Program will embark on a trip to Texas Hill Country and Lake Georgetown from Feb. 17-19 to backpack the Goodwater Trail.
Backpacking is an outdoor activity in which people hike to their destination with a backpack full of essential supplies, such as food, water, shelter and clothing.
Students will leave on the afternoon of Feb. 17 for Georgetown, Texas and camp that night. The backpacking portion of the trip will last both Saturday and Sunday.
"Students should expect to have a unique opportunity of camping with only what they carry," said Ashley Pujda, Recreational Sports outdoors graduate assistant. "This trip is a beginner level adventure; however, it is still a tiring hike.
"The portion of the Goodwater Trail we will be covering has a variety of terrain and breathtaking views."
No experience is needed to sign up. The trip costs $70 for students and $80 for non-students, which covers transportation, equipment, food (except for any meals on the road), permits, fees, camping, instruction, and guides.
The deadline to register is Feb. 13.
For more information, visit the outdoor program website.
Students To 'Build-A-Bae' For Valentine's Day
To celebrate Valentine's Day, the SHSU Program Council invites students to build a stuffed animal, while supplies last, on Tuesday (Feb. 14) from 11 a.m. to 12:30 p.m. in the Lowman Student Center Second Floor Atrium.
Students can select the type of animal, stuff it with the given material and fit the animal with a T-shirt.
The animals available to select from are a duck, bear, koala, penguin, panda, dinosaur, unicorn and tabby cat.
The event is available to students with a valid Bearkat OneCard. There is a one animal per student limit.
For more information, contact Program Council at 936.294.1763 or at PC@shsu.edu.
The Kat Club To Host Super Bowl Party
The Lowman Student Center will host a Super Bowl party on Sunday (Feb. 5) in the Kat Club starting at 5 p.m.
Free food will be available and all services will be free during that period.
Super Bowl LI in Houston, Texas will feature the New England Patriots and Atlanta Falcons in Super Bowl LI at 5:30 p.m. Luke Bryan will perform the national anthem and Lady Gaga will be the halftime headliner.
For more information, contact the LSC Office at 936.294.1759.
Send Experts, Story Ideas Here
Are you an expert in a topic might be of interest to reporters? Or even a unique topic? Would you like to have your research interests highlighted or discuss your expertise with reporters seeking interviewees?
The university Communications Office is collecting information and story ideas for its ongoing projects, including the online SHSU Experts Guide, the SHSU home page and Today@Sam.
The SHSU Experts Guide was established as a resource for the media, who turn to university experts lists for potential interviewees for news stories. Faculty who are interested in being a part of the university's database of experts can submit their biographical and personal information, as well as their areas of expertise, through the Experts Guide Submission Form.
Other story ideas, both news and features on faculty or student research and accomplishments can be sent to today@sam.edu or jenniferg@shsu.edu. For news stories, please include the date, location and time of the event, as well as a brief description and a contact person.
All information, including news story ideas and update items for Today@Sam, should be sent a minimum of a week in advance of the event in order to make necessary contacts and write a story. Feature story ideas for the SHSU home page ("sliders") should be sent a minimum of two months in advance.
To see a full list of the Today@Sam submission guidelines, or to access submission forms for news and feature stories or hometown releases, visit the guidelines page.
For more information, call 936.294.1836.
- END -
This page maintained by SHSU's Communications Office:
Director of Content Communications: Emily Binetti
Communications Manager: Mikah Boyd
Telephone: 936.294.1837
Communications Specialist: Campbell Atkins
Telephone: 936.294.2638
Please send comments, corrections, news tips to Today@Sam.edu