Faculty Excellence Award Recipients Announced
Sept. 5, 2017
SHSU Media Contact: Lane Fortenberry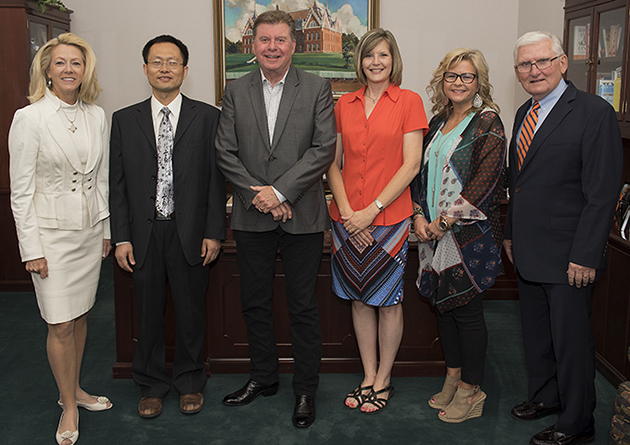 President Dana Hoyt (far left) and Provost Richard Eglsaer (far right) recently recognized the 2017 Faculty Excellence Award recipients. They are (from left) Qingzhong Liu, Jim Dozier, Tamara Cook and Marcy Beverly.
Four Sam Houston State University professors, whose activities and accomplishments demonstrate exemplary achievements and contributions, have been honored with SHSU's 2017 Faculty Excellence Awards.
The faculty members and their awards include: Marcy Beverly, professor, agriculture sciences, Excellence in Teaching; Qingzhong Lui, associate professor, computer science, Excellence in Scholarly and Creative Accomplishments; Tamara Cook, professor, biology, Excellence in Service; and Jim Dozier, clinical professor, criminal justice, David Payne Academic Community Engagement Award.
Marcy Beverly, Excellence in Teaching
Beverly came to SHSU in 2001, upon completion of her doctorate in animal science. In addition to teaching undergraduate and graduate students in both the classroom and the university ranch, she advises approximately 90 students per semester, serves as a thesis committee member for 14 graduate students, and works in the Houston Livestock Show and Rodeo recruitment booth.
She is also the SHSU Block and Bridle adviser and is a sponsor of the Children's Barnyard, Annual Crawfish Boil and Annual Chili Cook-off.
Doug Ullrich, a colleague in the Department of Agricultural Sciences and the 2014 recipient of the SHSU Faculty Excellence in Service Award, said that he often hears positive comments about Beverly's teaching from her students.
"Three aspects of Dr. Beverly's leadership work with students have impressed me, in particular—her selfless commitment to teaching, her ability to balance a full teaching load with an excellent student mentoring program, and her desire to have a positive impact on students in and out of the classroom," he said.
"Her communication and teaching skills are superb, as rated by students, making constant connections from the technical or theoretical subject matter to situations to which students can easily relate and identify," said Stanley Kelley, professor of agricultural sciences.
"She has a remarkable ability to hold the audience's attention while pushing, prodding and pulling her students in whatever fashion necessary to encourage them to achieve academic success as they prepare for their professional career," he said. "She is ever the teacher, providing not only knowledge and important skills to her students, but also inspiring and motivating them to be and do the best they can."
Qingzhong Liu, Excellence in Scholarly and Creative Accomplishments
Liu has been teaching at SHSU in the Department of Computer Science since 2010. His expertise is in multimedia forensics, information assurance, bioinformatics, data mining, and intelligent computing applications. He has primarily focused his research in steganography detection and forgery detection.
"Steganography, the ancient Greek term for 'secret writing' in various forms, has been revived and evolved with the advance of today's digital techniques, which are found in various use of military, diplomatic, personal and intellectual property applications," Liu said.
"Hiding covert messages in plain sight is becoming an increasingly popular form of cyberterrorism, cyberattack and cybercrime," he said. "The forgery on multimedia data is becoming more facilitated and proliferated with the advance of digital technologies.
"I highly enjoy scholarly and creative pursuits in my fields, and I do believe that such pursuits will enhance national security and public safety, and improve public health," he said.
Liu is the recipient of the 2015 Greater Houston Fraud Impact Award by The Houston Chapter of the Association of Fraud Examiners. The group is the world's largest anti-fraud organization and premier provider of anti-fraud training and education.
Tamara Cook, Excellence in Service
Described by colleagues as "an exemplary example of a faculty member who has been dedicated to service at all levels throughout her career," Tamara Cook has contributed to the Department of Biological Sciences, the College of Science and Engineering Technology, the university, professional organizations, and the scientific community in ways that are "nearly impossible to quantify and express verbally."
She is the founding director of the university's Center for Enhancing Undergraduate Research Experiences and Creative Activities. The center provides a connection between faculty members and student, which influences student retention and student success in the work force.
In addition, she was one of the charter team members in writing the proposal for the Re-Imagining the First-Year grant. She has been a vital force in recruiting faculty to support student success initiatives and in active discussions with her colleagues about the importance of a growth mindset for student success.
Cook currently serves as the faculty representative on the Biology Laboratory Building project, numerous departmental and college committees, and mentors undergraduate research students, including three honors theses, a student publication, and 17 presentations at regional national conferences.
She has served as a reviewer of federal grants, scientific manuscripts and has judged science fairs and spoken at community events.
"Although Dr. Cook has a long career ahead of her, she has already left her mark," said Chad Hargrave, chair of the Department of Biological Sciences. "She has contributed beyond the classroom and beyond her own research interests by sacrificing her time and skills to improve and enrich the lives of SHSU students, SHSU faculty, members of the scientific profession, and the general public."
Jim Dozier, David Payne Award for Academic Community Engagement
Although clinical professor of criminal justice Jim Dozier did not come to Sam Houston State University as a faculty member until 2005, his 50 years of professional experience across many years of public service has put him in touch with a large network of agencies, institutions or individual partners in need of support.
"Under Dr. Dozier's leadership, all internship course in the College of Criminal Justice were designated as academic community engagement courses," said John Payne, assistant professor in the Department of Security Studies. "Interns do more than just burnish resumes; they are actively engaged in blood drives, food programs, homeless outreach, child ID programs domestic abuse assistance programs, and more.
"This integration of teaching and service awakens students to an understanding of the vital role that and engaged student (an engaged university) can play in the community," he said.
Dozier is present at every one of his students' projects and is personally involved in setting and attending meetings with community partners. He visits potential community partners to assess needs and addresses any challenges that may be met.
In 2016, Dozier's graduate security management students completed a project for Bridgewater Farms, a residential and day facility devoted to helping teens and adults that are intellectually disabled. SHSU students assessed security risks and prepared reports detailing potential hazards and suggestions for solutions, including grants and other funding opportunities which might defray costs.
Also, several students from his 2015 management program returned following their graduation to assist the American Society for Industrial Security in the delivery of 1,000 teddy bears to ill children in Houston area hospitals. This year, the bears were also distributed to economically disadvantaged children in non-profit preschool programs. The returning graduates noted that their previous participation as students was a defining experience that motivated them to help again.
"Dr. Dozier's impact on communities has been enormous," a statement from the SHSU ACE coordinators said. "Literally hundreds of students have taken lessons of dedicated public service from Dr. Dozier into their communities. There is hardly an organization in this state that has not benefitted from the teaching and professional development he offers to our criminal justice students."
- END -
This page maintained by SHSU's Communications Office:
Associate Director, Communications: Emily Binetti
Telephone:936.294.4406
Communications Manager: Mikah Boyd
Telephone: 936.294.1837
Communications Writer: Campbell Atkins
Telephone: 936.294.2638
Thomason Building: Suite 102
Please send comments, corrections, news tips to Today@Sam.edu