SHSU To Offer Language, Culture Courses In The Woodlands
Jan. 30, 2017
SHSU Media Contact: Jennifer Gauntt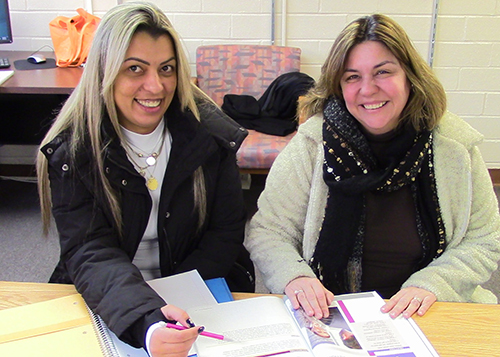 Danielle Esparto Santo (left) and Marilia Campos, both from Brazil and currently live in The Woodlands, attend English-language classes at the Sam Houston State University English Language Institute. The institute offers a variety of programs to help the public develop communication abilities. —Submitted photo
The Texas Tribune reported in 2015 that more than one-third of Texas's 23.7 million people over the age of 5 speak a language other than English at home.
To help those who wish to become more proficient in English, Sam Houston State University will offer Language and Culture Classes starting March 20 at SHSU's The Woodlands Center campus.
Directed through SHSU's English Language Institute, the Language and Culture Program for Non-Native Speakers comprises four special topic classes that introduce students to U.S. and Texas culture, the U.S. educational system, career exploration, and current events, while improving students' reading, writing and listening/speaking skills.
The eight-week classes will be held from 8:15 a.m. to 1:15 p.m. Mondays through Thursdays. Students can choose to take all four classes or select individual courses on any of the four topics.
Those taking the classes must have intermediate to high English skills, according to Barbara Eckenfels, SHSU executive director for international programs.
The purpose of the program is multifaceted, Eckenfels said. Participants taking the courses may do so to prepare for English for Speakers of Other Languages courses in college, to learn how to further their education or to become acclimated to a new culture and/or educational setting.
"Individuals will take them for different reasons. There is a large population of Hispanic families who have relocated to The Woodlands, and we have found that the topics that we are offering are of interest to international newcomers to this area," Eckenfels said.
"Our educational system, careers and majors, and culture are all quite different, and individuals new to the country want to learn about them," she said. "We wanted to offer classes that have fun topics and as well as a social component, while giving students the opportunity to improve their English."
Sessions also are scheduled for the summer, running from June 12 through Aug. 4. The registration deadline is March 17 for the spring session and June 9 for the summer session.
The tuition cost is $500 per course, plus university fees. International students interested in taking the course and need I-20s are encouraged to apply early.
SHSU—The Woodlands Center, is located at 3380 College Park Drive, next to the Lone Star College-Montgomery campus, in The Woodlands.
For more information or assistance with registration, contact ELI staff associate Courtney Miller at courtneymiller@shsu.edu or 936.294.4991.
For more information on programs offered for non-English-speaking natives, visit the Office of International Programs website at http://bit.ly/2jbs1SL.
- END -
This page maintained by SHSU's Communications Office:
Director of Content Communications: Emily Binetti
Communications Manager: Mikah Boyd
Telephone: 936.294.1837
Communications Specialist: Campbell Atkins
Telephone: 936.294.2638
Please send comments, corrections, news tips to Today@Sam.edu