Graphic Design Meets the Stage in Dance Spectrum
Nov. 30, 2017
SHSU Media Contact: Emily Binetti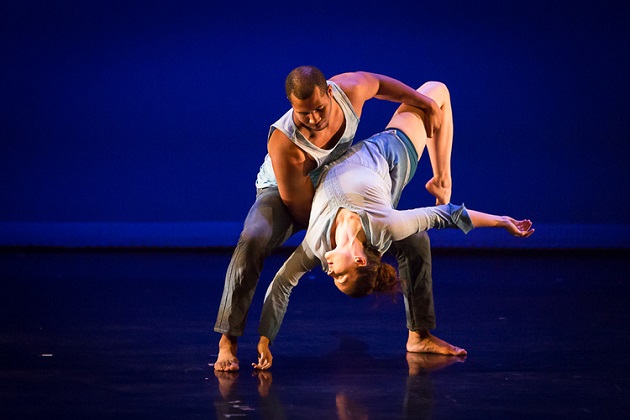 Story by Teddi Cliett
American poet Henry David Thoreau once said, "The world is but a canvas to our imagination."
Award-winning dance teacher, choreographer and Sam Houston State University Department of Dance guest artist Mike Esperanza uses his background in graphic design to fill an empty stage with intricate choreography. His creative approach to dance will be featured in the upcoming Dance Spectrum, Nov. 30 – Dec. 2 at 8 p.m., with a 2 p.m. matinee on Saturday, in the James and Nancy Gaertner Dance Theater.
Esperanza visited SHSU for the Dance Gallery Festival in October, where he also had the chance to work with dancers on unique choreography specifically for Dance Spectrum, the bi-annual performance that provides dance majors with an opportunity to work with faculty and guest artists on challenging repertory in a professional atmosphere.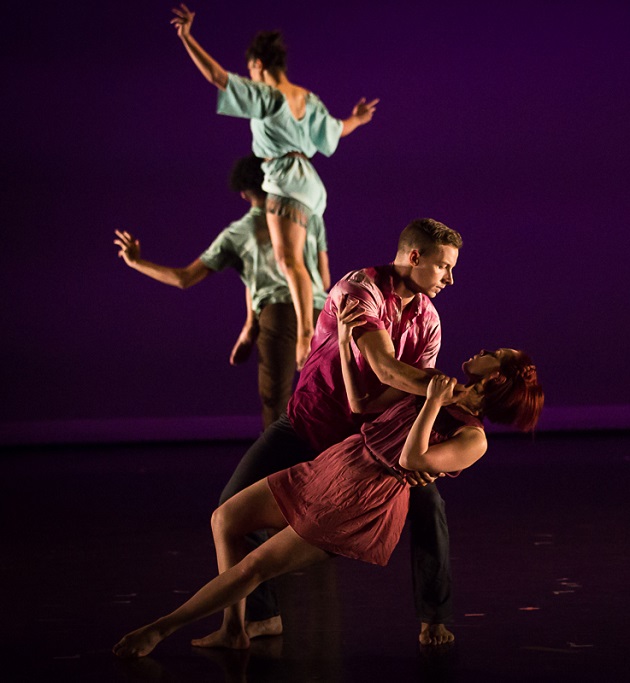 Senior dance major Vincent Calleros has worked with Esperanza in the past, and said each interaction with him is rewarding.
"Both experiences were completely different, though Mike's process stayed the same," Calleros said. "As he works, he has an overarching plan and idea for the piece that is apparent from the beginning. His direction and focus allows him to be able to play and choreograph on the spot. Each work that he creates is uniquely designed for that specific ensemble; it creates a special quality of material that is cherished by himself and the dancers."
Not only did Esperanza work thoroughly, but diligently. Graduate student Evelyn Toh is the rehearsal director for Esperanza's piece and said his work was set in just over a week.
"I enjoyed being in rehearsal and seeing how he creates because he has a background in graphic design, so the way he saw choreography was so interesting," Toh said. "It's so intricate and he would just stand there, look at the space, tell us what to do, and all of a sudden all this crazy stuff would come out."
As rehearsal director, Toh is responsible for directing and dancing in Esperanza's piece now that he is gone. In addition to that, she is also dancing in SHSU associate professor Andy Noble's piece, "Fragment."
"It's actually a solo that leads into a duet, and it involves a technology component as well," Toh said. "There's a camera, and basically my image gets multiplied on a screen, which makes it look wavy when I move."
SHSU assistant professor of dance Dionne Sparkman Noble has also choreographed a piece for the show, which Calleros says mirrors his personal aesthetic as a viewer and a dancer.
"Dionne's piece has three separate sections that change in mood and movement dynamic," Calleros said. "My personal aesthetic as a viewer enjoys seeing qualitative change within a work. So, I know the audience will enjoy seeing that shift just as much as I enjoy doing it."
As he prepares to graduate, this semester will be Calleros' last Spectrum performance.
"I am excited for people to just take it in and experience the performance," he said. "The overall virtuosity of the show is seen through structurally stunning, physical and visually pleasing works. There is something for all audience members to enjoy."
Tickets for Dance Spectrum are available by contacting the SHSU Box Office at www.shsu.edu/boxoffice, or 936.294.2339.
Photos by Lynn Lane
- END -
This page maintained by SHSU's Communications Office:
Associate Director, Communications: Emily Binetti
Telephone:936.294.4406
Communications Manager: Vacant
Telephone: 936.294.1837
Communications Writer: Campbell Atkins
Telephone: 936.294.2638
Thomason Building: Suite 102
Please send comments, corrections, news tips to Today@Sam.edu