Sam Houston State University Wins Inaugural WRDS-SSRN Innovation Award™
April 24, 2017
SHSU Media Contact: Julia May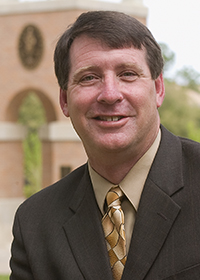 Mitchell Muehsam, Dean
SHSU College of Business Administration
Wharton Research Data Services, SSRN and Elsevier are pleased to announce Sam Houston State University, College of Business Administration as the winner of the first WRDS-SSRN Innovation Award™, honoring emerging business schools.
Wharton Research Data Services (WRDS), the award-winning data research platform and business intelligence tool for corporate, academic and government institutions worldwide, announced (April 2017) a unique collaboration with SSRN, the world's leading preprint server and working paper repository, and its parent company Elsevier, a global information analytics company specializing in science and health. The collaboration will elevate the visibility of universities and researchers conducting research across an array of financial and economic fields.
The WRDS-SSRN Innovation Award is an important element of the collaboration. Three winners will be selected annually from across North America, Europe and Asia-Pacific regions based on their ability to demonstrate innovation and research excellence. Winners will receive a monetary prize and promotion. To learn more, go to http://www.whartonwrds.com/about/our-impact.
Mitchell Muehsam, Dean of College of Business Administration at Sam Houston State University, was presented with the award on Sunday (April 23) by Harlan Sands, Vice Dean of Finance and Administration of the Wharton School, and Gregg Gordon, Managing Director of SSRN, during a dinner event hosted by WRDS, S&P Global Market Intelligence, and CRSP.
"I am pleased to present the inaugural WRDS-SSRN Innovation Award to Mitchell Muehsam, Dean of College of Business Administration at Sam Houston State University," said Harlan Sands, Vice Dean of Finance and Administration of the Wharton School. "This award recognizes the caliber of innovative and impact-focused research taking place at Sam Houston State University and the school's commitment to further developing its strong business program."
"We are honored to be the recipient of the WRDS-SSRN Innovation Award," said Muehsam. "We take great pride in having WRDS available for our faculty. This valuable resource has enabled our faculty to produce high quality research as well as enhance the education we provide our students. We are confident that in the years to come, we will continue to be innovative, using WRDS to provide impactful research and an engaged educational environment."
Gregg Gordon, Managing Director of SSRN, added: "Congratulations to Sam Houston State University from everyone at SSRN and Elsevier. The College of Business Administration thoroughly deserve this inaugural award. The award and the WRDS Research Paper Series, a new, searchable platform on SSRN that showcases research conducted by WRDS, provides an important way for researchers and institutions to increase the visibility and prominence of their work."
About WRDS
Wharton Research Data Services (WRDS) provides the leading business intelligence, data analytics, and financial research platform to global institutions ̶ enabling comprehensive thought leadership, historical analysis, and insight into the latest innovations in academic research.
WRDS provides researchers with one location to access over 250 terabytes of data across multiple disciplines including Accounting, Banking, Economics, ESG, Finance, Healthcare, Insurance, Marketing, and Statistics. Flexible data delivery options include a powerful web query method that reduces research time, the WRDS Cloud for executing research and strategy development, and the WRDS client server using PCSAS, Matlab, and R. Our Analytics team, doctoral-level support and rigorous data review and validation give clients the confidence to tailor research within complex databases and create a wide range of reliable data models.
An award-winning data research platform for over 50,000 commercial, academic, and government users in 30+ countries, WRDS is the global gold standard in data management and research ̶ all backed by the credibility and leadership of the Wharton School.
About the Wharton School
Founded in 1881 as the first collegiate business school, the Wharton School of the University of Pennsylvania is recognized globally for intellectual leadership and ongoing innovation across every major discipline of business education. With a broad global community and one of the most published business school faculties, Whartoncreates economic and social value around the world. The Wharton School has 5,000 undergraduate, MBA, executive MBA, and doctoral students; more than 9,000 participants in executive education programs annually and a powerful alumni network of 95,000 graduates.
About SSRN
SSRN is a worldwide collaborative of over 330,600 authors and more than 2.2 million users that is devoted to the rapid worldwide dissemination of research. Founded in 1994, it is now composed of a number of specialized research networks. Each of SSRN's networks encourages the early distribution of research results by reviewing and distributing submitted abstracts and full text papers from scholars around the world. SSRN encourages readers to communicate directly with other subscribers and authors concerning their own and other's research. Through email abstract eJournals SSRN currently reaches over 400,000 people in approximately 140 different countries.
About Elsevier
Elsevier is a global information analytics company that helps institutions and professionals progress science, advance healthcare and improve performance for the benefit of humanity. Elsevier provides digital solutions and tools in the areas of strategic research management, R&D performance, clinical decision support, and professional education; including ScienceDirect, Scopus, ClinicalKey and Sherpath. Elsevier publishes over 2,500 digitized journals, including The Lancet and Cell, more than 35,000 e-book titles and many iconic reference works, including Gray's Anatomy. Elsevier is part of RELX Group, a global provider of information and analytics for professionals and business customers across industries. www.elsevier.com
- END -
This page maintained by SHSU's Communications Office:
Director of Content Communications: Emily Binetti
Communications Manager: Mikah Boyd
Telephone: 936.294.1837
Communications Specialist: Campbell Atkins
Telephone: 936.294.2638
Please send comments, corrections, news tips to Today@Sam.edu