CJ Career Week To Showcase Job Opportunities
Feb. 24, 2017
SHSU Media Contact: Lane Fortenberry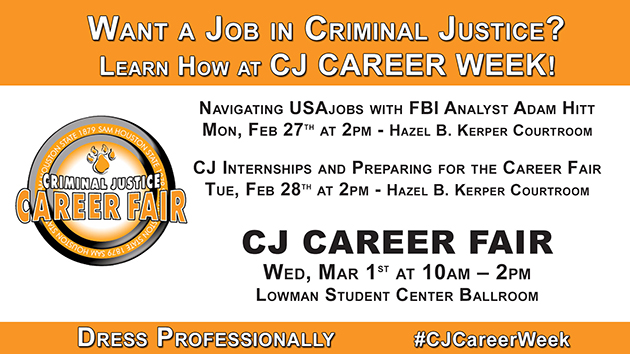 The Sam Houston State University College of Criminal Justice will help prepare its students for the future with a series of activities as part of the annual CJ Career Week, Feb. 27 through March 1.
On Monday, FBI analyst Adam Hitt will discuss his career and help students navigate the USAjobs.com website to put their best foot forward for federal jobs. The presentation will begin at 2 p.m. in the CJ Center's Hazel B. Kerper Courtroom.
On Tuesday, CJ internship coordinator Jim Dozier and associate director of Career Services Vinessa Mundorff will discuss opportunities and help prepare students for Wednesday's CJ Career Fair at 2 p.m. in the Kerper Courtroom.
On Wednesday, more than 50 employers in policing, corrections, victim services and homeland security, as well as several law schools, will converge on the Lowman Student Center Ballroom from 10 a.m. to 2 p.m. to offer career and internship options for students during the CJ Career Fair.
In addition to police, sheriff's, corrections and probation offices from across the state, among this year's participants are the U.S. Border Patrol, Dallas Area Rapid Transit Police Department, Dallas/Fort Worth International Airport DPS, Dunbar Armored, Harris County Fire Marshal's Office, the Office of the Attorney General's Child Support Division, Texas Department of Family and Protective Services, Texas Department of Public Safety, Texas Parks & Wildlife, U.S. Army Recruiting Battalion Houston, and U.S. Secret Service.
Last year, nearly nine out of 10 employers at the CJ Career Fair said they plan to interview candidates from SHSU for jobs.
Students are encouraged to dress professionally, wearing a suit or neat slacks, a button down shirt and tie for men, or a suit, neat slacks and blouse or dress of appropriate length for women; have Career Services review resumes and bring copies to hand out at the career fair; prepare a 30-second "elevator speech" for recruiters that relays interests and accomplishments in criminal justice; and research employers so they know what the agency does and what they have to offer.
- END -
This page maintained by SHSU's Communications Office:
Director of Content Communications: Emily Binetti
Communications Manager: Mikah Boyd
Telephone: 936.294.1837
Communications Specialist: Campbell Atkins
Telephone: 936.294.2638
Please send comments, corrections, news tips to Today@Sam.edu