Career Services To Host Professional Panels
Nov. 10, 2017
SHSU Media Contact: Amanda Horn
Sam Houston State University students will have the opportunity to hear from professionals in a variety of fields as the department of Career Services hosts a week-long event of panel discussions from Nov. 13 thru Nov. 16. entitled "What's Your Story?" with activities that focus on career development for students.
"The event is really geared towards students who are wanting to explore different career options and ideas," said Veronica Gonzalez, events coordinator for Career Services. "This is also a great chance for students to network with some of the professionals that they might aspire to be like one day."
The department will offer four different panel events, which will cover the areas of business, education, STEM (Science, Technology, Engineering, and Math), and criminal justice.
"We have about three to four panelists for each event, from a multitude of disciplines," Gonzalez said.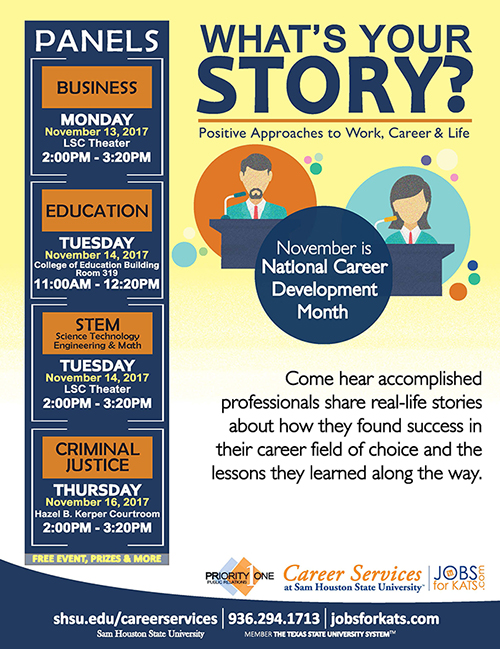 The Business panel will take place on Monday, Nov. 13 from 2 p.m. to 3:20 p.m. in the Lowman Student Center Theater. The discussion will be led by a representative from Enterprise Rent-a-Car, a district manager for retail and pharmacy operations for Walgreens and a director of recruiting for Huffines Automotive Dealerships in Plano.
On Nov. 14, the education panel will be held from 11 a.m. to 12:20 p.m. in the Eleanor and Charles Garrett Teacher Education Center Room 279. This panel will include different teachers from different concentrations, like special education and early childhood development.
Later that day, the STEM panel discussion will take place from 2 p.m. to 3:20 p.m. in the LSC Theater and will feature a physical therapist and a professional from nursing who will share their experiences.
To end the week, the CJ panel will take place on Thursday, Nov. 16 from 2 p.m. to 3:20 p.m. in the Hazel B. Kerper Courtroom. This panel will have professionals from law enforcement and a secret service agent on hand to discuss their careers.
"We will have moderators asking questions to start a conversation, then from there it will be organic and flow freely," Gonzalez said.
The activities for the week are all free and available to SHSU students.
For more information about this event, contact Gonzalez at vgonzalez@shsu.edu
- END -
This page maintained by SHSU's Communications Office:
Associate Director, Communications: Emily Binetti
Telephone:936.294.4406
Communications Manager: Vacant
Telephone: 936.294.1837
Communications Writer: Campbell Atkins
Telephone: 936.294.2638
Thomason Building: Suite 102
Please send comments, corrections, news tips to Today@Sam.edu