SHSU Launches $125 Million Campaign For Facilities, Programs
Jan. 30, 2017
SHSU Media Contact: Julia May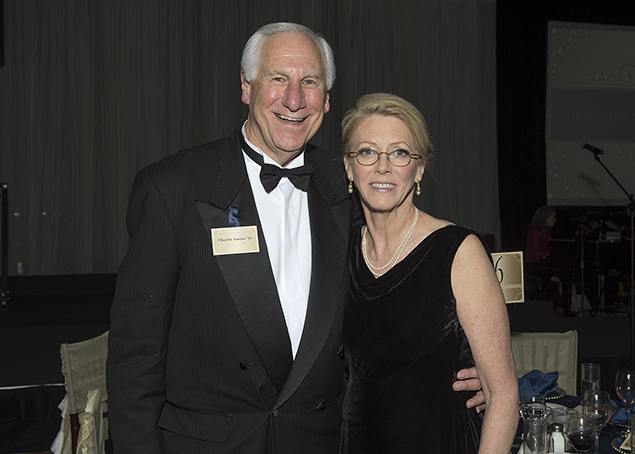 SHSU graduate and businessman Charlie Amato is serving as co-chair, along with fellow Bearkat and business partner Gary Dudley, of the university's "Honoring Traditions. Creating Futures" capital campaign, which was publicly announced Saturday evening at a kick-off event in The Woodlands. Also pictured is SHSU President Dana Hoyt.
Sam Houston State University formally launched the public phase of a $125 million capital campaign on Saturday evening with the announcement of four major priorities to strategically move the university forward.
The campaign, "Honoring Traditions. Creating Futures," has targeted fundraising for: academic support and student enrichment; funding for the Doctor of Osteopathic Medicine program and program enhancement for health sciences; a facility upgrade at Gibbs Ranch for agricultural sciences; and a Westside Complex renovation at Bowers Stadium for athletics.
The campaign is led by co-chairs Charlie Amato, '70, and Gary Dudley, '69, founders and owners of SWBC in San Antonio.
"It's very exciting to observe the quality of education and learn about the new programs Sam Houston State University is developing in response to the demands of the workforce," Amato told guests at the kickoff event, which took place at The Woodlands Marriott Waterway Hotel and Convention Center.
"(In the business world) getting a business up and running is only one small part of being successful," he said. "You can never take a break or even slow down. To remain competitive requires constant reinvestment and adapting to market changes.
"The same thing is true of a university, with new projects and programs, rising operating costs and lower state funding—the need for additional capital will continue to grow," he said. "Without this reinvestment and adaptation into new areas of study, the university will very quickly lose its ability to attract high-performing students, faculty and even athletes."
Thus far, during the campaign's quiet phase, the university has raised $85 million in gifts and commitments.
SHSU made history in 2006 when the university formally kicked off its first ever capital campaign. The campaign's $50 million goal was surpassed by more than $10 million in less than five years.
Once again, SHSU is in a place where university officials believe that decisions must be made about the school's future to ensure continued success.
"With enrollment consistently growing, workforce changes dictating new program requirements, state and nationwide shifts in demographics, and increasing competition for the brightest and most talented students, faculty and staff, Sam Houston State University has found itself at the crossroads of determining what new direction the institution must take," said SHSU President Dana Hoyt.
"Sam Houston State University has always been a remarkable and unique place to receive an education and grow personally and professionally," she said. "We now have the opportunity to empower those individuals who make the university such a special place to pursue tomorrow's great ideas.
"To be able to attract future leaders, as well as eminent scholars and researchers, we need support from our friends and alumni," she said. "With the gifts that we receive from our supporters during this campaign, we can affect the type of transformative change that can be felt throughout the state and across the world."
For more information about "Honoring Traditions. Creating Futures," visit the campaign's website.
- END -
This page maintained by SHSU's Communications Office:
Director of Content Communications: Emily Binetti
Communications Manager: Mikah Boyd
Telephone: 936.294.1837
Communications Specialist: Campbell Atkins
Telephone: 936.294.2638
Please send comments, corrections, news tips to Today@Sam.edu