Annual Art Walk To Showcase Local Talent, Culture
Feb. 20, 2017
SHSU Media Contact: Emily Binetti
Story by Teddi Cliett.
Huntsville, Texas, possesses a quaint, yet vibrant culture that is unlike anything else. On March 4, community members are invited to experience that culture in a free, interactive Art Walk, presented by the Sam Houston State University Department of Art and the Student Art Association from 2-6 p.m. along University Avenue.
The walk will officially kick off at the Fine Arts and Mass Communication Creative Community Gallery, located at the corner of 17th Street and University Avenue, in Belvin-Buchanan Hall.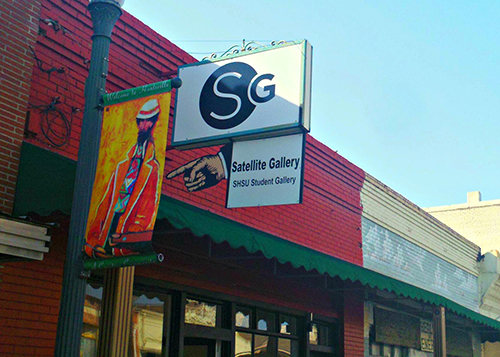 The SHSU Satellite Gallery will be among the places where art aficionados can take in and interact with some of the Student Art Association-produced pieces during the annual Art Walk on March 4. The gallery is located at 1216 University Ave., in Downtown Huntsville.
From there, participants can venture to the Museum of Texas Art (1425 University Ave.), Museum of Genocide (1501 University Ave.), Museum of Texas Furniture, Stoneware, and Kitsch (1405 University Ave.), the SHSU Satellite Gallery (1216 University Ave.), and end their walk at the Adickes Foundation (710 University Ave.). All venues will be open from 2-5 p.m. and will culminate in a​ reception at the SHSU Satellite Gallery from 5-6 p.m.
"The SHSU Department of Art is committed to developing relationships with the community because they are our audience," said Michael Henderson, chair of SHSU Department of Art. "Huntsville has a unique and rich culture and the university is a part of it."
Volunteers from SHSU's Student Art Association will guide the walk and a van will travel up and down the avenue about once an hour for additional transportation.
Henderson also noted that although the walk is guided, participants will be given a map and are welcome to pick and choose their desired exhibits and move at their own pace.
The art displayed throughout the walk will be from both professional and student artists, with the intention of tying the Huntsville community to the university.
"Our students are learning to create art that is meaningful and engages an audience," Henderson said. "We want to make the townspeople aware of the art that is being created at SHSU, and we want the university community to know about the important local art here in Huntsville. We believe that art enriches community and improves the quality of life of the residents."
The Art Walk is an annual event designed to showcase local art, which is especially fitting because, according to Henderson, Huntsville is one of the few cities in Texas that has a cultural district designated by the Texas Commission on the Arts. Locations included in that district are University Avenue, the Downtown Square, the Wynne Home Art Center, and SHSU's James and Nancy Gaertner Performing Arts Center.
For more information about the walk, contact the Student Art Association at 936.294.3418.
- END -
This page maintained by SHSU's Communications Office:
Associate Director, Communications: Emily Binetti
Telephone:936.294.4406
Communications Manager: Mikah Boyd
Telephone: 936.294.1837
Communications Writer: Campbell Atkins
Telephone: 936.294.2638
Thomason Building: Suite 102
Please send comments, corrections, news tips to Today@Sam.edu