SHSU Update For Week Of April 16
April 13, 2017
SHSU Media Contact: Lane Fortenberry
Homeland Security Program Moving To Woodlands
The master's program in homeland security studies at Sam Houston State University will be moving to SHSU-The Woodlands Center in the fall to better accommodate students and professionals in businesses and government agencies in the greater Houston region.
The program will continue to offer classes in Huntsville for the current cohort of second year master students, as well as undergraduate classes for the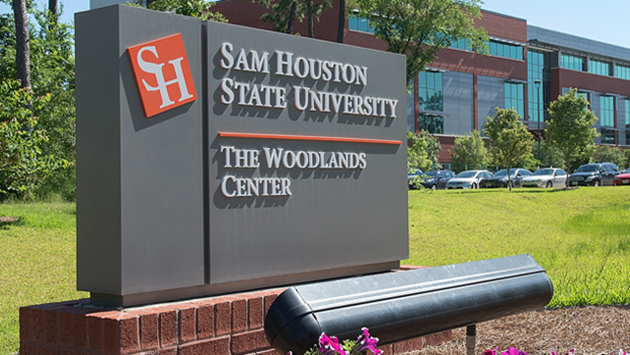 homeland security studies minor. The Department of Security Studies provides options to take graduate courses through online or face-to-face classes.
"We are looking to make the program increasingly accessible for folks working in the field within the Homeland Security Enterprise, while providing an opportunity for younger students to get experience by taking classes with veterans working in the discipline," said Nadav Morag, chair of the Department of Security Studies. "It's a win-win for students and professionals alike."
The 36-hour master's program also will offer three different tracks to address the unique needs of each student. The capstone/internship option provides an opportunity to work part-time for agencies or businesses in homeland security and present a shorter research paper on practical or policy issues. For those interested in academic pursuits, thesis track candidates produce a substantial scholarly research paper on issues of significance to the field. Finally, the third track allows working professionals to write a shorter research paper and to take an extra elective course.
To serve working professionals, in-person classes will be offered in the evening. The presence of practitioners will enhance the learning experiences for other students as they discuss real world issues and scenarios in the discipline.
The security studies program has grown significantly in the last few years, with nearly 100 students enrolled in the graduate program from across the state, nation and world, including active military personnel in Germany and Afghanistan. With more undergraduate students signing up for security studies classes or the minor, the department is working on offering an undergraduate degree in homeland security studies in the future.
To address the growth, the department will add a new faculty member this fall. Natalie D. Baker currently is an assistant professor in the L. Douglas Wilder School of Government and Public Affairs at Virginia Commonwealth University. She specializes in emergency management and public health issues, most recently completing a study on the Ebola scare in the United States. She also conducted other research examining the aftermath of Hurricane Katrina and earthquake preparedness in southern California.
The department also is assembling an advisory board of leaders in the Homeland Security Enterprise to ensure that the curriculum offered remains relevant to the field. The board also will help the program to develop new classes as the discipline evolves.
SHSU To Celebrate Earth Day
Sam Houston State University's Recreational Sports, Dining Services, Facilities Management, Residence Life, and other offices will work together to make SHSU a more sustainable community for Earth Day on Wednesday, April 19, from 10 a.m. to 6 p.m. around campus.
Evan Anderson, SHSU arborist, will lead a campus tree tour beginning at 10 a.m. in front of the Lowman Student Center front stairs. He will discuss the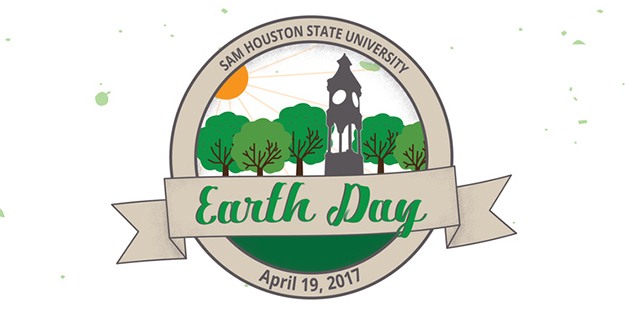 different types of trees on campus.
Other activities will take place in the LSC Mall Area from 10 a.m. to 2 p.m.
Attendees can learn how to be more sustainable, and enter to win prizes such as shirts, bags and a bicycle. An all-electric BMW will also be on display.
SH Dining will offer information about the effects of meat-based protein compared to plant-based protein in the food chain and what each does to earth.
They will also be educating students on waste and production logs for proper food prep with minimal waste, and will have literature from General Mills on their sustainability efforts across the globe.
Facilities Management will offer information about shredding, paper recycling and energy efficiency tips.
Students can pot a plant with Residence Life from 11 a.m. to 2 p.m. in the LSC Mall Area. Plants, pots and soil will be provided, while supplies last.
Lastly, attendees can play lawn games, Frisbee, slackline and hang out in front of the Recreational Sports Center from 4-6 p.m. All games are free for everyone.
Assistant Prof To Give 'Last Lecture'
Matthew Fuller, assistant professor of higher education leadership and principal investigator for the Surveys of Assessment Culture at Sam Houston State University, will give his "last lecture" on Thursday, April 20, from 2-3 p.m. in the Lowman Student Center Theater.
Fuller will share his experiences working in organizations for over 19 years. He will also discuss the importance of agriculture and nature.
Fuller said one of his most touching stories will be shared during the wine and cheese reception following the lecture.
Fuller's higher education career began in student affairs. He has served as a program coordinator of Institutional Assessment and Diversity and instructor at Texas A&M University, housing coordinator/ intern at the University of Alaska-Southeast, and assistant director of assessment and instructional assistant professor at Illinois State University.
In addition to his focus on organizational culture and leadership, Fuller's research interests include legal issues in education, financial aid and access, and history of higher education.
For more information, contact Sherry Hirsch, assistant to the dean, at 936.294.3304 or edu_slh@shsu.edu.
Officer To Discuss Active Shooter Responses
Brandon Whitfield, Sam Houston State University police officer, will present the C.R.A.S.E. (Civilian Responses to Active Shooter Events) event on Tuesday, April 18, from 2-4 p.m. in Lowman Student Center Room 320.
"C.R.A.S.E. provides participants with strategies that can be used to prepare and respond to an active shooter event or other life-threatening incidents," Whitfield said.
The Advanced Law Enforcement Rapid Response Training states the three strategies for responding to an active shooter are Avoid, Deny and Defend, as in:
Avoid the shooter
Deny the shooter access to your location
Defend yourself, if necessary
"In addition, this course will provide an overview of previous active shooter events, stress response and its effects on the human body, and law enforcement's response to such events," he said.
Law enforcement's expectations for armed citizens during an active shooter event will also be discussed.
The event is free and open to all students, faculty and staff.
NABCJ Conference Set For April 22
The National Association of Blacks in Criminal Justice's 10th annual mini-conference will be held on Saturday, April 22, from 9 a.m. to 2 p.m. on the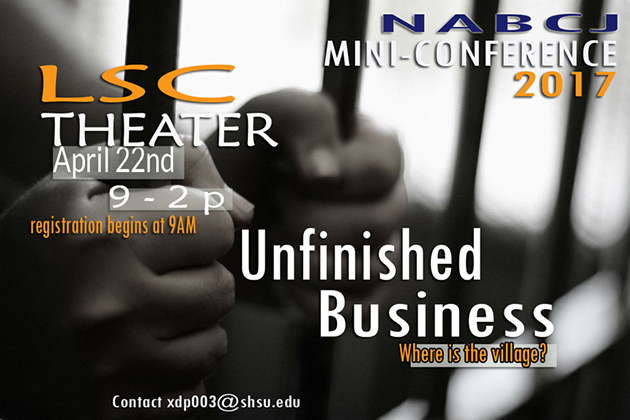 third floor of the Lowman Student Center.
The conference, "Unfinished Business," refers to the issue of criminal justice reform.
NABCJ is dedicated to acting upon the needs, concerns and contributions of African Americans and other people of color as they relate to the administration of equal justice.
This year, the conference will feature workshops presented by former DEA agents, attorneys, psychologists and victim specialists, among others.
For more information, visit the event page.
Satellite Gallery To Showcase Student's Exhibit
The Satellite Gallery in the Department of Art at Sam Houston State University will showcase Cairus Larsen's exhibition "Her Dissidence (Housewife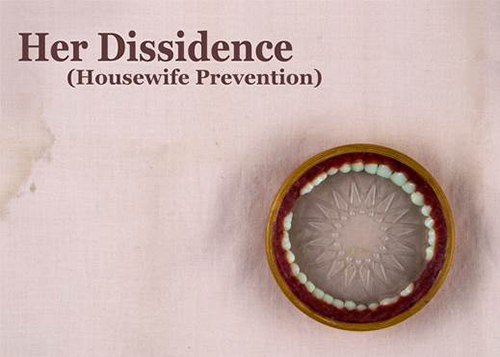 Prevention)" from April 20-22.
The exhibit consists of photographs and installations that explore the anxiety not often associated with the expectations of becoming a housewife.
Larsen will graduate in May with a bachelor's degree in studio art and minor in photography from SHSU. She is a published artist and has been featured in multiple galleries across Texas.
After graduation, she will begin the Penland Gallery & Visitors Center Digital Media Internship at Penland School of Crafts in North Carolina.
The public is invited to the reception and artist talk on Thursday, April 20, from 6-7:30 p.m. All events are free and open to the public.
The Satellite Gallery is located at 1216 University Ave. in Hunstville. Hours are 4-8 p.m. on Thursdays and 10 a.m. to 2 p.m. on Fridays and Saturdays.
For more information, contact Rebecca Finley, associate professor, at bfinley@shsu.edu or 936.294.3418.
All-Male Soft Skill Panel Set For April 18
Sam Houston State University's Communication Department and Career Services will host the final Backpack to Briefcase event on Tuesday, April 18, from 12:30-2 p.m. in Academic Building IV Room 220.
The theme of the panel is "Successful Communication in Networking and the Workplace."
This all-male executive panel will discuss the soft skills needed in leadership, ethics and work collaboration in small/large groups, hierarchies, job markets, and job/intern interviews.
Their perspective should be compared to the all-female executive panel hosted on April 13.
The featured speakers/executives are:
Roy Carrol– Former FBI Agent
John Hamati– General Manager at La Torretta Lake Resort and Spa
Sherriff Rand Henderson– Captain, Montgomery County Sheriff's Dept.
Adam Jaggers– President of Cheerlive.tv
Rick Jaramillo– Enterprise Business Community Engagement Regional Exec at Bank of America
Bob Milner– Co-Owner and General Manager of Mercedes-Benz of The Woodlands
William Olund- Owner, SSCS Global IT Services
For more information, contact Terri Jaggers, clinical assistant professor, at tej003@shsu.edu.
Kolonneh Chamber Players To Present Concert
Sam Houston State University's Kolonneh Chamber Players will present a concert of music by Mozart, Haydn and Shostakovich on Saturday, April 22, at 2:30 p.m. in the James and Nancy Gaertner Performing Arts Center Recital Hall.
The Kolonneh Chamber Players are made up of members from the School of Music string faculty featuring Javier Pinell, violin; Naomi Gjevre, violin; Nina Bledsoe, viola; and Daniel Saenz, cello. SHSU faculty pianist Josu De Solaun will also join them.
From the Cherokee language, the word Kolonneh translates to "The Raven," and is the name Sam Houston was given when he lived among the Cherokee Indians.
The concert will be repeated April 23 at 3 p.m. at the Yacht Club in Bentwater, Texas.
Leadership For Women Lunch Set For April 19
Sam Houston State University's Department of Leadership Initiatives will hold a Leadership Over Lunch event on Wednesday, April 19, from 11 a.m. to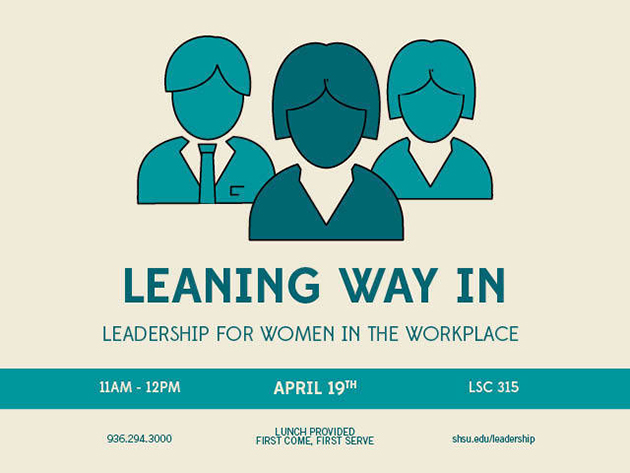 noon in Lowman Student Center Room 315.
The theme of the lunch is "Leaning Way In: Leadership for Women in the Workplace."
Vinessa Mundorff, associate director of Career Services, will discuss leadership skills and strategies for women in the workplace.
Lunch will be provided on a first-come, first-served basis.
For more information, contact the Department of Leadership Initiatives at 936.294.3000 or leadership@shsu.edu.
SMMC Offers Chance To Win Scholarship
Students will be have the opportunity to claim their space as the Sam Houston State University's Student Money Management Center "Student of the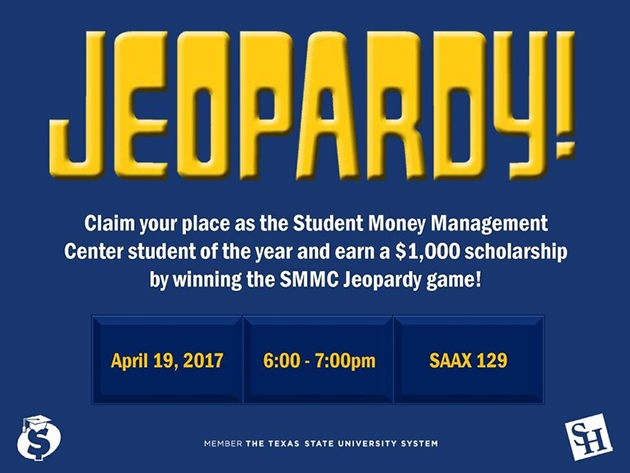 Year" by winning SMMC Jeopardy on Wednesday, April 19, from 6-7 p.m. in Student Affairs Annex Room 129.
The winner will receive a $1,000 scholarship.
Contestants will be selected on the number of SMMC workshops they've attended over the 2016-2017 academic year. To be considered for selection, students must have attended at least five SMMC workshops prior to Jeopardy.
For more information, contact SMMC at smmc@shsu.edu or 936.294.2600.
Outdoor Recreation To Visit Guadalupe River
Sam Houston State University's Outdoor Recreation Program is offering a trip to the Guadalupe River in Spring Branch April 28-30.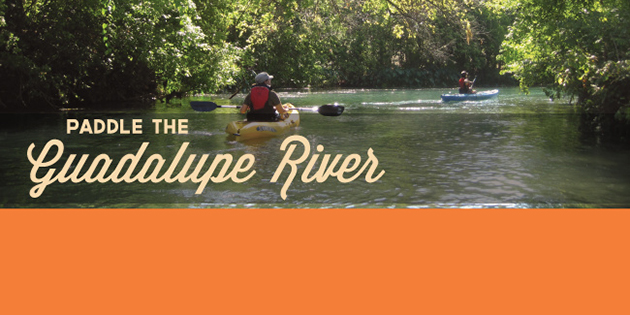 Attendees will be able canoe down the river and enjoy campfires at night.
The trip is available to all experience levels.
The cost is $70 for students and $80 for non-students. Transportation, equipment, food (except any meals on the road), permits, fees, lodging or camping, instructions, and guides are included in the cost.
The deadline to register is April 24.
Send Experts, Story Ideas Here
Are you an expert in a topic might be of interest to reporters? Or even a unique topic? Would you like to have your research interests highlighted or discuss your expertise with reporters seeking interviewees?
The university Communications Office is collecting information and story ideas for its ongoing projects, including the online SHSU Experts Guide, the SHSU home page and Today@Sam.
The SHSU Experts Guide was established as a resource for the media, who turn to university experts lists for potential interviewees for news stories. Faculty who are interested in being a part of the university's database of experts can submit their biographical and personal information, as well as their areas of expertise, through the Experts Guide Submission Form.
Other story ideas, both news and features on faculty or student research and accomplishments can be sent to today@sam.edu. For news stories, please include the date, location and time of the event, as well as a brief description and a contact person.
All information, including news story ideas and update items for Today@Sam, should be sent a minimum of a week in advance of the event in order to make necessary contacts and write a story. Feature story ideas for the SHSU home page ("sliders") should be sent a minimum of two months in advance.
To see a full list of the Today@Sam submission guidelines, or to access submission forms for news and feature stories or hometown releases, visit the guidelines page.
For more information, call 936.294.1836.
- END -
This page maintained by SHSU's Communications Office:
Director of Content Communications: Emily Binetti
Communications Manager: Mikah Boyd
Telephone: 936.294.1837
Communications Specialist: Campbell Atkins
Telephone: 936.294.2638
Please send comments, corrections, news tips to Today@Sam.edu