SHSU Professors Awarded China Studies Institute Fellowship
March 31, 2016
SHSU Media Contact: Natasha Rider
Two Sam Houston State University professors will spend three weeks immersing themselves in the Chinese culture in order to incorporate those experiences into their classroom teaching thanks to the China Studies Institute Zhi-Xing China Academic Leaders Fellowship award, from the American Association of State Colleges and Universities and the China Education Association for International Exchange.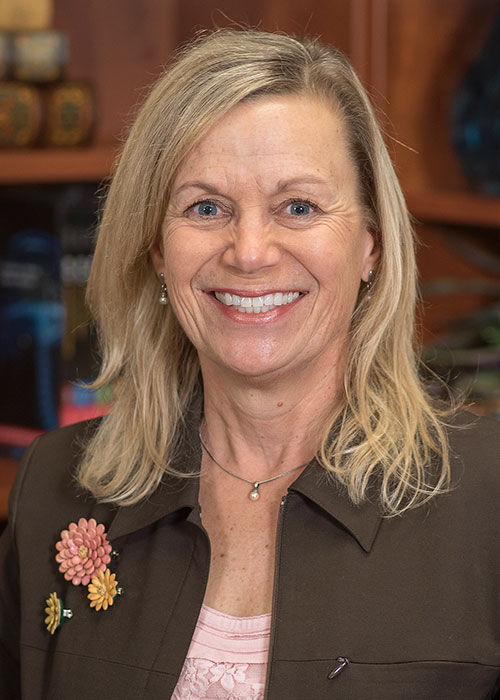 Susan Reichelt (above) and Miguel Zuniga (below) will spend almost three weeks in China as Zhi-Xing China Academic Leaders Fellows.
Susan Reichelt, chair and associate professor of the Department of Family and Consumer Sciences, and Miguel Zuniga, associate professor of population health, will attend the China Studies Institute June 5-24.
The fellowship supports all costs associated with participation in the institute, which consists of three weeks of intensive seminars, lectures, readings, and cultural activities related to Chinese history, culture, literature, government, business, language, and education. Institute faculty will include scholars, administrators, representatives from the local Chinese community, and government officials.
"We could not be prouder of these faculty," said Kenneth Hendrickson, interim dean of the College of Health Sciences. "AASCU is perhaps the premier organization representing state universities in the United States. It conducts research, promotes program development and creates strategic planning initiatives for member universities across the nation.
"That COHS has not just one but two faculty members who won this honor at that level of competition is a powerful testimony to the quality of our personnel," he said.
A November 2015 report in the Texas Tribune indicated that Chinese is now the third most frequently spoken language in the U.S.; therefore, participation in the institute can provide valuable information for SHSU to increase its resources to foster this population.
"Sam Houston State University has the opportunity to also expand its education in bilingual and bicultural health care studies," Zuniga said.
"In the Department of Population Health, our students are required to take HLTH 2383, 'Multicultural Health Issues,' where Asian cultural health beliefs are covered," Zuniga said. "Through the institute, I hope to assess the addition of other Asian culture health courses."
Reichelt is eager to bring the Chinese culture to life in the classroom.
"I envision not only sharing related stories and information but also implementing research to encourage comparing and contrasting Chinese culture with our own," she said. "The field of family and consumer sciences consists of six areas: child development, family relationships, nutrition, apparel, housing, and consumer economics. In each of these areas, the teaching concepts related to Chinese culture are vast.
"I believe the value of any international opportunity increases many times over as we are able to share our experiences with others," Reichelt said.
Reichlet joined the Department of Family and Consumer Sciences in July 2015, and she has been employed in the field of family and consumer sciences education for more than 30 years.
Her university experience includes program development in two international settings: she was the founding faculty member of a family sciences program at Zayed University, in the United Arab Emirates; and she also completed a Fulbright Scholar experience at the University of Ljubljana in Slovenia.
Zuniga joined SHSU in August 2014 as the founding chair of the Department of Population Health (formerly known as Health Services and Promotion).
He also serves as a visiting professor at Universidad Autonoma de Yucatan, Merida, Mexico, and is a doctor of medicine at the National Autonomous University of Honduras, Tegucigalpa. His focus area is public health at the state, national and international level.
- END -
This page maintained by SHSU's Communications Office:
Director of Content Communications: Emily Binetti
Communications Manager: Mikah Boyd
Telephone: 936.294.1837
Communications Specialist: Campbell Atkins
Telephone: 936.294.2638
Please send comments, corrections, news tips to Today@Sam.edu