English Department To Celebrate Ruffin's Life
April 14, 2016
SHSU Media Contact: Julia May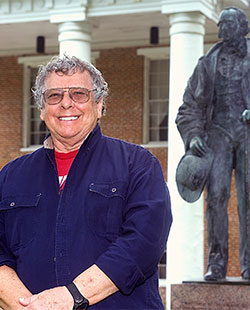 Paul Ruffin
The Sam Houston State University English Department will celebrate the life of Paul Ruffin, 2009 Texas State Poet Laureate, Texas State University System Regents' Professor and SHSU Distinguished Professor of English, on Friday (April 22) at 3 p.m. in Evans Complex Room 105 on the SHSU campus.
Ruffin, 74, died at his home in Montgomery County on Wednesday morning.
An award-winning, well-known and respected editor, publisher, writer and poet, Ruffin often relied upon his experiences growing up in the South as a foundation for his stories.
He was born in Millport, Alabama, and grew up outside Columbus, Mississippi. After serving in the U.S. Army, Ruffin earned both his bachelor's and master's degrees in English at Mississippi State University.
He took post-graduate courses at the University of Southampton in England and graduated with his doctoral degree from the Center for Writers and the University of Southern Mississippi in 1974.
After coming to SHSU, he founded The Texas Review—an international literary journal—and Texas Review Press, a member of the Texas A&M University Press Consortium.
"Paul's impact on creative writing at SHSU was indeed profound," said Bill Bridges, chair of the SHSU Department of English. "The work he did in building The Texas Review and Texas Review Press into a premier journal and university press was substantial."
Karla K. Morton, 2010 Texas Poet Laureate, said, "His work at The Texas Review Press elevated the whole of Texas Letters."
Throughout the years, Ruffin worked tirelessly to promote the press and its authors, once giving his views on university presses moving toward digital books as opposed to traditional ink-on-paper.
"We're fulfilling the ancient role of the university press and that is to produce books. I don't want to give up the book because it is an art," he said.
During his extensive writing career, he published more than 1,500 poems, 100-plus stories, and more than 90 essays in magazines and journals. His work also has appeared in numerous anthologies and textbooks. In addition, he wrote a weekly column that appeared in several newspapers in Texas and Mississippi.
His most recent book, published last November, is "The Time the Waters Rose And Stories of the Gulf Coast."
In a 2009 article in SHSU's Heritage Magazine, Ruffin was described as someone who "loves football, shooting, riding his tractor, maintaining his truck, and doing his own carpentry, electric, and plumbing work…not exactly the stereotypical image of a person who loves words and is a master of arranging them into beautifully crafted poems and other literary works."
Helena Halmari, SHSU professor of English and former department chair, said Ruffin was, "A colleague, a neighbor. One of the smartest men I met in Texas. A writer who gave me the best compliment ever by calling me a straight shooter."
Ruffin is survived by his wife, Amber, and his three children.
- END -
This page maintained by SHSU's Communications Office:
Director of Content Communications: Emily Binetti
Communications Manager: Mikah Boyd
Telephone: 936.294.1837
Communications Specialist: Campbell Atkins
Telephone: 936.294.2638
Please send comments, corrections, news tips to Today@Sam.edu