Week To Highlight Health Sciences, Getting Healthy
April 1, 2016
SHSU Media Contact: Chris Young
The Sam Houston State University College of Health Sciences will offer Bearkats the opportunity to give blood, get tested for HIV and syphilis, learn about careers and programs in health sciences, and much more during Public Health Week April 4-8.
The week will kick off on Monday (April 4), when the Gulf Coast Regional Blood Center will set up in the Lee Drain Building Lobby from 9 a.m. to 4 p.m. for a blood drive.
Through a single donation, faculty, staff, and students can save as many three lives. Those who wish to donate blood should be well hydrated, wear clothing that gives easy access to the mid to lower arm, and bring their driver license.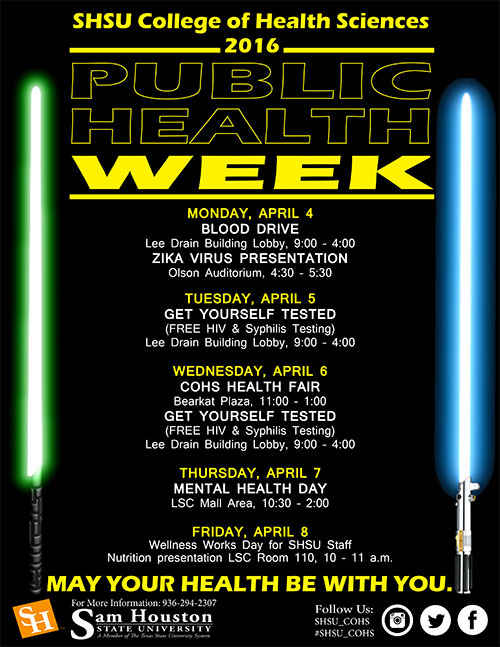 That afternoon, guest speaker Paul Grunenwald will give a presentation on a current health risk—the Zika Virus—from 4:30-5:30 p.m. in the Academic Building IV Olson Auditorium.
Grunewald is a zoonois control veterinarian with the Texas Department of State Health Services.
On Tuesday and Wednesday "Get Yourself Tested" will give students a chance to "learn their status" with free HIV and syphilis screenings from 10 a.m. to 1 p.m. in the Lee Drain Building Lobby, while supplies last.
"Both of these tests will be done with one blood draw," said Lisa Clarkson, College of Health Sciences bilingual health care studies program coordinator. "That means only one stick with the needle, but two tests."
Nearly half of the 20 million new sexually transmitted infections each year occur among sexually active individuals ages 18-24, and Texas ranks No. 3 in the nation among the number of HIV diagnoses in 2013, according to the Centers for Disease Control and Prevention.
"Many times, sexually transmitted infections show no signs or symptoms, so we encourage students to know their sexual health status, as well as their partner's," said Clarkson.
Wednesday also will feature career and health fairs.
The Health Sciences Career Fair will be held in collaboration with SHSU Career Services from 10 a.m. to 1 p.m. in the Lowman Student Center Atrium.
COHS students who are seeking internships and jobs are encouraged to dress in business professional or business casual attire, bring several copies of their resumes, and be prepared to meet with potential employers.
At the same time, the Star Wars-themed health fair will showcase all of the college's programs in the LSC Mall Area.
Students will have the opportunity to meet with population health professionals from fields such as public health, wellness management, healthcare administration, bilingual health care studies, and learn more about SHSU's award-winning "Be the Match" program.
Faculty member Daphne Fulton will introduce her trained therapy dog Roscoe and explain the benefits of his services. Fulton's health communications students also will provide health information on topics relevant to college students. Faculty member Amanda Scarbrough and her intern will provide information on mental health.
Faculty members from other programs will offer advice in their areas of expertise, while nursing students will give blood pressure readings and the Eta Sigma Gamma honors health fraternity will offer free hugs to participants needing a healthy way to connect.
Several off-campus organizations also will be in attendance, including The Lesbian Health Initiative, which offers free and reduced cost health services for the LGBT community; Jump Rope USA, which will do live jump rope demonstrations and teach students various jumping techniques; and the iGoPink breast cancer charities, Texas Alcoholic Beverage Commission and the Montgomery County Women's Center.
Current SHSU students need their active Sam ID cards to swipe in at one of four entry tables to receive a health fair passport. Those who visit at least 15 of the 20 vendor tables and complete an assessment will receive a "May Your Health Be with You" T-shirt, while supplies last.
On Thursday (April 7) the Department of Population Health will present "Got Regrets?" as part of "Mental Health Day" from 10 a.m. to 1 p.m. in the LSC Mall Area, during which the SHSU community is encouraged to stop by between classes to participate in a quick, thought-provoking activity that will allow them to leave with a plan to overcome regrets, according to Clarkson. Information on mental health resources also will be available.
Finally, on Friday, the Department of Population Health, in collaboration with Staff Council's Run@Work Day, will be on hand in Lowman Student Center Room 110 from 10 a.m. to 11 a.m. to discuss nutrition. Clarkson will offer staff members information about the "My Food Plate Program" and let participants create their own mock plate with food models.
For more information on any of the Public Health Week events, contact Clarkson at 936.294.2307 or ldc010@shsu.edu.
- END -
This page maintained by SHSU's Communications Office:
Director of Content Communications: Emily Binetti
Communications Manager: Mikah Boyd
Telephone: 936.294.1837
Communications Specialist: Campbell Atkins
Telephone: 936.294.2638
Please send comments, corrections, news tips to Today@Sam.edu