SHSU Update For Week Of Oct. 23
Oct. 23, 2016
SHSU Media Contact: Jennifer Gauntt
Reading To Offer Political Humor Before Election
Just in time to offer some much-needed comic relief as Election Day nears, Sam Houston State University Warner Endowed Professor of mass communication Peter Roussel will read from "Ruffled Flourishes," his serio-comic novel of Washington, D.C., and the White House press corps, on Monday (Oct. 24) at 5 p.m. in Austin Hall.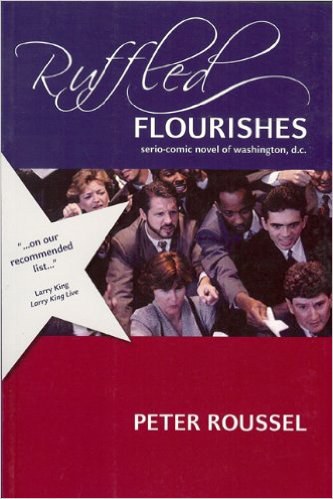 "We know that politics offers both comedy and tragedy, triumph and heartbreak," said Scott Kaukonen, director of the SHSU Master of Fine Arts program in creative writing, editing and publishing, the event's sponsor. "And sometimes it's difficult to tell them apart. So it seems particularly apt, as this highly contentious election draws near to its conclusion, that we step back, take a deep breath, and hopefully see a bit more of the comedy."
The event is free and open to the public. Books will be available for purchase and signing.
In writing the novel, Roussel drew upon his experience in the White House under President Ronald Reagan, for whom he served as special assistant and deputy press secretary from 1981-1987.
His duties as a spokesman included briefing the White House press corps and accompanying Reagan on domestic and foreign trips.
Before that, from 1969-1974, Roussel was press secretary to President George H.W. Bush when Bush served as a U.S. Congressman and then as U.S. Ambassador to the United Nations.
Roussel's first tour of duty in the White House, from 1974-1976, was as staff assistant to President Gerald R. Ford.
The novel centers upon Sox St. Louis, whom like Roussel is a deputy press secretary, and his relationship with the press, an oft-times delicate dance that involves both antagonistic and mutually beneficial dynamics.
Roussel is a native of Houston. Both his parents were journalists.
Since his time in Washington, Roussel has worked in public relations and as a commentator and columnist.
In 2009, he was appointed to fulfill the Philip G. Warner Endowed Chair and as such teaches courses in public relations and press-presidency interactions.
The novel was adapted for the stage this past summer and made its debut this semester in a production directed by Penelope Hasekoester, SHSU department chair of theatre and musical theatre.
Teacher Fair To Provide Students With Opportunities
Students looking to go from the classrooms of Sam Houston State University to the classrooms of one of the thousands of schools across the state will have an opportunity to talk with some of those schools on Wednesday (Oct. 26).
The Fall Teacher Job Fair will bring representatives from approximately 60 schools and school districts to the Lowman Student Center Ballroom from 9-11:30 a.m. to discuss full-time teaching positions with SHSU students and alumni.
"Students will have the opportunity to network face-to-face and have the opportunity to make a strong first impression that could present them with an interview offer. Employers come to our fairs ready and wanting to hire to fill a number of vacancies that they have," said Veronica Gonzalez, Career Services marketing and events coordinator.
Recruiters from districts from Texas's metropolitan areas, smaller school districts and a few private schools, as well as agencies such as GETCAP Head Start and the Peace Corps, will be available.
Seniors should come equipped with appropriate interview attire and several copies of their resumes.
Students from other classifications also are encouraged to check out the event to see what employers are looking for in candidates, according to Gonzalez.
"The process of getting a job out of college starts way before graduation," Gonzalez said. "It starts with exploring your interests and getting involved in those opportunities that will help you explore them. A career fair is a perfect event to further explore those interests and opportunities.
"We emphasize seven areas of career readiness on which to focus: critical thinking/problem solving, communication, teamwork, leadership, professionalism, career management, and information technology application," she said. "These areas are what employers are looking for and increase a student's employability upon graduation."
For more information, contact Career Services at 936.294.1713 or careerservices@shsu.edu, or to see a complete list of participating school districts, visit the Jobs For Kats website.
SHSU To Retell Greek Myth Through 'Nightingale'
The Sam Houston State University Department of Theatre and Musical Theatre will present "The Love of the Nightingale," a modern play retelling an ancient Greek myth, beginning Wednesday (Oct. 26).
Productions will begin at 8 p.m. through Saturday (Oct. 29) in the University Theatre Center's Showcase Theatre.
The Saturday presentation also will include a 2 p.m. matinee.
Against a backdrop of war, a marriage and a vast ocean separate two sisters.
Ever curious about the world, the young Philomele bravely takes a voyage on the high seas in hopes of a reunion, but while the stars guide the ship's course, danger is in the air.
The University Theatre Center is located at 1740 Bobby K. Marks Drive.
The play is recommended for mature audiences only.
Tickets are $10 for general admission and can be purchased at shsu.edu/boxoffice or 936.294.2339.
Center To Honor Veterans With Ribbon Ceremony
In recognition of National Veterans Awareness Week, Nov. 9-15, the Sam Houston State University Veterans Resource Center and the Collegiate Veterans Association will accept donations for yellow ribbons Tuesday through Thursday (Oct. 25-27).
A table will be set up in the Lowman Student Center Mall Area from 10 a.m. to 1 p.m. on those days for those who want to get a commemorative ribbon, which will be part of a yellow ribbon ceremony on Nov. 4.
Kelli Leaf, VRC assistant director, said students can stop by their table to make an optional donation, fill out a card and make a yellow ribbon in honor of or in memory of a relative or friend who is serving or has served.
"I think it's important not only for our veterans on campus, but for all veterans because they've given up so much for us," Leaf said. "I think they need to know that they're appreciated. They've earned our respect."
The yellow ribbons and cards will be displayed on trees around the LSC Mall Area during veterans' week and all donations collected will benefit the Brooke Army Medical Center at Fort Sam Houston.
For more information, contact the VRC at at 936.294.1046 or veterans@shsu.edu.
Events To Work Toward Stopping Domestic Violence
To raise awareness about violence against women, the Crime Victim Services Alliance and the Crime Victims' Institute will host two events in October, The Clothesline Project and a documentary and discussion on domestic violence.
First, the groups will host the documentary "Telling Amy's Story," followed by a panel discussion on domestic violence, on Tuesday (Oct. 25), from 6-8 p.m. in the Lowman Student Center Theater.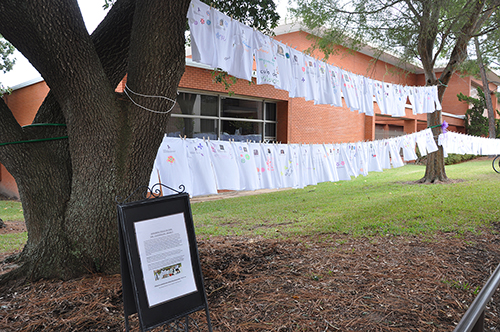 The Clothesline Project asks students to write messages on T-shirts that raise awareness of the effects of domestic violence. —Submitted photo
"Telling Amy's Story" chronicles the life of Amy Homan McGee, a Pennsylvania woman who was shot to death by her husband after years of abuse.
By interviewing friends, family and coworkers, the film provides a timeline of the last weeks, months and years of her life and ways the tragedy could have been prevented along the way.
The public service media project, produced by the Penn State Public Broadcasting, was hosted by Mariska Hargitay, of "Law and Order: Special Victims' Unit," and told by Det. Deirdri Fishel, of the State College Police Department in Pennsylvania.
The panel discussion will include local organizations that assist domestic violence survivors.
This year's Clothesline Project will honor victims and survivors of gender-based crimes.
In commemoration of Domestic Violence Awareness Month, individuals affected by violence were invited to decorate T-shirts in effort to raise awareness and honor survivors and victims.
The display of those shirts, on Thursday (Oct. 27), from 9 a.m. to 2 p.m. in the Criminal Justice Center, will be a testimonial on the impact of violence in society.
For survivors of rape, battering, incest, or child abuse or the friends and family of murder victims, the messages are empowering and provide an opportunity to share their stories. For those who are still suffering in silence, the display stands as a symbol that they are not alone.
The idea originated in Cape Cod in 1990; the clothesline represents laundry, which was considered women's work and was where women gathered to share information across the back fence.
The movement has grown with more than 500 projects across the country and globe, with 50,000 to 60,000 shirts made.
Alumna To Speak On 'Following The Science'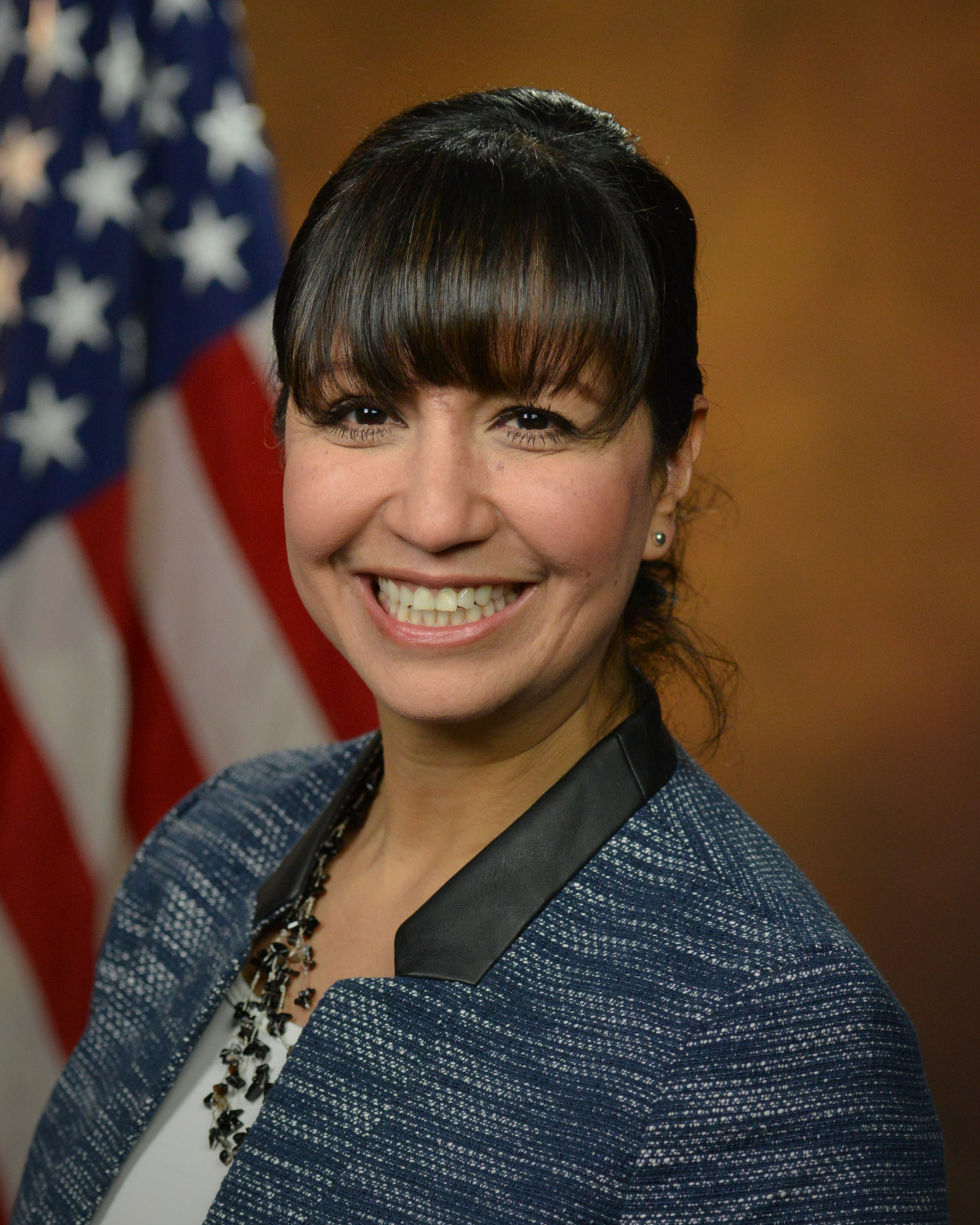 Nancy Rodriguez, director of the National Institute of Justice and a Sam Houston State University College of Criminal Justice distinguished alumna, will return to her alma mater on Tuesday (Oct. 27) to present "Following Science: My Journey from Research to Policy and Practice."
The lecture will begin at 6:30 p.m. in the Gaertner Performing Arts Center Recital Hall. The presentation is free and also will be carried live at cjcenter.org/live.
Rodriguez was appointed by President Barack Obama in 2015 to lead the prestigious federal agency that serves as the research, development and evaluation arm of the U.S. Department of Justice.
Most recently, NIJ funded projects on school safety, sexual assault case processing, post-conviction DNA testing, the effects of incarceration, restrictive housing, reentry, and police and correctional officer well-being.
"The NIJ leads the world in supporting research which enhances our understanding of crime and justice, thereby facilitating improved practices," said Phillip Lyons, dean of the College of Criminal Justice and director of the George J. Beto Criminal Justice Center. "That our alumna, Dr. Nancy Rodriguez, leads the NIJ is a source of tremendous pride for us."
Rodriquez received her bachelor's degree from SHSU in 1992 and earned a doctorate in political science from Washington State University in 1998. She was named the "Outstanding Alumna" from SHSU's College of Criminal Justice in 2009.
She is the co-author of "Dreams and Nightmares: Immigration Policy, Youth, and Families," and her recent work has appeared in Criminology, Justice Quarterly, Journal of Crime and Delinquency, and the ANNALS of the American Academy of Political and Social Science.
For more information about the event, contact the College of Criminal Justice at 936.294.1635.
SHSU Biology Major Earns DAAD Scholarship
Sam Houston State University senior biology major Heather Deel has been accepted into the Research Internships in Science and Engineering program, offered through the Deutscher Akademischer Austauschdienst, the German Academic Exchange Service.
Through the RISE Germany program, Deel will have the opportunity to complete a summer research internship at a top German university, be matched with a doctoral student mentor and receive housing assistance from her host university, as well as a monthly stipend to help cover living expenses.
Participants are matched with a host according to their area of interest.
DAAD is the largest funding organization in the world, supporting the international exchange of students and scholars and providing financial support to move than 112,500 individuals per year. DAAD also represents the German higher education system abroad, promotes Germany as an academic and research destination and establishes ties among institutions around the world.
DAAD programs help create goodwill and professional relationships that will build a solid basis for relations between Germany and North America.
Scholarships such as the one Deel received through the DAAD RISE Germany program, are highly competitive and recipients are selected by independent selection committees on the basis of outstanding academic records and convincing project proposals or statements of purpose.
DAAD New York, one of 15 international branch offices, was founded in 1971 to support academic exchange between the U.S., Canada and Germany.
For more information, visit daad.org.
Student Orgs Show Homecoming Spirit, Win Prizes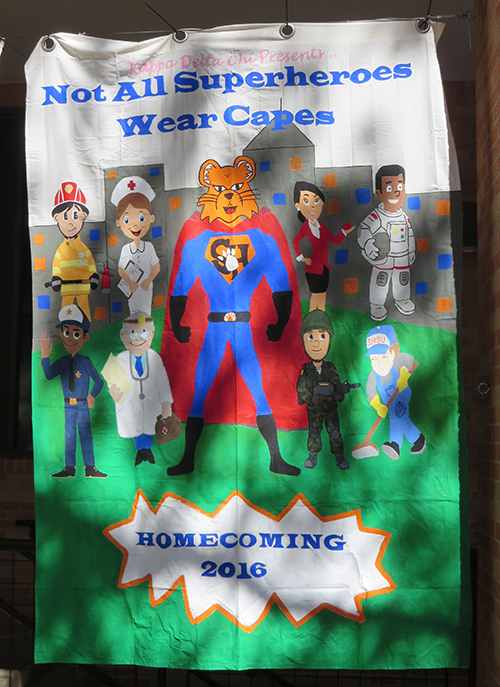 In the spirit of homecoming, the Sam Houston State University Department of Student Activities partnered with the Department of Leadership Initiatives to challenge its active student organizations to compete in a week-long variety of activities to honor "Bearkat Heroes."
Three student groups rose to that challenge and received monetary prizes as winners of the annual Homecoming Spirit Competition.
They include first place, Kappa Delta Chi Sorority, Inc., winning $1,000; second place, Sigma Alpha Pi, the National Society of Leadership and Success, winning $500; and third place, Diamond Kats, winning $250.
"The Homecoming Spirit Competition provides an opportunity for student organization members to work together to showcase their organization. It fosters camaraderie among members and aims to showcase Bearkat spirit and pride," said Meredith Conrey, director of Leadership Initiatives.
"We have been incredibly impressed by the efforts of the competing organizations and are looking forward to next year," she said.
The competition consisted of a banner competition, wherein groups created an image on a twin-sized bed sheet to promote the "Bearkat Heroes" homecoming theme; a SAM Jam carnival social media challenge, which asked organizations to take a photo of their banner showcasing the carnival in the background; participate in the homecoming parade; and attend the movie night and football game.
In adding a service component to the competition, Leadership Initiatives also asked to help "stock the pantry" by collecting non-perishable food items for the SHSU Food Pantry and supporting the Food Pantry by helping process the donations for distribution.
For more information about the annual Homecoming Spirit Competition, contact Conrey at mlc033@shsu.edu or 936.294.3602.
Staff Council Spotlights Parking Enforcement Officer
Haley Ford, an administrative assistant III in the Public Safety Services department, was recognized by the Sam Houston State University Staff Council for the October "Spotlight on Staff."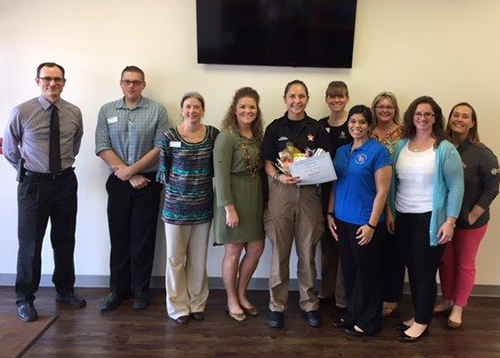 Ford joined the University Police Department as a student in August 2010 and worked as a "ticket writer" for four years before becoming a full-time parking enforcement officer in 2014.
She earned her Master of Science degree in homeland security studies while working full time, which she said she feels taught her lessons regarding time management and handling stressful situations smoothly and efficiently.
"Since I now manage the student assistants that issue parking violations, one of my plans is to be more hands-on in managing their schedule and work duty," Ford said. "With our new LPR software, it is necessary that their work schedule is diligently planned ahead of time."
While working in parking enforcement could be challenging, it helps to have a sense of humor, according to Ford.
"Whenever a day is particularly stressful, it helps when you and your coworkers are able to laugh off certain negative things and stay productive," Ford said.
While she doesn't currently serve on a university committee, she was a member of the SHSU Lions Club as an undergraduate, serving as secretary and a board member.
Now she enjoys being outdoors and going for hikes in the Huntsville State Park or on the Lonestar Hiking Trail in the Sam Houston National Forest with her brindle boxer and retriever mix, Ida Mae, which she adopted this year from Rita B Huff Animal Shelter.
Submit Experts, Story Ideas Here
Are you an expert in a topic might be of interest to reporters? Or even a unique topic? Would you like to have your research interests highlighted or discuss your expertise with reporters seeking interviewees?
The university Communications Office is collecting information and story ideas for its ongoing projects, including the online SHSU Experts Guide, the SHSU home page and Today@Sam.
The SHSU Experts Guide was established as a resource for the media, who turn to university experts lists for potential interviewees for news stories. Faculty who are interested in being a part of the university's database of experts can submit their biographical and personal information, as well as their areas of expertise, through the Experts Guide Submission Form available online at shsu.edu/dept/marketing/experts/submit-info.html.
Other story ideas, both news and features on faculty or student research and accomplishments can be sent to today@sam.edu or jenniferg@shsu.edu. For news stories, please include the date, location and time of the event, as well as a brief description and a contact person.
All information, including news story ideas and update items for Today@Sam, should be sent a minimum of a week in advance of the event in order to make necessary contacts and write a story. Feature story ideas for the SHSU home page ("sliders") should be sent a minimum of two months in advance.
To see a full list of the Today@Sam submission guidelines, or to access submission forms for news and feature stories or hometown releases, visit shsu.edu/~pin_www/guidelines.html.
For more information, call 936.294.1836.
- END -
This page maintained by SHSU's Communications Office:
Associate Director, Communications: Emily Binetti
Telephone:936.294.4406
Communications Manager: Mikah Boyd
Telephone: 936.294.1837
Communications Writer: Campbell Atkins
Telephone: 936.294.2638
Thomason Building: Suite 102
Please send comments, corrections, news tips to Today@Sam.edu