SHSU Update For Week Of Nov. 27
Nov. 27, 2016
SHSU Media Contact: Jennifer Gauntt
Tree Ceremony To Continue Traditions, Philanthropy
Student organizations, individuals and faculty members will gather in the center of campus on Tuesday (Nov. 29) for holiday festivities and philanthropy at the 96th Annual Tree of Light Ceremony, Sam Houston State University's oldest tradition.
During the ceremony, several university groups will perform, including the SHSU Choral and the Orange Pride Dance Team.
The ceremony begins at 6 p.m. in the Lowman Student Center Mall Area. At 6:10 p.m. there will be a special check presentation for the Good Shepherd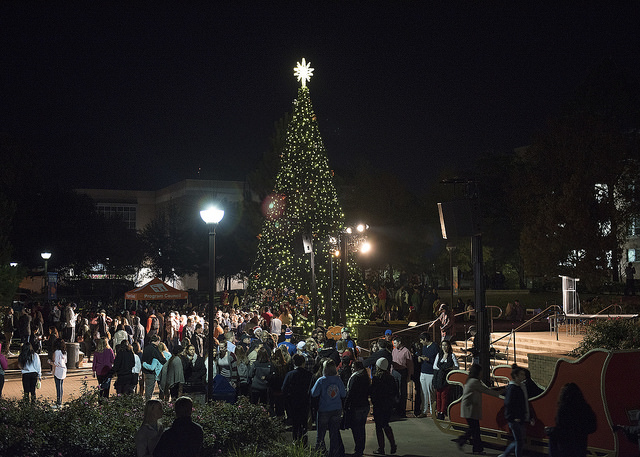 Mission on behalf of the Walker County Alumni and Friends Club.
"The ceremony is part of the Bearkat experience," said assistant director of Student Activities Rachel Valle. "By attending, students will have a chance to come together and celebrate the winter holidays while giving back to the Huntsville community through Good Shepherd Mission."
As always, attendees who bring four canned goods will receive a free Tree of Light t-shirt, while supplies last.
"The canned food drive has been a huge success every year and I do not anticipate it slowing down any time soon," Valle said. "We have a wonderful campus full of people who are philanthropic and care about the community."
Even though the ceremony is almost 100 years old, Valle said some flair will be added to the Tree of Light Art Gallery Exhibit, which will open to the public on Tuesday (Nov. 22).
Hot chocolate and holiday treats will be free for attendees while supplies last, and the ceremony will be live streamed with food and drinks at the Woodlands Center campus for those who can't attend the main ceremony.
Student organizations are encouraged to bring an ornament to decorate tree. Official ornament check in will begin at 5 p.m. near the tree.
For more information, contact Valle at stdrmv18@shsu.edu.
Drive To Benefit Community 'People,' 'Pets'
The Sam Houston State University Staff Council and Faculty Senate will team up to ring in the holiday season by hosting its seventh annual People and Pets Food Drive on Wednesday (Nov. 30).
The event, benefiting the SHSU Food Pantry and the Rita B. Huff Animal Shelter, will be held from 10 a.m. to 2 p.m. in the Lowman Student Center Mall Area.
To encourage friendly competition among departments, the Staff Council and Faculty Senate will recognize the department that collects the most food with a muffin breakfast on Dec. 2.
Donations will be calculated by weight, with "people" food donations counting double the weight of pet food donations.
"Last year we collected 460 pounds of food for Rita B. Huff and the SHSU Food Pantry, and we are hoping to collect more this year," said Megan Foley, co-chair of the Staff Council events committee. "We encourage departments to participate because this drive impacts our students and the community that we live in. SHSU's motto is 'The measure of a Life is its Service,' and it's something that we encourage across campus!
For more information, email StaffCouncil@shsu.edu.
Career Services To Host Mock Interview Day
As graduation nears, seniors are updating their resumes and applying for jobs in preparation for the start of their careers.
Sam Houston State University's Career Services is hoping to make the transition from student to employee a little easier by hosting a "Show Me The Money: Mock Interview Day" on Wednesday (Nov. 30) from 2-5 p.m. in The Woodlands Center Room 345.
The event, held in conjunction with Lone Star College, will allow students to practice interviewing skills with professionals from the Rotary Club of The Woodlands and also attend workshops on how to prepare for a career fair, tips on professional dress and financial literacy.
"Completing a practice interview before a student's actual transition into the professional workforce is a great way to learn about what kinds of questions will be asked by an employer as well as gaining feedback on how to respond to questions in a manner that will market a student's strengths," said Cenaiyda Carranza, assistant director of Career Services at TWC.
Along with preparation, the mock interview aims to help students rid themselves of nerves.
"Interviewing can be a little anxiety provoking," Carranza said. "Practicing your skills ahead of time and knowing what to expect in a professional interview can really help a student make a great first impression and increase their chances of getting hired."
Even though it is a practice interview, Career Services recommends that students come dressed professionally and bring a copy of their resume.
"This is a great way for our junior and senior students to not only participate but to gain feedback and network with various industry professionals who work in the community," Carranza said.
Career Services has held this collaborative event at The Woodlands Center for the past year and a half.
"We have had an average of about 25 students and 15 volunteer Rotarians attend this event geared to help students prepare for their successful transition from student to professional," Carranza said.
Students can RSVP for the event by email or phone at ccarranza@shsu.edu or 936.202.5025.
Friday Forum To Explore Early Steampunk Movement
Bruce Chabot, a senior lecturer in the Sam Houston State University Department of English, will present the final First Friday Faculty Forum talk for fall semester on Friday (Dec. 2).
"Rudyard Kipling: the ur-Father of Steampunk Treknology" will be presented from 3-4 p.m. in Evans Complex Room 212.
During the talk, Chabot will examine Kipling's stories "With the Night Mail" and "The Ship That Found Herself" as having anticipated the Steampunk movement. Steampunk is a subgenre of science fiction or science fantasy that incorporates technology and aesthetic designs inspired by 19th-century industrial steam-powered machinery, according to Wikipedia.
"In such tales, Kipling invents concepts that we now know as phasers and force fields," Chabot said. "Add such weapons to vehicles like locomotives and dirigibles, and we see how civilization boils down to a combination of transportation and force, the heart of Steampunk."
Chabot earned his doctorate at Texas A&M University.
The Friday Faculty Forum is designed to highlight research by departmental faculty and graduate students.
For more information, contact forum coordinator Paul Child, professor of English, at eng_pwc@shsu.edu or 936.294.1412.
Mass Comm To Present 'Coming-Of-Age' Film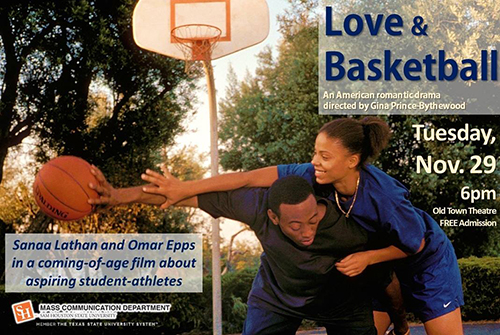 The Sam Houston State University Department of Mass Communication will present "Love and Basketball" the third and final screening of this semester's classic film series, on Tuesday (Nov. 29) at 6 p.m. at Old Town Theatre, located at 1023 12 St.
The film centers on Quincy, a natural at basketball with a knack for leadership, and Monica, fiercely competitive but sometimes too emotional on the court, who both have professional basketball aspirations. Over the years, the two childhood friends begin to fall for each other, but their separate paths to basketball stardom threaten to pull them apart.

"'Love and Basketball'" is a great example of American independent cinema that has flourished since the 1980s," said SHSU film professor Grant Wiedenfeld. "This moment and movement also have been important for African-Americans in cinema."
The movie is directed by Gina Prince-Bythewood, who also directed such films as "The Secret Life of Bees" and "Beyond the Lights."
"No black woman director like Gina Prince-Bythewood was making this kind of production in the 1930s or 1950s, that I know of," Wiedenfeld said. "Besides being historically important, it's a great coming-of-age movie about the personal lives of college students and athletes that I think any college student or parent can relate to."
Wiedenfeld will host a discussion after the screening, which is free and open to the public. The SHSU Film Society will sell concessions.
For more information, contact Wiedenfeld at grant.wiedenfeld@shsu.edu.
Workshop To Inject Creativity Into Gift Giving
As the holidays approach, gift lists seem to grow, while wallets inevitably shrink.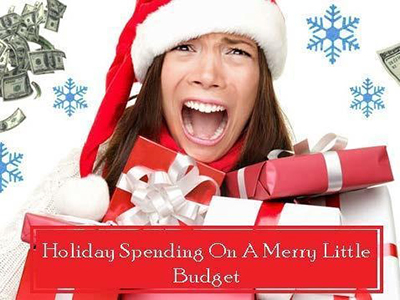 This season, the Sam Houston State University Student Money Management Center will teach students how to save time and money when gift-giving at "Holiday Spending On A Merry Little Budget" on Wednesday (Nov. 30) from 6-7 p.m. in the Lowman Student Center Theater.
Senior mass communication major and SMMC peer-coach Nicole Smith will present affordable and creative gift ideas that anyone could tackle.
Haley Riley, SMMC program coordinator, said one of the best ways to save money is through simple do-it-yourself projects.
"Over the years I have seen some very creative DIY gifts that include homemade vanilla extract, artwork for my home and office, and homemade soaps, sugar scrubs and bath salts," Riley said.
The workshop is free and will serve pizza on a first-come, first-served basis starting at 5:30 p.m.
Riley suggests bringing something to take notes with, but the SMMC will provide handouts and other materials during the presentation.
For more information, contact Riley at her008@shsu.edu.
Open Auditions To Be Held For Sammy Awards Emcee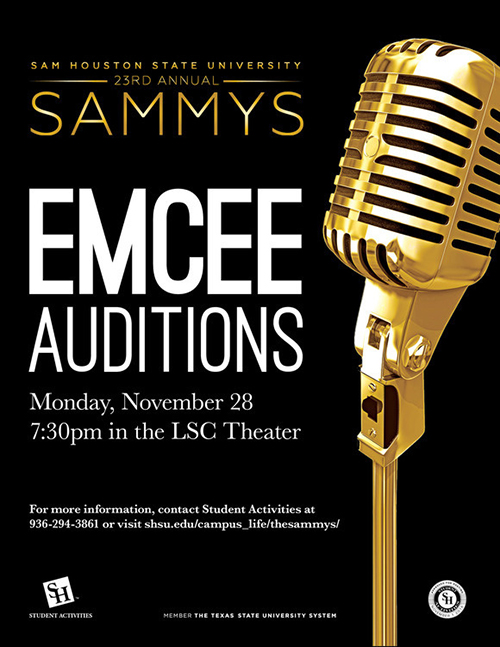 Every spring, outstanding students, faculty and organizations are honored by Sam Houston State University at the Sammy Awards.
In preparation for the big event, students will have the opportunity to become an emcee at the Sammys during the open audition on Monday (Nov. 28) at 7:30 p.m. in the Lowman Student Center Theater.
In order to qualify, a student must have a minimum of a 2.0 cumulative GPA, be able to attend all rehearsal dates in the spring, and memorize the provided script.
"We are looking for individuals who will have chemistry with their fellow co-emcees, personality and stage presence," said Student Activities program coordinator Kelly Patterson.
Interested students should complete the "emcee specification form" found on the university website under "The Sammys." Forms also will be available at the open audition.
Emcee candidates will be partnered based on arrival time. A script will be provided at the time of arrival and does not need to be memorized for the audition. Patterson said prospective emcees should arrive dressed in professional attire.
"Being an emcee for The Sammys is a serious undertaking; be prepared for a considerable time commitment," Patterson said. "That being said, this is the opportunity of a lifetime that will expand both personal and professional growth. Even if you have not acted as a master of ceremonies for an event before, we encourage you to come audition."
Nominations for the 23rd Annual Sammys will open on Thursday (Dec. 1). There are three nomination categories: individual, organizational, and individual college. Nomination forms can also be found on the university's website under "The Sammys" and will be accepted until Feb. 3.
The 2017 Sammy Awards will be on April 12.
For more information, contact Patterson at kpatterson@shsu.edu.
Graduating Artists To Present Satellite Gallery Exhibit
Two Sam Houston State University art majors who will graduate in December will showcase some of their recent works in exhibits in the Satellite Gallery this month.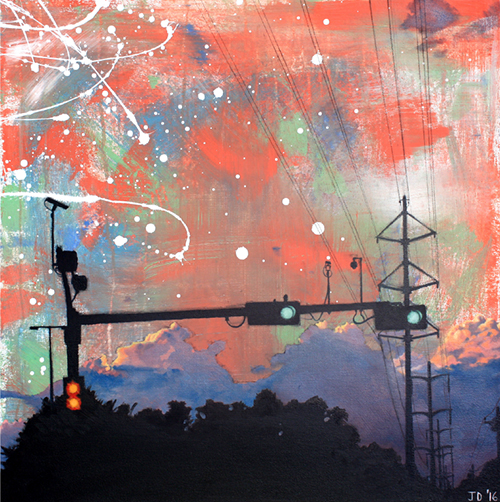 Artwork by Jack Delaney (above) and Sarah Salinas (below) will be on display through Dec. 3 in the Satellite Gallery in downtown Huntsville.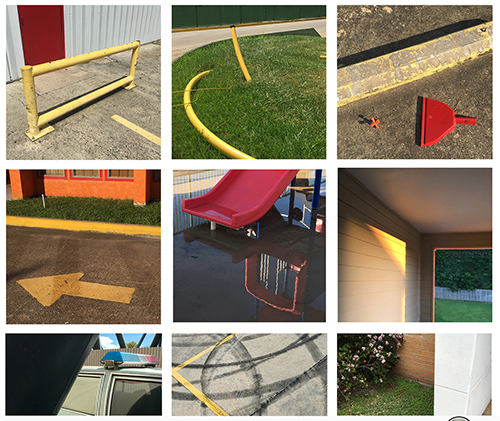 Jack Delaney's "Just Unliving" will begin Nov. 20 and Sarah Salinas's "Viewport" will begin Nov. 27.
Both will run through Dec. 3 and will include a Dec. 1 reception and artist talk at 6 p.m. in the gallery.
A studio artist who focuses on drawing and painting, Delaney explores in this exhibit themes of relationships, connection and a longing for acceptance through landscapes, still life, and portraiture. Each piece combines different techniques of painting and drawing, ranging from realism to abstraction.
Inspired by social media, Delaney creates his "portrait of the artist" using selfie sticks to reference the way people post selfies in search of acceptance, approval and likes. The common theme tying these different subjects together is a desire to be seen and known, which Delaney observes in himself and other people, he said.
The photographic works in Salinas's "Viewport" focus on the degradation photography is experiencing as an art medium in the 21st century due to the creation of camera-phones and the easy access of social media.
While Salinas takes her photographs with her camera-phone, she pays close attention to formal elements, especially the effect natural light has on man-made structures to create harsh shadows, lines and vibrant colors.
Delaney has exhibited work in both Houston and the Huntsville area, including the juried exhibitions "Vanitas," at Houston's Hardy & Nance Studios, and the Student Art Association Annual Juried Exhibition, as well as in the Lowman Student Center Gallery via "Espirit de Corps" and "Selections from the University Collection." In 2015, Delaney received first place for the Clem Otis Painting Scholarship at SHSU.
Salinas has presented her works in the Zeitgeist and the Huntsville Narratives exhibits, both shown in the Satellite Gallery.
The Satellite Gallery is located at 1216 University Ave. in downtown Huntsville.
All events are free and open to the public.
For more information, contact Salinas at sxs054@shsu.edu or Delaney at jsd010@shsu.edu.
Prof Pinpoints Investigative Tool For Counterfeit Bills
Patrick Buzzini, Sam Houston State University associate professor of forensic science, received a National Institute of Justice grant to develop chemical signatures for counterfeit currency or questioned documents produced with inkjet printers that could help lead investigators back to the source.
"We are trying to develop a tool that can work at the investigative level," said Buzzini, who is collaborating with the U.S. Secret Service on the project. "Our hope is to produce chemical profiles that will be able to inform investigators about brands and models of printers used."
More than 60 percent of counterfeit bank notes classified by the U.S. Secret Service are made using inkjet printers because of their low cost and wide availability. Inkjet printers also may provide valuable evidence in questioned documents in such diverse cases as extortion, contracts, identification documents, or anonymous letters.
In typical cases of counterfeit or questioned documents, a suspected document is compared to a reference sample using an optical inspection, usually followed by thin layer chromatography to address questions about their source.
This investigation will use a different method—micro Raman spectroscopy—to determine to what extent suspected documents can be linked back to a source based on the three main color components of the system, including mixes of cyan, magenta and yellow.
Spectroscopy methods—in this case used to detect dyes and pigments—study the interaction between light and materials. The Raman method measures the phenomenon of inelastic light scattering produced at the molecular level.
In order to analyze fully this highly complex data, Buzzini will team up with James Curran, from the University of Auckland in New Zealand, to develop a novel statistical approach to analyze the results.
The study will examine approximately 100 samples provided by the Criminal Investigation Division of the Treasury Obligation Section of the U.S. Secret Service. The samples will be evaluated using both thin layer chromatography and Raman spectroscopy.
"Our goal is to investigate if Raman data gathered from three microscopic colored spots of inkjet-printed documents constitute, all together, a chemical signature sufficiently discriminating to provide reliable investigative leads in a time-effective and non-destructive manner," said Buzzini.
Art Prof Receives National Attention For Art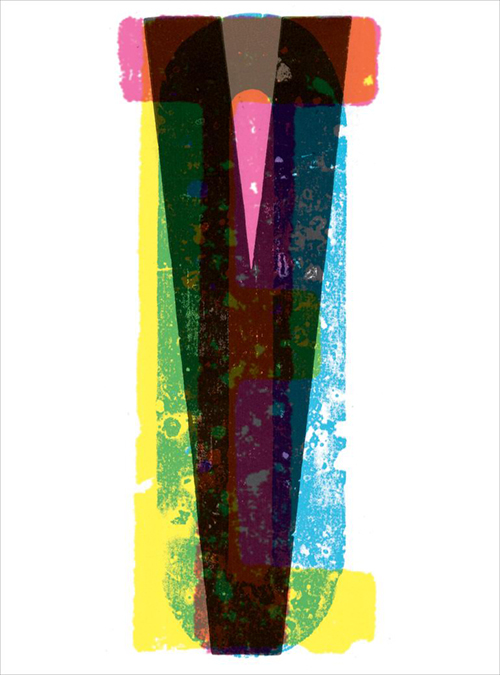 A piece of art by Sam Houston State University graphic design professor Cesar Rivera was recently included in a national online art gallery titled "Posters that will make you want to go vote," published by TED.com.
Every election season, the "Get Out the Vote" campaign invites graphic designers to produce art that will rally citizens to go to the polls. TED.com published their 14 favorite works from the contest on Nov. 3.
Rivera's poster is a colorful layering of the letters v-o-t-e, stacked on top of each other in a thin, but neat, line. The concept, Rivera said, corresponds with ballots piling up in a ballot box and how America comes together as one for an election.
The four colors used in the design represent the nation's diversity, not only in skin color but also in cultural and socio-economic backgrounds.
Rivera, who believes voting is citizen's duty, said his design is targeted toward Generation X and millennial voters.
Staff Council Spotlights Student Accounts Clerk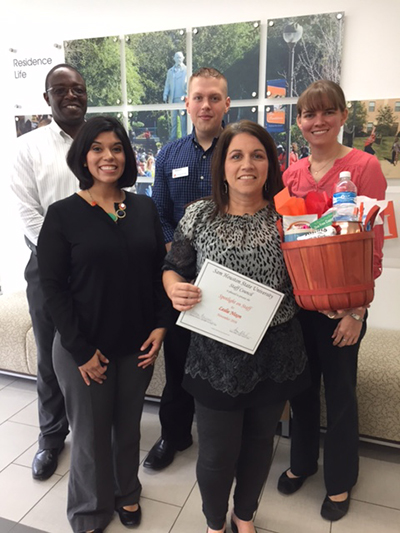 Leslie Nixon, student accounts clerk in the Sam Houston State University Residence Life Department, was selected by the SHSU Staff Council for its November "Spotlight on Staff."
Since joining the Res Life team in March, Nixon has been responsible for posting all housing charges to student accounts, managing meal plans for both on- and off-campus students, and assisting student relations clerk Tony Nick with overseeing the department's Housing Ambassadors, as well as with the general departmental needs of the front office.
"I love caring for others; when a student calls me with an issue on his/her account, it excites me to be able to help resolve that issue," Nixon said. "I never want anyone to leave our department not satisfied or with his/her issue not resolved.
"I also love contributing my time to our RHD through donating at a blood drive or working a block party," she said. "This enables me to better know the RHD and the students here on campus."
Nixon lives in New Waverly with her husband of 29 years, George "Bubba." They have three children: Racheal, 27; Rebie, 22; and Realynn, 17. She also has two grandchildren, Madilynn, 6, and Abram, 2.
In addition to spending time with her family, Nixon's hobbies include cooking, window shopping in boutique stores and gardening.
She also is a member of Hawthorn Baptist Church.
Send Experts, Story Ideas Here
Are you an expert in a topic might be of interest to reporters? Or even a unique topic? Would you like to have your research interests highlighted or discuss your expertise with reporters seeking interviewees?
The university Communications Office is collecting information and story ideas for its ongoing projects, including the online SHSU Experts Guide, the SHSU home page and Today@Sam.
The SHSU Experts Guide was established as a resource for the media, who turn to university experts lists for potential interviewees for news stories. Faculty who are interested in being a part of the university's database of experts can submit their biographical and personal information, as well as their areas of expertise, through the Experts Guide Submission Form available online at shsu.edu/dept/marketing/experts/submit-info.html.
Other story ideas, both news and features on faculty or student research and accomplishments can be sent to today@sam.edu or jenniferg@shsu.edu. For news stories, please include the date, location and time of the event, as well as a brief description and a contact person.
All information, including news story ideas and update items for Today@Sam, should be sent a minimum of a week in advance of the event in order to make necessary contacts and write a story. Feature story ideas for the SHSU home page ("sliders") should be sent a minimum of two months in advance.
To see a full list of the Today@Sam submission guidelines, or to access submission forms for news and feature stories or hometown releases, visit shsu.edu/~pin_www/guidelines.html.
For more information, call 936.294.1836.
- END -
This page maintained by SHSU's Communications Office:
Associate Director, Communications: Emily Binetti
Telephone:936.294.4406
Communications Manager: Vacant
Telephone: 936.294.1837
Communications Writer: Campbell Atkins
Telephone: 936.294.2638
Thomason Building: Suite 102
Please send comments, corrections, news tips to Today@Sam.edu
---