Concert To Pay Tribute To Ralph Mills
Sept. 30, 2016
SHSU Media Contact: Emily Binetti
Story by Angela Theis.
During his tenure at Sam Houston State University, Ralph L. Mills established one of the foremost band programs in the country, was named Texas Bandmaster of the Year by the Texas Bandmasters Association, and served as director and clarinetist of the Faculty Woodwind Quintet.
The School of Music's Wind Ensemble and Symphonic Band will pay tribute to the beloved band director and professor, who died in March, in a concert on Thursday (Oct. 6), at 7:30 p.m. in the James and Nancy Gaertner Performing Arts Center. Admission is free and open to the public.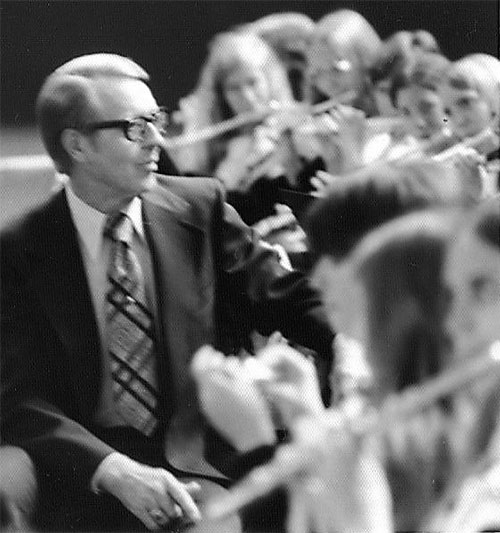 The SHSU School of Music will pay tribute to the late professor Ralph Mills, who served as director and clarinetist of the Faculty Woodwind Quintet, during a concert on Oct. 6. —Submitted photo

Matthew McInturf, professor of music, director of bands and director of the Center for Music Education, will serve as conductor for the Wind Ensemble portion of the concert, while Brian Gibbs, associate professor of music and director of the Bearkat Marching Band, will conduct the Symphonic Band. Both McInturf and Gibbs were longtime colleagues and friends of Mills.
"He was very meticulous as a performer and conductor, insisting on precision and clarity," Gibbs said. "Dr. Mills was also a consummate professional, respected as both colleague and teacher at the School of Music."
The music selections for the concert all have been carefully chosen to represent exactly what Mills would have wanted and appreciated most to hear from students. Not only will the Wind Ensemble perform "The Final Covenant," dedicated to Mills by composer Fisher Tull, but both groups will also present a range of pieces he expressed a strong love for.
"At his funeral, Dr. Mills wanted the band to play 'Eternal Father, Strong to Save' (Navy Hymn); 'Greensleeves,' arranged by Alfred Reed; and 'Irish Tune from County Derry,' arranged by Percy Grainger," Gibbs said. "Dr. Mills passed away during spring break last semester, so band members were away from campus. To honor Dr. Mills, we are dedicating this concert to him. The Symphonic Band will play the first two numbers he requested, and the Wind Ensemble will play the third."
Mills was known for his inspirational work ethic and dedication to performing beautiful music at the highest discipline. Highly regarded by many faculty, alumni and students, Mills's impact may have been best described by Scott Plugge, School of Music director.
"Dr. Mills modeled excellence as a performer and as a teacher, indelibly influencing a generation of students who went on to become exemplary members of both the performing and educating communities," Plugge said. "It is a privilege for us to follow in his footsteps."
Under his direction for more than 20 years as director of bands and chair of the instrumental division of music, the SHSU School of Music became home to one of the finest band programs in the nation, according to Gibbs.
A member of the Texas Bandmasters Hall of Fame, Mills strove for excellence in himself and his students, but he also made sure that his pupils learned and loved their craft.
"Under Dr. Mills, the Wind Ensemble performed significant symphonic literature with remarkably high technical proficiency, and internationally recognized composers were delighted with the Wind Ensemble's performances of their works," Gibbs said.
- END -
This page maintained by SHSU's Communications Office:
Associate Director, Communications: Emily Binetti
Telephone:936.294.4406
Communications Manager: Vacant
Telephone: 936.294.1837
Communications Writer: Campbell Atkins
Telephone: 936.294.2638
Thomason Building: Suite 102
Please send comments, corrections, news tips to Today@Sam.edu
---