SHSU Psychology Prof Named Piper Professor
May 4, 2016
SHSU Media Contact: Dawine Bergeron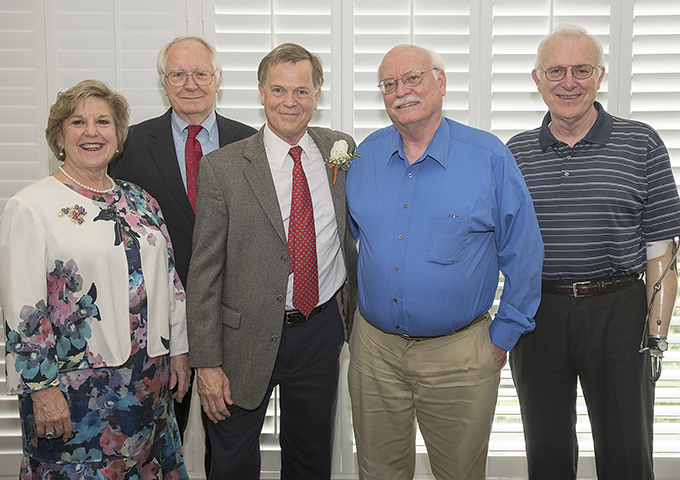 Rowland Miller (center) was joined by other Piper Professor winners from the College of Humanities and Social Sciences during a reception on May 3. They included (

from left): Caroline Crimm, history (2004); Ralph Pease, English (1987); Miller; Frank Fair, philosophy (2011); and James Olson, history (2006). —

Photo by Brian Blalock
Sam Houston State University psychology professor Rowland Miller was inspired to major in psychology, and then to become a professor, as an undergraduate at Cornell University.
"I didn't know anything about psychology when I went to Cornell, but the 'Introduction to Psychology' course there was famous," Miller said. "It was taught once a year by a masterful, award-winning professor in a huge auditorium that seated 1,500 students. The course was amazing and I instantly became a psychology major."
Although he had found a major, Miller still did not know what it was that he wanted to do for the rest of his life until he was given an opportunity to teach as an undergraduate teaching assistant.
"During my junior year, the same professor I took the introduction course with was going to teach a 'Sleep and Dreams' seminar. I applied and he chose me to be in his course. This allowed me to teach my own six-week course to fellow students when I was still an undergraduate," he said.
"He gave me a taste of spreading the wealth, and I liked it. He was just doing his job, but he loved his job and his joy was infectious," he said.
After completing his bachelor's degree, Miller went on to earn his master's degree and then his doctoral degree in social psychology at University of Florida.
He was hired as an assistant professor of psychology in 1978 in what is now the SHSU College of Humanities and Social Sciences.
"An office-mate was applying for jobs at the same time I was. We sat down with the job advertisements and divvied them up. I claimed Sam's ad, was invited to visit and was offered a job," he said.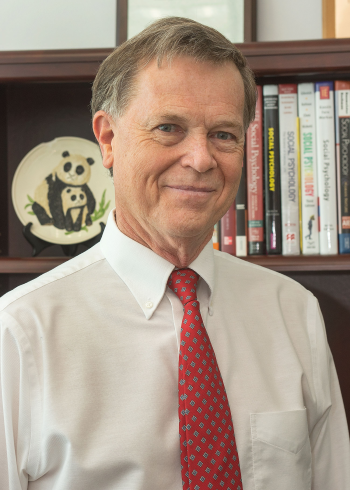 Since joining the SHSU faculty, Miller has been promoted to full professor and has been active in service, including chairing the psychology and philosophy departmental promotion and tenure committee and serving on the College of Humanities and Social Sciences dean's advisory committee on promotion and tenure. He currently serves on the editorial boards of the Journal of Social and Clinical Psychology and the Journal Personal Relationships.
Over the years, Miller also has been recognized for his research and teaching, including winning the SHSU Excellence in Research award in 1998, the International Association for Relationship Research's teaching award and as a fellow of the Association for Psychological Science. He also has authored or co-authored three books.
This year, his passion for teaching has earned him the prestigious Piper Professor Award, given by the Minnie Stevens Piper Foundation.
The Minnie Stevens Piper Foundation annually awards 10 professors $5,000 each for superior teaching at the college level. Selection is made on the basis of nominations submitted by each university in the state of Texas. Begun in 1958, with eight awards, the roster of Piper Professors includes outstanding professors from two- and four-year colleges, public and private.
Miller is the 14th Sam Houston State University professor honored since the program's inception.
"I'm quite astonished, surprised and amazed, but deeply honored. The warm support and heartfelt congratulations I've received from my colleagues have been the very best part," Miller said.
Making an impact on the lives of others is what has motivated him to continue in his field.
"In a line of work like this, you get to have real impact and meaningful influence. What else can one do with one's life work that's more fundamental and important in the long run than education?" Miller asks.
"Healing is meaningful, building is important but knowledge is transformative. It's something that makes me proud. It's such a gift to have a job that is so rich and fulfilling. I count myself as very lucky," he said.
Darryl Johnson, SHSU Psychological Services Center staff psychologist, said Miller definitely has made an impact on his life, having taken multiple undergraduate and graduate courses taught by Miller, who also chaired Johnson's dissertation project.
"It is fair to say that from kindergarten through Ph.D., I have sat in the classrooms of close to 100 instructors. Dr. Miller is by far the best teacher I have ever seen. No one is more deserving of this award," Johnson said. "I have never seen another lecturer so seamlessly weave together information in such an informative and entertaining way.
"In the courses I took, his meticulous preparation and attention to detail was always evident. His dynamic presentation style conveys an enthusiasm for the coursework that is contagious," he said. "Dr. Miller is the rare combination of scholar, storyteller, and showman who can deliver lectures that are informative, intriguing, and entertaining."
- END -
This page maintained by SHSU's Communications Office:
Director of Content Communications: Emily Binetti
Communications Manager: Mikah Boyd
Telephone: 936.294.1837
Communications Specialist: Campbell Atkins
Telephone: 936.294.2638
Please send comments, corrections, news tips to Today@Sam.edu