LEAP Center Gears Up For Gridiron, Seventh Charity Football Game
April 6, 2016
SHSU Media Contact: Jennifer Gauntt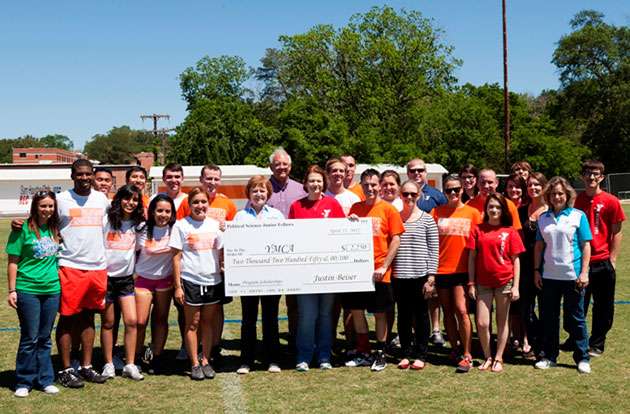 The annual Republicans and Democrats flag football game raises funds for the John Holcombe Scholarship Fund at SHSU and the local YMCA. This year, the LEAP Center has raised more than $6,000 for scholarships for both entities. —Submitted photos
Story by Mike Yawn
High noon. This Saturday, April 9. Upper Pritchett Field. Republicans and Democrats take the field.
They're not there to square off against each other but will instead come together to raise funds for the John Holcombe Scholarship Fund and the local YMCA.
In the spirit of community engagement and the democratic process, both of which were strongly promoted by former SHSU professor John Holcombe, the teams are made up of Democrats and Republicans, wearing jerseys of blue and orange, Bearkat colors, for the seventh annual charity football game.
Led by all-time quarterback Mike Yawn—whose day job is director for the Sam Houston State University Center for Law, Engagement, And Politics—two teams of six will face off for 25-minute halves.
Other participants will include SHSU director of Development for Athletics Russell Martinez, playing for the seventh time; alumni Joey Johnson, Cameron Goodman, and Laken Jenkins; SHSU students Austin Campbell, Alex Galvan, Kaitlyn Tyra, and Megan Chapa; Huntsville High School student Ryan Brim, playing for the 2nd time; community members Margaret Gulledge (director of rehabilitation at the Huntsville Memorial Hospital) and Aron Kulhavy (director of development services at the City of Huntsville); and Taylor Martin, a medical student at the University of Texas Medical branch.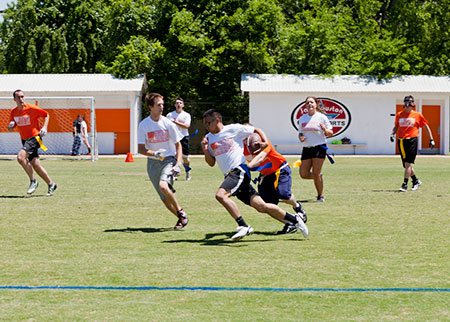 Each player started out as a donor, making a "pay-to-play" minimum donation of $100 for students or $150 for non-students.
"This helped kick off our fundraising," said Tyra, LEAP ambassador and sophomore accounting major, "and it provided the first $1,700 in donations. We wanted to make sure people knew we were committed to the causes we were promoting, and our support of these two great scholarship opportunities has helped us raise more than $6,000 so far this year."
The game is touted as Democrats and Republicans, rather than "vs.," for a number of reasons, including that each team contains a mixture of Democrats and Republicans, students and non-student, community members, the experienced and the novice, and the older and the younger; players' ages range from 17-49.
Despite these differences, 100 percent of the proceeds are split between the John Holcombe Scholarship Fund and the local YMCA.
"We wanted the parties to come together for the good of the community," Yawn said. "And they have, both by playing in the game and in donating to the local causes."
The game is open to the public, and spectators are not only welcome but wanted, according to Yawn, as cheering is encouraged.
Halftime games will be provided for kids, including sack races, a tug-of-war contest, wheelbarrow races, and the YMCA dance.
For more information, contact Yawn at 936.294.1456 or mike.yawn@shsu.edu.
- END -
This page maintained by SHSU's Communications Office:
Director of Content Communications: Emily Binetti
Communications Manager: Mikah Boyd
Telephone: 936.294.1837
Communications Specialist: Campbell Atkins
Telephone: 936.294.2638
Please send comments, corrections, news tips to Today@Sam.edu