SHSU Update For Week Of Jan. 17
Jan. 15, 2016
SHSU Media Contact: Tammy Parrett
Excellence In Teaching Nominations To Open Jan. 25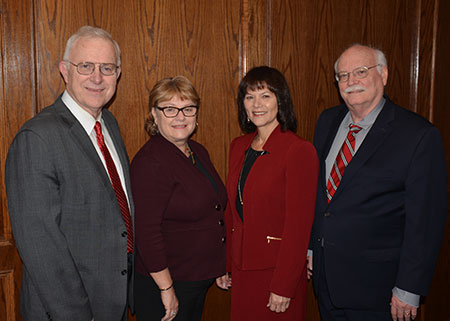 Some of the previous winners of "Excellence in Teaching Award" winners include (from left: James Olson (1977), Debra Price (2005), Valerie Muehsam (2003), and Frank Fair (1989). —Submitted photo
Sam Houston State University students, faculty, staff, and alumni will have the opportunity to recognize a professor who has made a difference in his or her academic career, or life, by nominating that professor for the 2016 "Excellence in Teaching Award."

Nominations will be accepted online from Monday (Jan. 25) through Feb. 15.
Hundreds of faculty members receive nominations for the award every year; in past years, the selection committee has seen more than half of the professors at SHSU receive at least one student nomination, according to Excellence in Teaching committee chair Bala Maniam.

This shows both SHSU professors' commitment to teaching, as well as the quality of teachers SHSU offers, he said.

"Serving on this committee makes you feel good about your colleagues. I enjoy listening to my colleagues in different departments and colleges teach their students with such passion and dedication," said Maniam.

"I seem to be learning something new from each one of them, which makes serving on this committee so much more fun and interesting," he said. "It is really nice to see what works with your colleagues, and at the same time this exercise reinforces my passion for teaching."

Nominees must be full-time faculty members, including program coordinators; however, previous award winners may not be nominated.

The award winner is selected from among the nominations by a committee of faculty appointed by the president. The winner will receive a $5,000 stipend.

Nominations may be made online here for students, faculty and staff; and here for alumni.
Workshop To Teach Students Scholarships4Kats Basics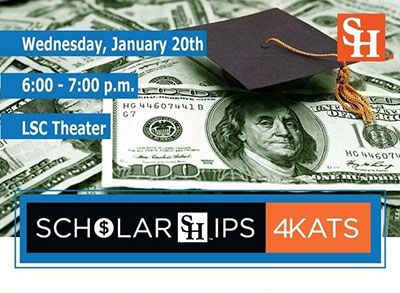 When many students begin looking at scholarships, they may feel discouraged by the lengthy or confusing application process. This year, Sam Houston State University implemented a new program, Scholarships4Kats, which simplifies the application process.
The Office of Financial Aid and Scholarships and the Student Money Management Center will team up to show students the basics of Scholarships4Kats on Wednesday (Jan. 20) at 6 p.m. in the Lowman Student Center Theater.
The workshop will teach students how to navigate the program, as well as assist those who are interested in filling out the application.
Students who attend three or more SMMC events will be entered into a drawing for one of two $400 scholarships.
Pizza and refreshments will be available on a first-come, first-served basis.
Admission to the event is free with an active Bearkat OneCard.
For more information, contact the SMMC at 936.294.2600.
Museum To Highlight Mennonite Communities In Exhibit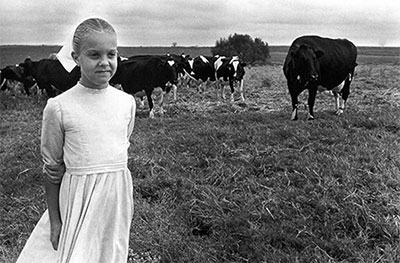 The Sam Houston Memorial Museum will present "Mennonites in Texas: the Quiet in the Land," an exhibit produced by the Dolph Briscoe Center of American History at The University of Texas at Austin, beginning Tuesday (Jan. 19) in the exhibit gallery at the Walker Education Center.
The exhibit, presented in partnership with Humanities Texas, the state affiliate of the National Endowment for the Humanities, was created by photojournalists Laura L. Camden and Susan Gaetz Duarte for their master's thesis.
"Mennonites in Texas: The Quiet in the Land" is a photographic tour of two unique Mennonite communities that hold beliefs and lifestyles that are often overlooked and misunderstood by mainstream society.
Both photographers spent more than a year getting to know the families, participating in day-to-day activities, and photographing the unique culture of the communities. Camden and Gaetz Duarte developed deep insight into not just the religious beliefs but also the family relationships, role expectations, and daily routines of the Mennonite communities.
Through their camera lenses, they offer others a touching intimate view of a unique lifestyle seldom experienced by outsiders.
The exhibit will be open until Feb. 28.
For more information, contact Megan Buro, museum marketing coordinator, at 936.294.3839.
Coffey Symposium To Examine Napoleonic Wars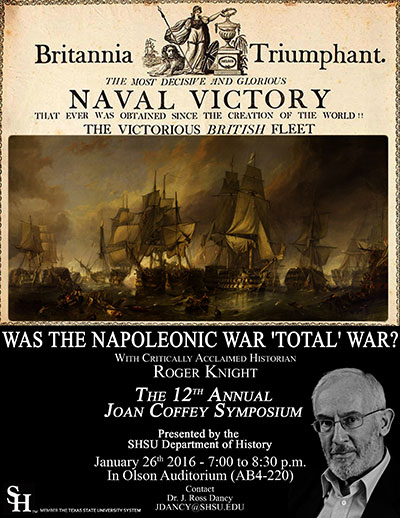 Sam Houston State University's Department of History will welcome critically acclaimed historian Roger Knight, to discuss the Napoleonic Wars during the 12th Annual Joan Coffey Symposium on Jan. 26 from 7-8:30 p.m.
The symposium, which will take place in the Academic Building IV Olson Auditorium, will focus on why more attention should be paid to the Napoleonic Wars as a catalyst for the conflicts of the first half of the 20th century, according to Jeremiah Dancy, assistant professor of history.
Dancy and Knight have known each other since 2007. After reconnecting earlier this year, Knight expressed an interest in coming to talk to Dancy's French Revolution and Napoleonic Wars class, and Dancy asked him to be a part of the Coffey Symposium.
"A lot of Knight's work looks at how the 18th century, particularly the wars of the second half of the century, are better tied to the modern era than to the early-modern era," Dancy said.
Knight's career as a museum curator and historian has spanned more than 40 years, comprising curatorial and research roles at the National Maritime Museum and subsequently at the Greenwich Maritime Institute, University of Greenwich. Since late 2014 he has been a senior research fellow at the Institute of Historical Research at the University of London.
The lecture is free and open to the public.
For more information, contact Dancy at 936.294.3908.
Students Announced As Winners In National Competition
A team of Sam Houston State University higher education administration students was recently named as the winner of the 2015 Virtual Case Study Competition, presented by the American College Personnel Association College Student Educators International.
SHSU's team consisted of graduate students Katie Fletcher, Amanda Heard, Sarah Hagler, and Clair Collins.
For the competition, the team was required to produce, organize and create a 10-minute video presentation addressing the issue of assessment in higher education for a fictional university that was struggling to increase its retention rate.
"One thing that we did that I feel set us apart, is that we framed our response by creating a theme throughout the entire presentation," said Fletcher, the team leader. "As assessment was not part of the culture at our fictional university, we followed the theme of an explorer navigating uncharted land."
While many other schools in the competition have a face-to-face program, SHSU's Masters in Higher Education Administration is a fully online program, which meant that the team had to get creative when working together on the project.
"We collaborated using email and Google+ Hangouts, and we created a private Google+ Community to share resources and bounce ideas off of each other," said Fletcher. "I think we worked more efficiently knowing that our time in our video conference meetings was limited."
The team will be recognized at the ACPA Standing Committee for Graduate Students and New Professionals awards ceremony during the ACPA College Student Educators International Annual Convention in March in Montreal, Canada.
SHSU's team competed against higher education administration graduate students from Montclair State University, The University of North Carolina-Greensboro, West Chester University, Ball State University, the University of North Dakota, the University of West Georgia, and Texas Tech University.
Student Legal Services Wins Service Project Award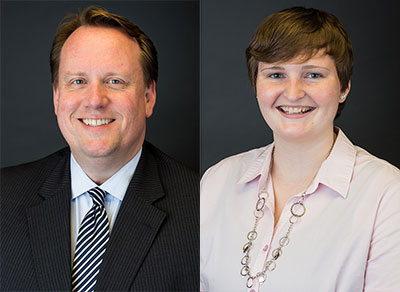 Sam Houston State University's Student Legal and Mediation Services recently was awarded the Jim Aldridge Award for Special Project of Excellence, presented by the University Student Legal Services Association, for its Donation Awareness Week project.
The award is presented to a student legal services office to honor "an outstanding legal project" during the previous academic year, according to Gene Roberts, director of SHSU's Student Legal and Mediation Services.
"I was researching ideas for blog posts, and I found a story about man who had put out an advertisement for a kidney donor for his wife since her blood type was so rare and her chances of finding a match on the national donor list were slim," said Maggie Mitschke, senior accounting, finance and banking student and student assistant for SLMS. "I started wondering what exactly the process was for having your name put on the list–either as a donor or a recipient, and how our legal office could help."
She pitched the idea of a "Donation Awareness Week" to Roberts, who encouraged her to include as many local organizations as possible.
"Donate Life Texas, which registers potential organ donors in their database; The Gulf Coast Regional Blood Center; Be The Match; The Southeast Texas Applied Forensic Science Facility; the College of Health Sciences the Student Health and Counseling Center; and the Elliott T. Bowers Honors College teamed up to host an event to help educate students on their donation options, and show them how their donations now or in the future can help a large number of people," Mitschke said.
The weeklong event included blood drives on both the Huntsville and The Woodlands campuses and information tables where students, faculty and staff could learn about donation options or register to be organ or bone marrow donors.
"We collected 70 units of blood from 63 students, 40 registered to be organ donors, 16 registered to be bone marrow donors, and more than 80 students came by to visit the information tables," Mitschke said. "SHSU's motto is 'The measure of a Life is its Service,' and what better way to serve others than to help them by donating what you can?"
Holmes Appointed To The Woodlands Art Council Board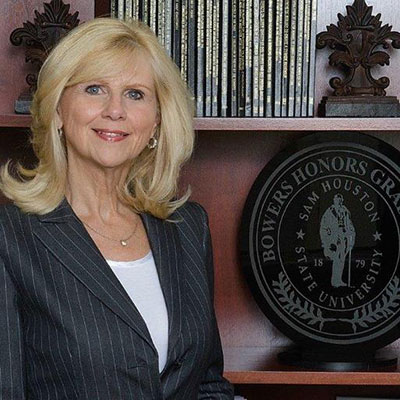 Maria Holmes, associate dean of the Elliott T. Bowers Honors College at Sam Houston State University, recently was appointed to The Woodlands Arts Council board of directors.
The Woodlands Arts Council's primary goal is to establish and support meaningful programs in the performing and visual arts to create a strong and vital arts presence in Montgomery County and the neighboring region.
TWAC produces the annual The Woodlands Waterway Arts Festival, ranked among the top three juried fine arts festivals nationwide, and Because Art Matters, the year-round community and educational outreach arm of TWAC that enhances the emotional, academic, physical and cultural well-being of youth, seniors and those with special needs by using the power of the visual and performing arts.
"I am particularly interested in BAM's Student Art Scholarship Program, open to all high school juniors and seniors," Holmes said. "Thanks to Dr. Janet Mullings, the 2016 venue for the exhibit will be the SHSU Woodlands Center. Last year over 250 pieces of art were entered and 64 pieces were chosen as winners and exhibited at The Woodlands Waterway Arts Festival."
Holmes began her career at SHSU in 2003. Through her research on coaching and advising gifted students and ethnically diverse honors students, she has worked to make an impact on best practices for student success that enable all students to achieve and reach their academic and professional goals. With a focus on civic engagement, Holmes connects students with service opportunities in the local community, including the Walker County Boys and Girls Club and the Good Shepherd Mission.
In addition to her work with students on campus, she also serves on the board of directors for the Trinity Episcopal Day School, as well as volunteering at The Wynne Home Arts Center.
"Service to others is incredibly important to our communities, including the workplace and educational institutions. Our best future depends on a next generation of servant leaders who will shape the culture of our schools, neighborhoods and cities within our region," Holmes said.
"By personally giving back, I hope that my actions will help to contribute to inspiring others to give back through volunteering their time and talents to community organizations that strive to improve our region. I want my efforts, in some small way, to extend the concept of a 'community of care' that will enrich the lives of everyone.
"I am extremely honored to have been selected to join such an amazing group of talented, energetic, and dedicated community volunteers, and I am excited to see what the future holds."
Today@Sam Seeks Experts, Story Ideas
Are you an expert in a topic might be of interest to reporters? Or even a unique topic? Would you like to have your research interests highlighted or discuss your expertise with reporters seeking interviewees?
The university Communications Office is collecting information and story ideas for its ongoing projects, including the online SHSU Experts Guide, the SHSU home page and Today@Sam.
The SHSU Experts Guide was established as a resource for the media, who turn to university experts lists for potential interviewees for news stories. Faculty who are interested in being a part of the university's database of experts can submit their biographical and personal information, as well as their areas of expertise, through the Experts Guide Submission Form available online at shsu.edu/dept/marketing/experts/submit-info.html.
Other story ideas, both news and features on faculty or student research and accomplishments can be sent to today@sam.edu or jenniferg@shsu.edu. For news stories, please include the date, location and time of the event, as well as a brief description and a contact person.
All information, including news story ideas and update items for Today@Sam, should be sent a minimum of a week in advance of the event in order to make necessary contacts and write a story. Feature story ideas for the SHSU home page ("sliders") should be sent a minimum of two months in advance.
To see a full list of the Today@Sam submission guidelines, or to access submission forms for news and feature stories or hometown releases, visit shsu.edu/~pin_www/guidelines.html.
For more information, call 936.294.1836.
- END -
This page maintained by SHSU's Communications Office:
Director of Content Communications: Emily Binetti
Communications Manager: Mikah Boyd
Telephone: 936.294.1837
Communications Specialist: Campbell Atkins
Telephone: 936.294.2638
Please send comments, corrections, news tips to Today@Sam.edu