Hoover Named Distinguished Professor
May 9, 2016
SHSU Media Contact: Beth Kuhles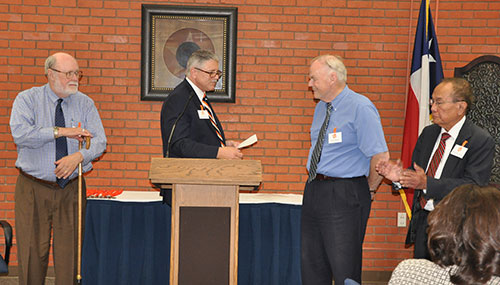 Larry Hoover was honored as a Distinguished Professor of criminal justice by Phillip Lyons, dean of the College of Criminal Justice, on April 28 at the annual Criminal Justice Leadership Luncheon.
Larry Hoover, professor of criminal justice at Sam Houston State University, recently was named a Distinguished Professor for his outstanding contributions to SHSU and the criminal justice field. The announcement was made at the annual College of Criminal Justice's Leadership Luncheon on April 28.
The title is bestowed upon faculty members at SHSU who have outstanding achievements in their disciplines, receive national recognition for their scholarly contributions, and demonstrate valuable service to their field of study.
Hoover is the third Distinguished Professor named by the College of Criminal Justice, joining Distinguished Professors Emeritus Charles Friel and Rolando del Carmen.
"Dr. Hoover's contributions to the college, university, and field are remarkable for their breadth, depth, frequency, and impact," said Phillip Lyons, dean of the College of Criminal Justice and director of the Criminal Justice Center. "He is an amazingly insightful scholar and policy analyst whose work finds applications in the field that is direct and substantial."
Hoover began his career as a police officer in Lansing, Michigan and served with the Michigan Commission on Law Enforcement Standards, where he developed basic and advanced training programs for the state's officers. He also served on the faculty of Michigan State University.
He joined the faculty at SHSU in 1977, where he developed advanced certification standards for both police and correctional officers for the then Texas Commission on Law Enforcement Officer Standards and Education. He also was instrumental in creating the Major Cities Initiative at the Bill Blackwood Law Enforcement Management Institute of Texas. His contributions to LEMIT were recognized by the creation, in his name, of a distinguished lecture series addressing innovative and emerging issues in policing.
As director of the Police Research Center, Hoover developed the Criminal Research, Information Management, and Evaluation System, a state-of-the-art police information management system used by more than 50 police agencies. Hoover recently launched a similar program for probation departments across the state. He received numerous, federal, state and local grants for research on the use of technology in law enforcement, including information systems, GIS, crime data and crime reduction.
He has published five books addressing diverse issues in law enforcement, including police response to persons with mental illness, police management, police program evaluation, quality control in policing, and police crime control strategies.
Hoover is a former president of the Academy of Criminal Justice Sciences and has received numerous awards from the organization, including the 2003 Founder's Award and the O.W. Wilson Award, which recognizes enduring contributions to policing.
- END -
This page maintained by SHSU's Communications Office:
Director of Content Communications: Emily Binetti
Communications Manager: Mikah Boyd
Telephone: 936.294.1837
Communications Specialist: Campbell Atkins
Telephone: 936.294.2638
Please send comments, corrections, news tips to Today@Sam.edu