SHSU Provost Hebert Leaving For Georgia
April 1, 2016
SHSU Media Contact: Julia May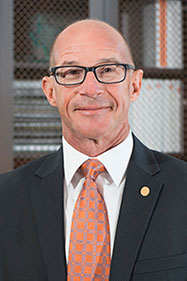 Jaimie Hebert
Sam Houston State University Provost and Vice President for Academic Affairs Jaimie Hebert will leave Huntsville this summer to assume the presidency of Georgia Southern University in Statesboro.
Associate Provost Richard Eglsaer will serve as interim provost, effective June 1, while the university conducts a search to fill the position.
"During his time as Sam Houston State University's chief academic officer, Dr. Hebert has done an exemplary job of being an advocate for our faculty and overseeing the ongoing development of our colleges and academic departments," said SHSU President Dana G. Hoyt.
"Throughout his career, he has been committed to academic excellence," Hoyt said. "The contributions he has made through his leadership will continue to impact our programs and offerings for years to come.
"We thank Jaimie for his invaluable service to Sam Houston State University and wish him the very best in his presidency at Georgia Southern," she said.
Hebert came to SHSU as an assistant professor of statistics in 1995 and was named chair of the Department of Mathematics and Statistics in 1999.
He served as dean of the College of Arts and Sciences in 2005 before being selected for his current post in 2011.
"When I reflect back on my 21 years at Sam Houston, the thing that will always come to my mind are the people ... and their passion for the mission of this institution," he said.
"The colleagues I grew with, the wonderful mentors we had, the amazing staff who kept this culture in place, and our students, whose success brought purpose to all of our lives—they made me who I am today, and I carry a bit of each and every one of them with me," he said. "Those people are Sam Houston State University in my mind."
Hebert initiated academic organizational changes to enhance effectiveness and efficiency at SHSU, which included the establishment of the College of Fine Arts and Mass Communication; the School of Nursing; a Department of Criminal Justice and Criminology, a Department of Forensic Science and a Department of Security Studies, all within the College of Criminal Justice; and a new College of Health Sciences.
He successfully proposed the rebranding of the industrial technology program to engineering technology and separated the Department of Theatre and Dance into a Department of Theatre and Musical Theatre and a Department of Dance.
Under his direction, SHSU successfully proposed and added new doctoral programs in forensic science, instructional technology and developmental education administration, as well as numerous new undergraduate and master's degrees.
He also worked to secure planning authority for a Doctor of Osteopathic Medicine program from the Texas State University System Board of Regents and state funding for construction of a biological sciences laboratory building and a Department of Art facility.
Hebert played an integral role in securing gifts of more than $35 million for academic programs, including $10 million toward the construction of the Pirkle Technology Center.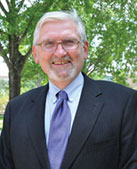 Richard Eglsaer
Soon-to-be-appointed Interim Provost Eglsaer has a long history of service at SHSU, as well. He has been SHSU's associate vice president for Academic Affairs and vice provost for the past 16 years. In this capacity, he has been active in the university's recruitment and retention efforts.
He also directs SHSU's efforts to develop articulation agreements with community colleges across the state and oversees SHSU-The Woodlands Center.
"Dr. Eglsaer has demonstrated solid and consistent leadership as vice provost of Sam Houston State University," Hoyt said. "His dedication to the success of our faculty and academic programs assures a continuity of academic management while we search for Dr. Hebert's replacement."
The search process will begin immediately, according to Hoyt. At an appropriate time, information about the search will be available on the Sam Houston State University Office of the President's webpage.
- END -
This page maintained by SHSU's Communications Office:
Director of Content Communications: Emily Binetti
Communications Manager: Mikah Boyd
Telephone: 936.294.1837
Communications Specialist: Campbell Atkins
Telephone: 936.294.2638
Please send comments, corrections, news tips to Today@Sam.edu