School To Go Into 'Full Swing' With 'Two Nights Of Jazz'
Oct. 21, 2016
SHSU Media Contact: Emily Binetti
Story by Angela Theis.
The Sam Houston State University School of Music will present "Two Nights of Jazz," featuring music from the award-winning SHSU Jazz Band and guest artists in residence The Dan Haerle Quartet, on Wednesday (Oct. 26) and Thursday (Oct. 27) in the James and Nancy Gaertner Performing Arts Center.
The concert will include a Wednesday performance by the Dan Haerle Quartet, beginning at 7:30 p.m. in the GPAC Recital Hall, followed by a Thursday evening concert in which the SHSU Jazz Band will join the quartet, also at 7:30 p.m. in the GPAC David and Grettle Payne Concert Hall.
Aric Schneller, SHSU director of jazz studies, has known Haerle for many years, even studying under Haerle as a graduate student at the University of North Texas, and often teaches from Haerle's educational writings and materials.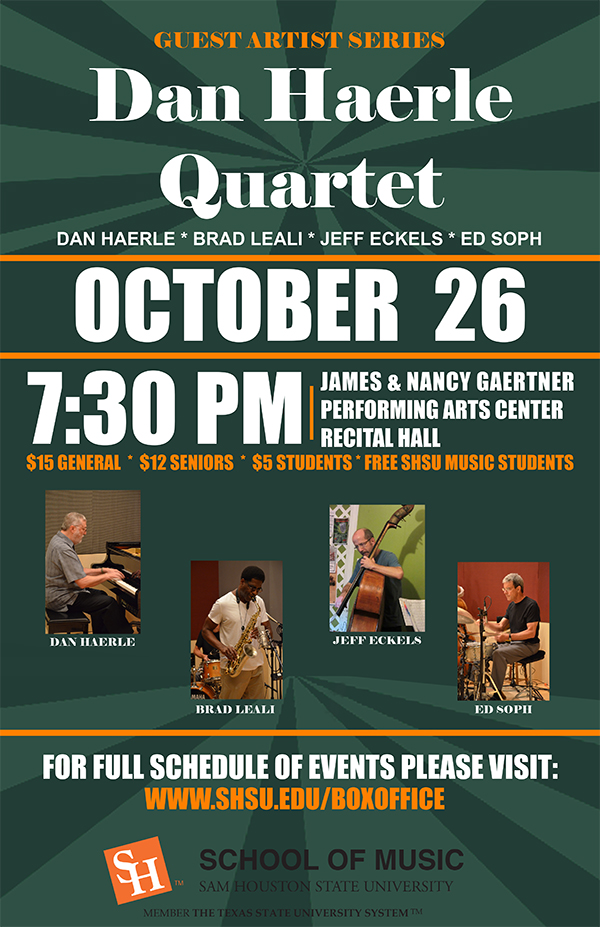 "He's one of the most respected pedagogues in the field of jazz education and performance," Schneller said. "He was one of my most valued teachers/mentors from the University of North Texas during my gradate jazz studies."
The first night of jazz will consist of Haerle's original jazz compositions written for the quartet, which comprises Haerle on piano, Brad Leali on alto saxophone, Jeff Eckels on bass, and Ed Soph on drums.
Haerle, a composer, educator and accomplished musician, has written not only musical works, but also instructional material and has made a name for himself as a premiere jazz educator.
Leali has served many top college musical programs, including Texas Tech University and the University of North Texas and has been the lead alto saxophonist in the Harry Connick Jr. Orchestra. He also has a Grammy nomination under his belt.
Eckels has years of experience, having performed live jazz on Public Radio International's most popular show, and is one of the country's most sought-after bassists.
Soph has more than 40 years of performance, recording, writing, and teaching experience with groups small and large.
"The Dan Haerle Quartet is part of the ensemble-in-residence series within the School of Music," Schneller said. "This is where we bring in world-class artists to perform and teach master classes for our students, teachers and community. Since we're training our students to pursue their goals and dreams in these fields (i.e., teaching, performing composition, etc.), hosting professionals of this stature is priceless."
Exposure to these kinds of guest artists and experts brought from around the country makes the SHSU jazz program a top attraction, according to Schneller.
"I believe that jazz, as an original American art form, in all of its genres and time periods, reaches into and touches our hearts, minds and spirits because of its main ingredient, improvisation," Schneller said. "I think this one of the reasons why our ​jazz concerts are popular on campus."
The James and Nancy Gaertner Performing Arts Center is located at 1905 University Ave.
Tickets are $15 for the general public, $12 for senior citizens and $5 for students for both nights. They can be purchased at shsu.edu/boxoffice or 936.294.2339.
- END -
This page maintained by SHSU's Communications Office:
Associate Director, Communications: Emily Binetti
Telephone:936.294.4406
Communications Manager: Mikah Boyd
Telephone: 936.294.1837
Communications Writer: Campbell Atkins
Telephone: 936.294.2638
Thomason Building: Suite 102
Please send comments, corrections, news tips to Today@Sam.edu