Romanian Pianist Earns Top Honors At Annual Concerto Competition
Feb. 5, 2016
SHSU Media Contact: Emily Binetti
Story by Hannah Zedaker.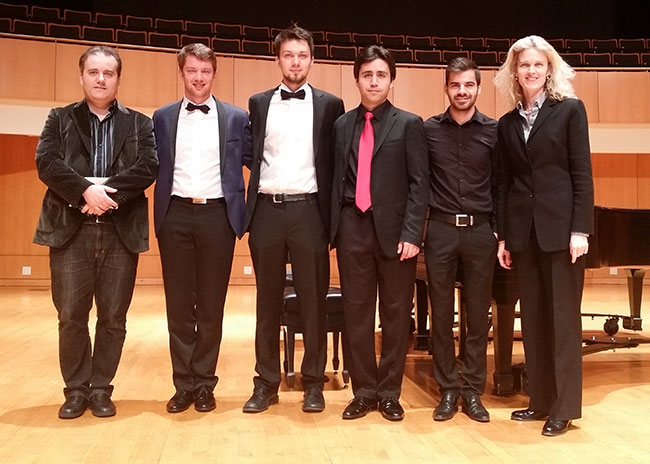 Concerto Competition participants included (from the left): with assistant piano professor Josu De Solaun, third place winner
José Ramon Garcia, first place winner
Eduard Gavril
, second place winner
Francisco Fierro Rueda, and honorable mention winner
Sorin Frisan, with associate professor of piano Ilonka Rus-Edery. —Submitted photo
Pianist and graduate student Eduard Gavril earned first prize at the Sam Houston State University School of Music's annual Concerto Competition Jan. 13.
Eduard, originally from Romania, is currently studying collaborative piano under associate professor Ilonka Rus-Edery. He studied at the Arts High School and the Gheorghe Dima Music University, both in Romania, prior to coming to SHSU to further his education.
For the Concerto Competition, Eduard performed the first movement of George Gershwin's Concerto in F for piano and orchestra.
"I fell in love with this piece when I was 16, but I was missing the skills to play it back then, so I just forgot about it until my senior year in the conservatory back home," Eduard said. "I just learned it for fun then, but when I came here and found out about the concerto competition, I decided to give it a chance."
According to Eduard, the piece is a unique combination of jazz and classical music, which at times was difficult for him to master.
"It took a lot of work," he said. "First of all, learning the notes was a demanding process because it's a very long piece and the way it's written is very unusual for a classically trained pianist. It's basically pure jazz but written in a very classical way. Another very important and time-consuming process was finding the character, giving it a jazzy, improvisation-like feeling, but still keeping it on a strict classical foundation. It's a paradox and I struggled a lot to make these two sides of the piece to 'get along.'"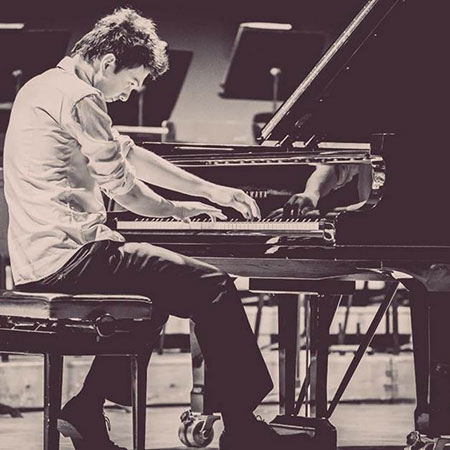 Graduate student Eduard Gavril won the Concerto Competition with the first movement of George Gershwin's Concerto in F for piano and orchestra. —Submitted photo
The three-round competition, which was held in the David and Grettle Payne Concert Hall of the James and Nancy Gaertner Performing Arts Center, was judged by Bruce Berg, violin professor at Baylor University; Bradley Bolen, senior piano lecturer also at Baylor University; and Richard Nunemaker, principal clarinetist with the Houston Latin American Philharmonic.
During the first round, musicians audition against others in their respective category—woodwinds, brass, strings, percussion, and piano. From there, the winners from each category compete against all other contestants, and the winners of the second round move on to the finals.
Five graduate student pianists and one graduate student violinist competed in the finals this year, four of whom received honors. Pianists Jose Ramon Garcia Perez earned third prize and Francisco Fierro Rueda earned second prize. All three winners earned scholarship awards for their placements. Pianist Sorin Frisan earned an honorable mention.
"I was quite surprised to win," Eduard said. "All the contestants were incredibly well prepared and great musicians. I didn't know how the jury would react to the piece I prepared, because it's a very beautiful, catchy, but underplayed and unknown concerto. Some pianists haven't even heard of it, although everybody has heard of George Gershwin. Bottom line, I wasn't expecting to win, but in a way I'm glad it happened because now this concerto is going to gain some popularity."
Post-graduation, Eduard said he plans to return home to Romania to be with his family and friends and continue working with one of his colleagues to create original arrangements and compositions.
"If we manage to take this project to the stage and win the hearts of the people in the audience and also manage to get some concerts, I will feel a sense of accomplishment," he said. "I might start teaching, or I might continue performing, or both. As long as it involves music, it's OK with me."
In addition to Eduard's scholarship award, the pianist will also get to perform his audition piece with the School of Music Orchestra in April. Tickets can be purchased through the GPAC Box Office.
- END -
This page maintained by SHSU's Communications Office:
Associate Director, Communications: Emily Binetti
Telephone:936.294.4406
Communications Manager: Mikah Boyd
Telephone: 936.294.1837
Communications Writer: Campbell Atkins
Telephone: 936.294.2638
Thomason Building: Suite 102
Please send comments, corrections, news tips to Today@Sam.edu