Update For Week Of Feb. 14
Feb. 12, 2016
SHSU Media Contact: Tammy Parrett
Museum To 'Dig Up' Past With Archeology Presentation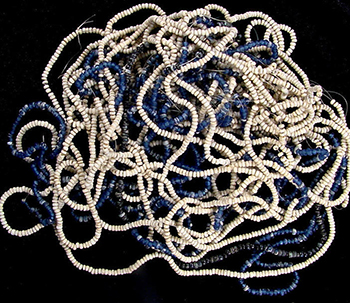 Sam Houston Memorial Museum will welcome Brad Jones, archeologist for the Texas Historical Commission, for a presentation on Wednesday (Feb. 17) at 7 p.m. in the Katy and E. Don Walker Education Center.
"Gifts for the Indians: French and Spanish Trade Goods on the Texas Coast in the 1680s" consists of artifacts preserved from the small frigate (a fast naval vessel) called "La Belle" that ran aground in Matagorda Bay when French explorer Robert de la Salle set out to establish a French colony in the New World.
In the years after the La Belle ran aground in 1686, the cargo in the bottom of the hull became covered with mud, which preserved millions of items. After three centuries under water, the La Belle was located and excavated by the Texas Historical Commission.
Today, the remains of the La Belle rest on the main floor of the Bullock Texas State History Museum in Austin.
"The interpretive goal of the exhibit is to bring to the forefront a balanced story of the complex encounters between American Indians, the French, and the Spanish that greatly influenced the course of history in a region that represents two-thirds of the United States," said Bullock museum deputy director Victoria Ramirez.
Jones will present images of the excavated artifacts and compare La Belle's French excavated trade goods with the archival records from Spanish maritime expeditions that searched for La Salle and his colony.
The presentation is free and open to the public.
For more information, contact Sandy Rogers, retired museum registrar, at 936.661.9882.
Conference To Tackle Diversity, Leadership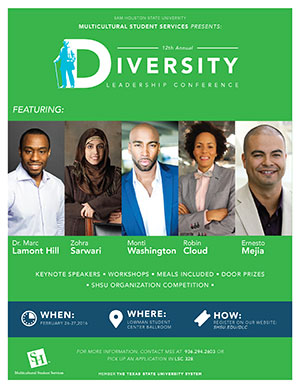 Sam Houston State University's Multicultural Student Services will host its 12 Annual Diversity Leadership Conference on Feb. 26-27 in the Lowman Student Center Ballroom.
The Diversity Leadership Conference is a student-led event designed to address diversity and leadership issues and their application in student development, higher education, and the global society, according to MSS coordinator Jordan Chang.
Presentations at the event will cover issues such as disabilities, LGBT topics, men of color, social justice, student activism, women in leadership, and many others.
"Students are encouraged to come out and participate because it will engage them in issues and content that affect our generation and prepare them to succeed in a global society," Chang said.
Organizations that attend the conference can compete for a $500 cash prize. Registration packets are available in the Multicultural Student Services Office, located in Lowman Student Center Room 328.
The conference is free to SHSU students, faculty and staff who register before Feb. 26. Registration will cost $10 for those who register on the day of the conference.
Public registration is $10 until Feb. 26, when the cost will rise to $20.
For more information, contact Chang at 936.294.2603.
Center To Offer Financial Literacy Advice, Scholarship Opportunity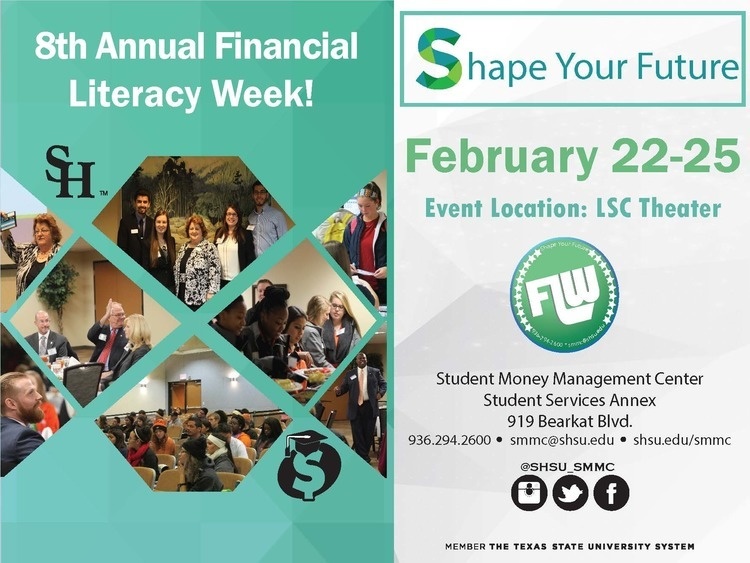 In preparation for their eighth annual Financial Literacy Week, Sam Houston State University's Student Money Management Center will have representatives in the Lowman Student Center Mall Area promoting their services on Wednesday and Thursday (Feb. 17-18) from 11 a.m. to 1 p.m.
Financial Literacy Week is a four-day program designed to teach students to use financial planning not just to survive, but thrive.
The Student Money Management Center is a financial outreach and educational program designed to empower SHSU students and provide them with unbiased information and tools they will need to gain financial independence.
The center hosts numerous events throughout the year, including financial coaching sessions, workshops and classroom presentations on topics such as budgeting, smart shopping and couponing, preventing identity theft, setting financial goals, and establishing and maintaining credit.
Students who visit with representatives will have an opportunity to participate in activities for a prize, learn about Financial Literacy Week and how they can enter a drawing for a $650 scholarship.
For more information, contact the SMMC at 936.294.2600.
Organization To Promote Music Therapy Awareness
Sam Houston State University's music therapy organization Mu Tau Omega, will spread awareness about the issues and benefits of music therapy with a weekend of lectures and performances on Friday and Saturday (Feb. 19-20) in the Gaertner Performing Arts Center Recital Hall.
"Music Therapy Awareness Weekend is an annual event that serves to increase awareness of the various aspects and applications of the music therapy profession through a mini-conference that is free and open to the public," said Karen Miller, professor and director of the music therapy program. "Sessions are educational for current music therapy majors, prospective students, professional music therapists, and community members, alike."
The weekend's events will kick off with "Songwriting Approaches for Music Therapy," presented by Robert Krout, chair of the music therapy department at Southern Methodist University.
That evening, music therapy students and faculty members will perform a MTO Coffeehouse Concert from 7:30-10 p.m. in Music Building Room 201.
"The coffeehouse event serves as the entertainment portion of the mini-conference and gives students, faculty, and guest artists an opportunity to perform in a relaxed atmosphere," Miller said.
Saturday's activities include coffee and donuts in the GPAC Lobby at 8:30 a.m.; "Music Therapy in a Forensic Setting," presented by Allison Etter, music therapist at Kerville State Hospital, at 9:15 a.m.; "An Introduction to Music Therapy Techniques in the NICU," presented by Evelyn LaGuardia, music therapist at Niklaus Children's Hospital in Miami, at 10:30 a.m.; "MT-BC! Now What? Clinical and Education Options for Newly-Graduated Music Therapists," presented by Carolyn Dachinger, assistant professor of music therapy at SHSU, at 1:30 p.m.; and "How it all Began, the Story of Music Therapy's Beginning at SHSU," presented by Harley Rex, retired professor of music at SHSU, at 2:45 p.m.
All events are free and open to the public.
For more information, contact Miller at 936.294.1376 or call the School of Music at 936.294.1360.
Audiences To Be Swept Away In 'Cardenio'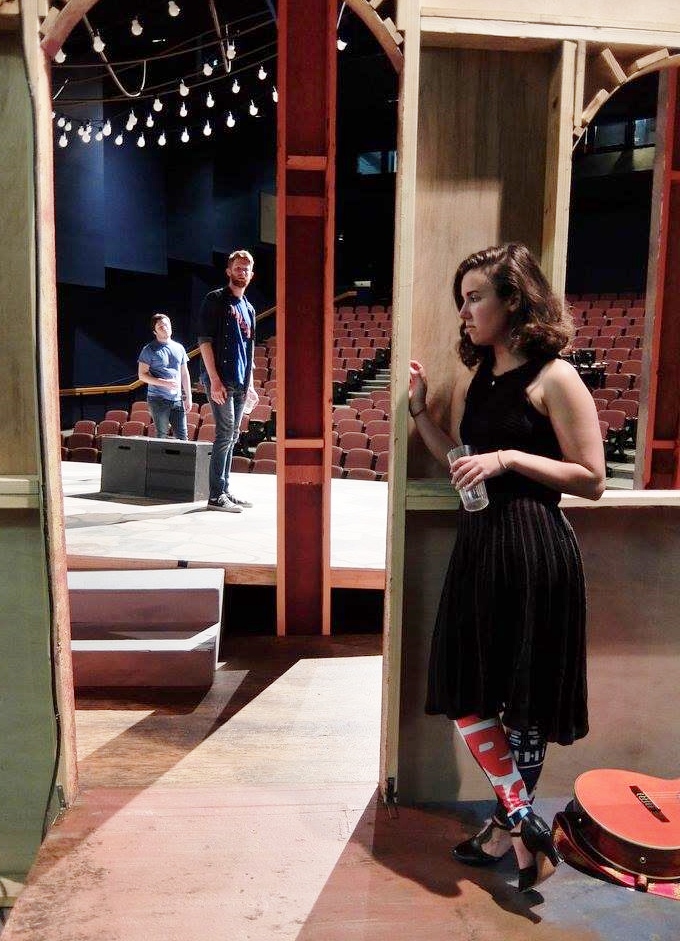 The Sam Houston State University Department of Theatre and Musical Theatre will sweep audiences in a tangle of love stories as depicted in the upcoming production of "Cardenio," Wednesday through Saturday (Feb 17-20) in the University Theatre Center's Erica Starr Theatre.
Performances will begin at 8 p.m., with a Saturday matinee that starts at 2 p.m.
"Cardenio," written by Stephen Greenblatt and Charles Mee, is a romantic comedy that includes fragments of a "lost" play, of the same name, written by Shakespeare.
According to professor of theatre and play director David McTier, SHSU's rendition of the play will serve as "Cardenio's" introduction to the state of Texas.
"As far as I can tell, this is the Texas premiere of this little-known play," McTier said. "Simply put, this is a delightful play about the twists-and-turns of love–a perfect play to follow Valentine's Day."
The play takes place in present-day Italy where an American wedding has just taken place. As the play develops, the relationship troubles of many of the wedding's guests unfold but are conveniently resolved by the play's conclusion.
"We chose 'Cardenio' because it has an evenly divided cast of men and women and can be produced in our 'fast and furious' February slot," McTier said. "We only have three and a half weeks of rehearsal before we go into tech, which is a full week shorter than our other productions."
For three of the play's 13 actors–theatre majors Mackenzie Haffey, Cortney Hafner and Nathan Wilson–"Cardenio" will serve as their "swan song," according to McTier, as they are planning to graduate in May.
"Cardenio" contains some adult content and language and is not appropriate for young children.
Tickets are $12 for general admission, $10 for students and senior citizens and $8 for a group rate.
For more information on tickets, contact the University Theatre Center Box Office at 936.294.1339.
SHSU To Host African World Documentary Film Festival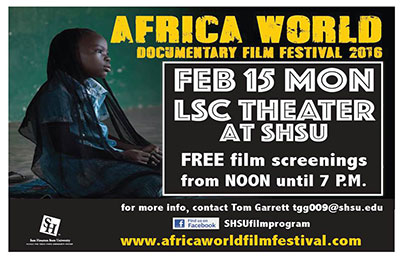 Sam Houston State University's film production program will host the Africa World Documentary Film Festival on Monday (Feb. 15) in observance of Black History Month.
The film festival will begin at noon in the Lowman Student Center Theater. It is co-sponsored by the University of Missouri at St. Louis, which accepts film submissions that are then viewed publically, year-round, on an international level—in Africa, Europe, the United States and the Caribbean.
One of the films featured in this year's lineup is "Ota Benga," produced by Jean Bodon, mass communication department chair and professor. The film premiered last November at the Smithsonian National Museum of African Art in Washington, D.C.
"We celebrate and congratulate the extraordinary group of talented filmmakers who have employed their craft and skills in the exploration the experiences of people of African origin all around the world," festival director 'Niyi Coker Jr. said.
The program's purpose is to "promote knowledge and culture of the people of Africa, in a Pan-African context," according to the AWDFF website.
The on-campus event will also host special guest Daniel Dombire Nyezinah, a filmmaker, producer, actor, and SHSU student from Bolgatanga, Ghana, who will provide some insight on African culture.
The event is free and open to the public.
For more information, contact Tom Garrett, associate professor of film, at tgg009@shsu.edu or 936.294.1344.
Webinar To Discuss Internet Crimes Against Children
The Texas Association Against Sexual Assault Region D will host their quarterly meeting on Feb. 25 at 1:30 p.m. in the Professional and Academic Center for Excellence Conference Center.
Sgt. Richard Hahn of the Houston Police Department's Special Victims Unit will present "Internet Crimes Against Children" in a webinar broadcast to audiences at SHSU, Stephen F. Austin University, Lamar University, Texas A&M University, University of Texas Health Science Center at Houston, University of Texas Medical Branch, and Texas Children's Hospital.
In his 22-year career with the Houston Police Department, he has worked with various units, including patrol, gang task force, tactical unit, narcotics, juvenile division, and special victims division.
Hahn was selected as commander of the Houston Metro Internet Crimes Against Children Task Force in 2012. In this position, he provides leadership and coordinates and manages operations, training, grant funding and resources for more than 57 federal, state and local affiliate law enforcement and support agencies in the greater Houston area to combat the war on child pornography and abuse.
Due to limited seating, those interested in attending the webinar should RSVP to Charmin White, clinical assistant professor of nursing, at cbh023@shsu.edu or 281.716.0905.
Counselor To Get 'Real' In Series
Sam Houston State University's College of Criminal Justice will welcome Marty Elkins, regional victims services counselor with the Texas Department of Public Safety, to discuss her career in victim and employee support services on Tuesday (Feb. 16) at 2 pm. as part of the College of Criminal Justice's Real Talk w/ CJ series in the Criminal Justice Center's Hazel B. Kerper Courtroom.
The Texas Department of Public Safety implemented a program called Interdiction for the Protection of Children in 2009, which trains patrol officers to identify children who may be abducted or endangered during traffic stops by using behavior patterns of both suspect and victims and age appropriate questioning techniques. The program has resulted in the successful rescue of hundreds of children in Texas, and countless children worldwide, through training and collaboration with other departments and agencies.
Elkins works with child and adult victims of crime, including murder, sexual assault, crime crashes, and human trafficking.
Adult and child victims of human trafficking come with a unique set of issues and challenges, according to Elkins. For many, it is a revolving door of rescue and return.
For domestic victims, some who are escaping sexual abuse and violence at home, the trafficker is perceived as providing love, support, structure, and money.
"They have a bond with their abuser, who protects them, and they see this as their only chance to survive," Elkins said.
For international victims, there is also the fear of deportation.
"People do a lot to get into the United States," Elkins said. "If they cooperate, they fear they will be sent back."
For more information, contact Beth Kuhles, publications coordinator for the College of Criminal Justice, at 936.294.4435.
Today@Sam Seeks Experts, Story Ideas
Are you an expert in a topic might be of interest to reporters? Or even a unique topic? Would you like to have your research interests highlighted or discuss your expertise with reporters seeking interviewees?
The university Communications Office is collecting information and story ideas for its ongoing projects, including the online SHSU Experts Guide, the SHSU home page and Today@Sam.
The SHSU Experts Guide was established as a resource for the media, who turn to university experts lists for potential interviewees for news stories. Faculty who are interested in being a part of the university's database of experts can submit their biographical and personal information, as well as their areas of expertise, through the Experts Guide Submission Form available online at shsu.edu/dept/marketing/experts/submit-info.html.
Other story ideas, both news and features on faculty or student research and accomplishments can be sent to today@sam.edu or jenniferg@shsu.edu. For news stories, please include the date, location and time of the event, as well as a brief description and a contact person.
All information, including news story ideas and update items for Today@Sam, should be sent a minimum of a week in advance of the event in order to make necessary contacts and write a story. Feature story ideas for the SHSU home page ("sliders") should be sent a minimum of two months in advance.
To see a full list of the Today@Sam submission guidelines, or to access submission forms for news and feature stories or hometown releases, visit shsu.edu/~pin_www/guidelines.html.
For more information, call 936.294.1836.
- END -
This page maintained by SHSU's Communications Office:
Director of Content Communications: Emily Binetti
Communications Manager: Mikah Boyd
Telephone: 936.294.1837
Communications Specialist: Campbell Atkins
Telephone: 936.294.2638
Please send comments, corrections, news tips to Today@Sam.edu