Bookstore Highlights Partnership With New Program, Scholarships
Aug. 26, 2016
SHSU Media Contact: Tammy Parrett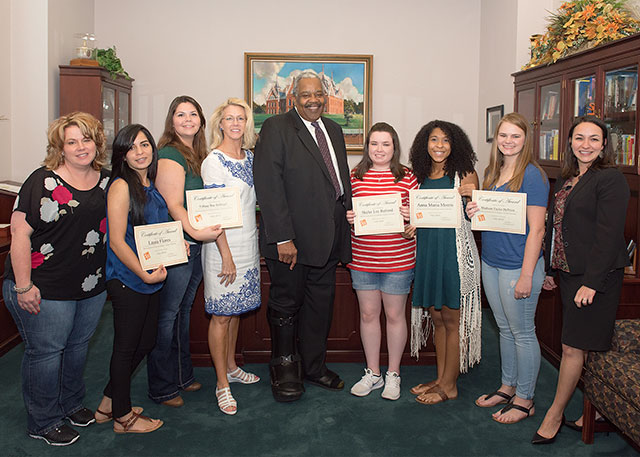 Barnes & Noble College recently established a $5,000 scholarship, through which

10 students were awarded $250 for the fall semester. Another 10 scholarships will be awarded for the spring semester.

—

Photo by Brian Blalock

As the cost of a college education continues to rise, the Sam Houston State University Bookstore is providing students with various methods to alleviate the cost of course materials, through the FacultyEnlight program, new scholarships and textbook price-matching program.
SHSU teamed up with Barnes & Noble in 2013 to implement FacultyEnlight, an online content search, discovery and adoption website that allows faculty to research and adopt textbooks in one convenient place.
The program directly benefits students by putting price options in front of faculty members before they adopt course materials, allowing them to research what course materials other faculty members across the nation are using in their classes, and seeing a list of price options for the materials they wish to adopt.
This empowers faculty to select textbooks that offer students many options to choose from, according to student services finance and budget director Lynn Clopton.
"FacultyEnlight is an excellent resource for faculty because it provides them an opportunity to view textbook alternatives and their projected cost," said vice president of Student Services Frank Parker. "A percentage of each textbook sale or rental is received by the university, which in turn is used for scholarships and other student benefits. No other off-campus vendors pass on any percentages of sales or rentals to the university."
In addition to FacultyEnlight, Barnes & Noble College has made itself a competitive force by instituting a textbook rental program between the more than 750 higher education institutions they partner with, which serves more than 6.5 million students and faculty.
"Since SHSU implemented these programs in 2013, SHSU students have saved more than $5.2 million on textbooks and other course materials," Clopton said. "The sooner faculty members adopt their course materials, the bookstore can ensure more less expensive options are available for our students. Of course, that depends on the textbook being adopted. Holly (Tickner, bookstore manager) does a great job advising faculty about textbook adoptions to find ways to keep costs as low as possible for students."
Because of the negative reputation college bookstores have recieved as the cost of tuition has risen, SHSU's Bookstore has begun hosting numerous events to foster the relationship between students, faculty and the bookstore.
"We hosted our first DeStress Fest during finals last semester, in which we teamed up with different departments across campus to offer snacks, massages, stress balls, and adult coloring," Tickner said. "It was a great success and we had a lot of participation from students and faculty."
As another way to build relationships with students, the bookstore will begin price-matching textbooks that students find on Amazon and offering student scholarships this fall.
"When a student purchases a textbook from the bookstore, they can request a price match from Amazon.com and BN.com. We will price match with the retail side of those websites," Tickner said.
"Barnes & Noble recently established a $5,000 scholarship, through which 10 students who applied for the scholarship through Scholarships4Kats were awarded $250 for the fall semester. Another 10 students will be awarded for the spring semester," Clopton said. "These students will be able to bring their course schedules to the bookstore and the staff will help them find the best options to optimize the scholarship, ensuring that the student receives the most coverage for their course materials."
Faculty members can access FacultyEnlight by clicking on the "Faculty Resources" tab at shsu.bncollege.com.
For more information on FacultyEnlight, contact Tickner at 936.294.3453.
- END -
This page maintained by SHSU's Communications Office:
Director of Content Communications: Emily Binetti
Communications Manager: Mikah Boyd
Telephone: 936.294.1837
Communications Specialist: Campbell Atkins
Telephone: 936.294.2638
Please send comments, corrections, news tips to Today@Sam.edu