SH ELITE Recognized For 'Excelencia' With Second 'Finalist' Designation
Aug. 10, 2016
SHSU Media Contact: Jennifer Gauntt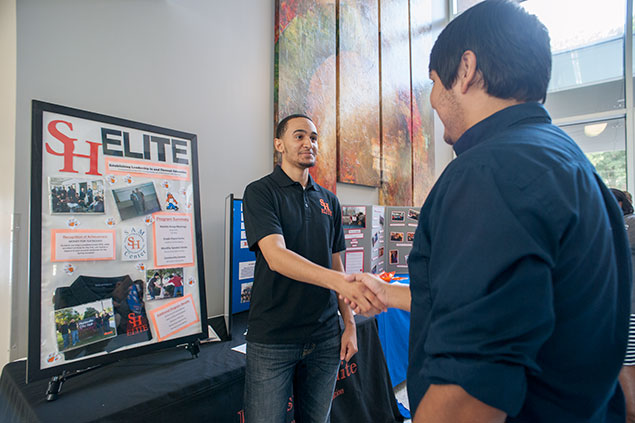 For the second year, Sam Houston State University's Establishing Leadership In and Through Education program has been recognized as one of five national baccalaureate-level finalists to be listed among Excelencia in Education's "Examples of Excelencia."
"Examples of Excelencia," the largest inventory of proven practices for accelerating degree completion among Latinos, annually identifies 20 programs in four different categories that are considered the most effective at increasing Latino student success in higher education.
From each of the four categories—associate, baccalaureate, graduate and community-based—one organization will be selected the 2016 Examples of Excelencia at the Celebración de Excelencia, which will be held in Washington, D.C., on Sept. 21.
This year's 20 finalists were selected from among 190 programs from 33 states, Puerto Rico and the District of Columbia.
"All of this year's finalists have a proven track record of improving academic achievement for Latino students. We salute the professionals who lead these programs for their commitment to student success," said Sarita Brown, president of Excelencia in Education. "By bringing national attention to effective programs like these, 'Examples of Excelencia' is generating new energy to discover and implement innovations that serve Latino and other post-traditional students."
The SH ELITE program was established in 2010 after SHSU Student Advising and Mentoring Center staff became aware of research indicating that only a fraction of Hispanic and African American men who enter college actually graduate.
"Earning a consecutive spot in Excelencia in Education's 2016 edition of 'Examples in Excelencia' has served as encouragement to continue to fulfill the objectives we strive to achieve," said Miguel Arellano Arriaga, SH ELITE coordinator and program alumnus. "We are the only repeat finalist from last year, which says a lot about SH ELITE."
SH ELITE, as it is known on campus, targets freshman men from those demographics by requiring participants to attend seminars and monthly speaker programs, work together in small groups, and do community service, while receiving support from the university's Student Advising and Mentoring Center.
Since its inception, SH ELITE's methodology has proven effective. Participants have demonstrated a double-digit increase in retention following their first year and almost three times the four-year graduation rate.
In addition, SH ELITE students maintain an average 2.98 GPA, more than half a point higher than the GPA of the general population from those same demographics.
One of the program's most important components is its drawing together of the participants to give them the stability that many young college students lose when they move away from their parents.
The SH ELITE program is sustained by the SHSU SAM Center but has also sought out grant funding and other support, as well as volunteer speakers, as it continues to grow.
"Although the university graciously funds our current efforts, we continually seek additional funding through grants and gifts to expand the program, thereby allowing SH ELITE to impact a greater number of students," Arellano Arriaga said.
Excelencia in Education is a non-profit organization dedicated to promoting Latino student achievement by conducting analysis to inform educational policies and advancing institutional practices, while collaborating with those committed and ready to meet the mission. Launched in 2004 in the nation's capital, Excelencia is building a network of results-oriented educators and policymakers to address the U.S. economy's need for a highly educated workforce and engaged civic leadership.
"Examples of Excelencia" is the only national initiative to systematically identify and promote evidence-based programs and departments effectively boosting Latino enrollment, performance and graduation.
Other universities listed in the baccalaureate-level finalists include St. Augustine College in Chicago, University of Texas Rio Grand Valley in Edinburg, University of Northern Colorado in Greenley, and Arizona State University in Tempe.
For more information, visit EdExcelencia.org.
- END -
This page maintained by SHSU's Communications Office:
Director of Content Communications: Emily Binetti
Communications Manager: Mikah Boyd
Telephone: 936.294.1837
Communications Specialist: Campbell Atkins
Telephone: 936.294.2638
Please send comments, corrections, news tips to Today@Sam.edu