'Dust Bowl Motel' To Showcase SHSU Talent
March 15, 2015
SHSU Media Contact: Emily Binetti
Story by Hannah Zedaker.
In a creative collaboration with the Sam Houston State University College of Fine Arts and Mass Communication, "Dust Bowl Motel" will make its premiere in Conroe at the historic Crighton Theatre on March 18.
The Oklahoma-based play, written by Huntsville native and SHSU alumnus Scott McCarley and Jim Roth, of San Clemente, California, tells the story of Katie Joe Dawkins, who runs a desolate motel with her wayward boyfriend in middle-of-nowhere Oklahoma but has California dreams on her mind.
The play, filled with Texas, Red Dirt music, is a theatrical non-profit, benefitting The Crighton Theatre Foundation, SHSU performing arts scholarships and the Texas Gulf Coast Chapter of the Make-A-Wish Foundation.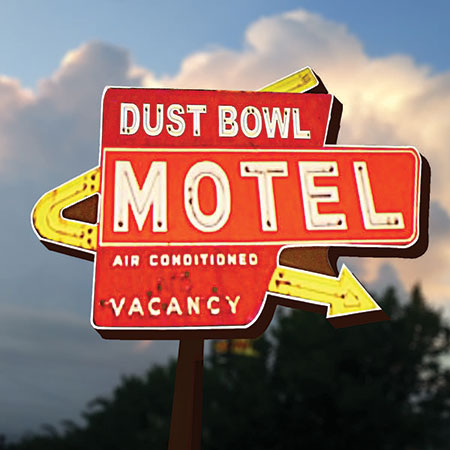 The production features the talent of several SHSU students, including Master of Fine Arts dance candidate Robert Clark, who is serving as the lighting designer, light board operator and technical director for the play.
"The play is a kind of slice-of-life play, but it also has a unique blend of music and traditional theater without crossing into the realm of musical theater," Clark said. "I am looking forward to watching all the disparate elements—lights, music, projection, costume and acting—come together into a cohesive and 'beautific' whole."
Graphic design senior Codi Bishop is also lending her artistry to "Dust Bowl Motel" by creating a unique poster for The Crighton Theatre to accurately depict the spirit of the play.
"While the design appears to be very minimalistic, I put a lot of thought and time into it, trying to decide the appropriate way to approach the project," Bishop said. "I was provided with a number of drawings by children who have participated in the Make-A-Wish Foundation. I wanted these drawings to be the main focus of the poster to ensure that they gained the attention that they deserve."
Both Clark and Bishop said they were excited to work on the community project and are looking forward to bridging the gap between university and community, while supporting a good cause.
"I cannot speak for everyone, but I have been fortunate enough to have an opportunity that joins something I love doing with a great cause. I am very grateful to have had the opportunity to be part of something like this," Bishop said. "By involving themselves in events within their community, students allow themselves to better understand the environment in which they reside and gain a greater appreciation for their communities as a whole."
Additional Bearkats involved in the production include Travis Doucett, Paul Lemmond, Paul Weltge, Jaice Kendall, and Nathaniel Meister.
"Dust Bowl Motel" will run March 18-20, with performances at 8 p.m. on Friday and Saturday and a 2 p.m. Sunday matinee.
Tickets can be purchased through the Crighton Theatre box office.
- END -
This page maintained by SHSU's Communications Office:
Associate Director, Communications: Emily Binetti
Telephone:936.294.4406
Communications Manager: Mikah Boyd
Telephone: 936.294.1837
Communications Writer: Campbell Atkins
Telephone: 936.294.2638
Thomason Building: Suite 102
Please send comments, corrections, news tips to Today@Sam.edu