COBA Profs Earn 'Distinguished' Title
Jan. 12, 2016
SHSU Media Contact: Romney Thomas
Professors in the Sam Houston State University College of Business Administration James Bexley and Balasundram Maniam have been recognized for their scholarship and service to SHSU with the title of "Distinguished Professor."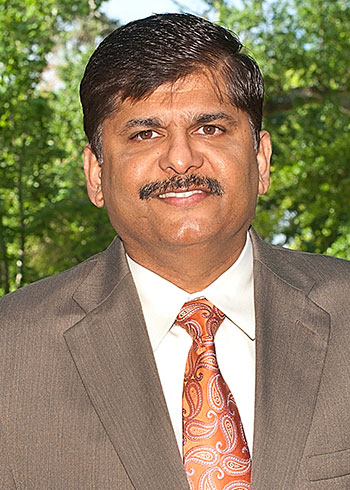 Balasundram Maniam
University Distinguished Professorship recognizes faculty members who have outstanding records of service, marked by unusual and exemplary contributions to the university community. The president makes all appointments for Distinguished University Professor from nominations submitted by the provost and vice president for Academic Affairs
"Both Dr. Bexley and Dr. Maniam have compiled model records of performance in teaching, research and service," said SHSU President Dana G. Hoyt. "They have helped mold numerous outstanding citizens, and their dedication to education has enriched Sam Houston State University."
Examples of qualifying accomplishments include multiple teaching awards, exemplary stewardship of an academic program, an outstanding research record, exceptional service to students, the university, or the community, or other endeavors that stand as an exceptional contribution.
The title of University Distinguished Professor shall be retained for the remainder of the holder's tenure at Sam Houston State University. Upon retirement from the university, the holder shall be designated University Distinguished Professor Emeritus.
Since coming to SHSU in 1997, Maniam has been recognized on several occasions for his research and teaching. In 2003 he was the recipient of the university's "Excellence in Research" award, and the 2012 Minnie Stevens Piper Award, which recognizes 10 Texas professors annually for their superior teaching at the college level.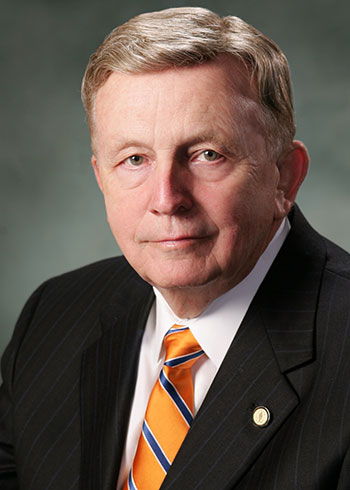 James Bexley
Like Maniam, an extensive record of service has marked Bexley's time at SHSU.
Bexley's deep roots in the banking and financial institutions industry honed his understanding of the importance of service and the tremendous impact it can have on individuals, communities and businesses alike. With more than 40 years in senior management positions, including six years of service on the Federal Reserve Board in Dallas and a recent appointment as a Virtual Fellow for the U.S. State Department, he applies his considerable experience and knowledge in the classroom, educating new generations of banking professionals.
Bexley came to SHSU in 1997 and proceeded to develop a banking curriculum that now includes the only four-year accredited BBA degree in banking and financial institutions in the United States as well as the accredited, web-based MBA degree, also in banking and financial institutions.
He has been active on campus helping to lead and promote the annual faculty-staff campaign that raises hundreds of thousands of dollars each year for the university with an approximately 80 percent participation rate. As the faculty athletics representative, he has been generous with his time and support of the program and SHSU student athletes.
- END -
This page maintained by SHSU's Communications Office:
Director of Content Communications: Emily Binetti
Communications Manager: Mikah Boyd
Telephone: 936.294.1837
Communications Specialist: Campbell Atkins
Telephone: 936.294.2638
Please send comments, corrections, news tips to Today@Sam.edu