College To Recognize Finest During Honors Day
April 20, 2016
SHSU Media Contact: Beth Kuhles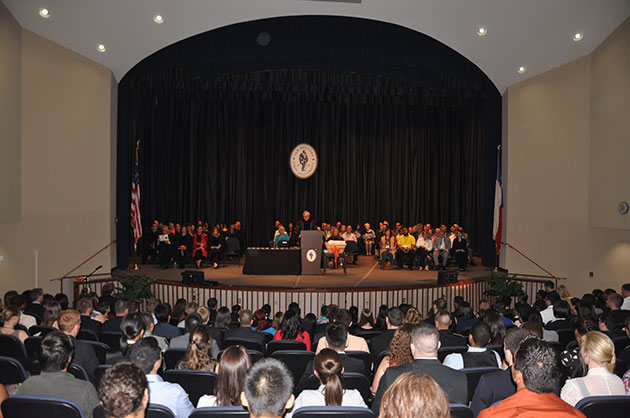 College of Criminal Justice Dean Phillip Lyons leads the 2015 Honors Convocation, during which criminal justice students are recognized for their outstanding achievements and are awarded scholarships. This year's event will be on April 28. —Submitted photo
The Sam Houston State University College of Criminal Justice will pay tribute to its finest past and present students during its annual Honors Day activities on Thursday (April 28).
The college will honor its fallen heroes at the Sundial Ceremony at 1:30 p.m. at the front entrance of the Beto Criminal Justice Center. The solemn ceremony, which is open to the public, recognizes the ultimate price paid in the field.
The evening will culminate with Honors Convocation, during which students are awarded scholarships and recognized for outstanding academic achievements. This year, more than 100 scholarships will be presented, including two new offerings from the Institute for Forensic Research, Training and Innovation, and the Dr. Vincent Webb CJ SHSU Online Scholarship. The ceremony also will recognize 165 CJ honors students, those earning GPA of 3.67 or higher.
In addition, Honors Day will include a Leadership Luncheon, which recognizes the college's 10 student organizations, as well as an outstanding alumnus and friends of the Criminal Justice Center.
During the luncheon, the college will recognize two alumni for their leadership in the field of criminal justice, including this year's Distinguished Alumnus award, which will be presented to Hongwei Zhang, a 2004 graduate, and the Defensor Pacem, which will be presented to Rissie Owens, a 1980 graduate and former chair of the Texas Board of Pardons and Parole.
Zhang is an international criminal justice scholar who has published 10 books and dozens of peer-reviewed articles in American, Asian and international journals on such topics as campus safety, juvenile justice, victim protection, child welfare laws, and the American criminal justice system. He is currently a professor in the college of humanities at Jinan University in Zhuhai, China, and serves as director of its Juvenile and Family Law Research Center.
Before joining Jinan University, Zhang was a professor at Guangxi University Law School in Nanning, China, and a visiting scholar at the University of Macau in China, Dalhousie University Law School in Canada, Hanyang University Law School in South Korea, the University of Oslo in Norway, and the University of Tuebingen Law School and the Max Plank Institute for Foreign and International Criminal Law, both located in Germany. He also was a postdoctoral fellow at Ryukoku University in Japan.
In addition, Zhang served as the deputy chief procurator for the Nanning Municipal People Procuratorate, the judicial branch in China, appearing in matters covering local criminal and juvenile cases. He also managed research and program developments for the office.
Zhang is also deputy director and one of the founders of the Asian Society of Substance Abuse Research, which promotes scientific research and evidence-based prevention and treatment policies in substance abuse in Asia.
He has won several outstanding teaching and research awards during his career.
Ownens will receive the Defensor Pacem, which is given to an individual or organization that has provided invaluable assistance to the criminal justice field.
Owens served on the Texas Board of Pardons and Paroles from 1997 until her retirement in 2015. In 2003, she was appointed the first female chair of the board.
During her tenue, the agency received national and international recognition as a model for releasing authorities, which developed best practice approaches that increased parole approval rates without jeopardizing community safety and reduced the revocation rates of offenders.
She also provided board members and parole commissioners with training and support and collaborated with legislators, criminal justice agencies and stakeholders to open the line of communications on the state's parole system
Owens has a long and distinguished career in the field of criminal justice, having served as a probation officer in Galveston County; a grievance and field coordinator with the then-Texas Department of Corrections; a case manager with Brazos Valley MHMR; and a court coordinator with Brazos County 272nd District Court. She also is an adjunct faculty member at the College of Criminal Justice.
- END -
This page maintained by SHSU's Communications Office:
Director of Content Communications: Emily Binetti
Communications Manager: Mikah Boyd
Telephone: 936.294.1837
Communications Specialist: Campbell Atkins
Telephone: 936.294.2638
Please send comments, corrections, news tips to Today@Sam.edu