Alumna Named First Beto Scholar In 20 Years
Feb. 17, 2016
SHSU Media Contact: Beth Kuhles
Bitna Kim, a 2008 College of Criminal Justice graduate, has returned to Sam Houston State University this spring as the first Beto Chair Scholar in Residence in about 20 years.
"It is my honor to come back," said Kim, associate professor in the Indiana University of Pennsylvania's Department of Criminology and Criminal Justice. "Sam Houston's College of Criminal Justice is one of the top programs in the country. I hope to cooperate on projects and work with the faculty and graduate students."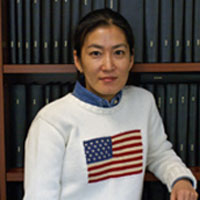 The Beto Chair is one of the flagship programs at the College of Criminal Justice. Begun in 1981 and named in honor of George J. Beto, one of the founders of the college, the program has attracted more than 100 top thought leaders in criminal justice from throughout the world. During the 1980s and 1990s, the program hosted top scholars on campus for a semester to interact with students and collaborate with faculty. Later, the program invited several prestigious scholars annually to present a lecture on their latest research.
As the Beto Chair Scholar in Residence, Kim will teach graduate students, provide lectures, and update research on a collaborative program between law enforcement and community corrections.
"The Beto Chair Scholar allows more interaction with students and provides more lectures about their specialty areas," said Jihong Solomon Zhao, chair of the Beto Chair Committee.
While on sabbatical from Indiana University of Pennsylvania and during her entire spring semester at SHSU, Kim will teach a graduate-level course in "International and Comparative Criminology," in which she will share her experiences working in South Korea and in Asian and European communities.
"There are no boundaries now; there's globalization," Kim said. "We are looking at what is working, what is not working and what we can learn from other systems."
Kim also will revisit the Law Enforcement and Community Corrections Partnership, a 2007 grant that provided a national resource center for collaborative efforts among law enforcement, parole, and probation officers. The center offered training and technical assistance, developed through the Project Spotlight program in Texas, to aid in reducing crime, increasing public confidence in the criminal justice system and promoting public safety by increasing offender accountability in the community.
Kim has published widely in peer-reviewed, criminal justice journals on such diverse topics as intervention and treatment programs in corrections, police-community corrections partnerships, intimate partner homicides, domestic violence and gender issues.
Her articles have appeared in Crime and Delinquency; Journal of Criminal Justice; Trauma, Violence & Abuse; Police Quarterly; Policing; Federal Probation; Prison Journal; Criminal Justice Policy Review; Criminal Justice and Behavior; Social Science Journal; International Journal of Offender Therapy and Comparative Criminology; Journal of Applied Security Research; Violence and Victims; Feminist Criminology; and Journal of Criminal Justice Education.
She recently was elected to a three-year term as a trustee-at-large for the Academy of Criminal Justice Sciences and served as chair of its affirmative action, publication and the Michael C. Braswell/Anderson Publishing Outstanding Student Paper committees.
She also was a recipient of the ACJS Minority Mentorship Grant Award, as well as the Emerging Scholar Award from the Northeastern Association of Criminal Justice Science.
Kim serves on the membership committee of International Section of the American Society of Criminology and editorial boards for the Journal of Ethnicity in Criminal Justice; Women and Criminal Justice; the Journal of Criminal Justice Education; Law, Justice and Health; and the International Journal of Humanity and Social Sciences. She also is a research consortium member for the Global Centre for Evidence-based Corrections and Sentencing.
- END -
This page maintained by SHSU's Communications Office:
Director of Content Communications: Emily Binetti
Communications Manager: Mikah Boyd
Telephone: 936.294.1837
Communications Specialist: Campbell Atkins
Telephone: 936.294.2638
Please send comments, corrections, news tips to Today@Sam.edu