SHSU Update For Week of Aug. 7
Aug. 3, 2016
SHSU Media Contact: Tammy Parrett
Vienne Named Associate Vice President For Alumni Relations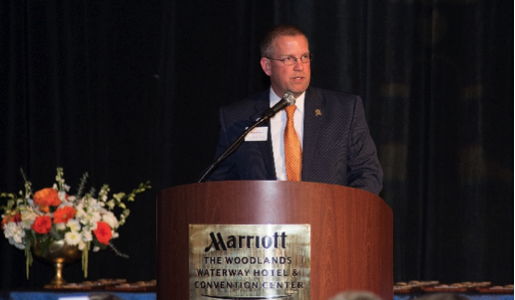 Sam Houston State University's Division of University Advancement announced that Charlie Vienne, director of alumni relations, was named associate vice president for Alumni Relations, effective Aug. 1.
Vienne began his career at SHSU in 2006 as assistant director of Alumni Relations after working as assistant athletic director for external relations at Northwestern State University in Louisiana. Later that year, he was named director for the department.
During Vienne's tenure, the Alumni Association has experienced dramatic increases in membership support, the level of alumni engagement and the quality of programming, according to Frank Holmes, vice president for University Advancement.
"Charlie is a wonderful person who has worked effectively with the alumni board and other leaders to develop one of the nation's emerging and outstanding alumni programs," Holmes said. "The progress has been exceptional as the SHSU Alumni Association has surpassed other programs that were once perceived to be stronger."
"Our goal is to reconnect alumni with Sam Houston State University," Vienne said. "We continue to see many alumni who have not been back to campus in many, many years. If we get them back on campus just once, they fall in love all over again with this great university and want to get involved."
He and his wife, Kristy, assistant vice president for Student Services at SHSU, have two daughters, Jensen and Madilyn.
Cooper Named Director For Student Activities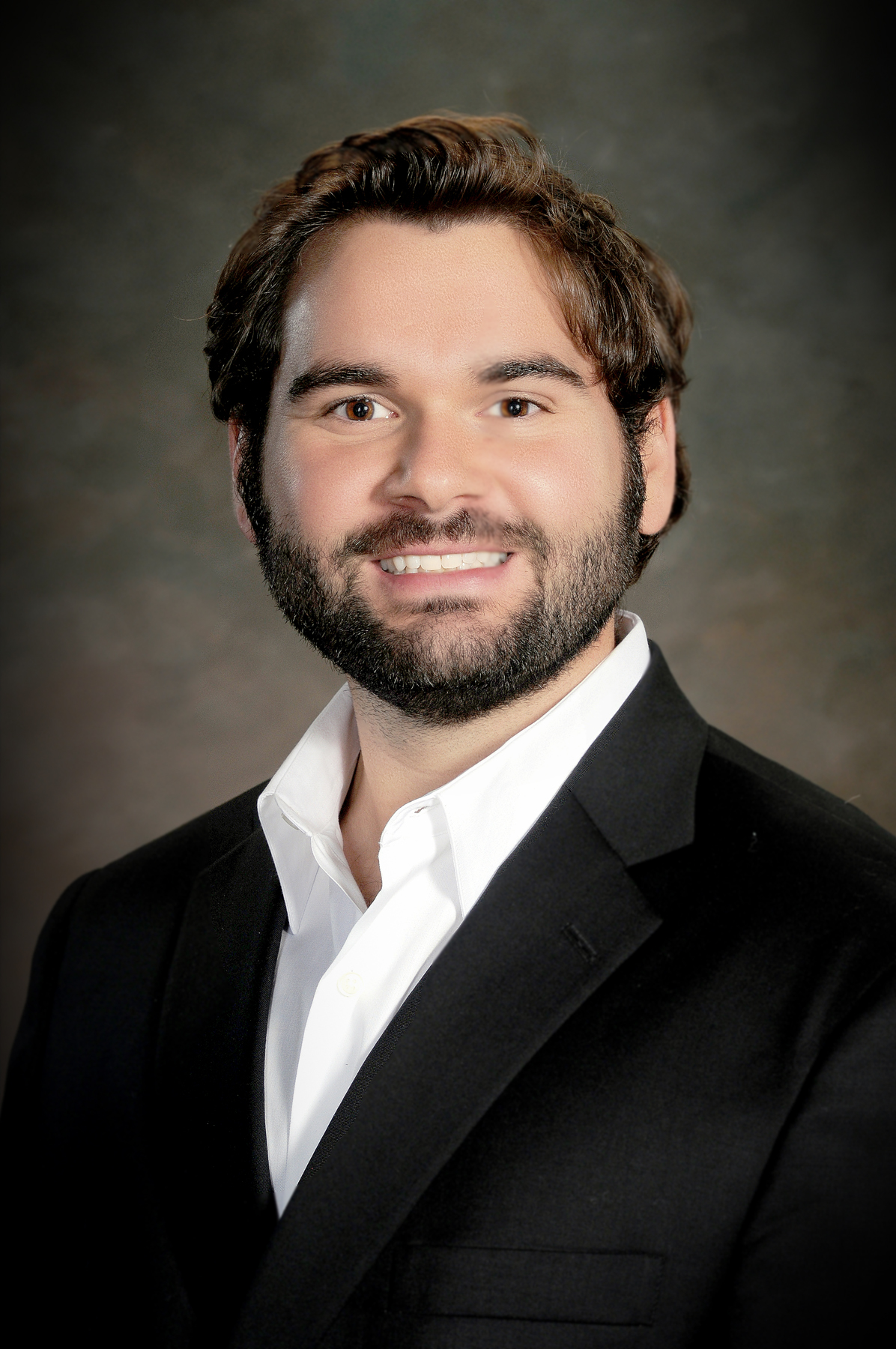 Sam Houston State University's Division of Student Services recently announced the promotion of Brandon Cooper to the position of director for the Department of Student Activities.
In his new position as director, Cooper will oversee and spearhead the daily functions of the department as one of the main hubs for student involvement and engagement on campus.
Cooper–who has served in the roles of program coordinator, event manager, assistant and associate director–has worked for the department for more than 10 years. He brings an array of experience, expertise and collaborative relationships from across campus, including having an instrumental role in the development and growth of university traditions and initiatives such as Bearkat Alley, The Sammys, SAMSwitch, FireFest, The 'Spirit of Sam' Ring Tradition and various others.
In his new position, he will help to oversee various university-wide special events and traditions, SHSU spirit programs, Multicultural Student Services and Program Council.
"Brandon has been an integral part of the success of the Department of Student Activities," said vice president for Student Services Frank Parker. "We are very fortunate to have someone of his caliber assume a leadership role in the division. We look forward to great things."
He holds a Bachelor of Arts degree in journalism and public relations and a Master of Arts degree in instructional leadership from SHSU.
Cooper also serves on a variety of university committees, including the Homecoming, Battle of the Piney Woods and the Ring Ceremony committees. The Huntsville native is also currently on the Board of Directors for the Huntsville/Walker County Chamber of Commerce.
Photo Contest Encourages Amateur Photography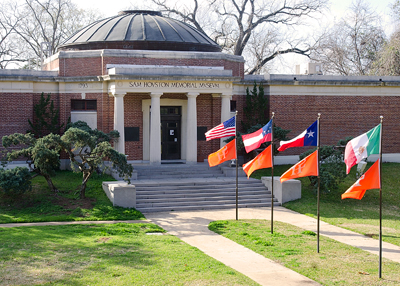 The Sam Houston Memorial Museum will provide local amateur photographers with an opportunity to show off their work while competing for a cash prize with its seventh annual Photo Contest.
The contest is open to all non-professional photographers who are interested in submitting an entry to one of the contest's six categories–love, life, nature, big spaces, multiples, and man-made. There are no residency requirements to enter the contest.
Curator of exhibits Casey Roon was inspired by her love of photography to provide local photographers with a venue to showcase their work.
"I wanted to bring something new to the museum," Roon said. "This is a wonderful opportunity for amateur photographers of all ages to have their work displayed prominently in a gallery setting in an accredited museum."
Each entry will be eligible for consideration for the contest's numerous awards. $200 will be awarded to the entry named Best in Show, $100 will be awarded to the entry named Reserve Grand Champion, and $20, $15 and $10 will be awarded to first, second and third places, respectively, in each of the six categories.
All submitted photos will be displayed in the Exhibit Gallery at the Katy & E. Don Walker Sr. Education Center beginning Oct. 11. The Awards and Artists Reception will be held on Dec. 5 from 5-6:30 p.m. during which the winners will be announced.
Cost per entry is $5, and cash will be the only payment method accepted. The complete list of contest rules and photo application forms can be picked up at the museum, museum store or Walker Education Center or downloaded from samhoustonmemorialmuseum.com.
Submissions will be accepted until 4 p.m. on Sept. 30.
For more information, contact Roon at 936.294.3292 or museum marketing coordinator Megan Buro at 936.294.3839.
Center For Rural Studies Creates Grimes County Strategic Plan
Michael Fortunato, assistant professor of sociology and director of the Center for Rural Studies at Sam Houston State University, recently teamed up with members of the Grimes County community to create a strategic plan for the Commissioner's Court for the next five years.
The groundbreaking plan is among the first of its kind, comprising nearly 100 percent of citizen-driven ideas.
Fortunato and the Center for Rural Studies held three town hall meetings and selected citizen delegates to prioritize issues such as county ordinance enforcement, job training and education, animal control, social services, taxation, parks and recreation, transportation, and Internet and broadband.
"Due to the high level of engagement in writing this plan, citizens, commissioners and the county judge all feel a high degree of ownership in its contents," Fortunato said. "The plan is already being used as a progress benchmark for the county–unlike most other plans that commonly end up on a shelf."
The process may be a highly effective model that could change the way public planning is done across the United States, particularly in smaller, rural areas, according to Fortunato.
For more information about the Center for Rural Studies, visit shsu.edu/centers/rural-studies/Outreach or contact Fortunato at 936.294.4083.
Cavazos Receives Graduate Fellowship
Kalyn Cavazos, program coordinator for the Sam Houston State University Dean of Students' Office, recently was awarded the 2016-17 Texas Association of College and University Student Personnel Administrators Fellowship at Texas A&M University.
The Thomas Mooreman Fellowship Program offers graduate students and new full-time staff members a number of opportunities to network and engage in activities to promote the pursuit of a career in higher education and student affairs.
Cavazos, who is currently completing her doctorate in higher education administration at Texas A&M, competed with graduate and doctoral students state-wide.
As a fellow, Kalyn will receive a TACUSPA board member as a mentor, publish in the quarterly newsletter, serve on one of the organization's committee, and earn a scholarship to attend the annual fall 2016 conference in Austin, where she will be recognized.
TACUSPA is a premier state association dedicated to the development, support and promotion of the student affairs profession in the state of Texas.
Del Carmen Attends Criminal Justice Reunion In Thailand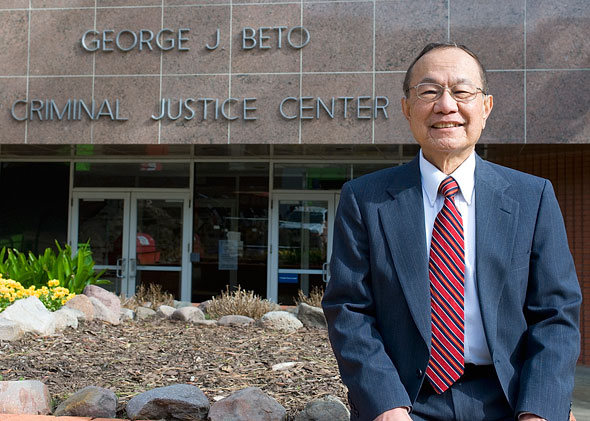 Sam Houston State University's College of Criminal Justice has an international reputation in law enforcement and perhaps nowhere is it more influential than in Thailand.
Rolando del Carmen, Distinguished Professor of criminal justice, recently returned from a reunion in Thailand with several doctoral graduates from the criminal justice program.
Among those in attendance were two generals, a major, a colonel, and a lieutenant from the Royal Thai Police, the national law enforcement agency for Thailand.
"I don't think we have any group with as much influence as we do in Thailand," del Carmen said. "I have heard it said that in Thailand some of the best young minds are drawn to policing because of its affinity to government and service to the king. A lot of Thai students that came to SHSU were No. 1 in their class at the Royal Thai Police Academy. That is like getting the No. 1 cadet in the class from West Point."
The group of distinguished leaders included Maj. Gen. Pornchai Kuntee, '95; Maj. Gen. Thatchai Pitaneelaboot, '97; Col. Prapon Sahapattana, '07; Maj. Seksan Khruakham, '11; and Yingyos Leechaianan, '13.
"I could not be where I am today without the support from Sam Houston State University," said Leechaianan. "A six-month internship opportunity at New York City Police Department in 2013 totally changed my life."
College To Welcome New Criminal Justice Faculty
Four new faculty members will join the Sam Houston State University College of Criminal Justice this fall, adding expertise in corrections, victim studies, and forensic science.
Daniel Butler, whose research interests include institutional and community corrections, and Eryn O'Neal, whose research interests include intimate partner violence and sexual assault, will join the Department of Criminal Justice and Criminology.
"Mr. Butler and Dr. O'Neal bring expertise that complements our department's existing strengths in victimology and corrections," said William Wells, chair of the department. "Both are highly skilled researchers and will make strong contributions to our department. I'm excited for them to join our faculty and begin making a positive impact on our undergraduate and graduate students."
The Department of Forensic Science will add Bobby LaRue, a geneticist and former assistant professor at the University of North Texas Health Science Center, and Madeleine Swortwood, a toxicologist and postdoctoral fellow from the National Institute on Drug Abuse.
"We are so pleased to have Drs. Swortwood and LaRue join our faculty," said department chair Sarah Kerrigan. "Both have exceptional backgrounds and research agendas in forensic toxicology and DNA–the two most common postgraduate employment disciplines for our graduates. I have no doubt that they will have tremendous impact on both our master's and doctoral programs in forensic science."
"We are excited to have these accomplished scholars join our faculty," said Phillip Lyons, dean of the College of Criminal Justice and director of the Criminal Justice Center. "They will broaden our scope and expand our capacity. We are looking forward to welcoming them in the fall."
Staff Council Spotlights Administrative Associate For June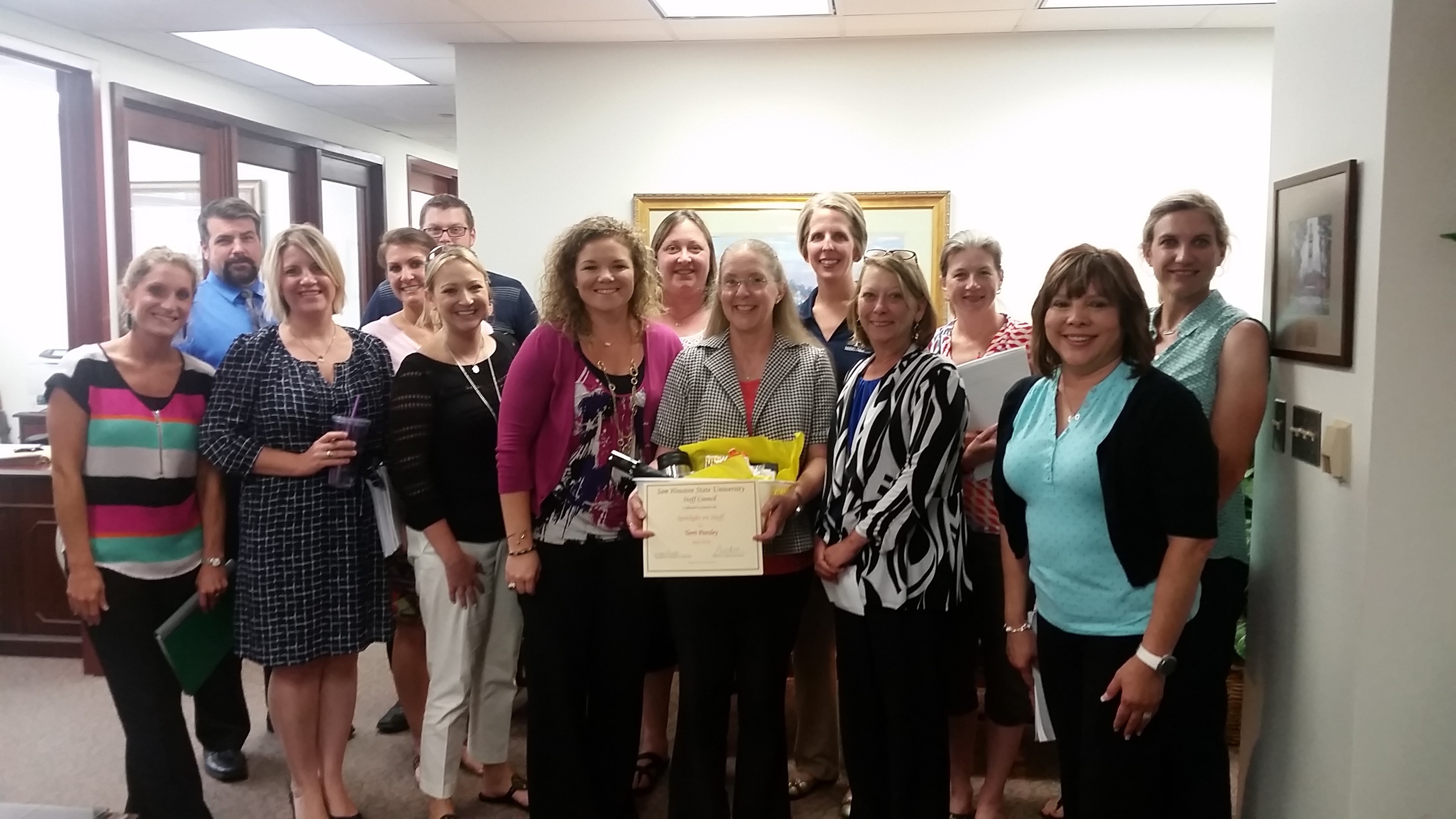 The Sam Houston State University Staff Council has selected Terri Pursley, administrative associate for the Office of University Advancement, for its July "Spotlight on Staff."
Shortly after receiving her degree from SHSU in 1976, Pursley and her husband Don decided to make Huntsville their home and she began her career in healthcare administration.
She returned to SHSU in 2014, when she began working as an administrative associate for the Office of University Advancement.
"Working at SHSU in some capacity has always been my ultimate goal, so being able to come to work every day feels like 'coming home,'" Pursley said.
In her spare time, she enjoys traveling around Texas with her husband in their RV and quilting.
Pursley believes that the best way to motivate others is to lead by example.
"I set very high expectations for myself, and I expect no less from others," she said. "The best work-related advice I've ever received is to make yourself indispensable. In reality, we can all be replaced, but my goal is to always give my best to help things run as smoothly as possible."
Today@Sam Seeks Experts, Story Ideas
Are you an expert in a topic might be of interest to reporters? Or even a unique topic? Would you like to have your research interests highlighted or discuss your expertise with reporters seeking interviewees?
The university Communications Office is collecting information and story ideas for its ongoing projects, including the online SHSU Experts Guide, the SHSU home page and Today@Sam.
The SHSU Experts Guide was established as a resource for the media, who turn to university experts lists for potential interviewees for news stories. Faculty who are interested in being a part of the university's database of experts can submit their biographical and personal information, as well as their areas of expertise, through the Experts Guide Submission Form available online at shsu.edu/dept/marketing/experts/submit-info.html.
Other story ideas, both news and features on faculty or student research and accomplishments can be sent to today@sam.edu or jenniferg@shsu.edu. For news stories, please include the date, location and time of the event, as well as a brief description and a contact person.
All information, including news story ideas and update items for Today@Sam, should be sent a minimum of a week in advance of the event in order to make necessary contacts and write a story. Feature story ideas for the SHSU home page ("sliders") should be sent a minimum of two months in advance.
To see a full list of the Today@Sam submission guidelines, or to access submission forms for news and feature stories or hometown releases, visit shsu.edu/~pin_www/guidelines.html.
For more information, call 936.294.1836.
- END -
This page maintained by SHSU's Communications Office:
Director of Content Communications: Emily Binetti
Communications Manager: Mikah Boyd
Telephone: 936.294.1837
Communications Specialist: Campbell Atkins
Telephone: 936.294.2638
Please send comments, corrections, news tips to Today@Sam.edu