SHSU Update For Week Of April 24
April 22, 2016
SHSU Media Contact: Tammy Parrett
Teams Sought For Faculty, Staff Golf Tournament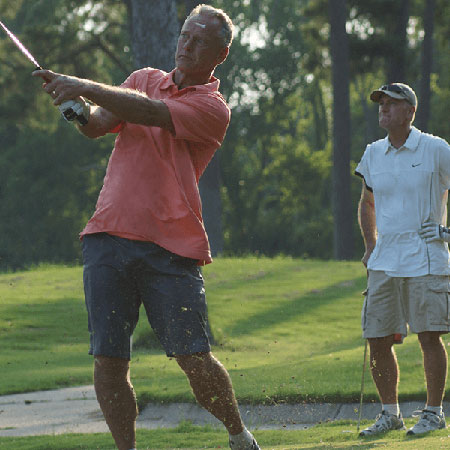 Kinesiology professor Gary Oden (left) and health professor Bill Hyman tee off during the annual Faculty and Staff Golf Tournament.
Sam Houston State University employees can kick off summer with a day of golf during the Department of Recreational Sports's 22nd annual faculty and staff golf tournament on May 9.
The four-person scramble will begin with a shotgun start 8 a.m. at the Raven Nest Golf Club.
Teams of four—all of whom must be members of the faculty/staff or retirees—can comprise any combination of men and women. Spouses may also participate but must be on the same team has his/her partner.
Single entries will also be accepted and teams will be formed from these entries.
"The tournament is a great way to celebrate the end of the school year, as well as to network and get to know other faculty and staff members participants might not have a chance to get to interact with at any other time," said Melissa Fadler, Recreational Sports associate director for marketing and promotions. "It's a great morning of golf, lunch and prizes."
The $60 per person entry fee includes green fee, cart, range balls, and lunch, as well as individual and team awards that include longest drive.
The registration deadline is May 6.
For more information, or to register, visit shsu.edu/facstaffgolf.
IT@Sam To Ease End-Of-Semester Stress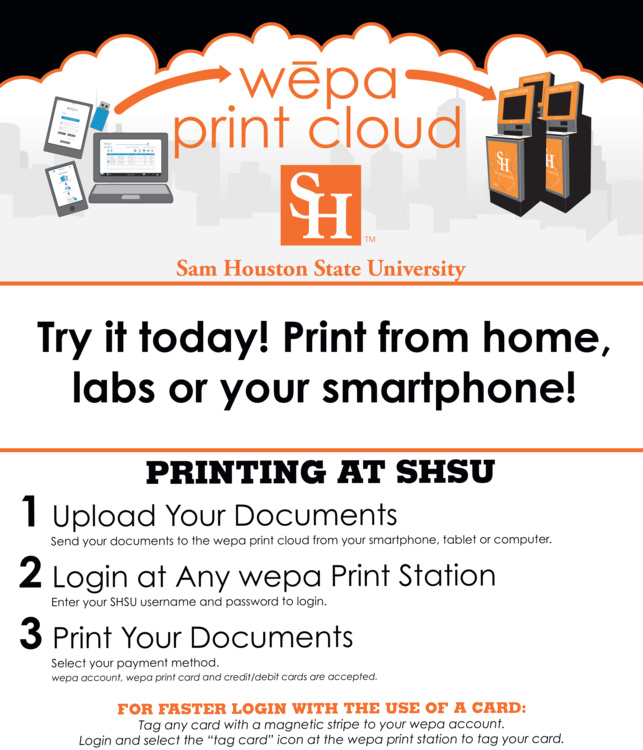 Just in time for finals week, Sam Houston State University is implementing new tools designed to help students be successful in their last weeks of the semester.
SHSU is partnering with WEPA to provide convenient printer access across campus by adding WEPA Print Kiosks in the Smith-Hutson Building and Lee Drain Building lobby areas, Newton Gresham Library Room 200, Raven Village, Lone Star Hall, and Sam Houston Village.
WEPA print kiosks provide mobile device printing via e-mail address as well as traditional printing from a computer.
Students can link their Bearkat OneCard or any credit card to their WEPA account.
The cost of printing per sheet is $0.07 for black and white single-sided pages, $0.11 for black and white double-sidedpages, $0.35 for color single-sided pages, and $0.68 for color double-sided pages.
There is an additional $0.40 charge for using a credit card.
More information on the WEPA kiosks is available here.
For students looking to pull an all-nighter to finish final papers or presentations, Lee Drain Building Room 415 has been converted into a 24-hour computer lab.
Current students, faculty and staff can utilize this lab 24/7, excluding scheduled class periods, by swiping their active Bearkat OneCard to access the exterior building doors, as well as the lab door.
Students who prefer working from home can access to a free download of Microsoft Office 365 and access to online versions of Microsoft Office 16 from any browser and one terabyte of OneDrive cloud storage.
Instructions for download are available here.
For more information, contact the IT@Sam Service Desk at 936.294.1950.
Concert To Feature Electronic Music
The Sam Houston State University School of Music will host an evening of electronic music on Friday (April 29) at 4 p.m. in the Gaertner Performing Arts Center Recital Hall.
The concert will feature pieces by students currently enrolled in the Electronic Music course, which explores concepts about basic acoustics, digital audio and composing electronic art music, according to SHSU lecturer John Crabtree.
"The concert is primarily audio playback of the students' pieces in a surround sound setting," Crabtree said. "Each student in the class is featured in the concert.
"While different from other concerts, audiences will enjoy this one just as much–not only because of the interesting sounds and presentation format, but because it is a relaxed environment where they can react to what they hear, whether it's laughter or surprise," he said.
The event is free and open to the public.
For more information, contact the School of Music at 936.294.1360.
Students To Recover 'New Harmony' Colony
Sam Houston State University students currently enrolled in Zachary Doleshal's "Public History" course will share the recovered history of Grant's Colony, located east of Huntsville, in an exhibit on Wednesday (April 28) from 5:30-7:30 p.m. at the Walker Education Center.
The colony was founded by Col. George Washington Grant as a Reconstruction Era attempt at racial harmony, according to Doleshal, SHSU lecturer in the SHSU Department of History.
"Because few people from the white community moved to the colony, it developed into a freedom colony," Doleshal said. "As such, it became a crucial site for the education and political organization of freed people and grew into a vibrant African American community with two churches, a schoolhouse, and a political meetinghouse."
Doleshal stumbled across the site while exploring Walker County, and when he was approached with an opportunity to teach a combined graduate and undergraduate course in public history, knew that he wanted to help students uncover the colony's history.
Students worked with the National Forest Service and found a variety of objects such as nails, wire, glass, pottery fragments, iron tools, bridge piers, and the foundations of two structures, all of which will be shown at the exhibit.
"This exhibit will confront the community with the mystery of the colony and then present them with the clues that helped these students solve the mystery," Doleshal said.
The event is free and open to the public.
For more information, contact Doleshal at 936.294.2233.
Workshop To Teach Students To Stand Out In Today's Job Market
The Sam Houston State University College of Humanities and Social Sciences will host a Communications Studies Career Workshop on Monday (April 25) from 2-4 p.m. in the College of Humanities and Social Sciences Building Room 242B.
Led by Terri Jaggers, clinical assistant professor of communications studies, and Patricia Capps, communications studies lecturer, the workshop will provide students with the necessary tips to stand out amongst their peers in the job market.
The workshop will share advice on a variety of skills, including how to develop a 30-second elevator pitch, learn soft communication skills, create a compelling resume, and learn what not to wear to an interview.
The event is free and open to all students.
For more information, contact the CHSS Dean's Office at 936.294.2200.
Display To Honor Ruffin's Life, Literature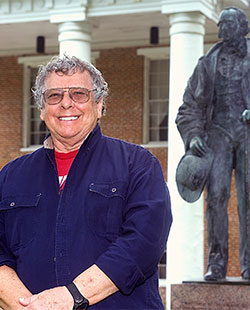 The Sam Houston State University Archives will honor the life and work of Paul Ruffin, 2009 Texas State Poet Laureate, Texas State University System Regents' Professor and SHSU Distinguished Professor of English, with a display in the Newton Gresham Library until May 1.
Ruffin, 74, died at his home in Montgomery County earlier this month.
"We wanted to honor Dr. Ruffin in a small way for his contribution to the literary community and the university," said university archivist Barbara Mason. "We have a complete collection of all of the publications of Texas Review Press—and their literary journal the Texas Review. We also have a collection of materials about Ruffin, newspapers, his column 'Ruffin-It,' various newspaper articles, a few photographs, and most of his books and poetry."
An award-winning, well-known and respected editor, publisher, writer and poet, Ruffin often relied upon his experiences growing up in the South as a foundation for his stories.
During his extensive writing career, he published more than 1,500 poems, 100-plus stories, and more than 90 essays in magazines and journals. His work also has appeared in numerous anthologies and textbooks. In addition, he wrote a weekly column that appeared in several newspapers in Texas and Mississippi.
His most recent book, published last November, is "The Time the Waters Rose And Stories of the Gulf Coast."
Faculty Ensemble To Host Final Performance Of Semester
The Sam Houston State University School of Music faculty will close out the semester with a performance by the Kolonneh String Quartet on Monday (April 25) at 6 p.m. in the Gaertner Performing Arts Center Recital Hall.
The faculty ensemble will be joined by Desmond Hoebig, professor of cello at Rice University, for a performance of Franz Schubert's Op. 163.
"This piece happens to be Schubert's final chamber work, and it is sometimes called the 'Cello Quintet' because it is scored for a standard string quartet, plus an additional cello," said Javier Pinell, associate professor of violin and coordinator of the strings studies program.
"It was composed in 1828 and completed just two months before the composer's death. Schubert's only full-fledged string quintet, it has been praised as 'sublime' and as possessing 'bottomless pathos,' and is generally regarded as Schubert's finest chamber work, as well as one of the greatest compositions in all chamber music," Pinell said.
The event is free and open to the public.
For more information, contact Pinell at 936.294.1380.
Spirit Programs To Conduct Search For Sammy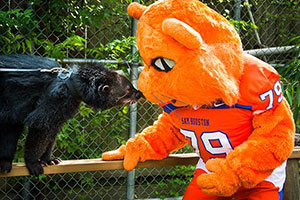 The Sam Houston State University Department of Student Activities will host auditions for students interested in being Sammy the Bearkat on Sunday (May 1) at 8 a.m. in the Academic Building III Lobby.
Students auditioning for the role of Sammy will be responsible for creating a 60-90 second skit prior to the audition and performing the skit in front of a panel of judges. They will also be asked to do prop work, act out game day scenarios, and will be interviewed.
Students interested in being Sammy's bodyguard also should attend this audition.
More information is available at bit.ly/210vUe1.
The auditions are open to all current SHSU students.
For more information, contact the Spirit Programs office at 936.294.4239.
Students On 'FAST' Track To Research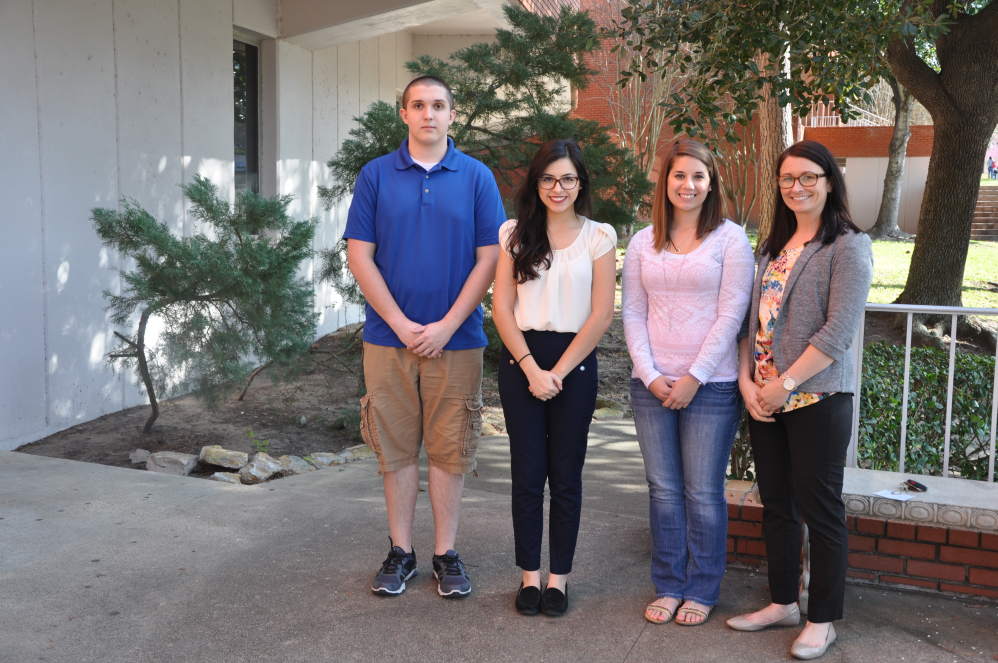 Three Sam Houston State University criminal justice undergraduate students will spend the summer working on a new assessment tool for use with sex offenders to measure attitudes and beliefs about women.
Assistant professor of criminal justice Brandy Blasko recently received a Faculty and Student Team Award to work with students Alex Pettyjohn, Kymeri Morales and Emily Aguirre to develop a survey to help identify attitudes toward women as part of ongoing studies on sexual offending.
According to research, distorted attitudes about women play a role in initiating and maintaining violent, sexual behavior, but the last instrument developed to assess those beliefs was done in 1973.
"Rape victimization can have many negative psychological and physical consequences for victims," said Blasko. "In order to reduce rates of sexual assault, research has focused on understanding the risk factors associated with sexually violent behavior. One of these risk factors is underlying distorted schemas about adult women."
The students will start with conducting a literature review to discover key elements to include in an assessment instrument. They will then spend the summer testing the instrument among three samples, including students, convicted sexual offenders and the general community. The team will publish their work and also collaborate on an article that will be submitted to the Journal of Criminal Justice Education for consideration. The latter article will describe the faculty-undergraduate student collaboration.
The project is part of Blasko's Criminal Justice-Psychology Research Lab, in which students volunteer to assist her with various aspects of research.
"It was like killing two birds with one stone," said Aguirre. "It was something I was interested in doing, and it provided experience for skills I would need in graduate school. Research is something that is important for advancing policy and practice in our field."
Alumnus Places Fourth In Ranger Competition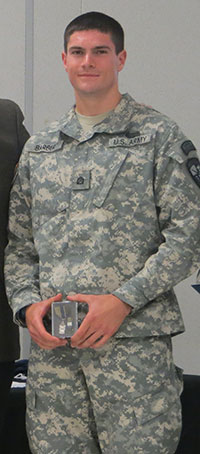 Sam Houston State University alumnus 1st Lt. Colton Barber, who was selected to represent the 25th Infantry Division at the Best Ranger Competition in Fort Benning, Georgia, placed fourth in the competition.
Barber competed as part of a two-man team in a variety of extreme events with his teammate Capt. Dave Matthews.
The Best Ranger Competition consisted of a number of events, including obstacle courses similar to those on American Ninja Warrior, airborne operations, rifle, pistol and machine gun marksmanship, 20 mile forced march with a 60 pound ruck sack, a 4.7 mile run, helicopter operations, and water operations, all of which was completed continuously within 60 hours and covers a distance of 60 miles by foot.
Barber came to SHSU in 2010 on a four-year Army ROTC scholarship. In 2012, he graduated from air assault school at Fort Benning and became class-A skydive certified by the U.S Parachute Association.
Barber is a Distinguished Military Graduate and graduated from SHSU in 2014 with a Bachelor of Science in Criminal Justice and a minor in Military Science.
Doctoral Student Receives National Award
First-year doctoral student Nicole Niebuhr recently was presented a national student paper award from the Academy of Criminal Justice Sciences Corrections Section, which was named in honor of a Sam Houston State University alumna who served as chair of the division.
Niebuhr received the Dr. Kelly Cheeseman Student Paper Award for a scholarly article she co-authored with Erin Orrick, assistant professor of criminal justice.
The study, "Impact of Employment Satisfaction and Stress on Recidivism," investigated how job satisfaction and stress are related to recidivism among serious and violence offenders.
"It's an honor, and I was surprised to get it," said Niebuhr, a doctoral student in the Department of Criminal Justice and Criminology. "It's really special knowing she was a Sam alumna and that the corrections section honored her in this way."
Cheeseman, who earned her doctorate degree from SHSU in 2006, was the chair of the Department of Sociology, Anthropology, and Criminal Justice at Messiah College and chair of the ACJS Corrections Section when she passed away unexpectedly in 2013. The Student Travel Award was named in honor of her work.
The study found that job satisfaction was significant in increasing the time to re-arrest, and job stress was not a significant factor in determining re-arrest.
Among the factors that were measured for degrees of satisfaction and stress included bosses, co-workers, others at work, physical settings, work performed, pay, opportunities for promotion, benefits, job security, safety, work schedules, child care arrangements for work, how a person is treated, their accomplishment and contributions, the amount of independence, and performance evaluations.
Staff Council Spotlights Program Coordinator For March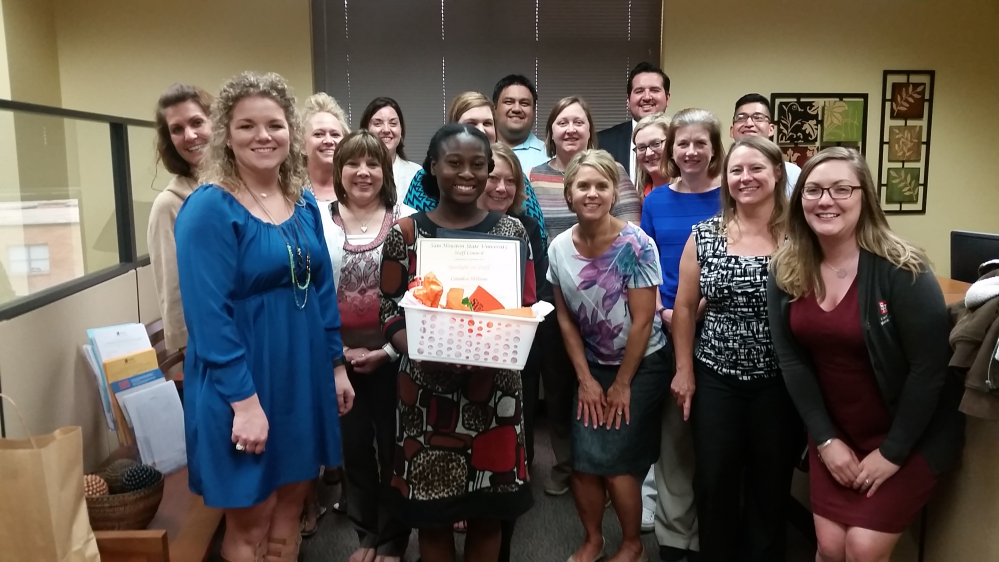 The Sam Houston State University Staff Council has selected Candice Wilson, program coordinator for the First Year Experience Office, for its April "Spotlight on Staff."
Wilson began her career at SHSU four years ago in the First Year Experience Office, where she is responsible for providing study skills, mentoring and academic support to first-year students, as well as many other responsibilities.
She serves on a number of committees, including the convocation committee and several committees within the SHSU Common Reader program. She also has been chair of the Food Pantry advisory board for two years.
"I believe that we owe our students the very best education, and so I'm motivated by a desire to make sure that the work I do helps students succeed," Wilson said. "I also value my coworkers, students workers and colleagues and feel that I can motivate them in small ways by supporting and celebrating their contributions and talents."
In her free time, she enjoys traveling, cooking and eating food from diverse cultures.
"I recently picked up running, and even though it is still very challenging for me, I'm proud to finally say that I am a runner," Wilson said.
Recreational Sports Receives National Awards
The Sam Houston State University Department of Recreational Sports took home two separate awards at the National Intramural and Recreational Sports Association national conference earlier this month.
Jayna Evans, graduate assistant of fitness, was one of three and the only winner from Texas to receive the William Wasson Student Leadership Award.
The William Wasson Student Leadership Award recognizes exceptional students in collegiate recreation who participate in or are employed by the Department of Recreational Sports.
The recreational sports marketing office also took home first place in the NIRSA creative excellence awards for their design of the Texas Outdoor Leadership Conference program materials, designed with sustainable practices in mind.
The creative excellence awards recognize NIRSA members' outstanding accomplishments in marketing.
Today@Sam Seeks Experts, Story Ideas
Are you an expert in a topic might be of interest to reporters? Or even a unique topic? Would you like to have your research interests highlighted or discuss your expertise with reporters seeking interviewees?
The university Communications Office is collecting information and story ideas for its ongoing projects, including the online SHSU Experts Guide, the SHSU home page and Today@Sam.
The SHSU Experts Guide was established as a resource for the media, who turn to university experts lists for potential interviewees for news stories. Faculty who are interested in being a part of the university's database of experts can submit their biographical and personal information, as well as their areas of expertise, through the Experts Guide Submission Form available online at shsu.edu/dept/marketing/experts/submit-info.html.
Other story ideas, both news and features on faculty or student research and accomplishments can be sent to today@sam.edu or jenniferg@shsu.edu. For news stories, please include the date, location and time of the event, as well as a brief description and a contact person.
All information, including news story ideas and update items for Today@Sam, should be sent a minimum of a week in advance of the event in order to make necessary contacts and write a story. Feature story ideas for the SHSU home page ("sliders") should be sent a minimum of two months in advance.
To see a full list of the Today@Sam submission guidelines, or to access submission forms for news and feature stories or hometown releases, visit shsu.edu/~pin_www/guidelines.html.
For more information, call 936.294.1836.
- END -
This page maintained by SHSU's Communications Office:
Associate Director, Communications: Emily Binetti
Telephone:936.294.4406
Communications Manager: Mikah Boyd
Telephone: 936.294.1837
Communications Writer: Campbell Atkins
Telephone: 936.294.2638
Thomason Building: Suite 102
Please send comments, corrections, news tips to Today@Sam.edu