Freshman Honor Society Celebrates 45 Years Of Service, Success
Feb. 16, 2016
SHSU Media Contact: Romney Thomas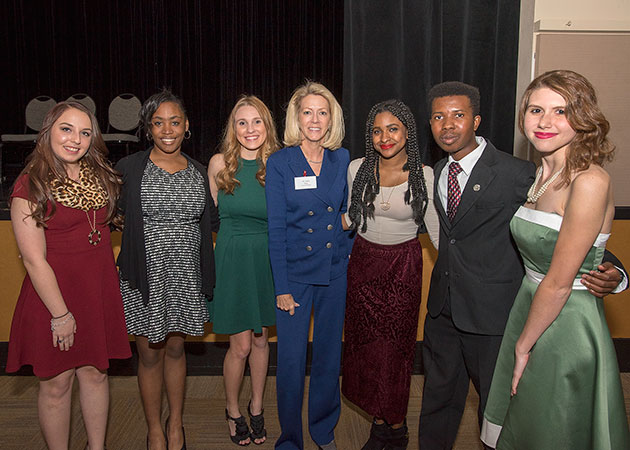 SHSU President Dana Hoyt (center) joined in on recent festivities celebrating the 45th anniversary of the freshman honor society Alpha Lambda Delta. The celebration was held in conjunction with the induction of SHSU's newest class of ALD members. —Photos by Brian Blalock
For the last 45 years, Alpha Lambda Delta, the freshman honor society at Sam Houston State University, has distinguished itself as an organization by placing an emphasis on service to the community, fellowship and academic excellence.
"This honor society is able to really set itself apart from similar groups on camps by inviting the crème de la crème of our freshman body," said Kalyn Cavazos, Dean of Students' program coordinator. "In order for a student to even receive an invitation for membership for Alpha Lambda Delta, the student has to maintain a 3.5 GPA or higher."
According to Cavazos, the first year of college is definitive of the remainder of many students' university experiences.
"There are so many factors that shape your freshman year," Cavazos said. "You are away from home, you have to manage your life and time on your own, and you are responsible for your own success. The fact that these freshmen are able to juggle all of these struggles and maintain such academic excellence really showcases their determination and drive."
Alpha Lambda Delta is a national honor society for first-year students who have proven their academic excellence by maintaining a 3.5 GPA. ALD was founded at the University of Illinois in 1924 to honor those freshmen who went above and beyond in their studies.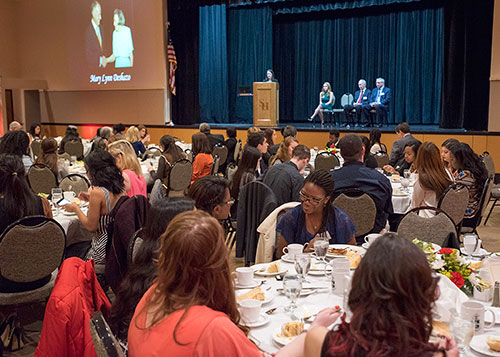 Founding member and Professor Emeritus of Chemistry Mary Lynn Deshazo (pictured on the screen with President Emeritus James Gaertner) was honored during the induction and celebration event with a scholarship established in recognition of her contributions to both the group and SHSU.
The SHSU chapter of ALD was established in 1970 with the same values that the original founders had in mind when creating the organization. SHSU's chapter promotes intelligent living and continued high standard of learning, while assisting students in recognizing and developing meaningful goals for their roles in society.
This year Mary Deshazo, one of the founding members of ALD at SHSU, was honored with the announcement of a scholarship in her name. Deshazo has taught chemistry at SHSU since 1957 and has served with any organizations regionally and nationally, such as the University Faculty Senate and the Texas Association of College Teachers. She was honored as Professor Emeritus of Chemistry in 2007 and continues to serve as a supporter of SHSU.
"Dr. Deshazo has contributed so much to the chapter here at SHSU," Cavazos said. "She has donated money in efforts for chapter fundraising, items for specific events and has attended every initiation ceremony prior to this year. She has also served as a resource to the students as a faculty liaison and someone they can turn to if ever needed. Dr. Deshazo has gone above and beyond in her role as a founder of the organization and making sure our SHSU chapter is successful."
With its faculty support and outstanding student effort, ALD has contributed to several organizations in Walker County through volunteer hours and financial contributions, including the Boys & Girls Club of Walker County, American Cancer Society, and Relay for Life, Colon Cancer Alliance, SAAFE House, Hospitality House, and the Rita B. Huff Animal Shelter.
In addition to the work ALD members have done with local organizations, they have also hosted many military care-package drives and "Thanksgiving-to-Go" events for people in need.
"Academic excellence is important, but we're also heavily geared toward serving our community," said Ashley Parrott, president of SHSU's ALD chapter. "We really try to abide by our university's motto, and it's extremely rewarding to see that the contributions our organization makes actually help others."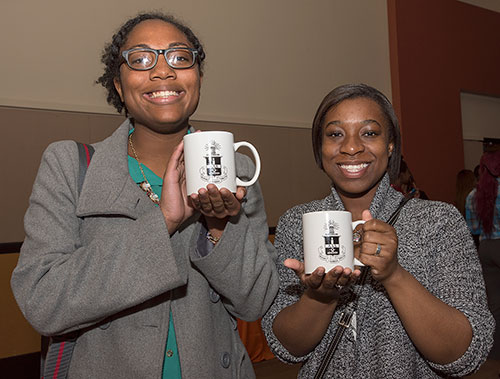 ALD members show off new mugs decorated with the ALD crest.
Of all the service projects that Parrott has been involved with, those that were centered on the children of Walker County stand out to her the most.
"Last year we did an Easter egg hunt with the Boys & Girls Club of Walker County," Parrott said. "It was amazing to see how excited the kids were and how much of a difference our effort made in the way they were able to enjoy their holiday."
Although ALD's focus on service is prevalent, the organization is representative of even more to its alumni.
"Alpha Lambda Delta was the first organization I joined while on campus at Sam Houston, and it really jump-started my involvement with the university," said ALD alumnus Tyler Patek. "Without the help of ALD, I don't know if I would have been highly involved on campus.
"I remember the service projects, but also the social events where I learned how to develop friendships that would last for years," he said. "It was really the starting point of my academic life on campus and helped build the foundation for a successful career."
The 45 years of excellence members of ALD have contributed to are reflected in all those who have been a part of the organization.
"This anniversary of Alpha Lambda Delta has been an opportunity to celebrate our members and their esteemed academic excellence, the service and contributions that our chapter has made over the years, and the rich history of ALD here on SHSU's campus," Cavazos said. "It's wonderful to recognize this group because they showcase what the typical college freshman should really strive for. These students aim for academic excellence and really work to build a community and find that it's truly worth their time and effort."
- END -
This page maintained by SHSU's Communications Office:
Associate Director, Communications: Emily Binetti
Telephone:936.294.4406
Communications Manager: Vacant
Telephone: 936.294.1837
Communications Writer: Campbell Atkins
Telephone: 936.294.2638
Thomason Building: Suite 102
Please send comments, corrections, news tips to Today@Sam.edu