Alpha Lambda Delta To Celebrate 45 Years Of Service
Jan. 14, 2016
SHSU Media Contact: Tammy Parrett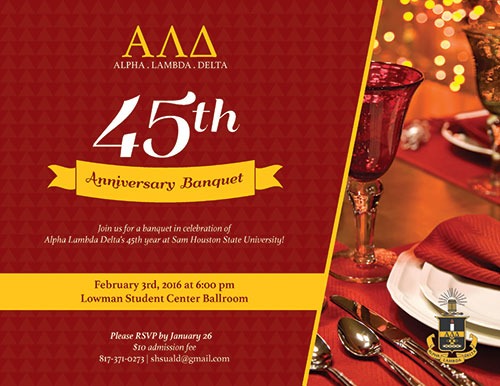 Since its inception, thousands of Sam Houston State University students have had their lives enriched by the work they do with Alpha Lambda Delta, an honor society for first-year students.
This year marks the 45th year that Alpha Lambda Delta has been at SHSU, and the organization is teaming up with the Dean of Students' Office to host the Alpha Lambda Delta Anniversary Celebration on Feb. 3 at 6 p.m.
The celebration, which will take place in the Lowman Student Center Ballroom, will highlight the contributions that ALD members have made to the SHSU community. Activities scheduled include a reception prior to the event, a photo booth and the debut of a new scholarship. All current and former members are invited to attend.
Phillip Lyons, dean of SHSU's College of Criminal Justice, will be the keynote speaker, during which he will highlight some of the accomplishments that ALD members have made in the past year. The banquet also will recognize past presidents and executive board members of the organization, as well the current executive board and president.
Alpha Lambda Delta is a national honor society for first-year students who have proven their academic excellence by maintaining a 3.5 GPA. ALD was founded at the University of Illinois in 1924 to honor those freshmen who went above and beyond in their studies.
The SHSU chapter of ALD was established in 1970 with the same values that the original founders had in mind when creating the organization. SHSU's chapter promotes intelligent living and continued high standard of learning, while assisting students in recognizing and developing meaningful goals for their roles in society.
"Being involved in ALD has taught me a lot about what it means to volunteer," said Ashley Parrott, president of SHSU's chapter. "I've been able to meet other students who are dedicated to their education, and it's a great way to make friends across other fields of study.
"We want to celebrate the accomplishments of our members," said Parrott. "This is a great way for ALD members to meet and talk with faculty they normally wouldn't have the opportunity to talk with, see what the chapter has been up to, and meet past and current members."
ALD has contributed to several organizations in Walker County through volunteer hours and financial contributions, including the Boys & Girls Club of Walker County, American Cancer Society, and Relay for Life, Colon Cancer Alliance, SAAFE House, Hospitality House, and the Rita B. Huff Animal Shelter.
In addition to the work ALD members have done with local organizations, they have also hosted many military care-package drives and "Thanksgiving-to-Go" events for people in need.
"The 45th anniversary of Alpha Lambda Delta is an opportunity to celebrate our members and their esteemed academic excellence, the service and contributions that our chapter has made over the years, and the rich history of ALD here on SHSU's campus," said Kalyn Cavazos, Dean of Students' program coordinator. "We want all of our current and previous members of Alpha Lambda Delta to come celebrate with us. It doesn't matter if you were initiated last year or three years ago, all of our Alpha Lambda Delta members are welcome."
Tickets cost $10, and those who wish to attend should RSVP to shsuald@gmail.com by Jan. 26.
For more information, contact Cavazos at 936.294.2347.
- END -
This page maintained by SHSU's Communications Office:
Director of Content Communications: Emily Binetti
Communications Manager: Mikah Boyd
Telephone: 936.294.1837
Communications Specialist: Campbell Atkins
Telephone: 936.294.2638
Please send comments, corrections, news tips to Today@Sam.edu