SHSU Production To Share Native American History With Families
March 2, 2016
SHSU Media Contact: Emily Binetti
This article was written by Hannah Zedaker.
Huntsville children and families are invited to immerse themselves in the culture of Native American tribes through the Sam Houston State University Department of Theatre and Musical Theatre performance "According to Coyote," March 18-19.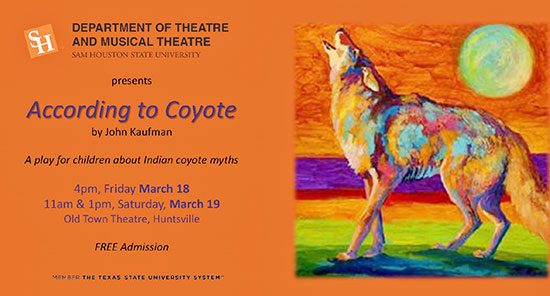 Three free performances will be held at Old Town Theatre at 4 p.m. on March 18 and at 11 a.m. and 1 p.m. on March 19.
"According to Coyote" is a children's play written by John Kauffman, who grew up on a Native American reservation as a member of the Nez Perce Tribe.
The play, which utilizes storytelling to convey the origins of many Native American traditions and myths, is part of an academic community engagement class taught by assistant professor Vicky Lantz that focuses on theatre for young audiences.
"We have such a strong talent pool of students here on the university campus," Lantz said. "I think the students here are aware that there is not a separation between town and school and that it's really important for us to recognize that we have ways we can give back to the town by providing as much culture and experience as we can."
Lantz and her students are spending the entire semester working on the production of "According to Coyote," which they also are hoping to perform in two or three local elementary schools.
"We don't often get a lot of youth theatre in Huntsville, so it would be really great for young kids to join us for the performances," Lantz said. "From what I can see, there are lots of people working to provide experiences for young people in town, but there are also things that are lacking just from Huntsville being a smaller town, so for us to be able to do that is really great."
The roughly 45-minute play, aimed at a pre-K through fifth grade audience, will be performed by 14 theatre students—six narrators and eight cast members.
According to Lantz, some of the differences between a typical theatre production and theatre for young audiences include language adjustments, identifying clear themes and morals, and an emphasis on educational outreach.
"Sometimes kids talk back a little more, which is always fun, or they can be swept up in the story," she said. "Often what happens is that they haven't learned that you should sit quietly which is polite, but we also encourage jovial expressions and genuine ideas, so if they tell Coyote not to go somewhere—that's OK too. It's a genuine and unique experience for them for sure."
One of the narrators, senior theatre major Tasha Prescott, said being a mom has helped her with her role in the children's play.
"Theatre is all about creation, but when you are creating a piece for young audiences, you can be a child yourself; it becomes more vivid and exciting because you are navigating how to captivate restless young minds," Prescott said. "These decisions often become more free and boundless."
Whereas most production sets are built onstage ahead of time, the set for "According to Coyote" will be portable and minimalistic because the play may be performed in several different venues.
"We are going to hopefully use a shadow screen for some parts of the storytelling and any of the major moments, like when we have to make stars dance or when we have to make giant rocks roll around, that will be made with human beings," Lantz said. "So the fact that we have eight in the ensemble and six narrators means that we have lots of bodies to work with onstage, so we can make images from the bodies that we have that look like what the narrators talking about."
Public school performances have not yet been scheduled.
"Huntsville has an amazing hub of young, talented artists," Prescott said. "A community saturated with college students can be a very enriching experience. It is important not to isolate the university from the community, but for everyone to learn and grow together. That makes a pretty rewarding atmosphere for everyone residing in the city.
"Outreach is so important because life is all about 'community' with others from all walks of life," she said.
For more information about "According to Coyote," visit accordingtocoyote.wordpress.com or contact Lantz at 936.294.4339 or vplantz@shsu.edu.
- END -
This page maintained by SHSU's Communications Office:
Associate Director, Communications: Emily Binetti
Telephone:936.294.4406
Communications Manager: Mikah Boyd
Telephone: 936.294.1837
Communications Writer: Campbell Atkins
Telephone: 936.294.2638
Thomason Building: Suite 102
Please send comments, corrections, news tips to Today@Sam.edu