Global Center To Celebrate World Press Freedom Day
April 17, 2015
SHSU Media Contact: Tammy Parrett
Texas Native and journalist Austin Tice has been missing since 2012. He was kidnapped, but no group has claimed responsibility.
He was last heard of while reporting in Syria, the most dangerous country in the world for journalists. At least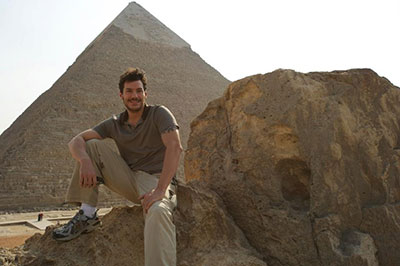 81 journalists have been killed there covering the unrest according to the Committee to Protect Journalists.
GCJD will join the #FreeAustinTice campaign to keep Tice's plight in the spotlight. The center will use the celebration of World Press Freedom Day as a venue.
On April 29-30, students can take part in the campaign by taking the "blindfold pledge" on the LSC mall from 11 a.m. to 1 p.m. Started by Reporters Without Borders, the campaign asks people around the world to post pictures blindfolded in memory of a video showing Tice in captivity and blindfolded.
The blindfolds worn by supporters are meant to symbolize a world without journalists and information.
Bearkats will also be asked to sign an e-letter to President Obama urging him to do all he can do to bring Tice home safely and GCJD will pass out dark blue ribbons for students to wear, symbolizing press freedom.
At noon on Wednesday (April 29) in the LSC mall, the SHSU community can join GCJD in a prayer circle for Tice and other missing journalists.
GCJD will also launch a social media campaign focusing on press freedom and will join with the Houstonian to publish articles on the topic.
The U.N. General Assembly proclaimed World Press Freedom Day in 1993, and it is celebrated internationally on May 3.
"We like to host our event prior to that date, so that we can ensure that we will have the largest amount of student involvement possible," said GCJD executive director Kelli Arena.
The day presents an opportunity to celebrate the fundamental principles of press freedom, to assess the state of press freedom around the world, and to pay tribute to journalists who are missing, have been wounded, or lost their lives in the line of duty, according to the United Nations.
For more information, contact GCJD at 936.294.4399 or gcjd@shsu.edu. You can also visit the GCJD website at shsu.edu/global-journalism.
- END -
This page maintained by SHSU's Communications Office:
Associate Director, Communications: Emily Binetti
Telephone:936.294.4406
Communications Manager: Mikah Boyd
Telephone: 936.294.1837
Communications Writer: Campbell Atkins
Telephone: 936.294.2638
Thomason Building: Suite 102
Please send comments, corrections, news tips to Today@Sam.edu