SHSU Update For Week Of March 29
March 29, 2015
SHSU Media Contact: Tammy Parrett
Author To Examine Isolation On Death Row
The Sam Houston State University Student Legal and Mediation Services Office will host author Betty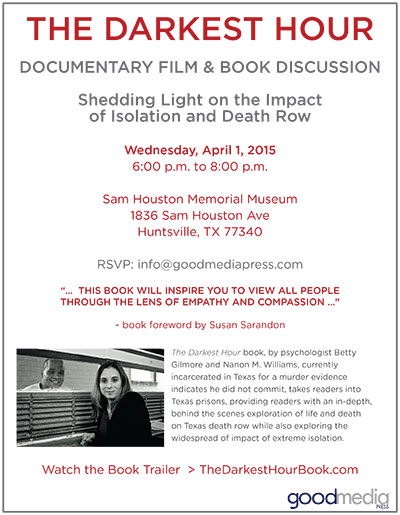 Gilmore on Wednesday (April 1) for a discussion and viewing of a documentary on her recently published book "The Darkest Hour: Shedding Light on the Impact of Isolation and Death Row in Texas Prisons."
The event, which will begin at 6 p.m. at the Sam Houston Memorial Museum, will include remarks by Gilmore, a viewing of the documentary, and an opportunity to purchase Gilmore's book.
In her work, Gilmore, a licensed clinical psychologist and director for the Center for Dispute Resolution at Southern Methodist University, examines the impact of isolation experienced by Texas prisoners, including those who will be integrated back into society. She also examines those prisoners on death row. Her book and the documentary examine the conditions of prisoners and specifically, the impact of isolation.
"This book examines the life of prisoners using personal narratives and science," said Gene Roberts, director of Student Legal and Mediation Services. "One of the aims of our office is to provide education about the law and the legal system. This book provides us with a glimpse into life in prison.
"I've had the opportunity to tour two facilities in Huntsville, to see prisoners and to speak with and listen to correctional officers and administrators," Roberts said. "Prisons are a necessary part of our legal system, and Dr. Gilmore's book provides a perspective into that system."
The event is free and open to the public.
For more information, visit Bearkatlaw.com, follow the office at Facebook.com/bearkatlaw and on Twitter @Bearkatlaw, or contact SLMS at 936.294.1717 or slms@shsu.edu.
Presentation To Encourage Year-Round Fitness Training
Rob Oviatt, former Louisiana State University head strength and conditioning coach, will share his experiences in "No Summers Off" on Thursday (April 2) at 1 p.m. in the University Theatre Center Showcase Theatre.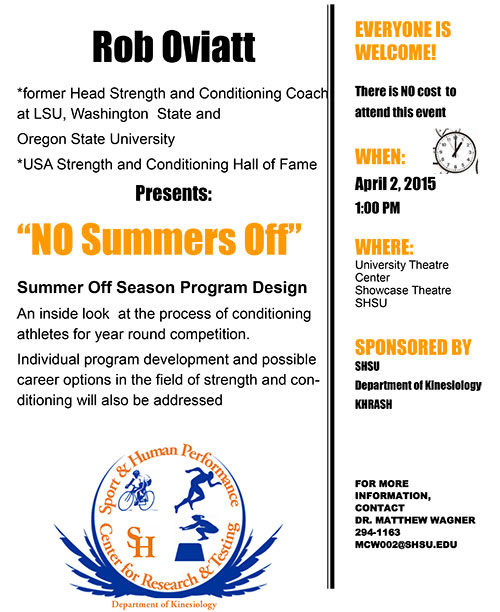 The presentation will provide an inside look at the process of conditioning athletes for year-round competition, as well as individual program development and possible career options in the field of strength and conditioning.
"In many cases, people go through what is known as periodization with every season," said Matthew Wagner, assistant professor of kinesiology. "This means that people tend to slack off on their fitness goals during the summer and winter months, and they tend to become more active in January. This presentation will give you the tools to help maintain your level of fitness year round."
Students can hear ideas on how to enhance their personal fitness program, and kinesiology students will have the opportunity to learn about potential career options in the field of strength and conditioning, according to Wagner.
The presentation is free and open to the public.
For more information, contact Wagner at 936.294.1163.
MFA Candidate To Immerse Audience In Personal Histories
Sam Houston State University's Department of Dance will present "If These Walls Could Speak," an immersive dance theater evening choreographed and directed by Master of Fine Arts candidate Jennifer Mabus on Wednesday (April 1) and Thursday (April 2) at 7 p.m. and 8 p.m. at The Wynne Home Arts Center.
"If These Walls Could Speak" is inspired by personal histories that houses and people collect. The performance will spread across the grounds of The Wynne Home Arts Center as 20 dance graduate and undergraduate students showcase these stories by climbing on staircases, arguing around a dining room table, hiding in corners, and playing in the gardens.
An "immersive" performance uses the environment to create an interactive and visceral experience for the audience, according to Mabus.
"By interacting with the space and the performers, the audience becomes part of the show and the lines between performer and viewer are blurred," said Mabus. "No two audience members will have the same experience, and each performance is completely unique. We hope that the audience will reflect upon their own histories and understand the beauty of such stories."
Admission to the event is free, but tickets must be reserved in advance due to limited seating.
For more information or to reserve tickets, contact Mabus at 936.294.1875 or visit the Gaertner Performing Arts Center Dance Office, at PAC 150.
Recital To Showcase Chamber Music
SHSU's School of Music will host a chamber music class recital Wednesday (April 1) in the Gaertner Performing Arts Center Recital Hall.
The recital, beginning at 7:30 p.m., will feature a variety of works, ranging from classical to contemporary periods. Among the composers featured are Edward Elgar, Joseph Haydn and Franz Schubert, as well as others.
"This is an excellent opportunity to enjoy the wonderful repertoire written for this genre," said Javier Pinell, associate professor of violin. "We had a very strong chamber class this semester, and we are excited to showcase their talent in this recital."
Admission to the recital is free and open to the public.
For more information, contact the School of Music at 936.294.1360.
'Daughters' To Explore Identities
The SHSU Student Satellite Gallery will host the work of three students in "Daughters," on display from April 2-4. An opening reception will be held Thursday (April 2) from 6-8 p.m.
The exhibit will feature the works of senior art students Bailey Jo Carson, Justine Chauvin and Tiffany Stockton.
The three artists attempt to explore their identities through relationships, built and destroyed, between family members and friendships, according to Rebecca Finley, associate professor of art at SHSU.
"In an attempt to gain their own personal individuality, they investigate the identity of significant people in their lives in order to piece together who they are away from them," said Finley.
The SHSU Student Satellite Gallery is located at 1216 University Ave., in downtown Huntsville.
For more information on the exhibit, contact Finley at 936.294.3418.
Students To Give Guitar Studio Recital
SHSU's guitar studio will perform on Thursday (April 2) at 7:30 p.m. in the Gaertner Performing Arts Center Recital Hall.
The group is comprised of undergraduate and graduate music performance and music therapy students who auditioned to become part of the program.
"This recital is a culmination of almost a year's worth of work for these students," said Alejandro Montiel, adjunct instructor of guitar at SHSU. "This recital will be a great opportunity to showcase what the guitar is capable of doing."
The pieces performed will range from the Renaissance, all the way to the 21st century, according to Montiel.
Admission is free and open to the public.
For more information, call the School of Music at 936.294.1360.
Librarians Receive Innovative Programming Award
Three SHSU staff members were recently presented with the 2015 Upstart Innovative Programming Award from the Montgomery County Memorial Library System.
Felicia Williamson, special collections librarian; James Williamson, digital resources librarian; and Scott Vieira, electronic resources librarian, will receive the prestigious award at the Texas Library Association's Annual Conference next month in Austin.
"There were several strong applicants for the award this year; however, the Upstart Innovative Programming committee was impressed with their creativity and commitment to restoring the library's relevance to researchers' lives," said Devery Johnson, chair of the award committee.
The trio's program, titled "Promoting Finding Aids on Social Media" was created to promote the many special collections housed at SHSU. The campaign's goal was to launch 10 media platforms and use them to enhance Google search results and promote finding aids in the library. They hosted presentations to demonstrate to students how manuscripts could be used for research.
The Upstart Innovative Programming Award recognizes two libraries—one school and one for all other library types—that have implemented creative marketing projects and/or promotions to enhance their visibility within their service community.
Submit Update Items Here
In order to assist members of the Sam Houston State University community in publicizing events, the SHSU Communications Office (Today@Sam) is now requesting that students, faculty and staff submit information about events, accomplishments or ideas for feature stories online.
Submission criteria and guidelines, including deadlines, have now been placed online, at shsu.edu/~pin_www/guidelines.html. This information is also accessible through the "Submissions" link in the right-hand navigation on Today@Sam.
From there, those submitting ideas can access forms that will allow them to provide detailed information about their idea, as well as attach event calendars, vitas/resumes or photos, depending on the type of submission.
Ideas submitted to the SHSU Communications Office are directly utilized in several ways: as news stories, "slider" or SHSU home page stories, hometown releases, and on the Today@Sam calendar.
If your submission qualifies for distribution, we will either contact you for more detailed information, or we will edit the information using SHSU/journalistic style and forward the final release to the appropriate media.
All information is verified before release, so please provide complete, accurate and timely information. Please type all responses in appropriate upper and lower cases.
For more information, contact the Communications Office at 936.294.1836 or today@sam.edu.
- END -
This page maintained by SHSU's Communications Office:
Director of Content Communications: Emily Binetti
Communications Manager: Mikah Boyd
Telephone: 936.294.1837
Communications Specialist: Campbell Atkins
Telephone: 936.294.2638
Please send comments, corrections, news tips to Today@Sam.edu