Exhibit To Reveal 'Tropical Impressions' From Rita, Ike
Jan. 12, 2015
SHSU Media Contact: Jennifer Gauntt
Megan Buro contributed to this story.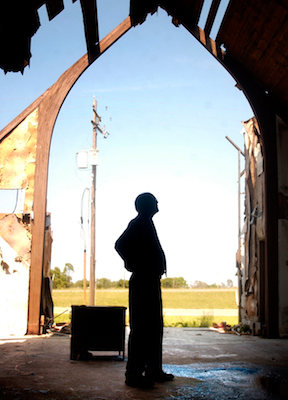 Port Arthur's Seventh Day Adventist Church (by pastor Ralph Stumph) shows the devastation of Hurricane Ike.
—From Humanities Texas
The Sam Houston Memorial Museum will present "Tropical [Im]pression: A Gulf Coast Hurricane Retrospective," an exhibition created by the Museum of the Gulf Coast and presented in partnership with Humanities Texas, beginning Tuesday (Jan. 13) through Feb. 13 in the Katy and E. Don Walker Sr. Education Center.
The first decade of the 21st century has seen significant hurricane activity along the Gulf Coast. In 2010, five years after Hurricane Rita, the Museum of the Gulf Coast in Port Arthur initiated the Hurricane Retrospective Project, an effort to document the recent history of hurricanes in the southeast Texas and southwest Louisiana Gulf Coast region.
The Museum of the Gulf Coast called for photographs and personal stories from those along the Gulf Coast who lived through Hurricanes Rita and Ike. The response was tremendous with hundreds of submissions from private citizens, amateur and professional photographers, and businesses from the private and public sector, according to Sam Houston Memorial Museum marketing coordinator Megan Buro.
The collected images were added to the museum's permanent archives in order to preserve the history of these events and these now compose the traveling exhibition.
"Tropical [Im]pression" features 67 color and black-and-white photographs that convey the collective "impression" recent hurricanes made on the Gulf Coast region from Galveston to Cameron Parish, Louisiana.
The Walker Education Center is located at 1402 19th St.
Humanities Texas, the state affiliate of the National Endowment for the Humanities, develops and supports diverse programs across the state, including lectures, oral history projects, teacher institutes, traveling exhibitions and documentary films.
For more information on Humanities Texas, call 512.440.1991. For more information on "Tropical [Im]pression" at the Sam Houston Memorial Museum, contact Buro at 936.294.3839.
- END -
This page maintained by SHSU's Communications Office:
Director of Content Communications: Emily Binetti
Communications Manager: Mikah Boyd
Telephone: 936.294.1837
Communications Specialist: Campbell Atkins
Telephone: 936.294.2638
Please send comments, corrections, news tips to Today@Sam.edu