Senior Self-Publishes Mystery Novel
Dec. 7, 2015
SHSU Media Contact: Jennifer Gauntt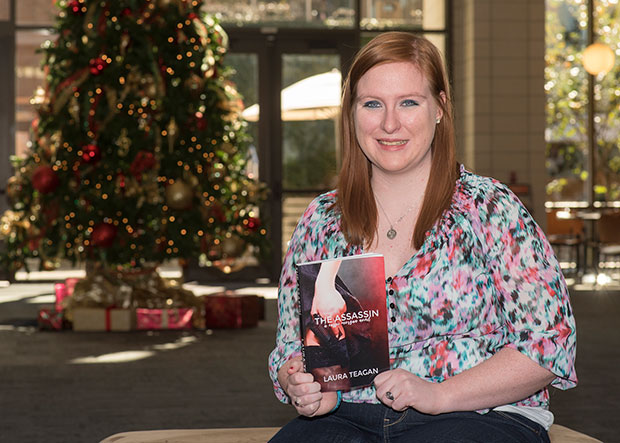 Senior mass communication major Laura Toeniskoetter has spent a decade creating "The Assassin," a "new adult" mystery about two FBI agents who work together to hunt down a serial killer known as "The Assassin." It is available through KDP Select on Kindle. —Photo by Brian Blalock
Story by Hannah Zedaker.
Senior mass communication major Laura Toeniskoetter recently closed an eight-year chapter of her life with the publishing of her novel "The Assassin."
Toeniskoetter, who is better known to her readers as Laura Teagan, began working on "The Assassin" at 14 years old, and nearly a decade later, through self-publishing, her book is now available for purchase through KDP Select on Kindle.
The 300-page novel is about FBI agent Cassie Morgan, who begins investigating a dishonest agent. After the two have a run in, they strike a deal to work together in pursuit of a serial killer known as "The Assassin," while striving to stay off his hit list.
"I've written other things here and there, but none of those things took up the space in my mind the way that this one did and these characters did," Toeniskoetter said. "I sound like a crazy person but they've been in my head for so long that I can't ignore them. I have to get their stories out."
Toeniskoetter, who is graduating from Sam Houston State University in December, has an emphasis in public relations and advertising with a minor in creative writing. She describes her book as primarily a "new adult," mystery novel with action and "sprinklings of romance," which Toeniskoetter said will flourish later on. According to Toeniskoetter, new adult novels generally target a college-aged audience.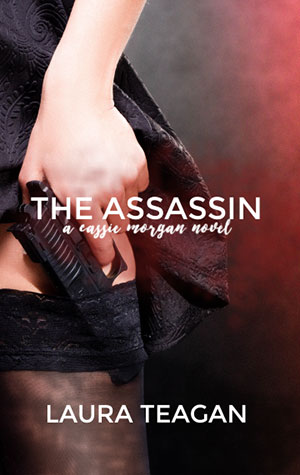 Creating "The Assassin" was a necessity for Toeniskoetter. The story, she said, took up space in her mind and she needed to get them out, on paper.
"New adult is kind of a new phenomenon; it came with the rise of Indie publishing and e-readers—those all kind of came together at the same time—so that's really cool," Toeniskoetter said. "But new adult books are mostly romance books so right now; there's a need for new adult books that aren't just romance, so it would be kind of cool to eventually fill that gap."
In the midst of writing "The Assassin," Toeniskoetter stumbled upon a website in high school called "Ink Pop" which was run by the publishing company Harper Colllins.
In search of up-and-coming authors, the publishing house held a monthly contest wherein aspiring writings competed by climbing the ranks for the chance to have one of the company's editors review their book. After 10 months of hard work, Toeniskoetter made the cut and earned her review, which was one of the first major steps she made toward achieving her goal.
"It's funny now that I look back at it, because even then that was PR, that was marketing, that was advertising, and that wasn't even on my radar at the time," Toeniskoetter said. "It's kind of funny how that all comes full circle."
After the initial writing and editing was complete, Toeniskoetter decided to self-publish her book, partly because she was on a college budget and partly because she felt she held the skills and background to do it independently.
"I took the time and did all the revisions, paid an editor, had her go through it too, bounced ideas off of her, went through book covers, etc.," Toeniskoetter said. "I feel like a lot of times there's this idea that self-publishing is just putting a book up there and making money off of it, but you're not going to be successful if you do it that way. The reason publishing houses are successful is because they run themselves in at least a semi-professional manner. You have to do it in a professional manner."
At the conclusion of the lengthy and complex process of publishing a book, "The Assassin" officially became available for $3.99 via Kindle and will soon be available in print.
"When you're published, there's a very fine line between being an artist and being a business person because obviously you're in the business to eventually make money off your books but at the same time, that's your art; that's your baby," Toeniskoetter said.
According to Toeniskoetter, the most challenging part of being an author is blocking out distractions and sitting down to write every day.
Toeniskoetter is already working on the sequel to "The Assassin," which she said she hopes to publish next year.
"I definitely [identify with] the main character," Toeniskoetter said. "Especially, when I was younger, because I didn't know anything about writing, the main character and I were very, very similar, but now her story is a lot different than mine. But the way that she reacts and the way that she thinks and makes decisions are very similar to me—I just put her through a lot worse situations."
Post-graduation, Toeniskoetter said she hopes to get a job in the world of PR; however, her end-goal is to write full-time. Coming up with new and different ideas to write about, however, is something Toeniskoetter said is all about perspective.
"I think that's the brilliant secret—there is nothing unique," Toeniskoetter said. "If you think of it as a puzzle, you have all these puzzle pieces and it's just really just about finding a different way to put them all together—different than the next person. People borrow things, Stephen King borrows things and he probably doesn't even realize it—but there are no original ideas; that's just the way art is."
- END -
This page maintained by SHSU's Communications Office:
Associate Director, Communications: Emily Binetti
Telephone:936.294.4406; Fax: 936.294.1834
Communications Manager: Wes Hamilton
Telephone: 936.294.1837; FAX: 936.294.1834
Communications Writer: Hannah Crandall
Telephone: 936.294.2638; FAX: 936.294.1834
Thomason Building: Suite 102
Please send comments, corrections, news tips to Today@Sam.edu
---