SHSU Update For Week Of Sept. 21
Sept. 21, 2015
SHSU Media Contact: Tammy Parrett
Career Expo To Connect Students, Alumni With Employers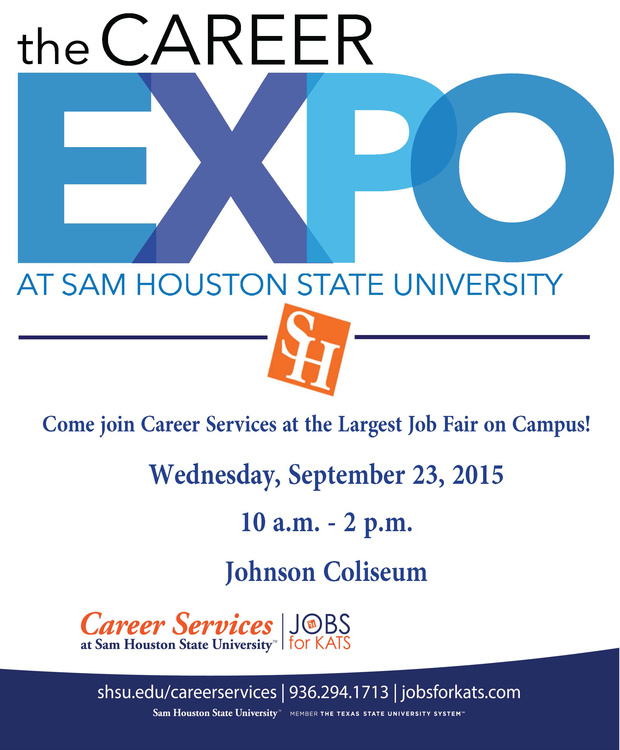 Sam Houston State University's Career Services will provide students and alumni who are ready to enter the workforce or a graduate program with the opportunity to meet with more than 100 organizations during the Career Expo and Graduate/Professional School Fair on Wednesday (Sept. 23).
Representatives from those organizations will be on hand to discuss full-time jobs, internships, and graduate and professional school admissions from 10 a.m. to 2 p.m. in the Bernard G. Johnson Coliseum.
"The Career Expo and Graduate/Professional School Fair is an excellent opportunity for students to network and gather information about current job or internship opportunities with state and federal agencies and both not-for-profit and for-profit organizations," said Mitch Parker, Career Services marketing and events coordinator. "I encourage everyone attending to dress professionally and to bring multiple copies of your résumé.
"This is one of our biggest job fairs of the year, designed to serve students and alumni of all majors," Parker said.
Students who are registered on Jobs for Kats can get a jumpstart to finding a job or internship by logging on, at JobsforKats.com, to find to find a complete list of participating agencies as well as the positions for which they are recruiting.
For more information, contact Career Services at 936.294.1713.
Museum To Make Knowledge Accessible For National Museum Day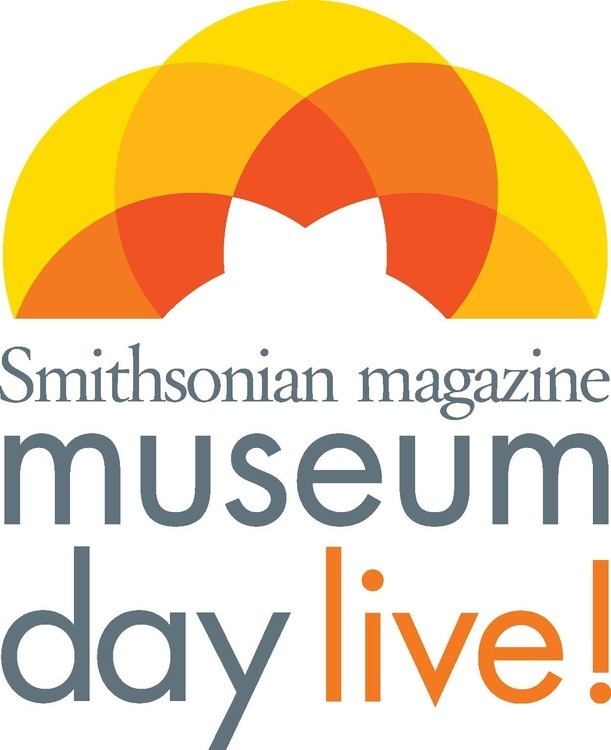 The Sam Houston Memorial Museum will offer free admission on Saturday (Sept. 26), as part of Smithsonian Magazine's 11th annual "Museum Day Live!"
The event represents the Smithsonian's commitment to make learning and the spread of knowledge accessible to everyone.
"We are excited to participate in this annual event hosted by the Smithsonian Magazine," said Megan Buro, museum marketing coordinator. "It's our fifth year to take part in it, and it is an opportunity for visitors to take advantage of free admission to the museum to learn about Gen. Sam Houston and the legacy he and his family have left Huntsville, Texas, and the United States.
"Our education staff members will be at the Bear Bend Cabin, located on the Museum grounds, from 9 a.m. to noon, where visitors can learn about skills pioneers would have needed to survive on the frontier," said Buro.
In order to gain free admission, visitors must download a "Museum Day Live!" ticket at Smithsonian.com/museumday or Smithsonianmag.com/museumday, where they can receive free museum access to more than 1,400 participating venues, including the Sam Houston Memorial Museum, for two people. One ticket is permitted per household, per email address.
The Sam Houston Memorial Museum's Saturday hours are from 9 a.m. to 4:30 p.m.
For more information, contact Buro at 936.294.3839, or visit the museum's website at samhoustonmemorialmuseum.com.
SHSU Recognized For Professional Development Program
Sam Houston State University's Human Resources Department was recently featured in an article in the College and University Professional Association for Human Resources national magazine for their innovative professional development program, the Learning Academies@SHSU.
"Our professional development team was initially nominated for the CUPA-HR 2015 Innovation Award," said Thieme Bittick, professional development coordinator at SHSU. "Although we didn't win the award, a representative from the organization contacted us to ask if we'd be interested in being featured in their fall magazine spread. She felt, in her words, that it was 'a great example of how to create meaningful, yet low-cost, opportunities for staff growth and development.'"
Bittick teamed up with Cindy Bradfield, assistant director of human resources, to share their vision with the CUPA-HR readers, revealing their plan to bring the Learning Academies@SHSU to life.
The Learning Academies@SHSU was founded in 2014 to offer staff and managers opportunities to earn credits toward their yearly professional development requirements. Not only did the program prove to be beneficial to the faculty and staff, it showed that a program could be efficient, successful and cost-effective while being managed by a staff of only two.
Bittick and Bradfield, along with David Hammonds, associate vice president for human resources and risk management, recently hosted a webinar for University Business Magazine on how to build an award-winning professional development program from scratch. Almost 400 people signed up to attend the webinar, according to Bittick.
"Many other universities find themselves in the situation of having tight budgets and lean resources," she said. "We showed how you can still have a successful program by utilizing what you have available to you and thinking creatively."
Recital To Showcase 19th Century, Romantic Music
Sam Houston State University's School of Music will host a chamber music recital on Monday (Sept. 21) at 7:30 p.m. in the Gaertner Performing Arts Center Recital Hall.
Josu De Solaun Soto, assistant professor of piano, and Anna Petrova, adjunct instructor of piano, will be joined by Jesus Reina and Anna Nilsen, guest artists and founders of the Malaga Clasica Chamber Music Festival, to present the "Strauss Violin Sonata" and the "Grieg C Monor Sonata."
"The recital will feature two of the great sonatas of the violin and piano literature," said De Solaun Soto. "This is an excellent opportunity to listen to wonderful virtuosi performing masterworks by some of the greatest composers of all time."
The recital also will feature performances by two international students of the Ivan Galamian Strings Academy.
The recital is free and open to the public.
For more information, contact the School of Music at 936.294.1360.
'Chat & Chew' To Open Dialogue On Hispanic Heritage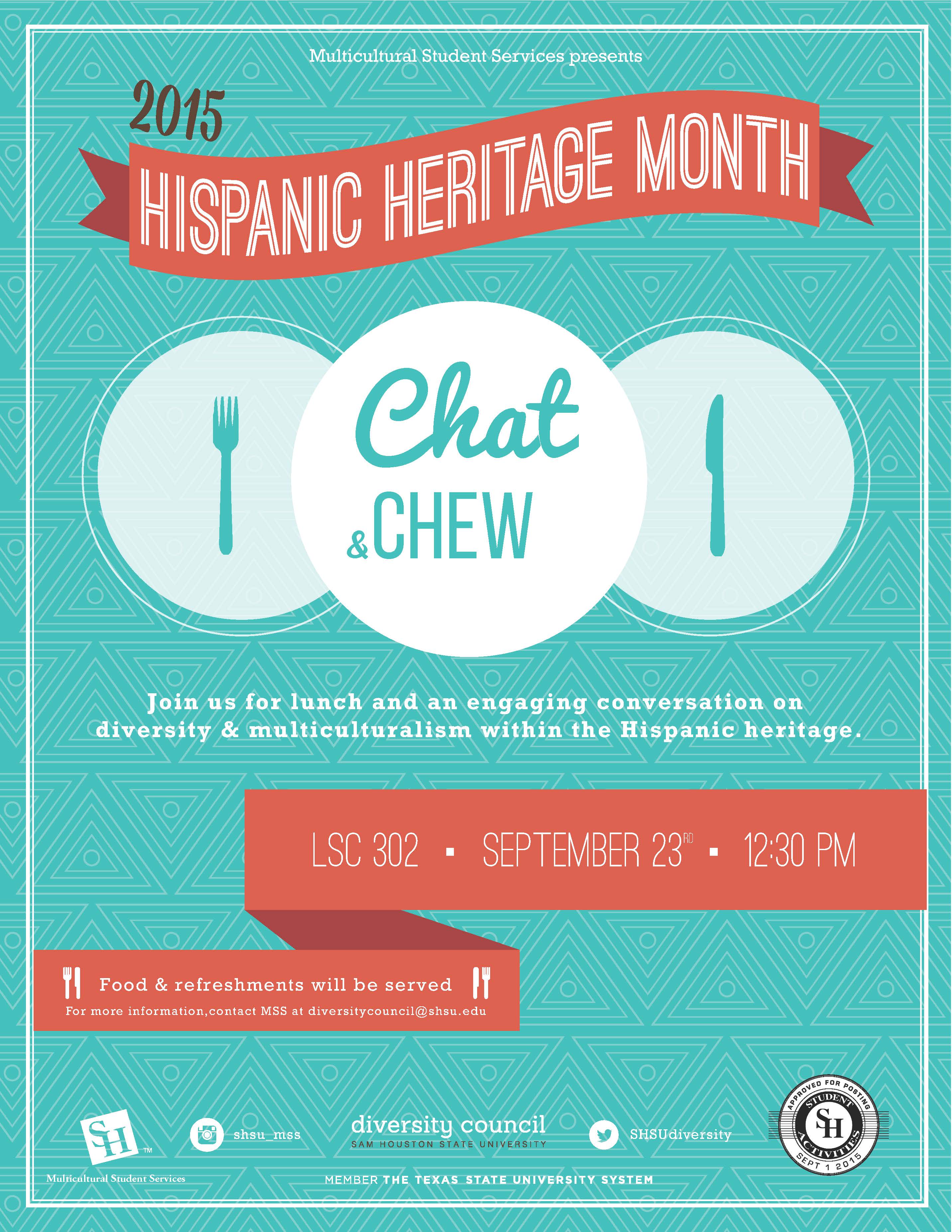 Sam Houston State University's Multicultural Student Services office will host "Chat & Chew" as part of Hispanic Heritage Month on Wednesday (Sept. 23) at 12:30 p.m. in Lowman Student Center Room 302.
"Chat & Chew" was created to encourage a safe and open space where dialogue and discussion regarding topics on diversity and multiculturalism are respected and appreciated, according to Jordan Chang, Multicultural Student Services coordinator.
This year, "Chat & Chew" discussions will occur monthly, in correlation with the National History and Heritage months that are celebrated in the United States–Hispanic Heritage Month, LGBT History Month, Native American Heritage Month, Black History Month, Women's History Month, and Asian Pacific American Month.
"With September being Hispanic Heritage Month, this 'Chat & Chew' event will discuss topics and issues within Hispanic heritage or culture," said Chang. "Students should come out to these discussions to gain a better understanding and appreciation for the various forms of culture and diversity that surrounds us, especially here at SHSU."
Food and refreshments will be served.
This event is free and open to the public.
For more information, contact Chang at 936.294.2603.
'Goodbye, Mexico' Receives International Latino Book Award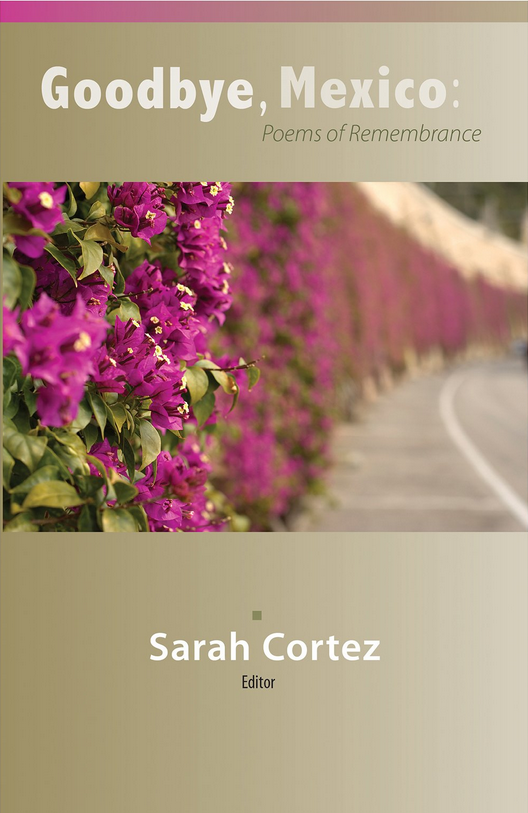 Houston-native, author and editor Sarah Cortez was recently awarded second place in the category of "Best Poetry Book–Multi-Author" in the 2015 International Latino Book Awards for her latest anthology, "Goodbye, Mexico."
"Goodbye, Mexico," published by Texas Review Press at Sam Houston State University, features a collection of pieces from poets across the U.S. who reflect on their experiences in Mexico before and during the devastating narco-violence.
"I think the success of the book is due largely to the topic," said Cortez. "It's something that had never been done before, and it covers emotions and experiences that many people can relate to."
The International Latino Book Awards are sponsored by Latino Literacy Now, an organization focused on promoting literacy in poverty-stricken communities.
"The awards are transcontinental, meaning they accept submissions from Europe, Central and South America, Mexico, and the United States," said Cortez. "Being awarded second place is such a huge honor because I know there are some amazing authors and books that were submitted."
"Goodbye, Mexico" is Cortez's 10th book and the third that has been published by Texas Review Press.
"Placing in this award demonstrates Texas Review Press's ongoing commitment to publishing high-quality authors from diverse backgrounds," said Cortez. "As a Latina author and editor, I am eternally grateful to Texas Review Press for all of its support."
Today@Sam Seeks Experts, Story Ideas
Are you an expert in a topic might be of interest to reporters? Or even a unique topic? Would you like to have your research interests highlighted or discuss your expertise with reporters seeking interviewees?
The university Communications Office is collecting information and story ideas for its ongoing projects, including the online SHSU Experts Guide, the SHSU home page and Today@Sam.
The SHSU Experts Guide was established as a resource for the media, who turn to university experts lists for potential interviewees for news stories. Faculty who are interested in being a part of the university's database of experts can submit their biographical and personal information, as well as their areas of expertise, through the Experts Guide Submission Form available online at shsu.edu/dept/marketing/experts/submit-info.html.
Other story ideas, both news and features on faculty or student research and accomplishments can be sent to today@sam.edu or jenniferg@shsu.edu. For news stories, please include the date, location and time of the event, as well as a brief description and a contact person.
All information, including news story ideas and update items for Today@Sam, should be sent a minimum of a week in advance of the event in order to make necessary contacts and write a story. Feature story ideas for the SHSU home page ("sliders") should be sent a minimum of two months in advance.
To see a full list of the Today@Sam submission guidelines, or to access submission forms for news and feature stories or hometown releases, visit shsu.edu/~pin_www/guidelines.html.
For more information, call 936.294.1836.
- END -
This page maintained by SHSU's Communications Office:
Associate Director, Communications: Emily Binetti
Telephone:936.294.4406
Communications Manager: Mikah Boyd
Telephone: 936.294.1837
Communications Writer: Campbell Atkins
Telephone: 936.294.2638
Thomason Building: Suite 102
Please send comments, corrections, news tips to Today@Sam.edu