SHSU Update For Week Of Sept. 13
Sept. 11, 2015
SHSU Media Contact: Tammy Parrett
Alumna To Get 'Real' For Lecture Series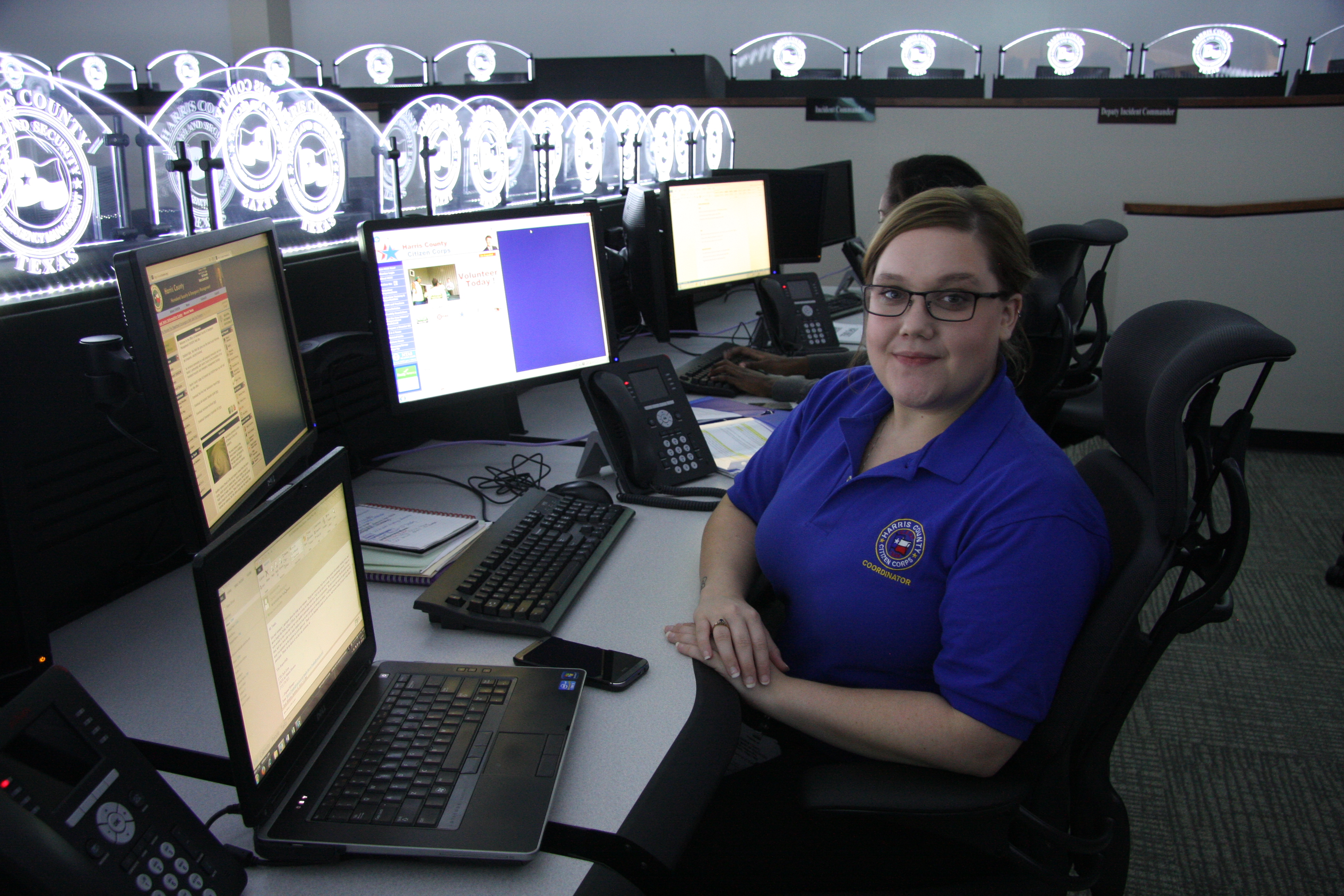 As a Homeland Security Planner for Harris County, Stevee Franks is always ready for a disaster–it's literally her job.
Franks, who received her master's degree in security studies in 2014, is responsible for developing, organizing, documenting and maintaining emergency response plans for the Harris County Office of Homeland Security and Emergency Management. She will return to SHSU Tuesday (Sept. 15) as part of the College of Criminal Justice's Real Talk w/CJ series, at 2 p.m. in the Criminal Justice Center's Hazel B. Kerper Courtroom.
"Harris County is such a large and diverse community of individuals, businesses and critical infrastructure, so it is important to plan for any and all hazards that may affect our community," said Franks.
Franks began her career in Harris County following an internship with the office, where she served in the planning section. The planning section is responsible for creating plans for all types of disasters, focusing on how to mitigate, prepare for, respond to, and recover from each situation.
During her internship and subsequent tenure, Franks has come to understand and value the benefits of teamwork, as well as how to utilize every emergency situation as a learning experience and a way to grow both personally and as an employee.
"You have to make yourself available," said Franks. "You have to be there to do something that needs to be done. It shows that you are a team player, you take initiative, and you care about what is going on."
By volunteering during emergencies–and getting hands-on experience in her graduate program–Franks landed a job as a Citizen Emergency Response Team Coordinator in the office following her graduation. Shortly after, she was promoted to her current position. The office coordinates with partners in order to aid in the response to a wide variety of emergencies, including fires, hazmat situations, special events, health epidemics, transportation issues, and bad weather.
For more information, contact Beth Kuhles, publications officer for the College of Criminal Justice, at 936.294.4425.
Workshop To Share 'Car Insurance 101' With Students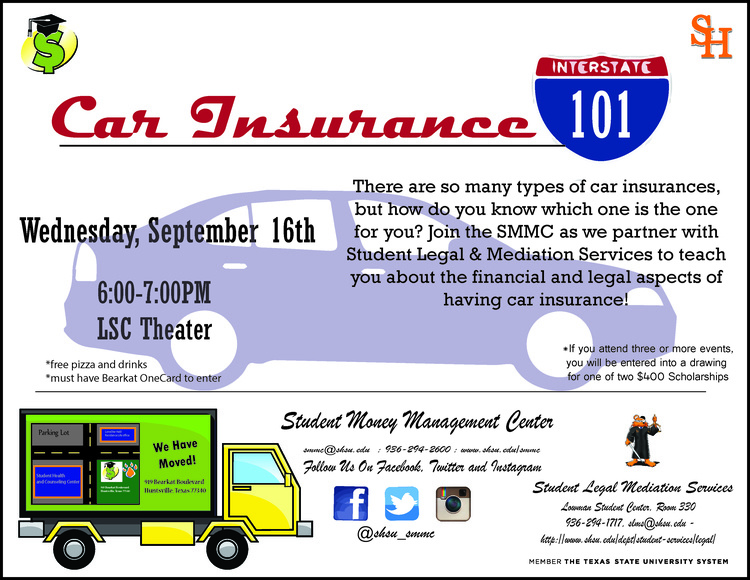 Buying your first car on your own can be a stressful process. Once that part is over, many people believe that the joy ride is just beginning, and they're ready to enjoy the car they worked so hard to buy.
However, before you're able to hit the open road, the car has to be insured. What type of insurance is best for you? Will you need full coverage? Why can't you just stay on your parents' insurance?
SHSU's Student Money Management Center will team up with Student Legal and Mediation Services to present "Car Insurance 101" on Wednesday (Sept. 16) from 6-7 p.m. in the Lowman Student Center Theater.
The presentation will break down the financial and legal aspects of having car insurance, providing students with an opportunity to make educated decisions on what companies and features they need in a policy.
Students who attend three or more SMMC events will be entered into a drawing for one of two $400 scholarships.
Pizza and refreshments will be provided on a first-come, first-served basis before the event. Food and drinks are not allowed in the theater.
Admission to the event is free with an active Bearkat OneCard.
For more information, contact SMMC at 936.294.2600.
SHSU To Host Student Showcase Of Film, Animation Work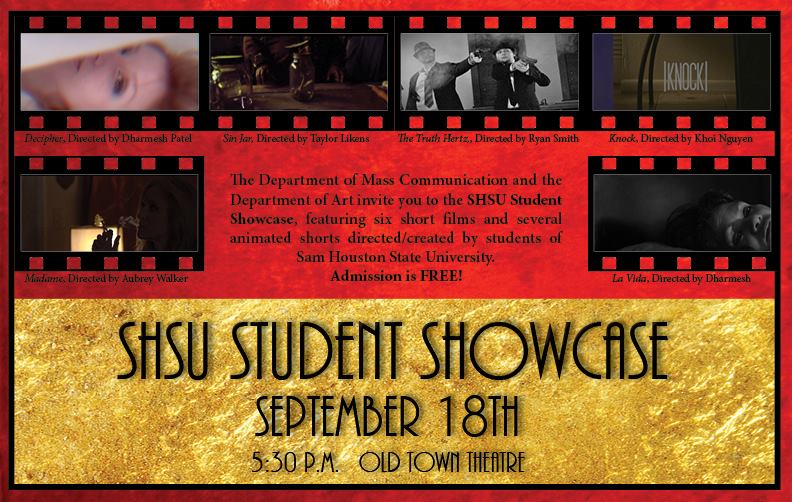 Sam Houston State University's Departments of Mass Communication and Art invite the public to the "Fall SHSU Student Showcase," featuring short films made by five student directors along with several computer animated shorts created by art students on Friday (Sept. 18) at 5:30 p.m. at Old Town Theatre.
"This event will allow our students to bring their stories to the community," said Tom Garrett, associate professor of film. "Film, in essence, is digital storytelling, and it's what we love to do."
The Department of Mass Communication's film program started in 2012 and has grown substantially in the past three years. Participating students have had their films accepted to film festivals around the world, including Festival de Cannes, where several students received internships with Lionsgate and other prestigious companies.
The Department of Art's computer animation program has gained notoriety with student and faculty recognition in animation and film festivals. Recently, the Animation Career Review ranked the program as sixth in the Southwest.
The Student Showcase is one of the first events this fall to be presented at Old Town Theatre as a part of the venue's new partnership with SHSU College of Fine Arts and Mass Communication. The collaboration hopes to bring various cultural and artistic events to the community of Huntsville and surrounding areas.
Old Town Theatre is located at 1023 12th St. in downtown Huntsville.
Admission to the event is free.
For more information, contact Garrett at 936.294.1344.
GCJD To Offer Free Training To Journalists
Sam Houston State University's Global Center of Journalism and Democracy will offer a workshop designed to help local journalists and students understand how to better cover the law enforcement beat on Sept. 30 from 9 a.m. to 12:30 p.m. in Room 202 of the Bill Blackwood LEMIT Building.
The workshop will feature presentations by a special agent from the press office of the FBI and a local assistant police chief, who will help those in attendance understand the challenges of getting information during investigations and how to determine what is accurate and what isn't during breaking news.
"GCJD has been training journalists around the world, so why not work with journalists right in our own backyard?" said Kelli Arena, Dan Rather Endowed Chair and executive director of the GCJD. "We can bring the experience we've gained overseas back home to help those who serve our community."
News organizations such as the Huntsville Item, The Conroe Courier, Polk County Enterprise, and the Houston County Courier will send reporters and editors to participate in the training alongside SHSU journalism students.
"It is always a benefit for students to hear from professionals," Arena said. "Not only will they meet journalists who are currently working in the field, but they will also hear about the challenges those journalists face each day doing their jobs.
"As social media venues become more powerful, students can have just as much influence as professional journalists. So we should do all we can to expose them to different perspectives and discussions."
The event is free; however, participants must sign up in advance.
For more information, contact GCJD at 936.294.4399.
Department To Present Classic Film At Old Town Theatre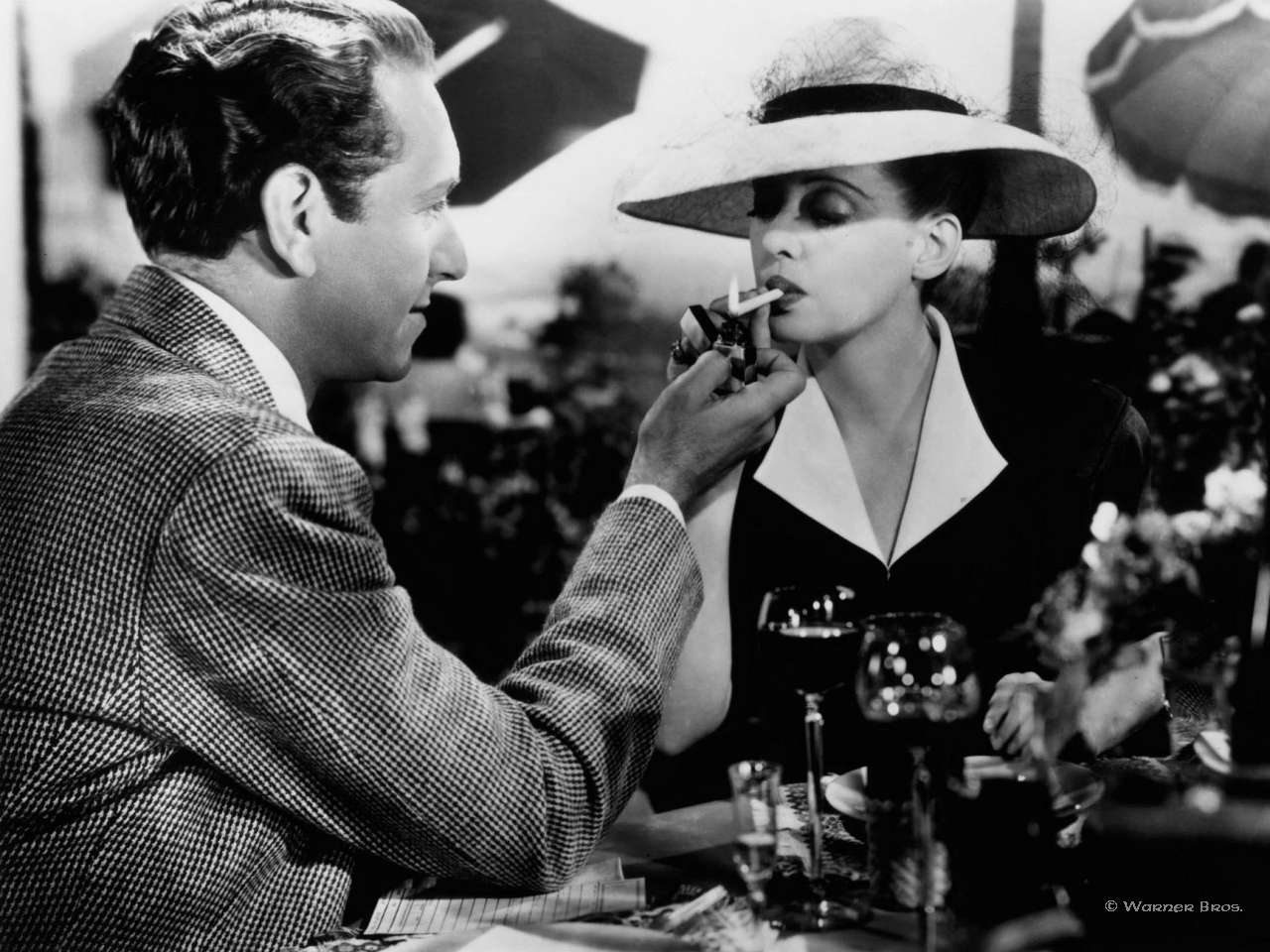 SHSU's Department of Mass Communication will welcome all aboard for the free screening of "Now, Voyager" on Tuesday (Sept. 15) at 6 p.m.
"Now, Voyager," a 1942 classic starring Bette Davis, tells of the transformation undergone by a Boston heiress–who lacks self-esteem due, in part, to her overbearing mother–after a trip to a local sanatorium. With newfound confidence and independence, the heiress boards a cruise to Rio de Janeiro, from which she will emerge with new relationships and an altered outlook on life.
Following the screening, Grant Wiedenfeld, assistant professor of mass communication, who chose "Now, Voyager" for the screening, will lead a discussion with the audience regarding the gender roles and self-transformation exhibited in the film.
"Now, Voyager" is known by many as Hollywood's "greatest makeover movie," leading scholars to question various aspects of a makeover, both physically and psychologically, according to Wiedenfeld.
"'Now, Voyager' is less well known than 'Casablanca' and 'Citizen Kane,' but scholars have recognized its greatness, especially as a film centered on a woman protagonist," Wiedenfeld said.
The screening is the first of a series of events that will take place as part of the new partnership between the College of Fine Arts and Mass Communication and Old Town Theatre.
Three other FAMC events set for this semester, include a Film and Animation Student Showcase, a "Nosferatu" silent film concert and screening of "A Better Tomorrow."
All events are free and open to the community.
Old Town Theatre is located at 1023 12th St. in downtown Huntsville.
For more information, contact the mass communication department at 936.294.1341.
Career Services Party To 'Kick Off' Semester
Career Services will "kick off" the semester in preparation for the annual Career Expo with a Career Expo Kick Off Party on Tuesday (Sept. 15) from 11 a.m. to 1 p.m. in the Lowman Student Center Mall Area.
The party will give students the opportunity to find out what Career Services is doing, grab a T-shirt and some popcorn and learn more about the professional job fair/graduate fair that will be held Sept. 23 from 10 a.m. to 2 p.m. in the Johnson Coliseum.
They will also get the chance to meet and network with representatives from Global Shop Solutions, Enterprise Holdings, Fastenal, Reynolds & Reynolds, Buckeye, GEICO, PLS Logistic Services, Walgreens, Sun Coast Resources, Saville, Dodgen & Company, and United Rentals in a casual setting.
"We hope this event will help students understand the full range of what Career Services can offer them," said Vinessa Mundorff, assistant director of Career Services. "We're not just here to help you find a job on campus; we're also here to help students understand what soft skills they have, leadership abilities they need to utilize and how social media can make or break their chances of landing a job.
"We host so many events throughout the year, and we hope students will come out to the party and see the different services we offer and how they can benefit from them," she said. "Not only that, but it'll be a great opportunity for students to network with potential employers and preview what we have in store for the upcoming job fair."
The event is free and open to all students.
For more information, contact Career Services at 936.294.1713.
Summit To Encourage Students To Create 'A New Norm'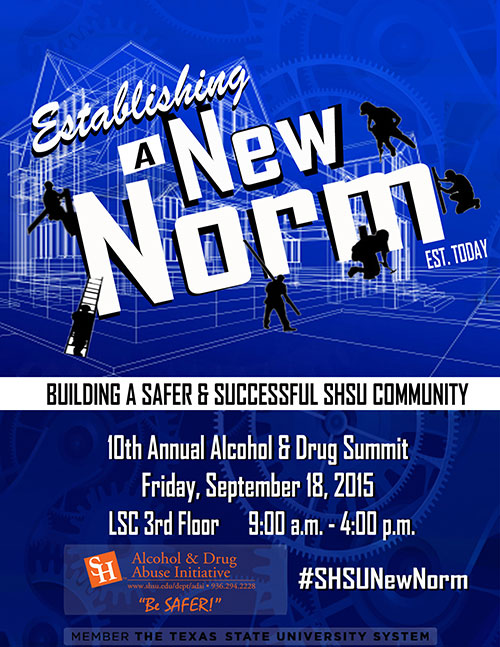 In a time when colleges are ranked as "top party schools" and have a "party culture" that encourages binge drinking and drug abuse, Sam Houston State University is hoping to create "A New Norm" with its 10th annual Alcohol and Drug Abuse Initiative summit.
The annual summit, held Friday (Sept. 18) in the Lowman Student Center from 9 a.m. to 4 p.m., will feature workshops presented by professionals, experts and a keynote speaker.
The free event will focus on issues related to drinking and driving, raising consciousness about the effects of alcohol and how students can live up to the ADAI slogan "be safer."
This year's keynote speaker will be Jake Byczkowski, who has had first-hand experience with the harmful effects of alcohol
Byczkowski's session will focus more on risk reduction, why we do things that may harm us and ultimately encourage people to make safer and more responsible decisions, as opposed to telling people not to drink, according to Gisemba.
His keynote session will also include a free lunch from noon to 1 p.m. in the LSC Ballroom.
All summit sessions will be on a come-and-go basis, so students can attend a presentation around their class schedules.
The sessions are also open to the public.
Attendees will be eligible for a number of giveaways, T-shirts and other door prizes.
The summit schedule is available here.
For more information on the summit or ADAI, contact Gisemba at 936.294.2228 or visit shsu.edu/dept/adai.
Walker County Alumni, Friends Club To Host Monthly Social
The Walker County Area Alumni and Friends Club will host their monthly social on Monday (Sept. 14) at 5:30 p.m. at the Sandel Ranch in Huntsville.
Clubs provide opportunities for alumni and friends to receive and benefit from university programs in their area, strengthening relationships between Walker County alumni and friends and the university. In turn, the club offers the university with a unique opportunity to establish grassroots relationships with alumni and friends.
"The monthly socials are a great way to get involved with the university and interact with alumni in your area," said Kelsey Christian, assistant director for alumni clubs and regional programming. "Not only does it provide you with excellent networking opportunities, it connects you with other alumni who love and care about Sam Houston as much as you do."
Each year, Joe and Winnie Sandel, who both graduated from SHSU in 1956, host one of the Walker County Alumni Club's monthly socials at their ranch to create an opportunity for fellowship and comradery between local SHSU alumni. Club members also work with the alumni association to assist the university with annual events like the Christmas tree lighting in December.
The cost is $10 per person and includes a fajita dinner, beer and wine.
Sandel Ranch is located at 419 Davis Rd.
For more information, visit shsu.edu/dept/office-of-alumni-relations/huntsville.html or email walkercountyaaf@gmail.com.
Candidate To Meet With Students, Discuss Issues
Sam Houston State University student organizations SHSU College Republicans and SHSU Turning Point USA will host Ernest Bailes, candidate for House District 18, Wednesday (Sept. 16) from 5:30-6:15 p.m. in the College of Health and Social Sciences Building Room 120.
Bailes will meet with students and discuss his plans to better district 18, which includes San Jacinto, Liberty and Walker counties. In addition to his presentation, he will host a question-and-answer session immediately following, during which students will have the opportunity to ask questions about issues that affect SHSU.
"This would be a great opportunity for students to get involved with the legislative process and tackle issues that affect college campuses, including the upcoming Campus Carry legislation, state funding, tuition costs and more," said Scott Marks, junior business major and field director for Bailes' campaign.
For more information, contact Joanna Rodriguez at jbr021@shsu.edu.
Today@Sam Seeks Experts, Story Ideas
Are you an expert in a topic might be of interest to reporters? Or even a unique topic? Would you like to have your research interests highlighted or discuss your expertise with reporters seeking interviewees?
The university Communications Office is collecting information and story ideas for its ongoing projects, including the online SHSU Experts Guide, the SHSU home page and Today@Sam.
The SHSU Experts Guide was established as a resource for the media, who turn to university experts lists for potential interviewees for news stories. Faculty who are interested in being a part of the university's database of experts can submit their biographical and personal information, as well as their areas of expertise, through the Experts Guide Submission Form available online at shsu.edu/dept/marketing/experts/submit-info.html.
Other story ideas, both news and features on faculty or student research and accomplishments can be sent to today@sam.edu or jenniferg@shsu.edu. For news stories, please include the date, location and time of the event, as well as a brief description and a contact person.
All information, including news story ideas and update items for Today@Sam, should be sent a minimum of a week in advance of the event in order to make necessary contacts and write a story. Feature story ideas for the SHSU home page ("sliders") should be sent a minimum of two months in advance.
To see a full list of the Today@Sam submission guidelines, or to access submission forms for news and feature stories or hometown releases, visit shsu.edu/~pin_www/guidelines.html.
For more information, call 936.294.1836.
- END -
This page maintained by SHSU's Communications Office:
Director of Content Communications: Emily Binetti
Communications Manager: Mikah Boyd
Telephone: 936.294.1837
Communications Specialist: Campbell Atkins
Telephone: 936.294.2638
Please send comments, corrections, news tips to Today@Sam.edu