Fourth Event To Recall Lives Of Lost Bearkats
March 24, 2015
SHSU Media Contact: Aubrie Walker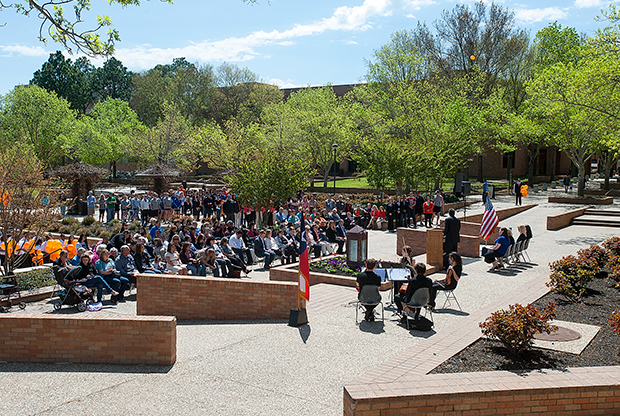 A small crowd gathered near the Blatchley Bell Tower during last year's Raven's Call, honoring the Bearkat lives lost over the last year. This year's event will be April 17, at noon. —Photo by Brian Blalock
Sam Houston State University has said goodbye to several faculty staff recently, including Thomas Kordinak, professor of psychology; James Carter, professor of political science; Terry Billhartz, professor of history; and Tracy Steele, associate professor of history.
The Orange Keys will lead in the official remembrance of these, as well as other "fallen" Bearkats, during its fourth annual Raven's Call on April 17, at noon in front of the Ron and Ruth Blatchley Bell Tower.
Raven's Call is an annual memorial service that celebrates the lives of students, faculty, staff and retired faculty and staff who have passed away within the previous year.
"Raven's call is a time for the whole student body, faculty, and community to get together and remember the fallen Bearkats," said Catherine Till, Raven's Call chair. "It is a way for us to pay honor and tribute to these students and faculty that have dedicated so much time to the university itself and to celebrate the impact they had on our lives."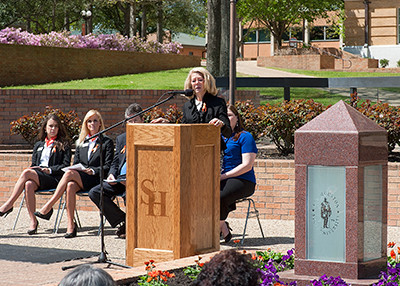 SHSU President Dana Hoyt addresses Raven's Call attendees during last year's ceremony. —Photo by Brian Blalock
Students and faculty can view portraits of each honoree, along with written biographies, one week prior to the event in the Lowman Student Center Art Gallery.
During the ceremony, SHSU President Dana Hoyt, Orange Keys president Tyler Patek, and Till will speak, followed by Dean of Students John Yarabeck, who will read the names of the honorees.
While the names are read roses will be placed on the Raven's Call statue to represent each honoree. Soloist will perform Amazing Grace and the alma mater.
"Raven's Call is very important because these students and faculty interact with each other all year long sometimes for four years or more, and we get to know and love the faculty, staff, and students and they get to know and love each other. So when one of them passes away, it impacts the entire university community," said Chelsea Smith, assistant dean of students for parent relations and special programs and Orange Keys adviser.
"We are grateful that the Sam Houston State community has embraced Raven's Call as one of its new traditions. We want professors to encourage their students to attend and even go with their classes at that time. It's only 30 minutes long and it's truly something special," said Smith.
The event's official hosts are the Orange Keys, a group of elite students who serve as SHSU's official student ambassadors, representing the Office of the President.
For more information about Raven's Call, contact the Dean of Students' Office at doso@shsu.edu.
- END -
This page maintained by SHSU's Communications Office:
Director of Content Communications: Emily Binetti
Communications Manager: Mikah Boyd
Telephone: 936.294.1837
Communications Specialist: Campbell Atkins
Telephone: 936.294.2638
Please send comments, corrections, news tips to Today@Sam.edu