Oliver Goes Three For Three With Book Publications
March 25, 2015
SHSU Media Contact: Jennifer Gauntt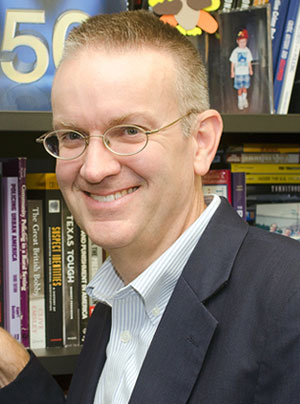 Willard Oliver
Willard M. Oliver, professor of criminal justice at Sam Houston State University, recently published his third co-authored/co-edit book in the past three months.
The first book, published in January and co-authored with Wolters Kluwer, is titled "Federal Law Enforcement Agencies in America." It is the first book to look at the detailed history, role, and responsibilities of all of the federal law enforcement agencies in the United States.
"I co-authored this book primarily because so many criminal justice students are interested in 'going federal,' so I thought a book that provides a detailed history and mission of each agency would be of some benefit to them," said Oliver.
The second book is a co-edited encyclopedia titled "Drugs in American Society: An Encyclopedia of History, Politics, Culture, and the Law," published with ABC-CLIO in February.
The book focuses on the political aspects of drug policy in America and is a three-volume, A-Z encyclopedia that includes supporting documents and a detailed time-line.
"While drugs as an area of research is not my specialty," Oliver said, "federal crime control policy is, and drugs became a central focus of the federal government beginning in the 1960s. The encyclopedia attempts to present entries for all of the policy related activities in American Society."
The third book, published in March with Carolina Academic Press, is titled "Homeland Security: Policy and Politics."
The co-authored volume explores the many controversies surrounding the post-9-11 implementation of homeland security in America.
"Homeland security has become one of the central focus of today's public policy," Oliver said. "My entries into this volume focus on the issues surrounding homeland security and fusion centers, intelligence led policing, and immigration policy, and how the politics and policies of each one of these impacts America."
Oliver noted that while publishing three books in three months does appear rather unique, having good co-authors to share the responsibility of writing the book contributes greatly to the success.
"It allows each of us to focus on are specific areas of expertise, but provides a book that has greater depth than anyone of us could have written," he said.
All three publications are available through Amazon.com and Barnes & Nobles online.
- END -
This page maintained by SHSU's Communications Office:
Director of Content Communications: Emily Binetti
Communications Manager: Mikah Boyd
Telephone: 936.294.1837
Communications Specialist: Campbell Atkins
Telephone: 936.294.2638
Please send comments, corrections, news tips to Today@Sam.edu