SHSU Update For Week Of Oct. 5
Oct. 2, 2015
SHSU Media Contact: Tammy Parrett
Job Fair To Connect Future Teachers With Schools, Districts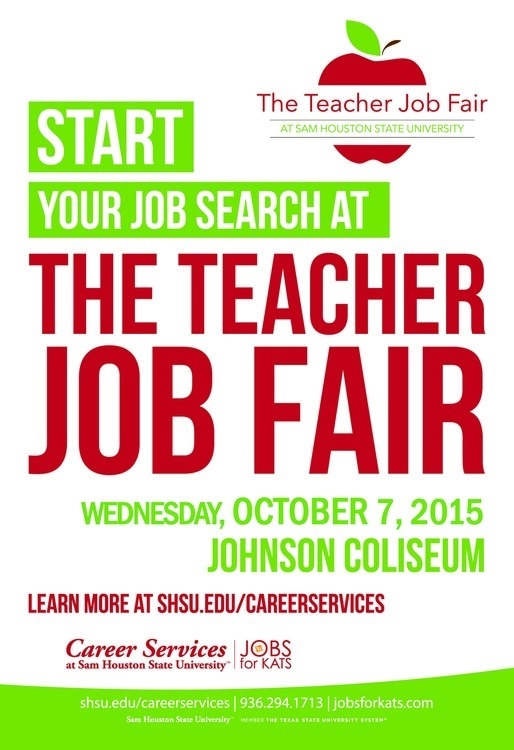 Students looking to go from the classrooms of Sam Houston State University to the classrooms of one of the thousands of schools across the state will have an opportunity to talk with some of those schools on Wednesday (Oct. 7).
The Fall Teacher Job Fair will bring representatives from approximately 70 schools and school districts to the Bernard G. Johnson Coliseum from 9 a.m. to noon to discuss full-time teaching positions with SHSU students and alumni.
"The Fall Teacher Job Fair provides aspiring teachers and administrators a wonderful opportunity to network with recruiters from area and statewide school districts," said Mitch Parker, Career Services marketing and events coordinator.
Recruiters from districts from Texas's metropolitan areas, as well as smaller school districts and a few private schools, will be available, including Bryan, College Station, Conroe, Galena Park, Houston, Killeen, Mesquite, New Waverly, Pasadena, and San Antonio, among many others.
In addition to school districts from across the state, several districts from Arizona, Arkansas and Nevada will be in attendance as well.
"SHSU has an excellent education program and is known for producing excellent teachers," said Parker. "I think that having out-of-state school districts actively recruiting our Bearkats is a testament to the quality of our students and the reputation of our program."
Agencies such as the GETCAP Head Start, Sylvan of The Woodlands and Education Service Center Regions 4 and 6 will be available to discuss other employment possibilities, and the Texas Teachers Alternative Certification program will be at the fair to talk with non-education majors about potentially becoming a teacher.
Students are encouraged to bring copies of resumes and dress professionally.
For more information, contact Career Services at 936.294.1713 or careerservices@shsu.edu, or to see a complete list of participating school districts, visit the Jobs For Kats website.
Presentation To Discuss 'Paradigm Shift' At The Woodlands Center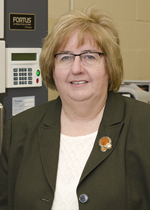 Pam Zelbst, associate professor of management and director of SHSU's Center for Innovation and Technology, will discuss the changing technology surrounding 3-D printing on Tuesday (Oct. 6) as part of the SHSU-The Woodlands Center Speaker Series.
The presentation will be from 6-7 p.m. in The TWC Auditorium, in Room 110.
Zelbst, who has been a faculty member at SHSU since 2005, specializes in research related to operations management, including the implications of using Radio Frequency Identification technology in business settings such as for inventory management, robotics, metrology, and, most recently, 3-D printing, which she and her team are using for a variety of service-oriented projects.
Zelbst earned her Bachelor of Business Administration and her Master of Business Administration degrees from SHSU and her doctorate from the University of Texas at Arlington.
"The Woodlands Center Speaker Series is among several programs that have been launched at The Woodlands Center to enrich the academic experience for students attending classes here," according to Janet Mullings, executive director of The Woodlands Center. "Having a speaker series at The Woodlands Center allows SHSU students some of the same opportunities for professional development that are afforded to students in Huntsville."
The presentation is open to the public.
SHSU-The Woodlands Center is located at 3380 College Park Drive in The Woodlands.
For more information, contact Jordan Story at 936.202.5000 or jordanstory@shsu.edu.
Students To Bring 'Horror' To The Stage In Theatre Production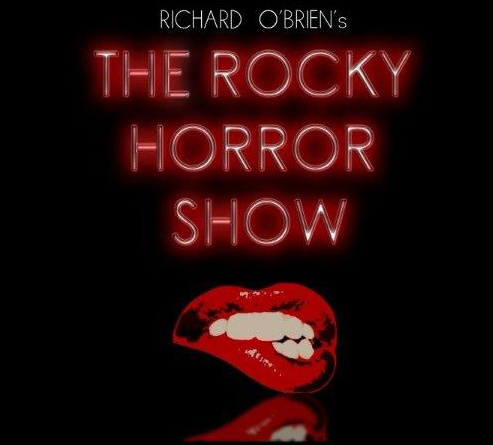 SHSU's Department of Theatre and Musical Theatre will set the stage for its season by bringing "The Rocky Horror Show" to life with a series of performances Wednesday through Saturday (Oct. 7-10) at 8 p.m. each day, and a special performance Friday at midnight, following the 8 p.m. performance, in the University Center Theatre's Erica Starr Theatre.
Richard O'Brien's "The Rocky Horror Show" focuses on a newly engaged couple who are stranded in the middle of a storm. After taking shelter in the home of the mad scientist Frank N. Furter, they find themselves surrounded by eclectic and bizarre characters unlike any they've ever seen.
"The Rocky Horror Show" will be guest directed by SHSU alumnus Greg Graham, who has acted in, directed and choreographed numerous Broadway productions, including "Fosse," "Chicago," "Hairspray," and "Billy Elliot." The show will star Blake Jackson, Joseph Redd, Lexie Jackson, Brandon Schultz, Kiley Pearson, Mason Butler, Taylor Beyer, James Johnson and Malik Cole. Other cast members include Maci Bass, Catherine Pope, Yasmyn Sumiyoshi, Brady Suggs, Jared Ball, Dominic Pecikonis, Anna Drake, Adrian Lopez, and Faith Fryer.
"This is the first year that the Department of Theatre and Musical Theatre has ever produced the show," said Katie Stefaniak, theatre manager. "It's such a unique experience, with the audience and cast interacting in ways you won't typically see in a theatre setting. It's nice to bring Greg back as a guest director, and the students really value his professional expertise."
Tickets are $15 for general admission and $10 for students and senior citizens and are available online at shsu.edu/academics/theatre/tickets.
For more information, call the University Theatre Center Box Office at 936.294.1339.
Classic Film To Be Presented With Live Music Performance
Sam Houston State University's College of Fine Arts and Mass Communication will host a free silent film concert featuring the original vampire classic "Nosferatu" with an original soundtrack performed live by The Invincible Czars on Thursday (Oct. 15) at 7:30 p.m. at the Old Town Theatre.
"Nosferatu," a German expressionist horror film based on Bram Stoker's "Dracula," was first released in 1922. Like most films of the early 20th century, "Nosferatu" was a silent, black-and-white movie filmed with the intention of a live music accompaniment.
The film casts light on Count Orlok, a vampire who lives in a castle in Transylvania and is looking to purchase a house in the fictitious town of Wisbourg, Germany. Estate associate Thomas Hutter is sent to Transylvania to sell Count Orlok the house across from his own. Upon arriving at his destination, Hutter begins to suspect that the count is actually a vampire who not only has eyes for a new house, but also for Hutter's wife—or rather, her neck.
Austin-based band, the Invincible Czars, are known for their sprawling catalog of original material and arrangements of classical works such as Tchaikovsky's "Nutcracker Suite" and "1812 Overture." The group's original songs and instrumental pieces are highly composed "mini-symphonies" chock full of memorable melodies, meticulous arrangements, dynamics, and humor.
Following the production, Grant Wiedenfeld, assistant professor of mass communication, will present a brief film history talk on the film.
Old Town Theatre is located at 1023 12th St. in downtown Huntsville.
Admission to the event is free and costumes are encouraged.
For more information, contact the mass communication department at 936.294.1341.
Exhibit To Show Artifacts, History of San Jacinto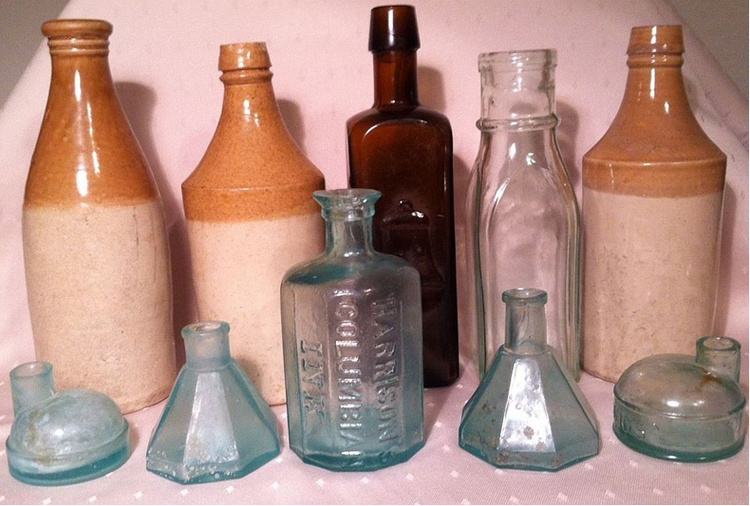 In honor of Texas Archeology Month being in October, the Sam Houston Memorial Museum will host an evening exhibit and presentation on Tuesday (Oct. 6) from 6-8 p.m. in the Katy and E. Don Walker Sr. Education Center.
The exhibit, entitled "San Jacinto Town Site: Artifacts from the Larry Golden Collection (1823-1915)," will consist of artifacts dating from the 1840s to 1900, that have been discovered, including clay pipes, jewelry, bottles, and buttons.
The San Jacinto Town Site was located at Lynch's Ferry, near the San Jacinto Battleground, and was part of an escape route used by Texians involved in the Runaway Scrape. It also was a Civil War armament site. The town was established in the 1820s and demolished in the 1900 hurricane.
Linda Gorski, president of the Houston Archeological Society, and Larry Golden, owner of the collection, will discuss the founding of the settlement and how important it was to the area. They also will examine the artifacts that make up Golden's collection during the presentation, beginning at 7 p.m. in the auditorium.
"Everyone knows the story of the San Jacinto battle, and most have visited the San Jacinto Monument on the battleground in LaPorte, but few are familiar with the town of San Jacinto that developed after the battle between the battlefield and Lynch's Ferry," said Sandra Rogers, museum collections registrar. "These wonderful artifacts, which were pulled from the shore of the Houston Ship Channel, offer a glimpse into the lives of those who lived in the town."
The event is free and open to the public.
For more information, contact the museum at 936.294.1832.
Faculty To Perform Piano, Strings Works
Sam Houston State University School of Music faculty members will perform works by celebrated composer Robert Schumann on Monday (Oct. 5) at 7:30 p.m. in the Gaertner Performing Arts Center Recital Hall.
The Kolonneh Chamber Players will perform two masterworks by Schumann, including Op. 47, a piano quartet in E-flat major, and Op. 44, his piano quintet in E-flat minor.
Both pieces include a combination of piano and string instruments, and are among the great works in the chamber repertoire, according to Javier Pinell, associate professor of violin.
The Kolonneh Chamber Players are comprised of Pinell and Naomi Gjevre, adjunct instructor of violin; Dawson White, adjunct instructor of viola; cello player Daniel Saenz, assistant professor of cello; and Josu De Solaun, assistant professor of piano.
The event is free and open to the public.
For more information, contact the school of music at 936.294.1360.
Sixth Annual Ruck March To 'Carry Load,' Raise Funds For Vets
Members of the Bearkat and Huntsville communities, as well as the surrounding areas, will have the opportunity to take supporting local servicemen and women a step further by participating in the 6th annual Ruck March on Saturday (Oct. 10).
This year's competitive five-mile march will begin at 8 a.m. at the Huntsville State Park's Shelter No. 1, six miles southwest of Huntsville off Interstate 45 on Park Road 40. Registration will begin at 6 a.m., followed by an opening ceremony.
A ruck march is an informal term for a loaded walk that is done over distance at a relatively fast pace. The "load" is typically a backpack or a rucksack loaded with equipment. The military uses these marches as a means of training troops for the rough conditions they will face in combat.
Participants can choose to compete individually or on a team by carrying no weight, 25 pounds, 45 pounds or, a 60 pound backpack.
Participants can sign up online by visiting bit.ly/1VsNov8 or the day of the event with onsite registration. While participants can register the day of, the Veterans Resource Center encourages advance registration.
For individuals, the cost ranges from $25, for non-pack wearers, to $40, for the ultra heavy weight class. Team registration starts at $80 and goes up to $140.
For more information about registration, contact the VRC at 936.294.1046 or veterans@shsu.edu, and to learn more about the Red Lion Project, visit redlionusmcproject.com.
Gala To Support 'Art + Community'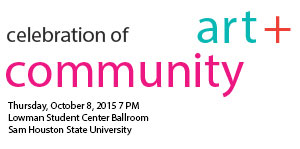 The SHSU Department of Art will host its second annual "Art + Community" gala on Thursday (Oct. 8) at 7 p.m. in the Lowman Student Center Ballroom.
This year's gala will honor Dan Phillips as "Outstanding Supporter of the Arts, Dan Pratt as "Outstanding Alumnus" and Kim Cook as "Outstanding Young Alumna."
Student recipients of the department's 2014-15 scholarships will be recognized, as well as the donors who made the awards possible, along with retired art faculty members Jimmy Barker, Stanley Lea, Gene Eastman, Charles Pebworth, and Emmette Jackson, who will be honored for their ongoing contributions to the art and culture of SHSU.
In addition, a "Special Recognition Award" will be presented to Laura Carter in honor of the late political science professor Jim Carter.
"Jim served on the Huntsville Arts Commission and was active in the local arts scene before his recent death," said Michael Henderson, associate professor of art at SHSU.
All proceeds will benefit the SHSU Student Satellite Gallery in downtown Huntsville, Art Against the Odds at the Hospitality House and Drawing in the Prisons, as well as supports art education in rural schools.
Sponsorship opportunities are also available.
Tickets are $40 and can be purchased online at shsu.edu/academic/art/gala or by calling 936.294.4311
Texas Poet Laureate To Visit SHSU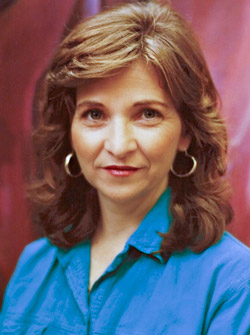 In honor of Hispanic Heritage Month, the SHSU Department of History is teaming up with the Department of English and the College of Humanities and Social Sciences to bring State of Texas poet laureate Carmen Tafolla to campus, to share a number of her poems and motivational messages.
Her first stop will be on Wednesday (Oct. 7) at 6 p.m. in The Woodlands Center Room 110.
Her presentation, entitled "Where Ink Does Not Show: The Voices, Lives and Legends of Latino Culture," will feature a combination of poems, dramatic performance characters, and motivational messages about being Latina in today's world, as well as a discussion on the benefit of a mestizo experience, which blends and celebrates the best of different cultural roots in encounter.
The following day, she will visit the SHSU main campus for a repeat presentation at 11 a.m. in Academic Building IV Room 220.
"The Latino experience is often overlooked in East Texas despite the fact that Spanish has been spoken here for almost 500 years," said George Díaz, assistant professor of history. "Part of Hispanic Heritage Month's purpose is to highlight how we have helped shape the cultural landscape of the United States. This celebration and Tafolla's presentation isn't just a celebration of Mexican American identity; it's an opportunity to highlight the richness that is the multi-ethnic American experience."
Tafolla, a San Antonio native and former San Antonio poet laureate, is an internationally acclaimed Chicana writer and associate professor of education at the University of Texas at San Antonio. She graduated with a bachelor's degree in Spanish and French from Austin College in 1972 and a master's degree in education in 1973. She published her first collection of poetry, "Get Your Tortillas Together," in 1976.
After Tafolla's presentation, a reception will be held, where guests can enjoy refreshments and a book signing by Tafolla.
The first 10 students to arrive will receive a free copy of her book "This River Here: Poems of San Antonio."
For more information, contact the history department at 936.294.1475.
SMMC Receives 'Literacy Counts' Grant
Sam Houston State University's Student Money Management Center recently received a grant to train three additional peer counselors as part of Higher One's Financial Literacy Counts grant program.
"We've had a substantial increase in clientele for our personal financial coaching services, as well as an increase in requests for presentations to organizations on campus," said Patsy Collins, director of the SMMC. "Students are very interested in learning how to stretch their dollars by being creative with their savings and spending."
The grant program is part of Higher One's "$tart with Change" financial literacy initiative, which aims to help students make smarter financial decisions and put them in control of a successful financial future.
"This grant will mean that we can increase our outreach and services to the students of Sam Houston," said Collins. "With more certified peer counselors, we can coach more clients and work with them to learn how to build their cornerstone of wealth, decrease their expenses and help them determine if they will be eligible for student loan forgiveness and different methods for paying off their student loan debt."
The Student Money Management Center is located in the Student Services Annex, at 919 Bearkat Blvd.
For more information on the SMMC, visit shsu.edu/dept/smmc or call 936.294.2600.
Today@Sam Seeks Experts, Story Ideas
Are you an expert in a topic might be of interest to reporters? Or even a unique topic? Would you like to have your research interests highlighted or discuss your expertise with reporters seeking interviewees?
The university Communications Office is collecting information and story ideas for its ongoing projects, including the online SHSU Experts Guide, the SHSU home page and Today@Sam.
The SHSU Experts Guide was established as a resource for the media, who turn to university experts lists for potential interviewees for news stories. Faculty who are interested in being a part of the university's database of experts can submit their biographical and personal information, as well as their areas of expertise, through the Experts Guide Submission Form available online at shsu.edu/dept/marketing/experts/submit-info.html.
Other story ideas, both news and features on faculty or student research and accomplishments can be sent to today@sam.edu or jenniferg@shsu.edu. For news stories, please include the date, location and time of the event, as well as a brief description and a contact person.
All information, including news story ideas and update items for Today@Sam, should be sent a minimum of a week in advance of the event in order to make necessary contacts and write a story. Feature story ideas for the SHSU home page ("sliders") should be sent a minimum of two months in advance.
To see a full list of the Today@Sam submission guidelines, or to access submission forms for news and feature stories or hometown releases, visit shsu.edu/~pin_www/guidelines.html.
For more information, call 936.294.1836.
- END -
This page maintained by SHSU's Communications Office:
Associate Director, Communications: Emily Binetti
Telephone:936.294.4406
Communications Manager: Mikah Boyd
Telephone: 936.294.1837
Communications Writer: Campbell Atkins
Telephone: 936.294.2638
Thomason Building: Suite 102
Please send comments, corrections, news tips to Today@Sam.edu