SHSU Update For Week Of Oct. 12
Oct. 9, 2015
SHSU Media Contact: Tammy Parrett
Faculty To Perform Three-Part Concert Series
Josu De Solaun, professor of piano in Sam Houston State University's School of Music, will present a three-part recital series featuring the complete piano works of George Enescu. The first performance will take place Wednesday (Oct. 14) at 7:30 p.m. in the James and Nancy Gaertner Performing Arts Center Recital Hall.
"Enescu is regarded as one of the greatest composers of the 20th century and Romania's most important musician. I've been a long-time fan," said De Solaun. "The concerts, featuring his complete piano works, are in preparation for my upcoming recording for Naxos Records, one of the largest distributors of classical music in the world."
De Solaun has performed as a soloist with many international orchestras such as the Mariinsky Theatre Orchestra of Saint Petersburg, Venice's Orchestra Filarmonica della Fenice, Czech Radio Orchestra of Prague, Mexico City Philharmonic Orchestra, Bucharest Philharmonic, New York's American Ballet Theater Orchestra, and Spain's National TV and Radio Orchestra. He has also performed at the prestigious George Enescu Competition in Bucharest, Romania, where he received the first place prize.
As a graduate of the Manhattan School of Music in New York, De Solaun studied for 12 years under pianists Nina Svetlanova and Horacio Gutierrez, as well as chamber musician Isidore Cohen. As a collaborative artist, he has worked alongside Mark Nuccio, associate principal clarinetist of the New York Philarmonic; Amaury Coeytaux, concert master of the Orchestre Philarmonique de Radio France; pianists Andre-Michel Schub and Lydia Artimiw; and Metropolitan Opera soprano Catherine Malfitano; among many others.
The three-part recital series will continue with performances on Oct. 30 and Jan. 14.
All events are free and open to the public.
For more information, contact the School of Music at 936.294.1360.
Lecture To Give 'Voice' To Domestic Violence Awareness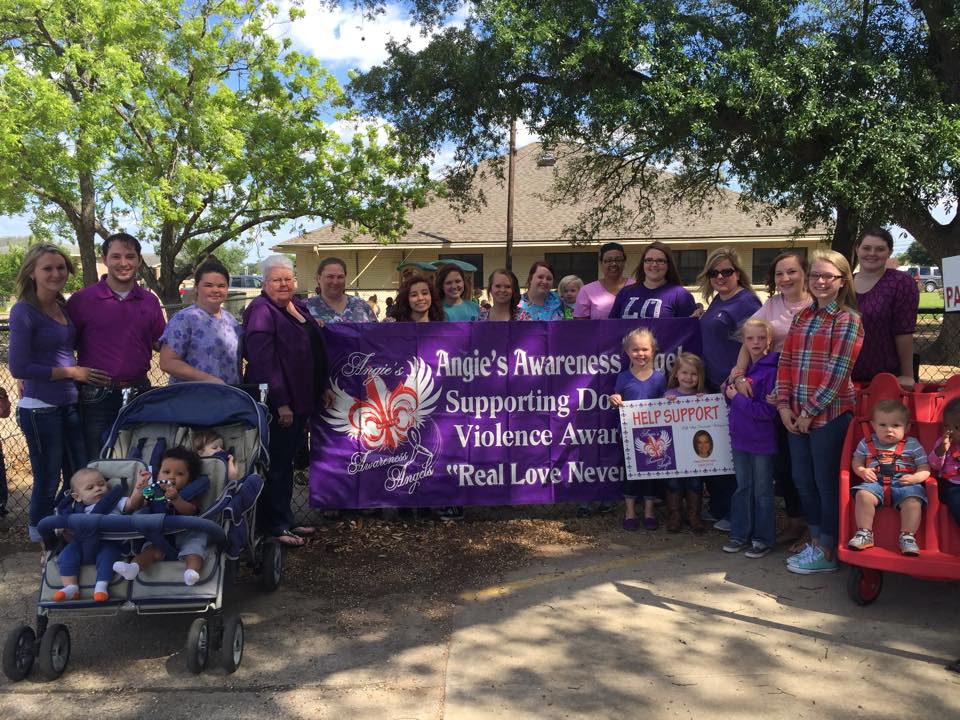 Justin Lopez, junior kinesiology major at Sam Houston State University, founded Angie's Awareness Angels to raise awareness about domestic violence and funds for women's shelters after his mother, Angela Renee Fontenot Lopez, was murdered by her ex-boyfriend in front of his then 12-year-old sister.
Lopez will share his family's story and discuss what Angie's Awareness Angels is doing to help combat domestic violence Thursday (Oct. 15) at 2 p.m. as part of the College of Criminal Justice's Voices Lecture Series in the Criminal Justice Center's Hazel B. Kerper Courtroom.
"Our main goal is to let people know that there are options out there that are available to them, such as counseling, career advocacy and shelters," said Lopez. "I would love to continue to speak out about domestic violence in memory of my mom."
During Domestic Violence Awareness Month in October, Lopez is frequently called upon as a speaker to educate law enforcement officers and high school students about intimate partner violence. In addition to sharing his mother's story, he discusses teen dating with students and advocacy for victims with officers.
To enhance education about this violent crime, the Lopez case recently was featured in a new textbook, "Victimology," by Leah E. Daigle and Lisa Muftic, associate professor of criminal justice at SHSU. The book aims to educate students around the country about victim issues, including intimate partner violence.
Lopez said his mom will serve as a beacon for future generations to help fight this often hidden crime.
"We were so honored and excited to be a part of the book so Mom's story could be heard," Lopez said. "Mom will continue to be a lasting educator from heaven."
Admission to the lecture is free.
For more information, contact Beth Kuhles, publications coordinator for the College of Criminal Justice, at 936.294.4425.
Showcase To Highlight Original Songs
The SHSU music therapy program, along with guest artist Monique Van Bruggen-Rufi, will host the program's first Songwriters Showcase on Monday (Oct. 12) at 7:30 p.m. in the Gaertner Performing Arts Center Recital Hall.
The showcase will feature original songs written by students, therapists and patients who use songwriting as a form of treatment and as a tool in self-care.
"We will present original songs in a songwriters-in-the-round format," said Karen Miller, professor of music therapy. "The setting will be very casual and somewhat spontaneous. Songwriters, including Ms. Van Bruggen-Rufi, myself, and a couple other surprise performers will alternate around a 'circle' so that the stories, songs, and presenters are continually changing."
Van Bruggen-Rufi is a music therapist, researcher and professor from The Netherlands, who focuses on the use of songwriting as a treatment modality.
"We wanted to highlight both songs written collaboratively by therapists and patients, as well as songs written by therapists for their own creative outlet and self-care," said Miller.
In addition to the showcase, Van Bruggen-Rufi will also lead two guest lectures on Monday from 9-10 a.m. and 10-11 a.m., in the GPAC Concert Hall, and an additional guest lecture Tuesday from 9:30-11 a.m. in the GPAC Concert Hall.
All events are free and open to the public.
For more information, contact Miller at 936.294.1376.
Former Skinhead To Speak Against Hatred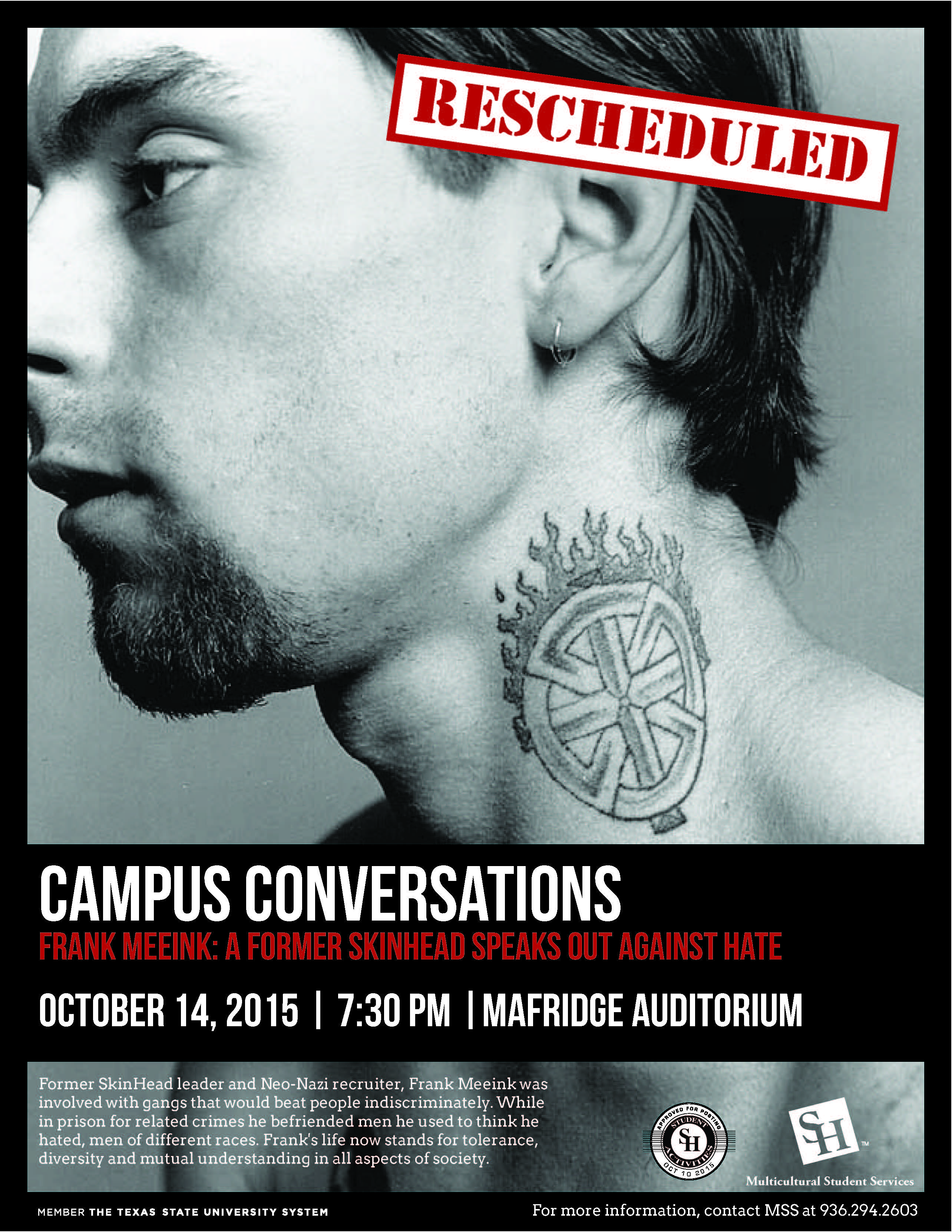 Frank Meeink was just 14 years old when he shaved his head and began recruiting people into the Neo-Nazi movement in Philadelphia.
At the age of 18, he was arrested after nearly killing a man from a rival skinhead gang and kidnapping another man. While in prison, he befriended men he used to think he hated–men of different races.
Meeink will share the story of his descent into America's Nazi underground and his ultimate triumph over hatred and addiction in a presentation titled "Frank Meeink: A Former Skinhead Speaks Out Against Hate," as part of SHSU's Multicultural Student Services Campus Conversations on Wednesday (Oct. 14) at 7:30 p.m. in the Ron Mafrige Auditorium.
After being released from prison, Meeink defected from the white supremacy movement, and partnered with the Philadelphia Flyers to launch an innovative hate prevention program called "Harmony Through Hockey."
"Every member within the SHSU community has something to gain from Meeink's presentation," said Jordan Chang, MSS coordinator. "His inspiring story will teach us ways to look at and address racial diversity and acceptance in today's society. His book 'Autobiography of a Former Skinhead' has been praised by many, and this is our chance to learn his story and look into the mind of someone who transformed from a skinhead into a spirited citizen."
The event is free and open to the public.
For more information, contact Chang at 936.294.2603.
Presentation To Show 'Professional Styles On A Dime'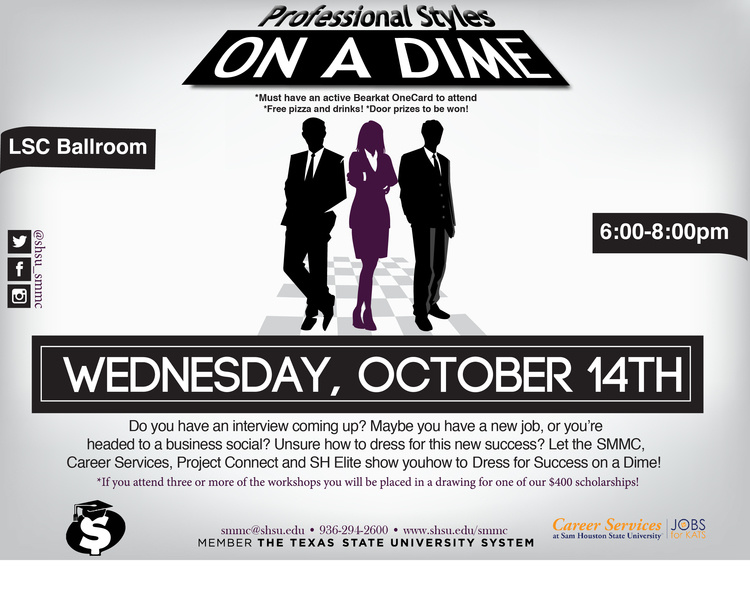 When students prepare to make the transition from student to professional, they must be prepared to transition their wardrobe as well.
Many students are unsure of what is appropriate to wear to their new jobs, interviews or business socials. In some cases, the lines between what is considered professional and what is not can be blurred, leaving students questioning whether or not their wardrobe is appropriate.
SHSU's Student Money Management Center and Career Services will help students and recent graduates make that determination without breaking the bank during "Professional Styles on a Dime" on Wednesday (Oct. 14) at 6 p.m. in the Lowman Student Center Ballroom.
Ballet Folklorico will open the fashion show with several dance numbers, and student volunteers will model business casual and business professional attire, as well as inappropriate attire, according to Andrea Rabon, SMMC program coordinator.
Representatives from the Bearkat baseball team will participate in a tie competition, and there also will be representatives available to demonstrate the different ways to wear a tie.
Students who attend three or more SMMC events will be entered into a drawing for one of two $400 scholarships.
Pizza and refreshments will be provided on a first-come, first-served basis.
Admission to the event is free.
For more information, contact Rabon at 936.294.1726.
Career Fair To Connect Victim Studies Students With Employers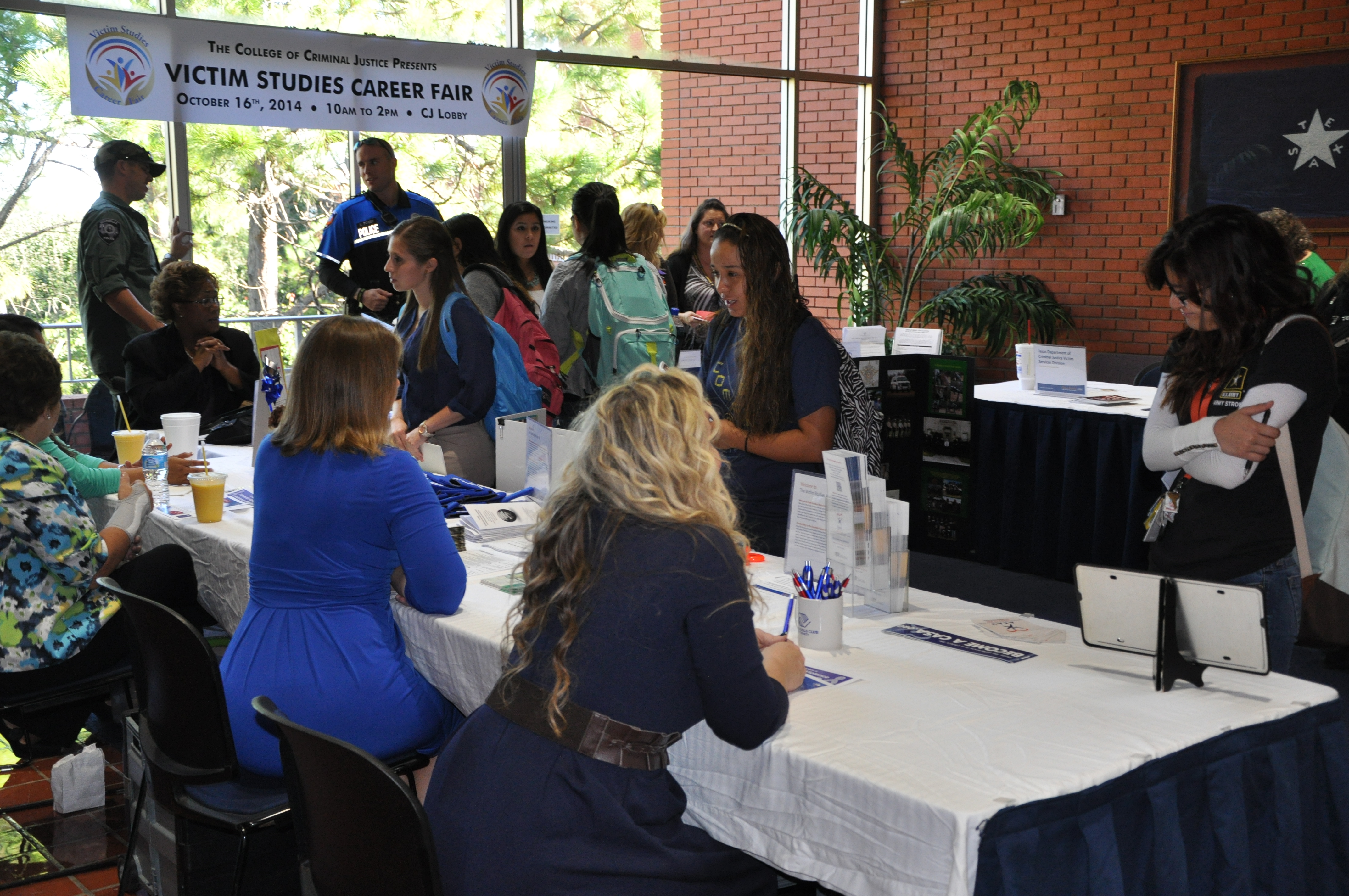 Criminal Justice students looking to network and learn about different opportunities in the field of victim studies will have an opportunity to meet with potential employers from local and state-wide agencies at the Victim Studies Career Fair on Thursday (Oct. 15) from 10 a.m. to 2 p.m. in the Criminal Justice Center Lobby.
The career fair will introduce students to the diverse job opportunities that are available with agencies that serve victims in their communities.
The agencies scheduled to attend include CASA of Walker County, Collin County Sheriff's Office, Dallas Police Department, Gulf Coast Trade Center, Houston Police Department, Katy Christian Ministries, Mothers Against Drunk Driving, Office of the Attorney General, SAAFE House, and San Antonio Police Department.
Other agencies that will be in attendance include Texas Advocacy Project, Texas Department of Public Safety, Texas Department of Family and Protective Services, Twin City Mission, U.S. Border Patrol, and University of Texas Police at Houston.
"Attending the Victim Services Career Fair is a great way for students interested in victim studies to network with employers in the field and find out what type of job opportunities are available," said Michelle Haynes, career counselor liaison for the College of Criminal Justice.
In addition to visiting with agencies, participants can get information about the Crime Victim Services Alliance, a student organization dedicated to victim services on campus and in the community. The Crime Victims' Institute also works to provide information about research into trends in victim issues in Texas.
For more information, contact the College of Criminal Justice at 936.294.1635.
City Spotlight To Launch Fall Season
Sam Houston State University's student-produced television show "City Spotlight," which focuses on people, places and events in Huntsville and on campus, has begun airing shows for the fall semester on Channel 7.
"City Spotlight," hosted by Phillip G. Warner Endowed Chair of Journalism Peter Roussel, was created by students in SHSU's Department of Mass Communication and is jointly produced and promoted by broadcast production students and student members of Priority One, the student public relations service on campus.
The show airs every Wednesday at 4 p.m. and will be rebroadcast on Mondays and Fridays at the same time.
"This show, and the production and promotion aspects involved, truly serves as a hands-on experience for the students," said Roussel. "It is a meaningful way of preparing communication students for their future careers."
Previous guests of the show include SHSU President Dana Hoyt, College of Fine Arts and Mass Communication Dean Ronald Shields, Head Football Coach K.C. Keeler, Huntsville Mayor Mac Woodward, Wynne Home Arts Center cultural coordinator Linda Pease, and others.
For more information, contact Priority One members Catherine Till at clt020@shsu.edu or Conner Roberts at wcr003@shsu.edu.
Block Party To Introduce Students To Center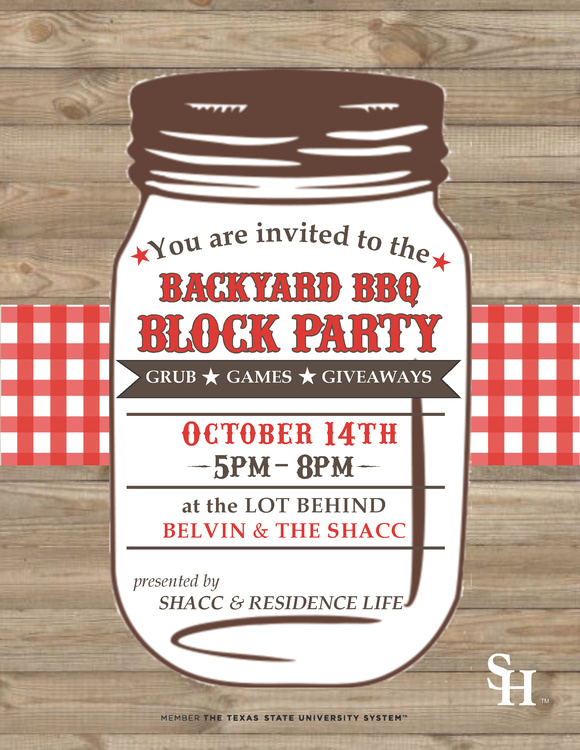 In true Texas fashion, SHSU's Student Health and Counseling Center will introduce students to the center with their second annual "Backyard BBQ Block Party" on Wednesday (Oct. 14) from 5-8 p.m. in the lot behind Belvin-Buchanan Hall and the center .
The country-themed party will include music, food, games, giveaways and tours of the facility. Students participating in the tours will receive a free T-shirt or other giveaways while supplies last.
The collaborative event, sponsored by the Student Health and Counseling Center and Residence Life, is an effort to show off the facility and to raise awareness of the center's expanded services, according to Kyle Ashton, Res Life assistant director for hall staff and community development.
The organizations will help set the atmosphere with a DJ playing a mix of country music and some other popular tunes, and there will be a number of free activities, such as a mechanical bull, a lasso game and an inflatable head-to-head football game.
Food will be provided in conjunction with Old Main Market at the event, according to Ashton. Students with meal plans will be able to use their Bearkat OneCard to dine at the event, and for those who don't have a meal plan, a limited number of food vouchers will be given away to those taking tours of the facility.
For more information, contact the Student Health and Counseling Center at 936.294.1720.
Training Session To Teach Technology Skills
Sam Houston State University's Small Business Development Center will bring national speaker Eric Spellman to host an informational training session on Thursday (Nov. 5) from 8 a.m. to noon as well as another session from 1-5 p.m. at the Region VI Service Center.
Spellmann is the president of Spellmann and Associates, a technology company offering online marketing, social media management and website design. He is known for his ability to convey technically challenging topics to non-technical people and has been labeled as a "technology evangelist."
The SHSU SBDC and the Huntsville Walker Chamber of Commerce have partnered to host the event, during which Spellmann will cover topics such as "Ways to Earn Positive User Reviews," "Digital Marketing on a Shoestring: Drive New Business Through Display and Social Media," "Turning Clicks into Clients," and "How To Promote and Grow Your Business Using These 7 Powerful Online Methods."
In addition to the training sessions, Spellmann will conduct a website analysis for the first five people to register for the session.
Breakfast and lunch will be provided.
The Region VI Service Center is located at 3332 Montgomery Road in Huntsville.
Limited seating is available. Those interested can register in advance at samhoustonstateuniversity.sbdcnetwork.net/huntsville/Calendar.asp.
For more information, contact the SBDC at 936.295.3737 or sbdcinfo@shsu.edu or the Chamber of Commerce at 936.295.8113 or gwen@chamber.huntsville.tx.us.
Exhibit To 'Resurrect Trash'
Huntsville architect Dan Phillips is displaying some of the recent projects created by his Phoenix Commotion in an exhibit titled "Resurrected Trash" until Friday (Oct. 16) in the Lowman Student Center Gallery.
Phillips will give an artist talk on Thursday (Oct. 15) from 5-6 p.m. in Art Building E Room 108.
The Phoenix Commotion is a local building initiative created to prove that constructing homes with recycled and salvaged materials has a viable place in the building industry. Its main mission is to divert usable materials from landfills using only apprentice labor. The process teaches marketable skills to anyone with a work ethic who is willing to swing a hammer.
"Humans have been building shelter for tens of thousands of years, using whatever they had," said Phillips. "Only in recent history has shelter become a commodity, built with standardized materials and predictable strategies, and completely market-driven, resulting in houses that all look pretty much the same. While this has resulted in a standard of living unknown in human history, we have given up just a bit of ourselves to achieve this. Gone are the days when the builder's personality was reflected in the ensuing structure."
He will also have copies of his book "Resurrecting Trash" for sale after the talk.
The event is free and open to the public.
For more information, contact the art department at 936.294.4311.
Presentation To Prepare Students' Wallets For Grad School
Applying to graduate school can be very intimidating even without research and knowledge about the process, as well as the variety of options available for financing.
SHSU's Student Money Management Center will team up with the Office of Graduate Studies to present "Preparing Your Wallet For Grad School" on Saturday (Oct. 17) at 10 a.m. at The Woodlands Center Room 109.
The presentation will feature basic budgeting and the potential for paying for graduate school without student loans, as well as the ways that those interested in international and out-of-state programs can receive a waiver to pay in-state tuition and fees.
"We'll discuss employment through internships and employer reimbursement programs for education," said Patsy Collins, SMMC director. "We'll also talk about scholarships, grants available for education majors and the different types of loan forgiveness programs."
Students who attend three or more SMMC events will be entered into a drawing for one of two $400 scholarships.
Admission to the event is free.
For more information, contact SMMC at 936.294.2600.
Today@Sam Seeks Experts, Story Ideas
Are you an expert in a topic might be of interest to reporters? Or even a unique topic? Would you like to have your research interests highlighted or discuss your expertise with reporters seeking interviewees?
The university Communications Office is collecting information and story ideas for its ongoing projects, including the online SHSU Experts Guide, the SHSU home page and Today@Sam.
The SHSU Experts Guide was established as a resource for the media, who turn to university experts lists for potential interviewees for news stories. Faculty who are interested in being a part of the university's database of experts can submit their biographical and personal information, as well as their areas of expertise, through the Experts Guide Submission Form available online at shsu.edu/dept/marketing/experts/submit-info.html.
Other story ideas, both news and features on faculty or student research and accomplishments can be sent to today@sam.edu or jenniferg@shsu.edu. For news stories, please include the date, location and time of the event, as well as a brief description and a contact person.
All information, including news story ideas and update items for Today@Sam, should be sent a minimum of a week in advance of the event in order to make necessary contacts and write a story. Feature story ideas for the SHSU home page ("sliders") should be sent a minimum of two months in advance.
To see a full list of the Today@Sam submission guidelines, or to access submission forms for news and feature stories or hometown releases, visit shsu.edu/~pin_www/guidelines.html.
For more information, call 936.294.1836.
- END -
This page maintained by SHSU's Communications Office:
Associate Director, Communications: Emily Binetti
Telephone:936.294.4406
Communications Manager: Mikah Boyd
Telephone: 936.294.1837
Communications Writer: Campbell Atkins
Telephone: 936.294.2638
Thomason Building: Suite 102
Please send comments, corrections, news tips to Today@Sam.edu